Sanyah Bhatti
USAC Thailand: Chiang Mai – Southeast Asia Culture, Politics, and Business
Major: Psychology and Public Health on the Population Health track
June 23, 2023
Hi, everyone! My name is Sanyah, and I'm a rising junior at UMBC, where I'm pursuing Psychology and Public Health on the Population Health track. Additionally, I'm working on obtaining a certificate in Social Dimensions of Health. I am spending the Summer 2023 semester in Chiang Mai, Thailand at Chiang Mai University!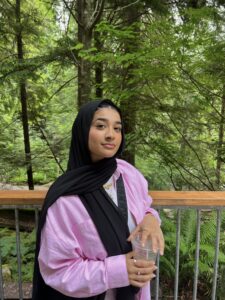 In just one week, my highly anticipated trip to Thailand will finally begin, and it's been quite a whirlwind of emotions for me. Over the past week, my family and I have been exploring various cities in Canada, catching up with relatives along the way. As I sit here at the Calgary International Airport, about to board my flight to Montreal for my cousin's wedding, a wave of anxiety washes over me in this airport setting.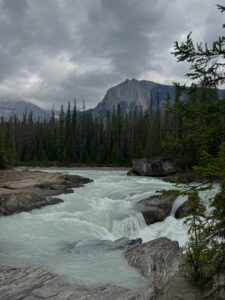 This journey marks the first time I'll be traveling alone, without the comforting presence of my family. It's become apparent to me how reliant I've been on their support whenever I navigate through airports. As the youngest and somewhat pampered daughter, I've never had to lift a finger or shoulder any responsibility other than showing up. The mere thought of having to manage everything by myself is causing me a great deal of apprehension. While I've traveled extensively in the past and I'm familiar with airport routines and processes, the anxiety still lingers.
My current biggest stressor revolves around the fact that I'll only have three days at home before departing for Thailand. It's a challenge to envision how I'll manage to pack and prepare adequately with such limited time. Although I believe I've taken care of most things and acquired all necessary items, there's an ever-present nagging feeling that I might be forgetting something crucial. It feels like I'm stuck on a hamster wheel, tirelessly juggling tasks without a real break since the end of the Spring semester. I long for some relaxation time before my trip, but the moment I return home, I'll need to dive right into packing.
It has always been a dream of mine to experience studying outside of the United States and have the chance to live abroad for a while. The fact that this dream is finally becoming a reality is absolutely surreal. I'm overflowing with excitement to share this incredible journey with all of you and bring you along for the ride!
7/6/2023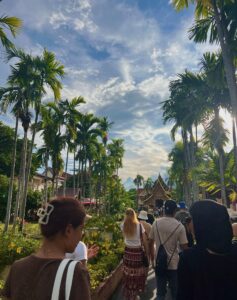 It has been nearly a week since my arrival in Chiang Mai, and I am absolutely in love with this place! I mentally prepared myself for a potentially challenging start, but I have been pleasantly surprised by how smoothly everything has been going. Despite the 11-hour time difference, I was able to adjust without experiencing any untimely sleepiness and was able to swing into a routine.
I have classes four days a week, with Wednesdays and weekends free for exploration. This allows me to strike a perfect balance between my studies and discovering the wonders of the city. Although the back-to-back three-hour classes can be a little exhausting, part of the reason I chose this program is because the courses are intriguing, allowing me to remain engaged.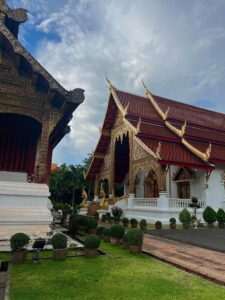 I've wasted no time in exploring the city. On the second day, we ventured into the heart of the old city and visited numerous temples. Each temple was so unique and had such beautiful and elegant architecture. My favorite one was the Wat Phra Singh temple, which had this breathtaking garden on the outside. Later that evening, I visited the Sunday Street Night Market. The market had endless amounts of food vendors and vibrant stalls selling an array of items. If I had exchanged more Thai Baht initially, I would have undoubtedly bought more things.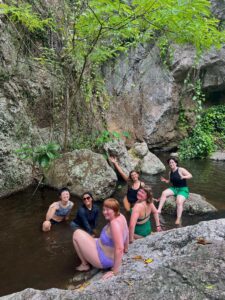 We also visited the Huay Kaew Waterfall. There was a short hike to get to the waterfall, but the water was so refreshing and the view left me in awe. Later that day, we went to the Doi Suthep Temple, a Buddhist temple at the top of a mountain. To get to the temple, we had to climb quite literally the biggest staircase I've ever seen, but the view from the temple made it so worth it.
Although it is rainy season, it doesn't rain consistently throughout the day like I expected it to. Instead, the rain feels like refreshing drizzles that provide relief from the heat and humidity.
To sum up, my experience has been nothing short of amazing. This upcoming weekend holds exciting adventures, including a visit to an elephant sanctuary and a countryside bicycle ride, I'll be sure to share the details of it in next week's post. Stay tuned! ◡̈
7/13/2023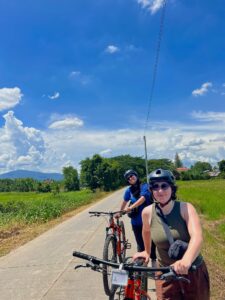 Week 2 in Chiang Mai has come to an end, and can you believe it's already time for the midterms? Time has been flying by! Thankfully, our professors are understanding of the time constraint, so the content load isn't overwhelming and is manageable. Last Saturday, we went on a countryside bicycle tour, traveling by train to the rural areas and biking 60 km (almost 40 miles!). Along the ride, we made several stops for water and snack breaks, enjoyed a satisfying lunch, and even visited a few temples. The scenic views and calming atmosphere of the countryside were truly delightful, but I must say biking for that long in the heat was definitely no joke.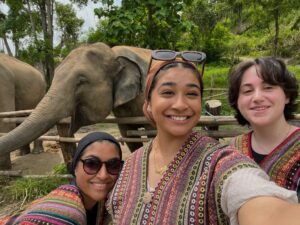 The following day, we visited an elephant sanctuary, which has undoubtedly been the highlight of my trip so far. We prepared food for the elephants, fed them, and witnessed their eagerness as they devoured everything. We gave mud baths to the elephants which was exciting for both us and the elephants, as they were enthusiastically spraying water on everyone. Afterward, we rinsed them off in a clean pond before enjoying a delicious lunch of fried rice and fresh fruit.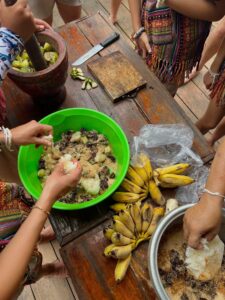 In the afternoon, we enjoyed a relaxing and peaceful bamboo raft ride along the river. At this point in the day, the heat had lessened and the temperature was perfect. When we returned home from the river in the late afternoon, we couldn't resist visiting the vibrant and lively Sunday Night Market again. It seems like it will become a weekly tradition for me.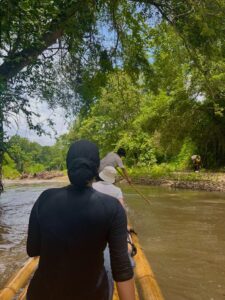 Taking advantage of our free Wednesdays, my friends and I spontaneously decided to fly to Bangkok on Tuesday after class and return the next day. Despite our concerns about time constraints, we managed to see everything we wanted to. We dined at a rooftop restaurant, which felt like a scene out of a movie. The next day, we explored The Grand Palace, took a short boat ride across the river to see temples and important landmarks, and ended our trip with food at Lumpini Park before heading back to the airport.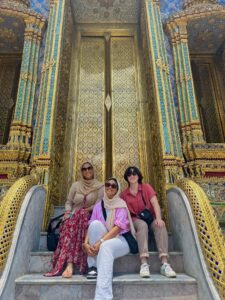 Overall, it has been an incredibly eventful week. This weekend, we're heading to Pai, a stunning mountain town with breathtaking views. I can't wait to share all the details of my upcoming trip with you all! See you next week!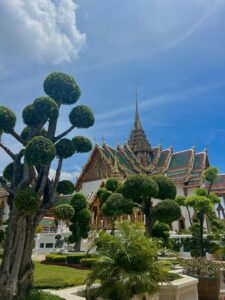 7/25/2023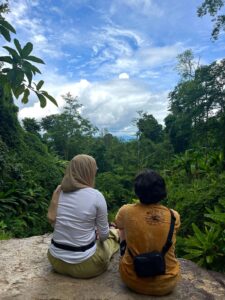 Our time in Pai was an absolute dream, and I only wish we could have stayed longer. Pai is a small town in the middle of the mountains about a four-hour drive from Chiang Mai. It offered an abundance of breathtaking sights and exploration opportunities. One of the most memorable moments was stumbling upon a mosque, showcasing the vibrant Muslim community in Thailand. The adjacent night market with its array of halal food vendors allowed us to have meat dishes once again after weeks of relying on seafood and vegetarian options. Connecting with the local Muslim community was truly heartwarming.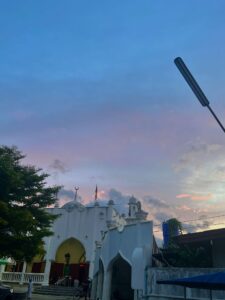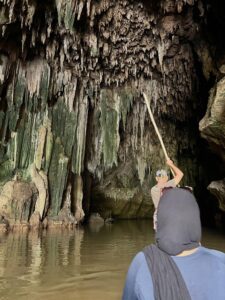 We also visited caves in Pai, where we embarked on yet another thrilling bamboo raft adventure. As we ventured deeper into the cave, we noticed hundreds of bats hanging from the ceiling. The whole time I was afraid that they would swarm us, but luckily they were unbothered and remained asleep. I had never experienced anything quite like the caves, and it made my stay in Pai even more memorable.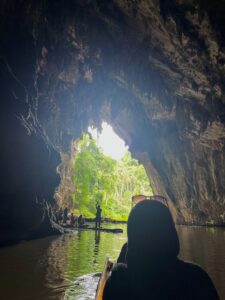 Pai proved to be a wonderful weekend getaway, but as soon as I got back I very unfortunately ended up with food poisoning. Spending a day in the hospital was far from pleasant, but thankfully, a few days of rest and some antibiotics swung me back to normal.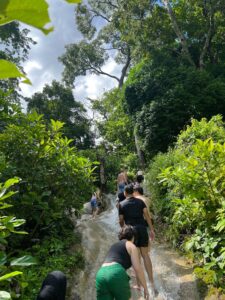 This past weekend we visited the sticky waterfalls, named for their unique ability to climb without slipping. It was a fascinating and very fun experience. Initially, I was a bit hesitant about climbing, because I doubted my ability to maintain my grip. However, once I started climbing, I was pleasantly surprised to find that it was much easier than I anticipated. I can confidently say it was an unforgettable and very enjoyable experience.
On Sunday, we explored the Queen Sirikit Botanical Garden. To say that the garden was stunning would be an understatement. The garden was absolutely gorgeous and had an astonishing array of diverse gardens and an impressive variety of plant life.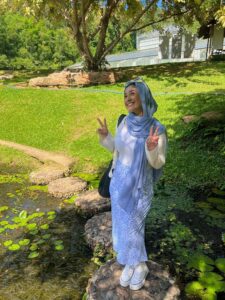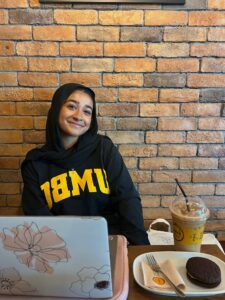 Because we were constantly spending our days off exploring, we wisely decided to take a break during the week, so we could recuperate fully. I spent my time visiting numerous charming local cafes near our dorm, where I could leisurely read and attend to some work while unwinding.
Now, after a few days of rest, I am eager to embark on new adventures and continue our explorations. This final full week of classes signals the approach of our finals, but we are determined to make the most of it. Fingers crossed, we are also excitedly anticipating an upcoming 6-day holiday trip, and while I won't spoil the surprise just yet, I promise to share all the incredible details next week. Until then, stay tuned, and see you next week!
8/4/2023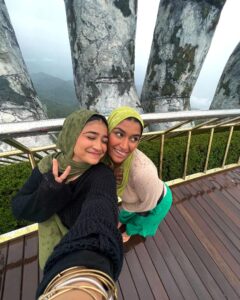 I just returned from an adventurous six-day holiday trip to Vietnam! Although our Vietnam trip didn't go exactly as planned, it still turned out to be an incredible experience.
The decision to leave Thailand for our break during the Buddhist holidays and the King's birthday was a little bit spontaneous. We were torn between various fascinating countries neighboring Thailand. Eventually, we took a leap of faith and chose Vietnam with just a week's notice. It was a bit risky because we had to wait for our Vietnam visa until just two days before our flight. We also had to obtain a re-entry visa due to our student visa's single-entry limitation, and the visit to the immigration office was another stressful situation. Lesson learned to always submit visa applications well in advance to avoid any last-minute stress.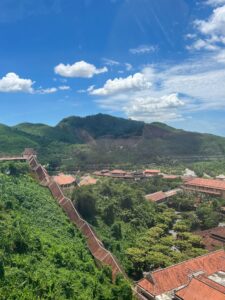 The planning phase was a bit stressful as there were so many captivating places we wanted to visit, and six days felt insufficient. In the end, we decided to spend two days in Da Nang and three days in Phu Quoc. Da Nang's beauty was beyond words, and I regret not having more time to explore everything it had to offer. We visited Ba Na Hills, an amusement park atop a hill that you take a cable car to get to. We got to see the famous Golden Bridge which was not like anything I have ever seen before, it was so cool! Unfortunately, it started raining extremely hard which disrupted our plans, and we got stuck on the mountain for hours until the cable cars resumed service. Despite this setback, our trip to Ba Na Hills was still a lot of fun and very memorable.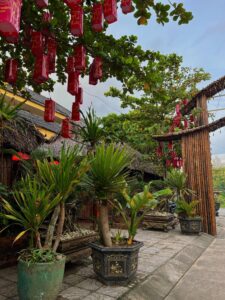 Phu Quoc, a gorgeous island off the coast of Cambodia, was our next stop. Despite encountering some rain, relaxing by the beach was serene and absolutely beautiful. The beach near our accommodation was a bit too rough for swimming, especially because it was a full moon, but it provided a perfect backdrop for relaxation and reflection.
In Phu Quoc, we also visited a cat cafe! I've always wanted to visit one, and this one did not disappoint. They had board games and lots of food options, and of course, so many cats! All the cats were so affectionate and cute, it was hard not to take them home with me.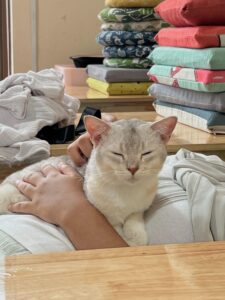 Visiting Vietnam was my first real encounter with culture shock, which left me feeling quite anxious, especially since my data was not working and I was getting no reception. Not having a properly working phone added to the stress of being in a foreign country. The USAC program I am with to study in Thailand offers a lot of support and is very accommodating, so this independent journey taught me the importance of better preparation for personal travels.
Our Vietnam visit turned into more of a laid-back "staycation" as we spent most of our time lounging on the beach. Nevertheless, it was a wonderful little getaway. Now that I'm back in Chiang Mai, I'm filled with mixed emotions. Our program is nearing its end in less than a week, and I'm not quite ready to leave. My time here has been truly enjoyable, and I'll cherish the memories forever.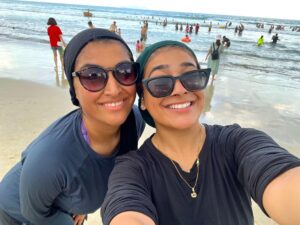 I've been writing this instead of studying for finals and working on final presentations, so I should probably get back to that and end the blog here. Goodbye for now!