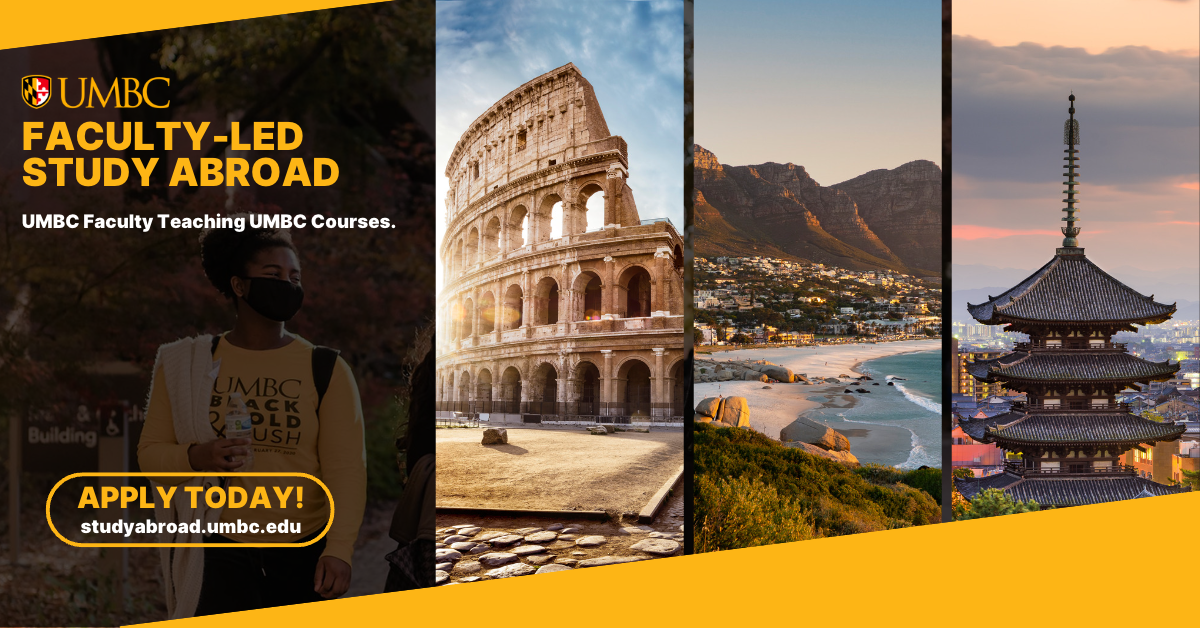 UMBC Faculty Teaching UMBC Courses
Take the journey of a lifetime and earn UMBC credits that count! The world becomes your campus when you join a study abroad program taught by UMBC's own faculty. These short-term, faculty-led programs provide a global experience that meets UMBC graduation requirements, but don't require a full semester abroad.
Faculty-Led
program advantages
UMBC faculty teach UMBC classes
Occur in Summer or Winter sessions
Travel & learn with other UMBC students
Most programs are 2–5 weeks
Classes are fun and interactive
Prearranged accommodations
Application
cycles
Summer: Applications open now! The deadline is February 28, 2023.
Winter: Applications open mid-May and close Mid-September*
*Application deadlines may vary; please check under the "How to Apply" tab of each application
Upcoming Faculty-Led Programs
Hear from students who attended previous faculty-led programs through their Abroad Blogs!
Winter 2020
Catherine Jean on Dance in Slagelse, Denmark
Summer 2019
Sam H on Dylan Thomas Creative Writing Summer School (Lampeter, Wales)
Pauline R on Biology and Spanish Language in Barcelona, Spain
Olubusola O on American Literary Perspective in Paris, France
Mickayla B on Spanish Language Immersion in Colombia (Barranquilla, Colombia)
Lexi S on Dawg Days Abroad: Bristol and London
Bria H on Picturing Italian Art & Culture in Context in Rome, Italy
Winter 2019
Katie A on Industrial/Organizational Psychology in Tel Aviv, Israel
Summer 2018
Tenzin Y on Italian Politics in Siena, Italy
Tyler E on Spanish Language Immersion in Colombia (Barranquilla Colombia)
Jessica K on Biology and Spanish Language in Barcelona
Mary G on English as a Global Language in Amsterdam