Tyler Mowlds
AIFS Study Abroad in Paris, Sorbonne: Semester or Year
Major: Global Studies
Minor: French and International Politics
03 September 2019
Here's your TL:DR or BLUF: Getting ready for a study abroad program can be a lot of work, but you have a lot of people to help you out.
Background
I'm coming to this experience as an adult learner and a member of the military. My intent is to distill the information included in this and the following blog posts to general study abroad experience. As a majority of students studying abroad will fall into the typical college age range (18-22), I don't want to have these posts too nuanced and specific to military, adult learners. That said, I've had and expect to have experiences specific to my demographic and will detail those when necessary.
About myself, I am a transfer student, adult learner (27), Global Studies (GS) – International Affairs (track 3) major, MLL – French minor, International Politics minor. As Global Studies requires students to take a language to the 302 level and study abroad, I figured a francophone (french-speaking) country would be ideal to accomplish the advanced language requirements and language electives (more on class selection later). The minors were a decision from the ECON and POLI course choices to satisfy the GS major.
Picking a program
BEFORE YOU DO ANYTHING ELSE, attend a Study Abroad 101 info session presented by the UMBC's Study Abroad office. These classes are regularly scheduled and are required before taking any significant steps forward.
There are a TON of different study abroad programs available. The easiest ways to narrow your choices down are by:
Country and/or city
Area of study
Cost, and
Length or target semester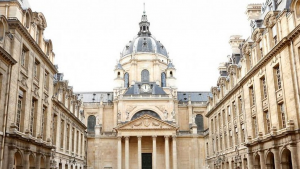 Fortunately, the UMBC General Program Search allows students to filter these details among other options such as living situation (homestay, hotel, university, etc.), leading faculty member, GPA, class standing, language of instruction, and affiliated program partner.
Like I said earlier, I wanted to satisfy some of my French minor requirements through my program selection. Therefore, my search criteria included:
Language of instruction (French/English)
Area of study – French, economics, politics, international affairs/politics/business
Country – France, Belgium, Senegal, and Cameroon
Cost – Not as much of a factor as I intended to use my military GI benefits to pay
Ultimately, I picked the Cours de Civilisation Française de la Sorbonne (CCFS) in Paris. I came to this decision as it's in the middle of the pack in terms of price (~$16,500 if paying for their flight package that includes a 2-day London excursion on the front side: $1,500), the intensive language aspect, homestay option, and location.
So You Found Your Program…
Now that you have your program picked, apply for that program through that site. Work through the to-do lists provided by the UMBC Study Abroad office and the checklist specific to your program. This process does not take too long, but there are a few things that you want to get started early on.
The biggest one is a passport. I already had one, but needed to renew it as most programs require your passport to be valid for 3-6 months after the end of your time abroad. If you don't have a passport, start now. Schedule an appointment with CommonVision on UMBC's campus to get your 2×2" passport photos taken. This was cheaper than going to Walgreens for me ($10 vs $20 respectively). Additionally, you get 6 photos and the digital version to print more. Undoubtedly you will need more for your visa application (if a visa is required) and it's good to have extras if you lose your passport (along with copies of your passport).
That brings up the next thing to get started on. If your program requires a visa, understand the process (checklist provided by Study Abroad or your program) and apply as early as you can. If you had to get a passport, you will have to wait for this before completing your visa application. Some things I needed for my visa were:
Bank statements to prove I won't go broke overseas (can also use a parent or proof of financial aid)
Address of overseas accommodations
Acceptance letter by the host school
Valid Passport
There were some other documents needed, but as long as you pay attention to the checklists provided, you will be just fine. Also, it doesn't hurt to look presentable when showing up for your application appointment (I wore slacks, oxford, dress shoes).
Wrapping Up
I'm finishing up this pre-departure post in the airport (oops) and I am a little anxious. Fortunately, I'm sure that I have the essentials; anything else I can buy when I get there. While this post was not inclusive of each step I went through along the way, it covers the wave tops. Apply for all the scholarships you can, and re-use essay responses if you can. Use Google Street View to get an idea of what people are wearing along with weather providers. Search for other blogs available online for other recommendations. There is a lot of advice out there, you need to figure out what works best for you.
One Note on Packing
Try not to pack too much. You'll likely buy stuff overseas and will want to extra space to bring back gifts or new clothes. I'm packed in one checked roller bag, a small duffle, and a daypack. Apparently Parisians are known for monochromatic clothes and barely any color. This works well when mixing, matching, and packing. I have a few clothes and toiletries packed on my carry-on in case my checked bag is lost.
If you've made it this far, best of luck to you and I look forward to updating you as my program starts! I'll leave you with a quick shot while I'm waiting. T-Minus 80 minutes until takeoff.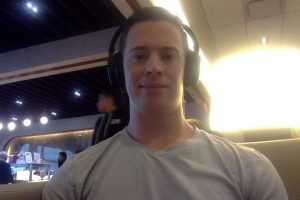 26 September 2019
The London Connection
Day 1 and 2: Flight and Arrival
My international flight left the states are 7:30 pm after an hour delay for weather. The flight crew made up time and we landed only a half-hour late, around 7:00 am local at London-Heathrow (LHR). London is a full 5 hours ahead of the east coast so the flight overnight didn't leave much time to sleep. It took no time clearing immigration and customs, and I connected with my driver, Paolo, without much of a wait. Not long after, we found Ana, another AIFS-Paris student who flew in from Houston, TX. She gave me great perspective on the size of that state. She arrived in London before her parents made it back to their hometown of El Paso!
Crossing the Pond: The trip with United went well. Complimentary in-flight treats (accompanied by a selection of movies including John Wick 3 and Avengers: End Game) ended in a smooth landing in an overcast London-Heathrow.
Paolo dropped us at the Strathmore Hotel in the West End of London around 9:30. We got ourselves checked into the hotel before exploring the local area. The hotel was just a short walk from Hyde Park and Kensington Palace so we headed in that direction. The park features many great sites including statues, lakes, Italian water gardens, and the grounds of Kensington Palace. We could have spent hours here, but we decided to return to the hotel after a quick detour through the surrounding neighborhood.

Water Gardens: These are the Italian Water Gardens in Hyde Park. Believed to have been a gift from Prince Albert to Queen Victoria, they were built in 1860 and last renovated in 2011.
The Strathmore Hotel is situated in a part of London with the aesthetics expected from a visitor. Grand white façades decorate centuries old buildings, demonstrating the importance of the politicians, diplomats, businessmen, and financiers who can afford such real estate. We found it enjoyable to walk through the streets, reading the plaques denoting embassies and previous fame who occupied these residences.
MTV Cribs, Chelsea Edition:  The townhouses in the Chelsea/Kensington area were originally for British Members of Parliament when they were in the city or for those wealthy enough to afford the property costs.
Day 3: Tour Day
We spent this day with a great tour guide, Mark Inman. He's a trained theatre actor who has spent his whole life in London. When he isn't on stage, he spends his time teaching and giving personalized tours around his hometown.
Our transportation was the standard double-decker bus that allowed us to hop on and hop off at our leisure around the city. We hit all the expected stops and learned some fun, historical facts along the way.
The Sights: We hit the typical spots on the bus and river ferry including: the Horse Guards' Parade, the London Eye, the (second) London Bridge, the Tower Bridge, and Buckingham Palace.
Day 4: Eurostar to Paris
Our last day started early. We were checked out of the Strathmore and in the cab before they started serving breakfast. Fortunately, AIFS coordinated boxed meals that we took with us. At Kings Cross Station (made famous by Harry Potter), there was already a gaggle surrounding the Platform 9 ¾ photo op. We passed on the personal pictures, and found a café to pass the time before our train departed. The ride to Paris passed without much excitement. We enjoyed watching the French countryside pass at 300 km/h (186 mph) after our passage through the Trunnel (the train tunnel under the English channel).
Departure: London delivered from start to finish. We had a great time touring the town with our guide, Mark, before he saw us off at the train station.
The excursion in London was a great start to the trip and a great way to meet a couple of the other AIFS students in my program. If you don't have any travel plans before the start of your program, I recommend letting the program do the legwork when it comes to getting your flights in order for your study abroad trip. One thing to remember, once you get your flight itinerary, you must call the airline to pick your seat (you may have to pay a fee ~$30), otherwise you're at the mercy of any open seat (read: middle seat) when you check into your flight.
19 October 2019
My First Month
Class Placement
It's been a great mix of work and play. Before leaving the States, I took an online language placement test. This was to determine the appropriate level of French for my grammar and phonetics classes in Paris. Here's how they break it down by levels. From what I understand, this is generally accepted internationally with most languages:
A1: Beginner
A2: Elementary
B1: Intermediate
B2: Upper Intermediate
C1: Advanced
C2: Superior
I was already prepared to place lower than my French 301 level at UMBC, but I didn't think I'd end up as low as A2. After the first few days of class and stumbling through a conversation with the professor, I was able to convince her to change my level to B1. We talked over the material to be covered, and I found that it was all principles I learned at UMBC.
The first week is an opportunity for all students to change their levels up or down depending on their comfort level, and I was prepared for the challenge that B1 would give me. Along with the change of grammar class, I changed my phonetics class as well.
Class Schedule
My week isn't much different than a typical semester at home. Every day, I have my grammar class from 8 – 10am and every other week, my phonetics class runs from 10:30 – 11:30. Tuesday, I have a French seminar class called Un Autre Regard sur Paris from 2:30 – 4. The teacher presents parts of the history of the city in an interesting way while providing various locations to visit that may be off the typical tourist itinerary. Wednesday, I have another French seminar class called Histoire de l'art Moyen Age – XVII siècle from 12:30 – 2. Similar to the other seminar, this class covers architecture and art around the country and information of how to discern the different art and architectural movements. Finally, I have an art history class that meets twice a week, anywhere from 2 hours to 3.5 hours. This is in the late afternoon, but we have our "lectures" in the museums, in front of the actual pieces of art being discussed. In total, I have 15 credits transferring back to UMBC
Credit Breakdown:
10 – French Grammar and Phonetics
2 – 1/each French seminar (taught in French, powerpoints and handouts provided)
3 – Art History class
The Fun
I could fill the rest of this post with hundreds of photos of all of the amazing things I've been able to see and experience so far, but I'll hit some of the highlights. These adventures are a combination of AIFS sponsored events and spontaneous happenings with the other students that I've had the pleasure of getting to know. If the program is sponsoring it, it's included in the program costs.
Musée Marmottan (AIFS Sponsored – Monet Museum)

Monet's son donated the remaining pieces to this museum at the time of the son's death. Not only was this museum filled with Monet's work where we could see the progression of his style as it changed with his age, the museum also featured a great collection of ceremonial swords, other well-known artists (like Gauguin, Morisot, Caillebotte, and Pajou), and ancient manuscripts (I think this was a rotating exhibition).
The group of students here is great. They all have great ideas, other interests, insights, and suggestions of how to spend our free time. One of the first weekends, we hit one of the local open-air markets, grabbed some food, and set out for the Eiffel Tower to get to know each other.
Walking Tour of Montmartre (AIFS sponsored)
This artist haven had many great sites to see including Moulin Rouge (the girls were out for a rare photo op at the beginning of our tour), Dalida's house, one of Van Gogh's apartment (where he painted one of the Sunflower series), and these Sir Richard Wallace fountains that dot the city (The philanthropist provided the means to build them after the Franco-Prussian War in the 19th century to supply clean drinking water)
So this post doesn't get too long, I'll wrap up with these. My morning commute on the metro is about 30min and it can get a little crowded, but you just have to say "Pardon" and get yourself on. There's history around every corner, and I get the opportunity to see so much of it staying fit and running around the city (this is on top of the average 8 mi. of walking that my watch claims). Just get out there and experience everything you can in your adopted city!
18 November 2019
Immerse Yourself
Language
Learning a foreign language is hard. Before coming to Paris, I took French 101 up to French 301 in consecutive semesters and received A's in each class. Ideally, by advanced French, I should have a pretty decent grasp of the language. This is true, BUT I wasn't at all prepared for listening, understanding, and speaking the language. I felt like such an idiot when I got to Paris and realized that my reading and writing skills weren't going to help me very much in everyday life.
It was painful and humbling, but I picked up on the language so much quicker by placing myself in positions where I was forced to use the language. Not to mention every class (except for my art history class) is taught in French. And it's simple things like ordering food, ordering coffee, getting directions, and even getting a haircut (that really worried me, definitely have your barber at home take pictures for you to show in case you have trouble with the foreign language).
I don't see my host mother very often, but she's another invaluable source to help me stumble through French competency. We have dinner once a week and the topics of conversation range from family, to politics, to social issues. Obviously, I don't know many of the words that come up in conversation, but she's very helpful when I try to describe a word or just flat-out resort to English.
My last bit of advice is to use the language as much as you can with your friends and classmates. We try so hard to practice our French with each other, but we inevitably revert back to English when we've had enough. While we make mistakes with each other, it does help strengthen the connections in my brain when I'm looking for a word or trying to conjugate verbs in the proper tense. Additionally, our grammar teacher gave us some good exercises when we have some downtime. He told us to look at advertisements or newspaper titles because they include expressions not typically seen in proper French. In addition to that, he also advised us to write simple sentences with just one verb, but in various tenses to help recall proper endings.
Travel Update
I'm doing my best to visit as many places that I can while I'm in France. Similar to my last post, some are with the program while others are on my own or with the friends that I've met here. Here's a quick highlight of the last month.
Rouen:
This city lies between Paris and Normandy. My friends and I opted to check it out for a few reasons: it's beautiful, nearby (1.5hrs by train), King Richard the Lionhearted's heart resides there (his entrails are in Chalus) and Joan of Arc was burned at the stake there. I can only see so many cathedrals and churches before I've had enough, but the Notre Dame Cathedral in Rouen was breathtaking! In addition, a Joan of Arc museum and church tells the whole story of this 14 year old who dressed as a man and convinced the king to let her defeat the English who were occupying France at the time.
Brussels:
Another trip with some friends. We were on a mission to find waffles, chocolate, and to see some EU institutions. It's not far too far (2hrs by train, 4 by bus), and it's a fun town with lively entertainers downtown. Our trip was a success, and I would highly recommend anybody to go for the weekend. Personally, I don't think anymore time needs to be spent there, but everybody has their own interests.
Tour of Versailles (AIFS sponsored):
 King Louis XIV palace at Versailles is an incredible site to see. I only spent 3 hours there, but one could easily spend a weekend in the area exploring the different parts of the palace.
Arles:
Made this a solo trip. I was feeling restless in the city and wanted some time alone. My original thoughts were to get south one last time for a flash of warm weather before fall and winter settled in. Arles did not disappoint. The weather was beautiful, the town was quiet and friendly, and it was a great way to reset my head. In the town, there's a beautiful Roman amphitheatre and arena, and (of course) great religious buildings. Also, I was able to borrow a bike from the hotel, ride 10km out of town to the ruins of a 1c. aqueduct and the 10c. Montmajour Abbey. Both were incredible sites in their own right, and were worth the sweat equity to see. Finally, the formidable Vincent van Gogh spent two years here before his death; completing a couple hundred paintings and drawings. Notable works that he completed during this time include:  Night Over the Rhone, Cafe Terrace at Night, The Yellow House, and his final work on The Sower.