Elizabeth (Liz) Weir 
UMBC Faculty-Led: Art and Power in Japan 
Major: Psychology
June 9, 2023
T-72 hours until I leave for Japan! I'm about 60-40 excited to nervous: super excited about everything I'm going to do and see once we land, but super-duper nervous about getting there. The flight is 14 hours from D.C. to Tokyo; the longest flight I've ever been on was 6 hours, and that felt like an eternity. Luckily (or perhaps unluckily…) I have a big binder chock-full of articles on every shrine and museum to ever be built in the history of the world that I have to read eventually… ah, a procrastinator's nightmare, to be trapped 30,000 feet in the air with no cell service and only my homework to keep me company!
Speaking of procrastinating, why finish packing when I could be telling you all about me? I'm Liz Weir, a Psychology major and a junior at UMBC. I'm in the Honors College and I'm studying to be a school psychologist. I'm an undergraduate research assistant in Dr. Cheah's Culture, Child, and Adolescent Development Lab where we do lots of work with Asian immigrant families, so studying abroad in Japan seemed like a good way to build a basis for my research project (subtext: traveling halfway around the world is the perfect way to procrastinate working on my research project).
My flight's at 12:30, but I'm setting my alarm for 5. You know, I always wondered why dads insist on waking up hours before dawn for an afternoon flight just to wait for hours at the gate. But as I sit here red-eyed before my screen, printing and downloading and re-downloading copies of my nonrefundable ticket, I think I'm starting to get it. I'd rather be twiddling my thumbs and munching on some airport Auntie Anne's than doing this all over again.
While I'm feeling reflective, let's set some goals for my next three weeks overseas:
I want to try lots of local food, specifically sushi, and more specifically eel. I'm trying to go pescatarian (from previously being vegetarian), and if I manage to down an eel, I don't think I could be averse to anything else.
Take lots of pictures of the local flora and fauna. I recently downloaded an app that can identify plant and animal species from photos and sound bytes, and I'm really excited to try it out at the Inari Shrine and at Mt. Hiei (I'll share the pictures with you here, of course). I really hope I get to see a crane – they're my favorite bird.
Learn something that I never could here. Specifically, I'm looking forward to seeing the Peace Memorial Park in Hiroshima. My education on World War II and the atomic bombs was quite ethnocentric – that is, biased toward the States. I don't expect to come back with an answer of what was or would be right or wrong; what I want to leave with is a deeper understanding of why.
Use some of the Japanese vocabulary I've been practicing. It's been a few months, and I can read decently well. If I can order food once in Japanese without stuttering or accidentally insulting the waiter's mother, I'll call that a win.
Don't miss the train! I'm notoriously un-punctual, so this may be my greatest challenge.
That should do it for the list… back to packing. Once I get my cat out of my suitcase, that is. Do you think I can sneak him to Japan with me…?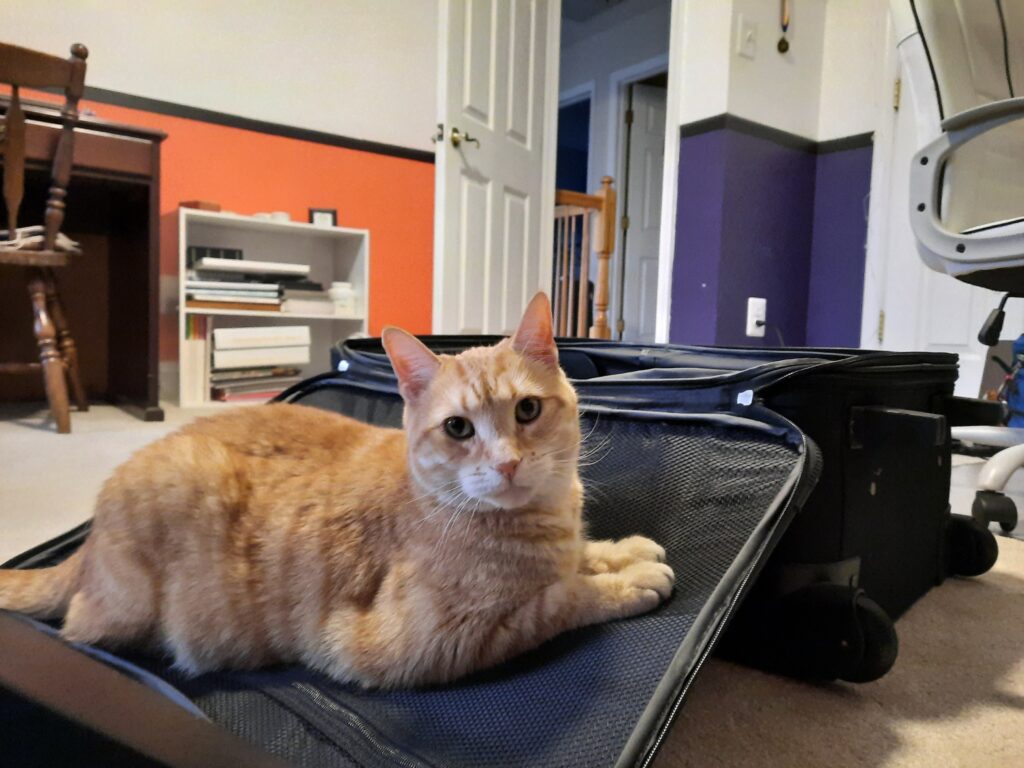 June 20, 2023
It's been a week since I arrived in Nara, and I haven't missed a train (yet)!
After the first night, the jet lag wasn't so bad. I keep waking up super early, but I'm a morning person so I don't mind. In fact, I've been taking advantage of it! A few of the more adventurous of us woke up at sunrise to hike up the nearby Mt. Wakakusa. The view from the top was breathtaking (and not just because of the thin air)! Below the blue mountain silhouettes, puddles of green spread into channels of trees that line the streets, housing deer and crows and hiding away shrines and temples.
You can see the temple at Tōdaiji in the bottom right of the photo overlooking Nara.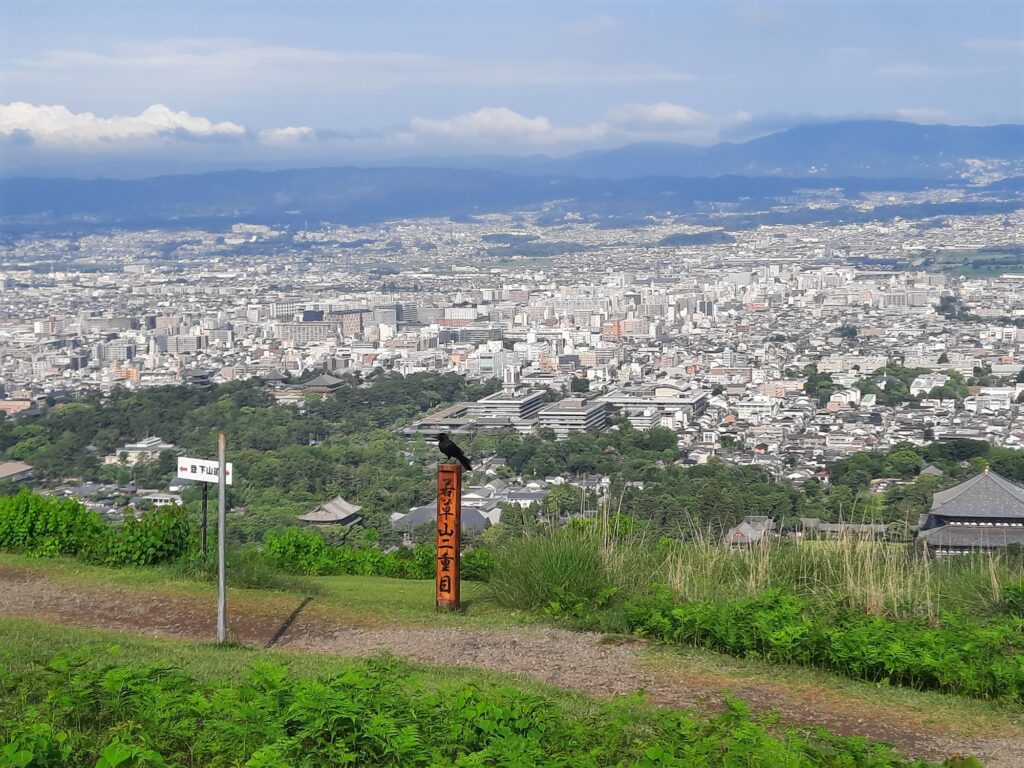 Tōdaiji is stunning – a true marvel of Buddhist architecture. It's also a perfect example of one of the themes of our class: "authority writ large." That is, Tōdaiji communicates its power through its size. Back in the 8th century CE, this structure was used to intimidate and inspire the Japanese people to adopt Buddhism as a national religion – but now, it's mostly used as a nice photo spot.
You can see my new buddy, Chibi-Shika, in the photo in front of the temple's gate!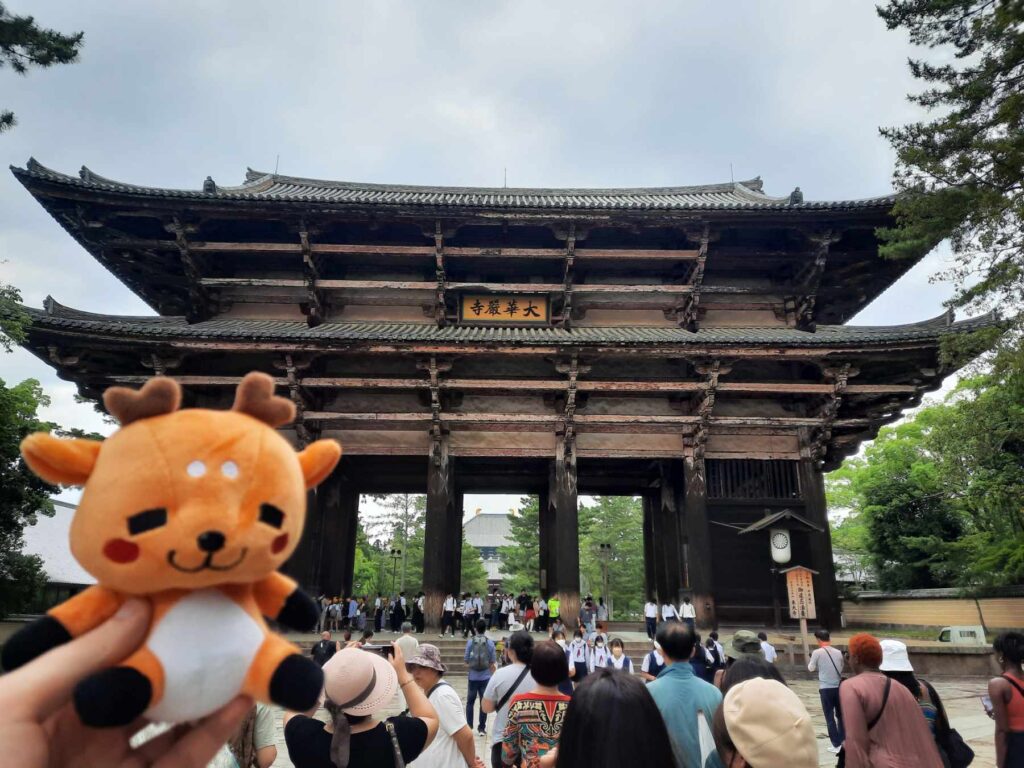 I named him after the city mascot, Shikamaru the deer. My favorite thing about Nara is how green it is. Deer are valued as a sacred animal, so they're always wandering the streets and sniffing at passersby. If they smell food on you, they'll bow to ask for some!
I can't believe I've gone this long without mentioning the food… so much to eat, but so little word count!
Let me begin with a question: Have you ever been so hungry in class that you start to wonder if your eraser is edible and if it would taste good? It is and it does, and it's called an octopus!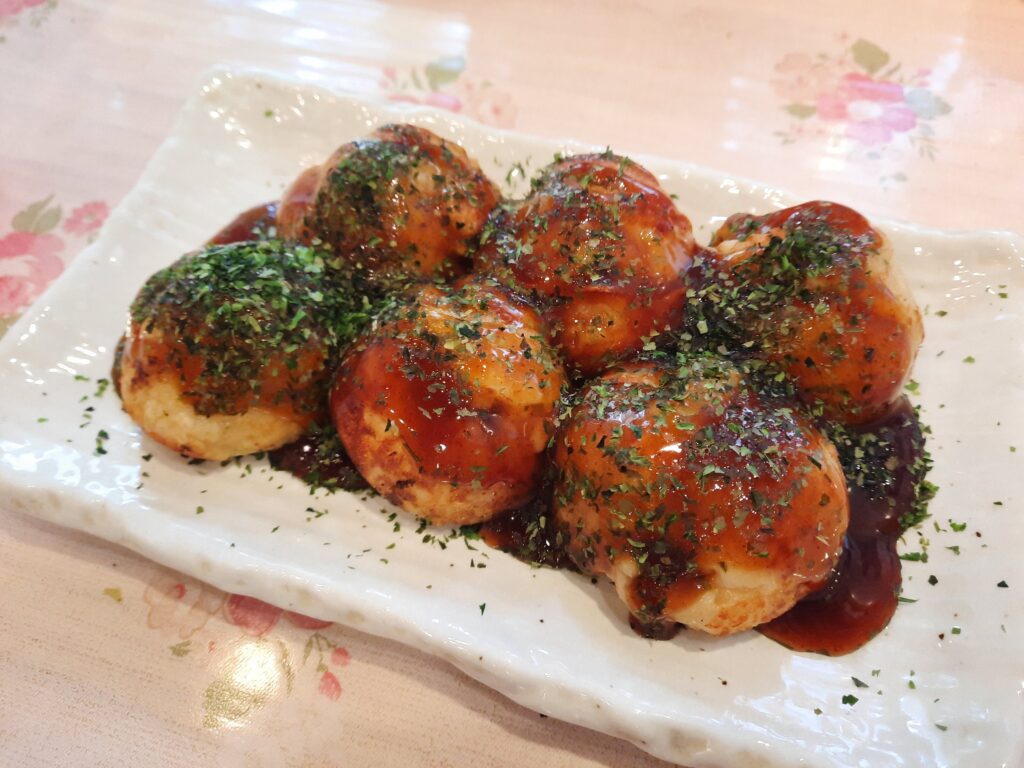 I had takoyaki with octopus from a hole-in-the-wall okonomiyaki shop in Nara. In this tiny place that could only seat one table at a time, they somehow managed to fit a huge corkboard on the wall and decorated it with photos of tourists from around the world. If there's one thing in common between people from Australia, Germany, Korea, Argentina, and the Philippines, it's that we all enjoy a good meal! We weren't the first Americans to join their ranks, but we were the first to represent UMBC (I'm on the left). Go Retrievers!
June 29, 2023
Study abroad blog 3: Nara part 2
A shocking revelation: tea is served hot. I didn't used to be a tea person, but I've started drinking green tea every morning with breakfast. It's nice to have something warm and fragrant on a dewy morning (it's the rainy season!). It's also forced me to learn patience… I'm still recovering from burns on my tongue from the first day.
My usual breakfast includes cold eggs, tofu, grilled mackerel and salmon, pineapple, and a matcha brownie or mochi. And, of course, a cup of green tea.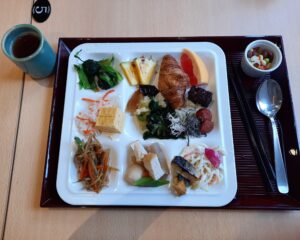 Green tea (or matcha) is a taste you can't escape here – it's in tea, ice cream, Kit Kats (which also come in strawberry cheesecake flavor, apparently!), and lattes. Speaking of lattes, I never have to look far for a taste of home. There are Starbucks everywhere, even at the historic Ise shrine (pictured). Some other familiar names include McDonald's, Burger King, Wendy's KFC, and 7/11. I'm not much for fast food, but I'm popping into 7/11 nearly every day to grab a melon soda or quick onigiri lunch. Very convenient!
The shrine at Ise was magical – too magical for photos to be allowed, so I'll just have to describe it. The weather: drizzly. The gravel: crunchy. The mist: swirling mysteriously above the river. The trees: tall and swaying. The spirits: everywhere.
In contrast to the Buddhist iconography at Tōdaiji, Ise is founded in Japan's other major belief system: Shintô. Shintô, which is more of a way of life than a doctrine, is much more subtle and natural. It's all about spirits called kami that fill the world. Any waterfall, mountain, or natural formation that inspires a special feeling is inhabited by a kami.  That tree you park next to every day? Kami. That big boulder on the hiking trail you tried and tragically failed to climb (completely theoretical, definitely not about me)? Kami in there for sure.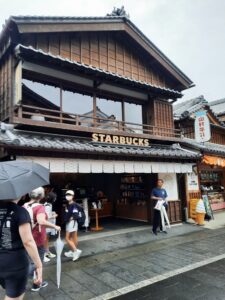 Since kami can be hidden away in any old corner or crevice, you can find Shintô shrines everywhere. Instead of gold and glamor, Shintô shrines are integrated with more natural elements like wood and running water. This means they can be tiny! Tucked between a restaurant and a ceramics shop, you might find a flowerbed or fountain crowned with a little red torii gate. In the flurry of rush hour, it's nice to see a reminder of the importance of nature and how much life people see in it.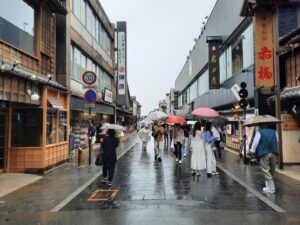 After an afternoon of quiet contemplation in the rain, I was brought back to Earth by a hot bowl of the best udon noodles of my life (i.e., invisible beneath a blanket of green onions). It was certainly a challenge to read any shop signs above the sea of umbrellas!
Well, I need to go wring out my socks. Next time you hear from me, I'll be in the big city of Kyoto. Hopefully it'll be on a sunny day!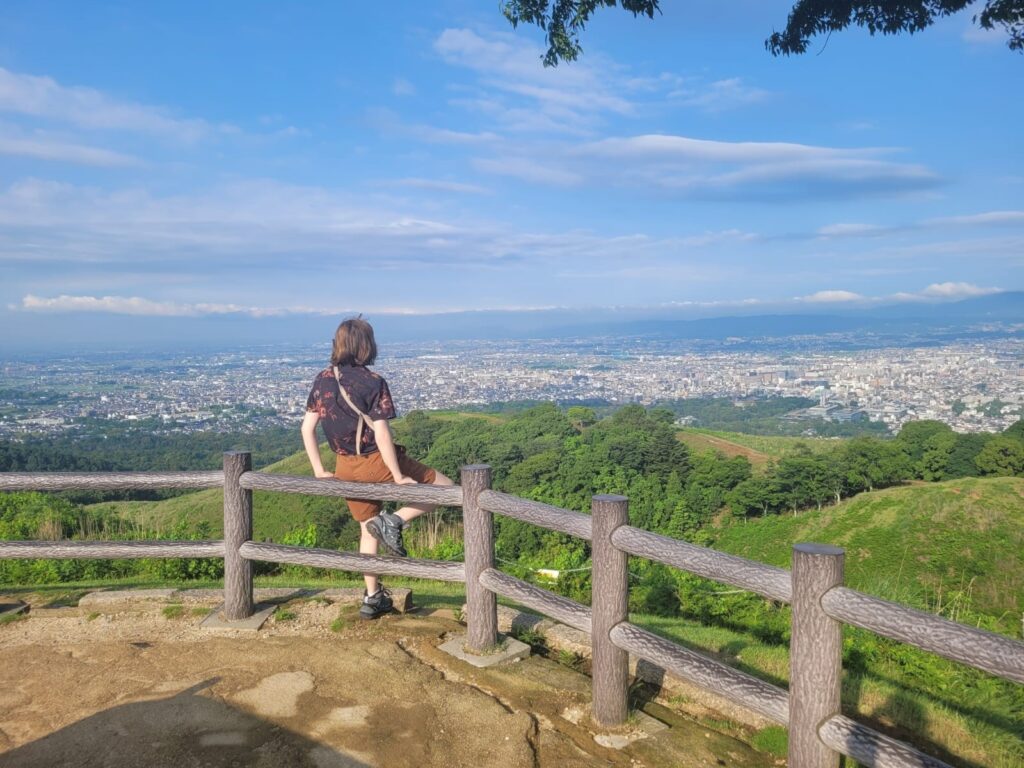 Study Abroad Blog 4: Kyoto and Hiroshima
Going from Nara to Kyoto has been like going from Williamsburg to D.C. – from quiet and historic to busy, busy, busy!
The hub of all things busy is Nishiki Market. It's a total labyrinth: streets and streets of shops flooded by a constant flow of locals and tourists, both of whom you have to either squeeze past or avoid being squished by to get anywhere. The air is thick with grilling fish and a cacophony of voices advertising their sales and samples from every direction. I can't complain, though – the sales can be pretty unbelievable.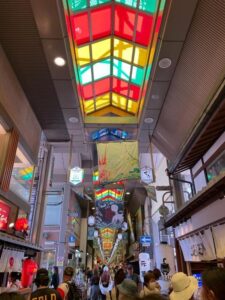 If you want food, they've got it on a stick: shrimp, squid, oyster, edamame, cucumber, and even chocolate-covered bananas! I tried eel here and was pleasantly surprised! The texture was a lot less rubbery than squid or octopus (though I must admit, I'm coming onto squid), and the taste was a lot less "fishy" than salmon or mackerel. But before I could jot down these thoughts, though, I was pulled away by the tide of foot traffic, back into the maze… I think I understand now what it feels like to be behind the glass of an ant farm.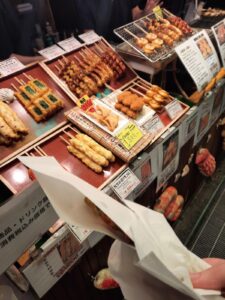 If you want to sit down to eat, I hope you like ramen! There are plenty of perfectly functional instant ramen brands (take it from a college student), but having it made for you formally in a homely shop in the city is so far removed from slurping microwaved tap water in a dorm room that it may as well be an entirely different food. As soon as I get home, I'm learning how to cook eggs like they serve them: with firm whites and runny yolks. It goes so well with a hot broth!
I didn't have to brave the market street for this ramen, either. Noodle shops are about as common as burgers and pizza here; this was only a short walk from the hotel.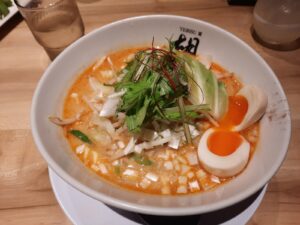 One thing I love about Japanese food is how cute it can be! It took me ten minutes to muster the courage to eat this tofu bunny with raspberry sauce.
Now, if you want to go so far as catching your food yourself, first I'd call you crazy because every other stall in Nishiki Market has day-fresh tastes (on a stick!). Then I would hand you a pair of chopsticks and send you to the river to catch me some noodles. Yes, way up in the windy mountains, there's a floating restaurant on the Kibune river where they send noodles down a bamboo chute for you to snatch up like a clumsy crab. I did feel silly, but I also felt contentedly full, so I retain my claim to dignity.
I was given a chance to prove myself refined again during tea at Heian-jingū shrine. I was expecting a few modest biscuits, but then they brought out this fancy wooden tray bearing matcha mochi, mango yogurt, walnut cake, and lemon macarons, and other things that I couldn't identify before scarfing down (redemption failed) (failure is delicious). Needless to say, all of the treats made for a refreshing afternoon.
One constant between English and Japanese tea is that I don't know in what order to use the forks (good thing the view of the grounds was too distracting for anyone to notice).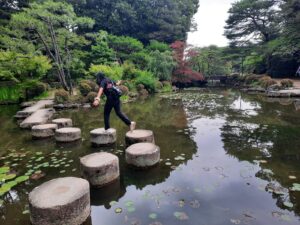 The grounds outside the shrine made for a beautiful walk after tea. A winding trail traced a koi pond lined with pine trees and chrysanthemums. For all the stepping stones we had to hop across, it's a good thing it wasn't raining!
At the end of the walk, we crossed a bridge adorned with rows of glass windchimes. Below, carp and turtles scuffled over cracker crumbs. But above the water, it was just us and the tinkling of bells on a fresh breeze. (There was definitely a kami in that lake.)
Two of my favorite site visits so far have been Ginkakuji and Kinkakuji. One is the "golden pavilion" and the other is the "silver pavilion" – can you guess which is which?
We're staying in the Kyoto Tower, which affords a breathless view of the city. I managed to snap a photo at sunset. See the mountains in the distance? You can see them from so many places on the ground. Like the Shintô shrines scattered between city streets, the mountains remind me of the life and spirit of this place and how grateful I am to be here.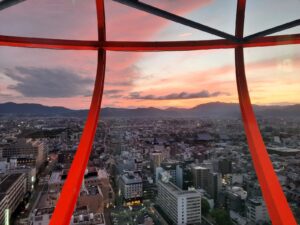 One of the final places we visited was the Peace Memorial at Hiroshima. We had many long discussions about this place, including a question of whose stories got to be told.
There were many profiles of children. It struck me how many groups of students were there that were the same age as the A-bomb victims. It didn't feel like it when I was hopping across lake stones, but I came to this place as a student, too. What did I take with me, and what would I bring back?
With this question in mind, I added a paper crane to the memorial to Sadako Sasaki, a young girl who died of leukemia after the bombing while trying to make 1,000 paper cranes to get a wish. I wished that I would return to the States with the spirit to promote peace.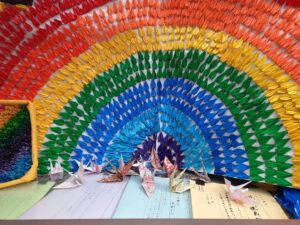 Study abroad blog 5: Home
After three weeks in Japan, I'm finally on the plane home. There's so much I'm going to miss: waking up to the smell of matcha, running after the train, smelling fresh rain under the pine trees, eating squid on a stick, and falling asleep to the neon city lights.
In this class, we asked the question: How do art and architecture communicate power? I'll think of this as I pass the brutalist brick buildings on campus and drive down the streets of Baltimore. (Oh, how I've missed driving!)
Sometimes it is through size. The Albin O. Kuhn library communicates its importance by towering over the academic buildings, standing 7 floors atop a hill. It intimidates and inspires me to dig into a research database. If our library was at Tōdaiji in the 8th century CE, I bet the Buddhists would have felt the same.
Sometimes it is through the absence of decoration. Ise didn't need to blind me with gold and silver to tell me it was important, and neither does the courtyard where I'll sit on a stone bench to write my reflections for class. Just because something isn't obviously ostentatious doesn't mean it isn't important to me.
Although it's covered by a blanket of clouds now, I'm passing over Seattle. It feels good to be home. How are things going to be different now that I'm back?
Look for places where a kami might be hiding. When I'm braking for a deer in the road, cutting through the grass to make it to class on time, or hiding under a tree from the rain, one could be hiding right under my nose.