Madelyn Pollack
ISA London, England: Business, Media Studies, Psychology & Liberal Arts- Academic Year/Semester
Major: History
Minor: Judaic Studies & Public History
9/15/2023
In the United Kingdom, the term "pants" doesn't refer to leg coverings that reach your ankles, as we use the word. Rather, if I were to say pants across the pond, I would get some strange looks—they would think I'm talking about my underwear! This is one of the "Britishisms" I've been reminding myself of constantly in preparation for my study abroad experience in London. I'm also working on remembering words like chips (fries), loo (bathroom), lift (elevator), thongs (just flip-flops!), and the need to be more aware when crossing the street as the cars drive on the left side of the road.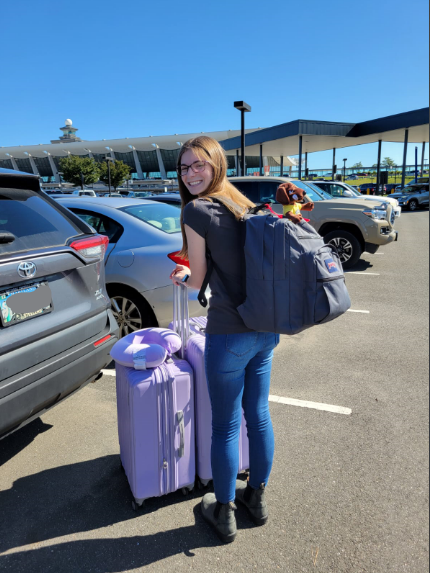 To get ready for my departure, I've spent a lot of time watching videos and reading pages with tips for the best ways to pack and travel, save money, stay safe, and get used to university outside of the USA. I've pored over travel guides searching for the unmissable highlights and the lesser-known must-sees to make the most of this time. I'm planning to take a couple of weekend trips near and far within the UK and Europe at large. It seems to me that there's no better way to explore my discipline as a history major than seeing the sites I've learned about in textbooks and learning more through experience!
Back home at UMBC, I'm entering my last year as an undergraduate, and I'm supplementing my history major with minors in Judaic Studies and Public History. I'm also a member of the Honors College and the Humanities Scholars Program, which actually requires its students to study abroad and allows our scholarship money to apply to the programs we attend internationally. I'll be studying and living in central London at the University of Westminster through the trip provider International Studies Abroad (ISA). I am beyond excited to be leaving, but I'm nervous too! As there are no other UMBC students in my program, I won't know anyone once I get there, but I am looking forward to making connections with other students from across the USA and around the world.
At the University of Westminster and throughout the country, university classes typically start in late September and end around the middle of December, so I've gotten to enjoy a longer summer than usual this year! When I arrive, I will have a week of orientation, both for my program and the university before I start classes. I'll be taking three history classes there, to no one's surprise: History of the Monarchy, The Holocaust in London, and A Sexual History of London. I'm also taking a UMBC online class to aid in my Judaic Studies minor requirements, JDST 200: Israel and the Ancient Near East.
So, with all the excitement and nerves that accompany it, I'm so glad to say that today is the day! My flight leaves this evening and I arrive before the crack of dawn at London Heathrow Airport (not really – just 6:45 am) to start my adventure. Keep up with my updates this semester from London on this blog. Thanks for following along! – Maddy
9/29/2023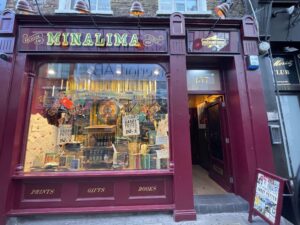 This morning, on my bus ride to class—top floor of the doubledecker, of course—I got to sit in the front row and watch as the city went by me. I've been here just about two weeks now, and I can already feel myself blending in as London life becomes a part of me. (Helped by the fact that a group of girls from Amsterdam this morning thought that I was a local, maybe I can make it true ;).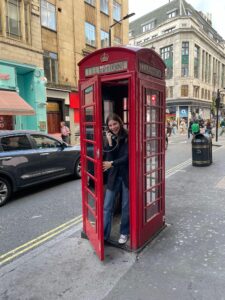 When I arrived, we had a few days of orientation, both with my study abroad provider and with the University of Westminster. But my new friends and I have also had plenty of time to explore and get a feel for the parts of life in this city that most appeal to us.
So far, I have been to two theatre shows on the West End, the Broadway of London. When tickets here are so much less expensive than what I'm used to paying at home, I can't resist! And lucky for me, choosing the cheapest tickets doesn't mean a compromise—it's practically impossible to have a bad seat! I expect to see many more before I leave. So far, I would give rave reviews for Grease the Musical and Crazy for You. You might love to hear a British accent, but a British accent acting as an American accent is even better!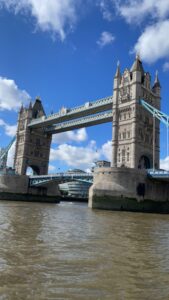 I've visited four museums so far, all of them free in what feels to me like a wonderful echo of our own Smithsonian museums in DC. I met William Shakespeare and all the early royalty at the National Portrait Gallery, was shocked by the sheer amount of objects on display at the British Museum, strolled through the Tower of London and learned about the many purposes served by the castle across the centuries, including a royal menagerie as well as prison and royal residence, and finally, walked through the Holocaust Galleries at the Imperial War Museum for my first day of class in the Holocaust in London.
I would surely be a poor study abroad student if I didn't also talk about my classes, which started this week. Here's where we have another vocabulary adjustment: what we call classes at home are modules here, schedules are timetables, and if you're working toward an undergraduate degree after high school you are at university. If I said I was going to school I'd be proclaiming myself a high schooler, and college would be more like what we might call a prep school back in the states.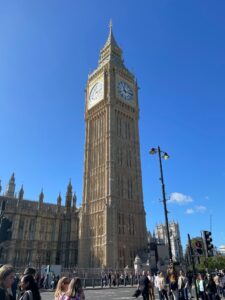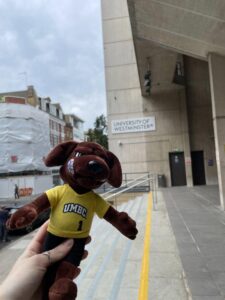 So far, I've really (really!) enjoyed my first days of class. Getting to know my professors (aka module leaders) and starting to dive into these new topics—the United Kingdom and its royalty, the Holocaust and how it touched this city, and today's class, sexual history in London—has been so exciting. It's been over four months since I was last in a classroom, and it's great to get back into the swing of things.
Check back again in two weeks for my next blog post! – Maddy
10/18/2023
Hello again! For this post, I want to tell you more about traveling outside of my host city. Being in London has many advantages; chief among them is accessibility to other wonderful cities in Europe. So far, I've been able to organize independent travel to Dublin, Ireland (and Northern Ireland); Budapest, Hungary; and Swansea, Wales. My program provider has also held trips to Brighton & the Seven Sisters Cliffs and Stonehenge & Bath.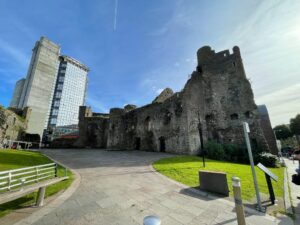 Traveling outside of your host city can be intimidating and stressful, but I like to remind myself that studying abroad is sometimes all about getting out of your comfort zone. Ultimately, these experiences allow me glimpses into the lives of so many different kinds of people while fostering personal growth and cultural awareness. Remember to stay open-minded about new experiences, to leave time for breaks, and not to overdo it! It can be hard to say no to some sites or experiences, but you'll thank yourself when you actually have enough time to see the things you do end up going to.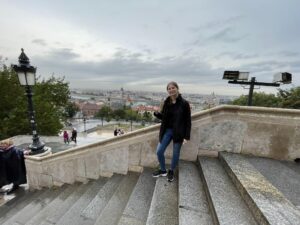 Another way to make the most of the locations you're visiting is by finding tours; there are lots of options for walking tours (many of them free!) in major cities. In Budapest, my friend and I went straight from the airport to the city centre to catch our tour of the Jewish Quarter. It took us through the streets that shaped the WWII ghetto, to the several synagogues that litter the area, and our tour guide went into great detail on the thousand-plus-year history of the Jewish people in Hungary. My grandmother recently passed away, and with her family's Hungarian roots, learning the history of the Jews of Hungary in Hungary felt so meaningful to me, and like a proper way to honor her.
Continuing on the tour theme, I also like to look for day trips that leave the city and let me see more of the surrounding area. For example, during my weekend in Dublin, I spent a day on a bus tour of Northern Ireland, where we saw Dunluce Castle (a Game of Thrones filming location), and Giant's Causeway, and took a tour around Belfast learning about The Troubles from people who lived through it. It was especially interesting to hear the Republican (the group that wants all of Ireland united as one republic) point of view on the conflict, especially coming from London, where things are usually seen in a different light. I even saw an exhibit this week at the Imperial War Museum in London that covers The Troubles, and I think it's amazing to have this opportunity to see both sides of history.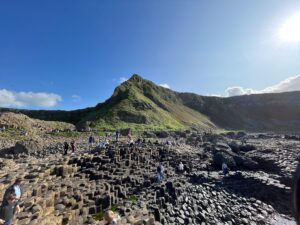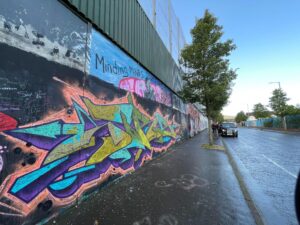 During some downtime in London last week, I went to walk around the National Gallery for something to do and to clear my mind. I didn't expect to see a taste of home all the way across the pond and in the same buildings as paintings by Monet, Caravaggio, Vernet, and Botticelli, but the world works in strange ways. And so, when I saw this painting by Hans Holbein the Younger, I couldn't help but laugh and capture it. Enjoy!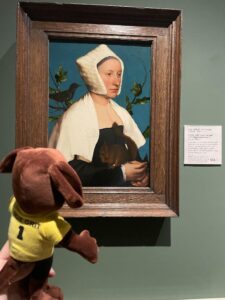 10/26/2023
For this blog post, I'm going to focus on the planes, trains, and automobiles of my semester. As mundane as that might sound, getting into the swing of all things transportation in London has really helped me feel at home here.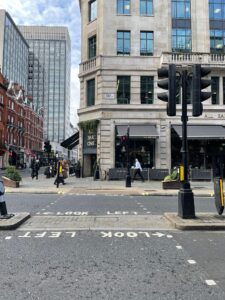 Let me start by saying if you have the time to spare and the energy to walk to your destination, this can be a really fun way to get a better feel for your surroundings. Look around and see what surprises you can find. This is how I found some of my favorite places to eat! It can save you money and give you the chance to people-watch and learn local culture just through observation.
My favorite mode of transportation in London is the bus system. I'm lucky that I have several bus stops right near my flat (apartment) to get me anywhere in central London that I need to go. Not to mention, this beats taking the Tube (London Underground) in terms of price, and still lets me see the city pass by. I'm still a sucker for the top level of the double-decker buses—there's something so amazing about getting to experience this city from a nearly bird's eye view. And besides, who doesn't love walking up and down the bus stairs while the bus is in motion? 😉
If I'm in a rush, the Tube is the way to go. Much like the DC Metro in many ways, I've found it wasn't too hard to get the hang of using. It beats the clock on walking or taking a bus almost every time, but it can get really crowded in Central London, particularly around rush hour. Even worse, there's no ventilation! So it doesn't matter how cold it might be outside, the Tube will always be hot. Nonetheless, taking the Tube is still a fun experience. The American in me still loves to echo the operators who say "Mind the Gap"! There are also trains that transport you further around the city and the United Kingdom at large; unlike flights, these still allow you to see some of the countryside and the locale outside of a host city.
Being in a European city means of course that there's easy access to other European cities, as I've mentioned in previous posts. What better way to travel than by Ryanair flights, the Spirit of Europe? In all seriousness, having a budget-friendly option to get around is something I have been taking for granted. I will never have a chance to travel the world again quite like I have now, and I'm extremely grateful to have these opportunities.
Then there are other modes of transportation which are perhaps less popular but still fun ways to get around and see things. If your host country has a body of water, chances are that there are day cruises where you can learn about the waterfront and the city while floating through it. If your city isn't completely flat, you may be lucky enough to have a cable car to see your new home from the clouds without buying a plane ticket. In the UK, we also have the famed black cab taxis, which, in addition to displaying advertisements as if they were magazines, have drivers who train for years to learn the city's history and geography to make for the best possible taxiing experience. So, get out and find new ways to explore your surroundings!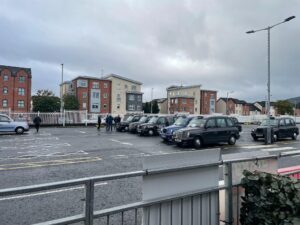 11/10/2023
Here is one of the biggest pieces of advice I have to give to students planning or hoping to study abroad: make a bucket list or set some goals for activities you want to do, places you want to go to, and things you want to try. These can vary from small things like trying a popular drink in your new home to bigger things like visiting at least 2 new countries. It's okay if you don't get the chance to complete everything on your list (especially if you're a big Type A planner like me), but having these things set out in advance or even as you go will help you get a vision for making this time your own. You don't get opportunities like a semester abroad all the time, so you should make your experience personal, tailoring it to you. Let me tell you about some of my bucket list items for the semester!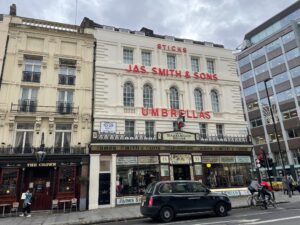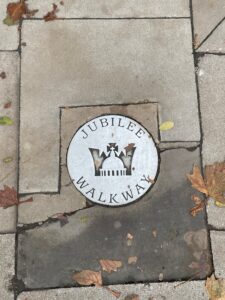 One of my London goals which I only just accomplished was to just walk to my university. I had hoped to do this with friends of mine, but when I realized no one else was up for it, I had to remind myself that this is my goal and I should still pursue it on my own. So a good weather day finally came when I was prepared to make the hour-plus walk through the West End and Central London from my flat to uni. I hadn't realized how straightforward it would be—once I got on the main road near my Tube stop, I kept walking straight almost all the way there! The route was almost the same as my normal bus route, but walking it on foot gave me a whole new appreciation for the variety, beauty, and excitement I get to experience every day. You never know what you might find!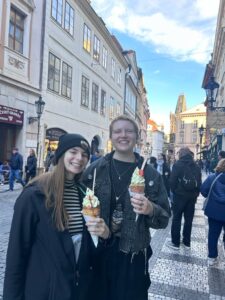 If you have friends also studying abroad at the same time as you, going to visit is a fantastic way to get out of your comfort zone in a new place while keeping some comfort by seeing the sights with your friend who's now an expert on them! I recently went to visit my friend studying abroad in Prague, Czechia, and it was a wonderful taste of home from thousands of miles away. It's always amazing to see a new city, but some of the usual stresses of traveling were minimized as I spent my time with "locals".
One of my biggest goals for the semester was to visit all of the constituent countries within the United Kingdom. And, during my reading week (a week without classes), I finally rounded out this goal when I took the train to Glasgow, Scotland! I was lucky (?) enough to get the real Scottish experience. That is, pouring rain and heavy winds as a major storm came in from Ireland. This didn't dampen—or rather, didn't lessen—my experience in the country, as I got to see breathtaking landscapes in the Highlands and the wondrous centuries-old architecture in the cities of Glasgow and Edinburgh. I even got to see Highland cows (coos, if you want to sound Scottish)! Yes, they really are that cute. I even saw a number of them do a little moo-off as each cow wanted to have the last word.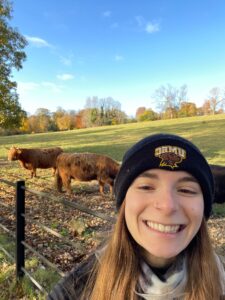 To sum up, be adventurous! Do things that scare you a little bit. Find unique experiences to bring stories back home to your friends and family. Make this experience uniquely yours, and even if things go wrong, you won't have regrets.
11/24/2023
For this blog post, I'm going to go back to some practical tips and talk about some ways you can save your money and make your funds go further while you're abroad.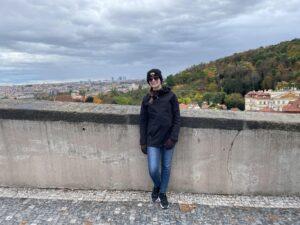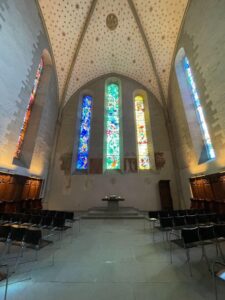 My first recommendation is that you track your spending while you're away! You should start with a general idea of how much money you have available to you, and just be aware of the money going out of your accounts. When you're thinking about the items you spend money on, you'll have an easier time managing your spending expectations for the rest of your time. When you have everything laid out in front of you, it's much easier to identify any adjustments you might need to make to stay on budget. I like to use a spreadsheet to lay out my expenses by the day, and keep my travel spending separate.
You may already know that there are tons of discounts out there targeted specifically at students. Spotify and Amazon are the ones you might think of right away, but you can also become a member (for free!) of Unidays or Student Beans; these websites look for discount codes you qualify for as a student. But don't forget! You might also be able to get discounts (or concessions in the UK) on ticket prices to museums and other attractions or even stores, markets, and restaurants.
Another category of your life abroad that can help you save is food. Particularly if your program is like mine and you are responsible for your own food rather than having access to a meal plan, your instinct might be to go out to eat a lot if you're not used to making meals. It's always fun to treat yourself with a meal out, but you'll save a lot more money if you go grocery shopping for most of your meals for the week. You don't need to be a chef, but making simple meals like pasta, salad, sandwiches, and stir fry was a really great place to start for me.
Being budget-friendly doesn't mean that you don't get to have fun. Even if you are based in a city where everything seems to be expensive, there are still so many opportunities to have a good time and see some amazing things without paying anything. In London, lots of the museums are free, and spending an afternoon in a park is a lovely way to take a breather from schoolwork and the fast pace of city life. Make sure to ask locals like your program staff or other students you meet or even your professors for their recommendations for ways to explore the city—you might be surprised at the things you can do even when you don't spend a dime!
Keep track of your spending, student discounts, off peak travel, grocery shopping (less expensive grocery stores) and bring lunch, travel in groups, look for free activities but also treat yourself!