1/8/2023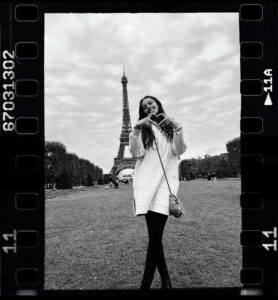 19 days in counting until I leave for Granada, Spain and I am full of tons of emotions. First thing is first, I am stressed out! My name is Ysabella Córdoba, I am a Linguistics and Global Studies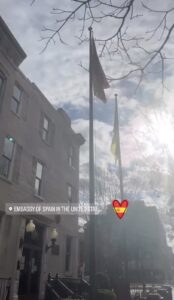 major with a minor in Arabic. I just came back to the United States not even a month ago after finishing a study abroad program in Lyon, France. I was extremely stressed until a few days ago when I received my Spanish Visa because I had to apply for it immediately upon my return to the United States and hoped that it would arrive on time for my departure. I cannot stress enough to apply for your visa on time! I still have a bit of pre-departure shopping to do but otherwise I am so excited to experience Granada.
In my first study abroad experience I was developing my third language, French, although Spain is going to be a bit different for me because Spanish is one of my native languages. On the other hand, the Spanish that I speak is much different than the Spanish spoken in Spain so I have been watching classic Spanish movies and Tv series to try to adjust to the accent,  difference in slang, and everyday words used. Even though I speak Spanish I'm still pretty nervous to move to another country but I continue to remind myself how much I love traveling and experiencing the riches of culture in foreign lands.
After doing some digging I found out that Tapas (small savory dishes, snacks or appetizers of Spanish cuisine) originated in Granada and that everyone in Granada loves to dance. Eating and dancing, two of my favorite things! I have also found that searching for things you like to do makes the integration process so much easier, so I have found a few gymnastics gyms, yoga studios and dance studios but I am eager to find more passions and things to do when I arrive.
For the Spring semester I will be documenting my entire experience in Granada, Spain and throughout Europe here on UMBC go abroad so please follow along! 🙂
1/31/2023
It's my first week in Granada and I am absolutely in love! I'm living in "una residencia" (an apartment building made for students) with a bunch of international students as well as Spanish
students and it has been absolutely amazing immersing myself into the culture. In the residence we eat 3 delicious meals a day made by Señor Antonio as well as hangout in the living room and dining hall studying or just making conversation with one another.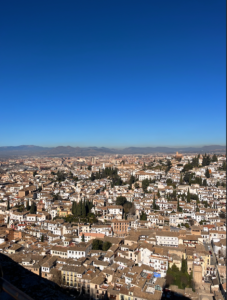 I am still getting used to the time change so I have been taking lots of naps or "siestas" as they do in Spain but I have already discovered a lot of the city. I find that it really helps to roam around a bit and get used to your surroundings especially before classes start. The city of Granada is beautiful all around with remarkable Arab influence and the people are so nice.
I had the pleasure of going to the last standing Arab palace in Granada "Alhambra". The Alhambra was last ruled by Muhammas XII and the termination of the Nasid rule brought an end to almost 800 years od Islamic presence on the Iberian Peninsula. Thank goodness I wore my walking shoes because the tour of "El Palacio de Alhambra" took about 3 hours. Although every minute of the tour was worth it from the views, architecture and inscriptions on the walls all the way to the Generalife gardens.
I'm still exploring the city and all the things that I have on my "must-do/try" list but it's good to remember that there is only so much you can do in a week! I hope you enjoyed hearing about my first week in Granada, I'll be posting more experiences very soon, Adiós!
2/22/2023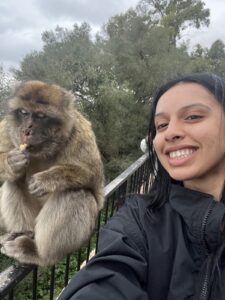 These past few weeks have been nothing short of a dream! Over the weekend I went to Gibraltar, a territory of the United Kingdom at the bottom of Spain otherwise known as the end of Europe. It was incredibly beautiful and windy territory but my favorite part was the monkeys!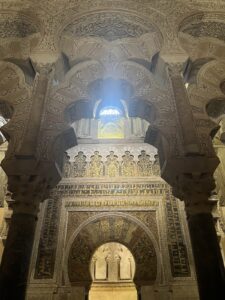 I have always loved monkeys and my dream of holding a monkey finally came true, sort-of ( the monkey stood on my head!). Between the monkeys and the spectacular view from the Rock of Gibraltar I thought I must have been day dreaming.
Although my dream didn't stop there. After Gibraltar I went to Córdoba, which is actually my last name, meaning little mountain by the river. Upon arriving in Córdoba I was able to see La Mezquita-Catedral de Córdoba which is a mosque on top of roman ruins inside of a Cathedral which symbolizes how Muslims and Christians used to live together in peace in the era that Arabic was the first/standard language of Córdoba. The symbolism and the architecture was absolutely beautiful and precisely put together.
I can definitely say that it was a weekend to remember. Although I am extremely excited for the coming weekend because I get to travel back to France and see some old friends from my previous semester. Thank you so much for following my travels through Europe!
Until next time! Ysa
2/29/2023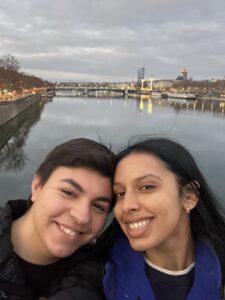 Ohlala how I have missed France. This weekend was a short one but it was jam packed! I flew from Spain to Paris and then I took a train to Lyon! I am sure if you ever read Kathryn Crummitt's blog posts from France you already know a bit about Lyon. Lyon is the gastronomy capital of the world and that label does not come lightly. From the bread to the cheese to the chocolate Lyon has my heart. One of the specialty breads of Lyon, which is also my favorite, is brioche aux praline which is a pink bread! I actually bought two brioche aux pralines in Lyon, one for the weekend, and one to go!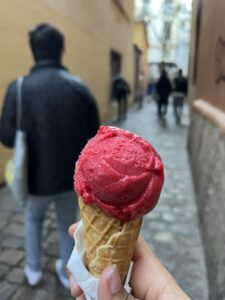 The sun was out in Lyon, making the weekend ever so magical as I could walk through the city center and along the La Saône and Le Rhône and strolling through Vieux Lyon (Old Lyon) where I did some shopping and ate some of the best raspberry gelato of my life, it tasted exactly like a raspberry!
After spending such a wonderful time in Lyon I returned to Paris by train for the day to dance at a world renowned dance studio and participate in an intensive training session. Dancing is one of my passions and I think it is very important to try new things and travel but I find that following your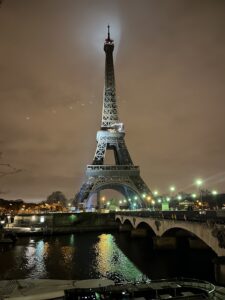 passions can keep you grounded anywhere you go and often opens up new possibilities! Later that night after a bus, train and uber I was back to my current home in Granada.
I'm very  excited to spend some time in Granada this weekend and to celebrate Día de Andalucía, a local holiday that is next week! Again, thank you to everyone who continues to read my blogs, Ysa 🙂
3/13/2023
Wow! I know I keep saying it but this weekend was a literal dream. I have never felt so alive or fulfilled after leaving another country.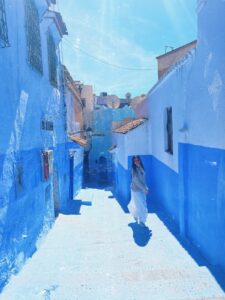 As someone that studies Arabic and Islamic culture, Morocco left me feeling replenished with knowledge. It was extremely interesting understanding the relationship between Morocco and Spain and how many people often travel between the two countries for work and pleasure. With that being said, I took the bus with my program from Granada to Tarifa, a city in the south of Spain, and from there we took a one hour ferry to Tangier, Morocco.
I was able to practice my Arabic while barging in the Souks (markets),  I was able to try  the famous Moroccan mint tea and I was lucky to have arrived on a Friday (the day they don't eat bread because the bakery is closed) to be able to try their delicious couscous.
On Saturday my program went to Chefchaouen, The Blue city which is home to the Moorish or Berber people who are native to Morocco and Northern Africa. The city was one of the most beautiful things I have ever seen with my own two eyes and the streets were filled with the most amazing and friendly people, I was even able to hold someone's parrot. I had to pinch myself to make sure I wasn't dreaming, I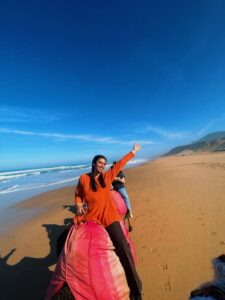 really did not want to leave! Thankfully I did because that night on the beach I ended up riding a horse! Just to wake up and go on a trip to the Atlantic to ride camels!
Many people in Morocco speak more than 1 language, the prominent languages in the North are Spanish and Arabic but throughout the country Moroccans study French, and there are several British schools for English. I found several people that spoke the same four languages as me, Spanish, English, French and Arabic! I felt immensely grateful for the life I have and for the experiences I am able to experience in which would be impossible without education. Just as well I am excited to keep learning through studies, travel, experiences and others all over the world.
I hope you enjoyed this post like I did my weekend!
Until next time, Ysa 🙂
3/21/2023
I (mostly) stayed in Granada these last few days. It was one of my friend's birthdays so a few people from my program and myself decided to throw him a surprise birthday party. Two of my friends told him they were taking him on a hike near the Alhambra and we surprised him with a picnic under the sun. It was really a beautiful thing because we all have only known each other for a short period of time but we all came together to celebrate his birthday and make him feel special on his birthday (and he was super surprised:))!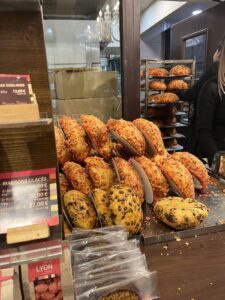 Later in the week my program had organized for us all to go in small groups to the Arab baths and it was super relaxing, exactly what I needed the week before midterms. There were no cellphones allowed inside, they gave you flip flops and a towel and had you change into your bathing suit. The inside of the baths was absolutely gorgeous. We spent 15 minutes in the hot bath, 2 minutes in the cold, got a 15 minute massage, then we returned to the hot and cold baths one more time followed by the Turkish bath which is much like a sauna. We finished off the experience by drinking delicious Moroccan mint tea and eating strawberries with chocolate.
Over the weekend my friend and I traveled 6 hours north by bus to see Las Fallas in Valencia, Spain. Las Fallas is a festival where each barrio (neighborhood) creates their own float and they are displayed throughout the city where there are tents with all types of food as well as merchants selling all types of goods. Later that night we got to see fireworks throughout the city as well as the tradition of burning all the floats down to the ground at the end of the night.
As you can tell I had a great time although it's really important to make sure you prioritize your health (as I am writing from bed with bronchitis)! Don't get too swept away in all the wonders of travel and exploring and make sure you take the rest that you need or the rest will take you!!!
Thanks again for reading, Ysa
4/10/2023
Spring Breakkkkkkkkk!!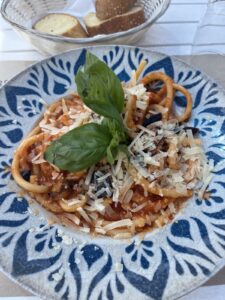 I had such an amazing time over spring break and got to discover so much. I started off by flying to Sicily, Italy and I spent four beautiful days on the beach, eating Italian food and indulging in the culture around me. It was really interesting being in a country that used a language I did not speak or study, granted I did some Duolingo on the way there, it was really nice to just communicate naturally with others.
After spending some relaxing days at the beach I flew to London! It was my first time in the United Kingdom so I was really excited. London is also one of the best places to train to dance professionally, so as a dancer I was elated to be able to dance there because it has been a dream of mine for years and now I can say I've done it! I spent four amazing days in London where I danced every single day for several hours and got to do some sightseeing! I just had to see Tower Bridge, Big Ben and the London eye and they did not disappoint! On the contrary from Italy, it was really cool being in another English speaking country. Even though the English in the UK was very different from the English I am used to in the United States, although as a Linguistics major I was learning a lot!
My fun didn't stop there! I landed in Málaga, Spain by 10am Saturday and decided to go straight to the beach for the day until I needed to catch the bus back to Granada and I got to enjoy another beautiful day by the sea.
It was definitely a Spring Break I will never forget.
Thanks for reading, Ysa
4/25/2023
Back with another blog but this time from Germany!
This trip was a special one because I was visiting a very good friend that I met during my last semester abroad in France. It was my first time traveling in Europe to visit a friend and it was amazing! It was super cool to me that I had some native to Kölon to show me around and make sure that I get to experience the best things,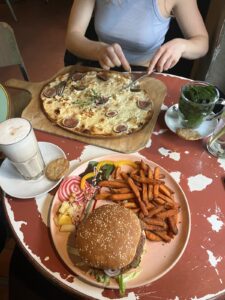 like a native 🙂
I arrived in Germany on friday and my friend Shafia picked me up from the airport, we went and got some delicious turkish food (I had no idea that turkish food was so prominent in Germany), then we went bouldering and took part in a small party afterwards where I met a lot of cool people! I found out a lot of ideals in Germany from both the left and the right side and learned a lot about the country's history.
The next day her flatmates woke us up with pancakes, strawberries and nutella! I love when fruit comes back into season in Europe, it's not the same as in the United States where we have all types of fruit all the time because they don't use any
preservatives here. Then we went bouldering again (which is extremely popular in Germany as well as parkour) with some friends, went to a beautiful cafe and then we rested up to have a night out in the town!
My trip was short and ended the next day after dancing in the morning and eating Turkish food for lunch before catching the train to the airport. 
Europe just keeps surprising me. When I came to Europe I had a list of the countries that I thought would be the coolest to see and left all the others up to chance. But it's all the ones that weren't at the top of my list that are my favorite! It really shows how your perspective changes as you travel.
Thanks again for reading! Ysa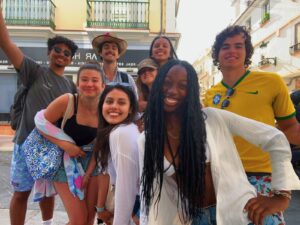 5/9/2023
This weekend was one of the best weekends I have ever had. I spent it beach hopping with some amazing friends that I met here in Spain.
We started by renting a car in Granada and then we drove southwest to Cádiz where we went to La Playa Bolonia and then we stayed there for one night. We all cooked dinner together and swam in the pool while sharing stories about each other.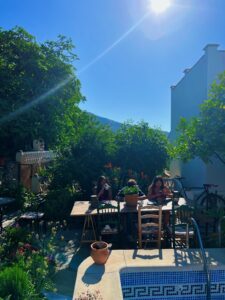 The next day we woke up early to clean and check out and then we drove to Marbella which can be described as the Miami of Spain. It was absolutely amazing. We ate at a Latin restaurant and then spent our day at the beach rock jumping and playing soccer just to return to our Airbnb for some dinner and another night of swimming and games. 
After a fun night in Marbella we woke up early again to make sandwiches for the next beach. We then drove to Nerja to meet some of our friends from Granada for the day. We were all so happy about the weekend we had shared together we just didn't want it to end! So we booked another Airbnb in the capital of Alpujarra, Órgiva!
I made so many new memories and got closer to all of my friends that I shared the weekend with. I really could not have asked for a better weekend.