10/5/2022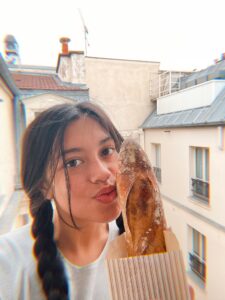 Before moving across the world to study abroad in a city I did not know, I decided to
learn as many details as I could about Lyon. I listened to hour-long podcasts during my commute
to work, watched vlogs of students who had previously studied in the true city of lights, and
consumed travel book after travel book. I learned about Beaujolais nouveau, a wine with such
renown that it has its own holiday, celebrated from the banks of the Saône River all the way to
hot spring pools in Japan. I became empowered hearing the story of the Lyonnaise chef, Eugenie
Brazièr, the first woman to achieve 3 Michelin stars. I craved to traverse Lyon's traboules,
Lyon's secret covered passageways. My stomach became set on eating hearty, clog your arteries
type fare in a traditional Lyonnaise bouchon. I dreamed of wandering down the cobblestone
streets of Vieux Lyon, wrapped in a silk scarf. After many hours spent consuming information
about Lyon, I developed a fondness and love for the city. Amazing how one can have such deep
feelings for a place they've never traveled to.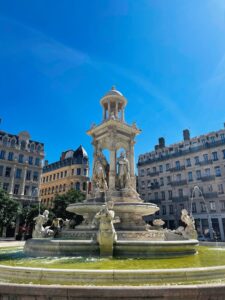 Despite my research, this beautiful metropolis surpassed all my expectations. No amount
of planning compares to simply wandering aimlessly through Lyon's arrondissements. Each day
in Lyon has brought unplanned yet refreshing experiences. For instance, the morning after I
settled into my studio apartment, I stumbled upon an open-air food market located two blocks
away from where I live. The market was situated along the Rhône River bustling with people
traversing the rows of fresh produce. Hôtel-Dieu, a jewel of architectural wealth, served as the
backdrop to the farmer's market. Well defined domes and copula-like structures made up its roof
while grand paned windows stretched across the entirety of the building. It's no wonder it's
called "Hostel of God," the palace-like building looked as if it were crafted in heaven. I spent an
hour conversing with and buying from farmers, bakers, butchers, and fromagers. Those sixty
minutes wandering through the market were spent in sensory overload. While my eyes feasted on
the flesh of sweet pinky-orange peaches, my ears were caught listening to the merchants' rapid
French chatter. My mind was overworking to compensate for my feeble French skills. At one
point, a merchant wrote down the price for two boxes of raspberries since I could not discern the
number. Yet, I was able to navigate my first French market without speaking a lick of English.
After spending my remaining euros, I blissfully sat amongst strangers on tiered steps, popping
raspberries in my mouth, whilst watching cyclists move along the rivers path.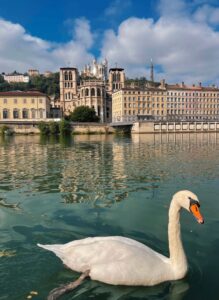 I came to Lyon with all these preconceived plans and objectives. The first lesson I've
learned after traveling here is, there is no universal way to live. Instead of researching the best
breakfast place near you, go walk down the street, dare I say it; get lost. When we travel, we're
not supposed to know everything, relish in the flexibility of it all. Go into the unknown, lose
yourself! Cause who knows. Maybe you'll stumble upon the most beautiful market you've ever
seen. Maybe you'll find you're capable of haggling down prices of produce entirely in French.
Maybe your skills are so exceptional, a vendor gives you a free lemon. I never would have found
this new confidence if I didn't take that first step of courage into the unknown.
11/3/2022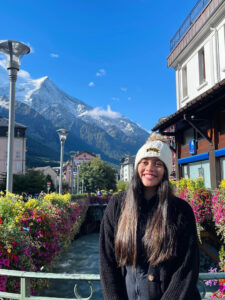 As a child, my sister and I would endlessly watch the Chronicles of Narnia movies. Sitting in
front of the television with my sister, eating store bought Turkish delights and sipping
microwaved hot chocolate, while watching Mr. Tumnus guide sweet little Lucy through Narnia's
winter wonderland, is a childhood memory I look back on fondly. To this day, those films are
ingrained in my head.
So, it is no surprise the throne-like chair I'm currently sitting in reminds me of that wonderful
fantasy world. My mind has transported itself into the white witch's castle and I feel as if I am
seated on her icy crystal throne. The cozy cafe I'm occupying is even decorated with icicle
chandeliers. Chalet 4810 encapsulates the magic of Chamonix well, with its luxury pastries,
macrons, tarts, and fudge showcasing the town's opulence and charm.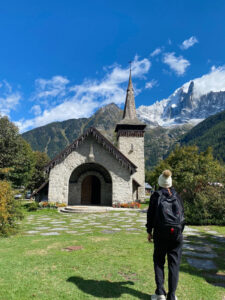 Chamonix-Mont-Blanc, usually shortened to Chamonix, is located in the heart of the Haute-
Savoie, a region in the Alps of eastern France. This charming town is situated in the valley of
the highest mountain in the Alps and western Europe, Mont Blanc. Mountains encircle the entire
village, transporting travelers into a secluded retreat away from society. Chamonix draws in
master mountaineers and adrenaline junkies and is renowned as the mountaineering capital of
the world. At any time of day, one can look up and see brave souls soaring above the alpines
with parachutes or riding cable cars that reach an altitude of 12,605 feet.
Now, I don't consider myself a hiking enthusiast or mountaineering expert but since Chamonix
was only a four hour train ride from Lyon, I felt compelled to visit. I hopped on two trains, both of
which passed under and through the French Alps. The beautiful scenery of mountain passes
and little French towns kept my eyes occupied and the hours spent traveling flew by.
Ever since I stepped off the train's platform, I've felt as if I've entered the world of J.R.R. Tolkien
and have come home to Middle Earth. Here is a glimpse into the magic of Chamonix. My first
night in the charming town led me to a cozy tavern called "Moo." This tavern was filled with very
tall people dressed in furs and heavy coats all of whom were downing pint sized beers. I sat at a
high table and ordered a meal fit for a hobbit. I consumed a burger stuffed with two beef patties,
truffle mayo, bacon, lettuce, and cheese, a bucket of fries, and a cider the size of my head. My
full stomach, the crisp alpine air, and the comfortable tavern chatter created a homely
atmosphere for my first experience in Chamonix. After soaking in the songs and drinking chants
of fellow tavern goers, I walked back to my Airbnb, located in what was previously the Palace of
Chamonix. Lantern fixtures lit the town's cobblestone streets and revealed the foggy mountains
surrounding Chamonix. One mountain stood taller than the rest, Mont-Blanc, reminding me of
the Lonely Mountain from the Hobbit. As I traversed the streets staring at Mont-Blanc's peak, I
couldn't help but imagine Smaug lying at rest under the mountain's beautiful snowy summit.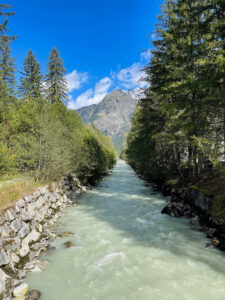 I spent my weekend in Chamonix traversing the morning market, hiking three miles to a crystal
clear waterfall, and witnessing the cow's descent, a traditional alpine parade. The cows' descent
happens once a year when the cow's return to the valley from alpine pastures at the end of
summer. I serendipitously visited Chamonix the last weekend before the autumnal equinox,
which marks the first day of fall. So, I fortunately bore witness to this traditional march. The sound of cowbells alerted locals and tourists alike of the dozens of cows adorned in flowers and
intricate bells walking through Chamonix's streets. Apparently, this parade works to showcase
the rich and flavorsome cheese the farmers have been making with the milk from their herds!
My weekend trip to Chamonix was a magical experience, opening my eyes to a whole new
region of France with a different atmosphere, traditions, and cuisine. I hope to continue learning
more about France throughout my studies in Lyon and during future weekend trips to Marseille,
Bourgogne, Aix-en-Provence, and Beaujolais.
11/27/2022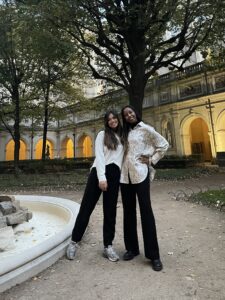 It's gloomy in Lyon. Curfew has commenced. The pitter patter of rain hitting the cobblestones is the only sound heard in the night. Yet with a keen ear one can make out the light tapping of paws on the city's harsh cracked sidewalk. Why it's a mouse! The rodent scurries across the city and successfully evades the eyes of the Gestapo. This is no ordinary mouse either. Its fur shines white and clear as the moonlight piercing through the clouds, it is the infamous white mouse. The white mouse who started an impressive escape route for freedom fighters, the most wanted person by the Gestapo, the unattainable woman, Nancy Wake. Life in Lyon has changed drastically. No longer does the French flag stand proudly on the balcony of the city's town hall. No, the French have scurried far away from the building ever since the French flag was replaced. A flag etched with multiple equilateral crosses bent at a right angle, bathed in a halo of white, and surrounded by bright red, the same color as the blood spilled by the people who stand behind the symbol. It is the Swatstika, the symbol of hatred, of Nazi-Germany, of millions of systematically murdered Jews, of occupied France, of oppression. This is just a tiny glimpse of what our tour guide, Magali, described for us of what life in Lyon was like during the Nazi occupation.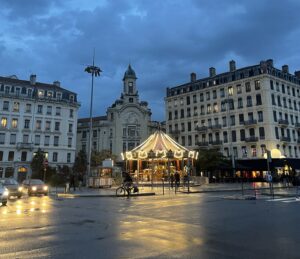 As I stood in front of Hôtel de Ville, Lyon's town hall, I reflected on this rich and tragic history. My class on travel writing continuously pushes me out of the classroom and into the city. Sometimes, I feel as if this course is both for academic and physical activity. Our professor is nonstop with outdoor outings like this one. But, I have found the best way to learn about Lyon is to simply traverse it. For instance, two weeks ago we met at Parc de la Tête d'Or, the "Central Park" of Lyon, and toured its World War I memorial. In order to get to the memorial we had to traverse under the park's pond in a secluded underground passageway. The passageway opened up to an island commemorating the residents and children of Lyon who were killed or missing in World War I. Learning the history of Lyon has given me a heightened sense of awareness of the importance of acknowledging the past.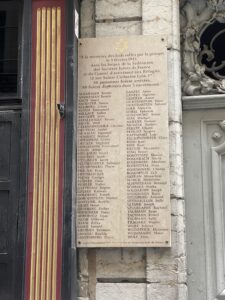 So, it came as no surprise to me that we were to meet in Place des Terreaux, the courtyard surrounding Hôtel de Ville to embark on a World War II tour of the city. My professor introduced us to Magali, who was a wonderful tour guide and part time World War Two historian. Her fervor and passion for Lyon's history led to a three hour expedition of the city's streets. This tour brought me multiple realizations. The first being that I live in the capital of the French resistance. The Terreaux district and the slopes of the Croix Rousse that I had been casually exploring for quaint coffee shops and boulangeries were used as hiding places for the heroes of the Resistance. Touring Lyon and intently listening to the history of freedom fighters like Nancy Wake, completely changed my perspective of its streets. What a center of history Lyon is! Each week that I live here, a new page unfolds and reveals a touching tidbit about my home abroad. Recently, I have been walking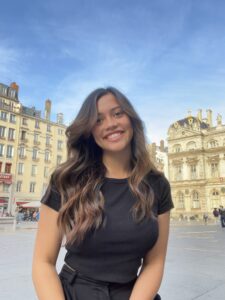 through Lyon's cobbled roadways with eyes wide open, consciously searching for the many hundred plaques honoring and describing the fight of the French Resistance. It is one of the most rewarding games of "I spy" I've ever played. Each marker unveils history detailing the work of the freedom fighters, the deportation of Jews, of the lives lost, of the lives saved, and of successful stories of escape. It is a wonder to live in Lyon and to walk the same streets and under the same traboules freedom fighters once trod down.