1/4/2023
Studying abroad is such a crazy whirlwind of an experience; technically, it hasn't even started yet. So much preparation goes into planning these next weeks
when I will study abroad in Paris that it is hard to believe it's here. I feel such a broad array of emotions from excitement for my first time in Europe but also fear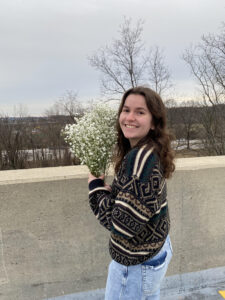 as this is the farthest flight I have ever taken and is so far from home. But, studying abroad has always been something that was a goal of mine in college to do and experience because I will never be this young and have the time for such a unique experience that would not be possible outside of college. Even though I am scared of what's to come, it's a good scared – scared of the unknown but knowing that this will be an experience I will never forget.
Anyways, hello my name is Julia and I am a junior at UMBC studying math and computer science. Being a STEM major I thought it would be difficult to study abroad as full semesters don't provide the classes I need and internships are a must during the summer. But then I found the winter/January study abroad term! This is a perfect opportunity where I will not be missing out on my academics but also to have an opportunity that I have always dreamed of having.
I think that this whole experience is surreal and I can't really process that I am getting on a plane and flying across the world. I will be documenting my journey and experience in Paris, France so please follow my journey here as I will be posting more!
1/10/2023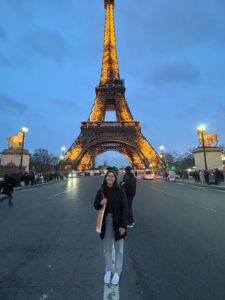 One week in Paris! Wow, how it has been crazy. I came to Paris a little early for New Years where I wrung in the new year at the Eiffel Tower. I got settled into my homestay where I am only a little over a mile away from the Eiffel Tower, and I live with two other girls from the program and our Host Grandma. Being in a homestay where my host doesn't speak any English has been interesting as I do not speak French. So, this week I have learned some phrases in French and also learned to communicate with my host without speaking the same language. But I was able to explore much of Paris and did most of the tourist attractions.
I have been able to eat lots of really good food! In my homestay, we get a French breakfast every day of baguette with apricot jam and butter. I have had so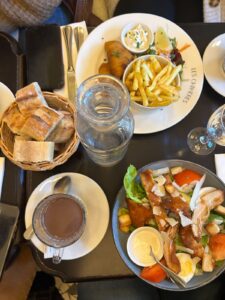 many baguettes while being in Paris, as well as trying so many of the cafes that are on almost every block. The best has by far been Les Chimeres where I got a chicken caesar salad and a hot chocolate. I also tried Café de Flore which is very well known for its hot chocolate and Café des Beaux-Arts where I ate some yummy escargot. I have loved all of the hot chocolate here as it is so much richer than the hot chocolate at home.
Besides the food, I have also been able to explore the museums and tourist attractions throughout Paris. One of my favorites is by far the Eiffel Tower, especially at night when it twinkles. I was able to go on new year's and also with my flatmates.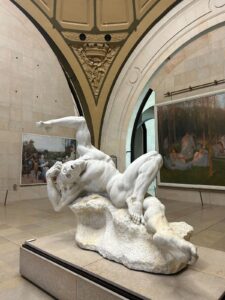 As for museums I have gone to Musée d'Orsay, Les Invalides, and Musée des Arts Décoratifs thus far. All of the museums have been so interesting and have iconic art pieces like those of Van Gogh and Kehinde Wiley.
I also started classes! I am only taking one three-credit course on the history of Fashion in France. This is such a unique class as we meet for two hours in a traditional lecture format in a classroom, and the second half is another two hours where we walk to nearby museums or art galleries and discuss the fashion and outfits worn by the models in the art pieces.
I have learned the basics of French so far and can say the basics but I am working on being able to order a meal completely in French without reverting to pointing to the menu. It was definitely a little overwhelming at first getting over the jetlag and getting used to a new environment, but over the last week, I have started to feel more comfortable here. That's about it for this week, until next time, bon journée!
1/17/2023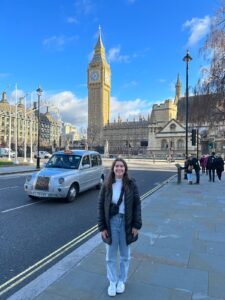 Week two is done! I started this week out by going on a field trip with my program to Chateau de Versailles where we saw the amazing house of Louis XIV. It was incredible to see the Hall of Mirrors and the large gardens. After touring the estate we ate at a cute pizza place in the city of Versailles.
I was also lucky enough to be able to travel to London on a day without classes where I did all of the tourist attractions all in one day. I was able to see Big Ben,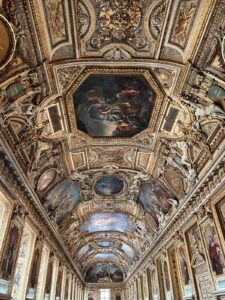 the London Eye, Westminster Abbey, and a few other stops. My favorite was that we stopped at a few bookstores that are famous in London like Word on the Water and Daunt Books. It was really fun to be able to travel to London, but even though I was only gone for a day I started to miss Paris, and was happy to come back.
After London, I spent the rest of the week exploring Paris. It has been very fun just wandering around where my homestay is and finding new restaurants to eat at and places to explore. I explored some new museums, I went to the Louvre with friends and it is huge. We only had the morning before class to look through the museum so we tried to just see the Mona Lisa and Napoléon's apartments but the Louvre is so large that we kept getting lost and at times could not figure out where we were and the entire time we were only on the first floor out of four total floors. There is definitely so much more to the museum that I could spend days exploring and always find something new. I also briefly explored the Petit Palais which was very pretty and also had a small garden area. I have enjoyed walking around and picking a café that looks good and trying new foods.
1/24/2023
Sadly this was my last week in Paris. At the beginning of this week, I traveled with someone I met in my program for a day trip to Brussels, Belgium. It was really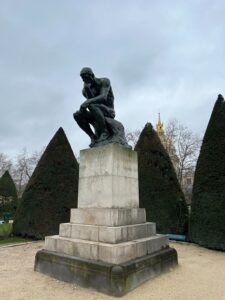 easy to book a train ticket where it is only an hour and 20-minute train ride both ways so a day trip was very doable. In Brussels, we stayed within walking distance of the train station but were able to see many of the tourist attractions. We tried Belgian waffles, chocolate, and fries, and went to the chocolate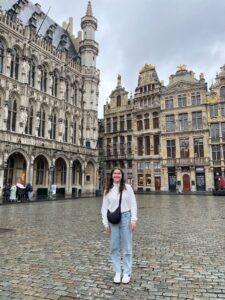 museum and the Manneken Pis fountain. It was interesting to go to another country that spoke English as I had started getting used to everyone around me speaking French. We did not have the best weather in Brussels, but it was really fun to experience yet another country and its culture.
Also this week I made it to a bunch of interesting museums in Paris. I went to the Picasso museum, the Dali museum, Victor Hugo's house, Musee Rodin, and the museum of Romantic life. It was so cool that with the student card that I got from the program I was able to get into almost all of these museums for free. Some of my favorites were Musee Rodin which was mostly a sculpture museum and even had the Thinker on the gardens surrounding the house. Also, the Dali museum as it highlights his sculpture side.
I ate some amazing food this week from some restaurants and cafes that are famous in Paris. I was finally able to find a chocolate croissant that I wasn't allergic to at Carette and it was amazing. I had a fancy dinner with a friend at La Vache et le Cuisinier.