Pauline Rozario
UMBC Faculty-led: Biology and Spanish Language in Barcelona Spain
Major: Biological Sciences
June 11, 2019
Who Am I?
In two short days, I will be on a plane bound to Barcelona. When I land in Barcelona, my "Hello!" will turn into "Hola!".  However, this isn't the first time that I am traveling internationally without parental units. In December 2018, I had the honorary privilege of being invited to India for a National Indian Classical Dance Tour with my dance mates. I never would've guessed that I would be here, six months after, about to do it all over again.
Hola from Barcelona! My name is Pauline Rozario, and I am a rising senior Biological Sciences student. This summer, I am studying in the heart of the city at La Universitat Pompeu Fabra (UPF) in order to complete the Phage Hunters Lab course led by Professor Ivan Erill from UMBC. Stay in tune for the next six weeks as I experience the cultural and academic aspects of the beautiful city, Barcelona!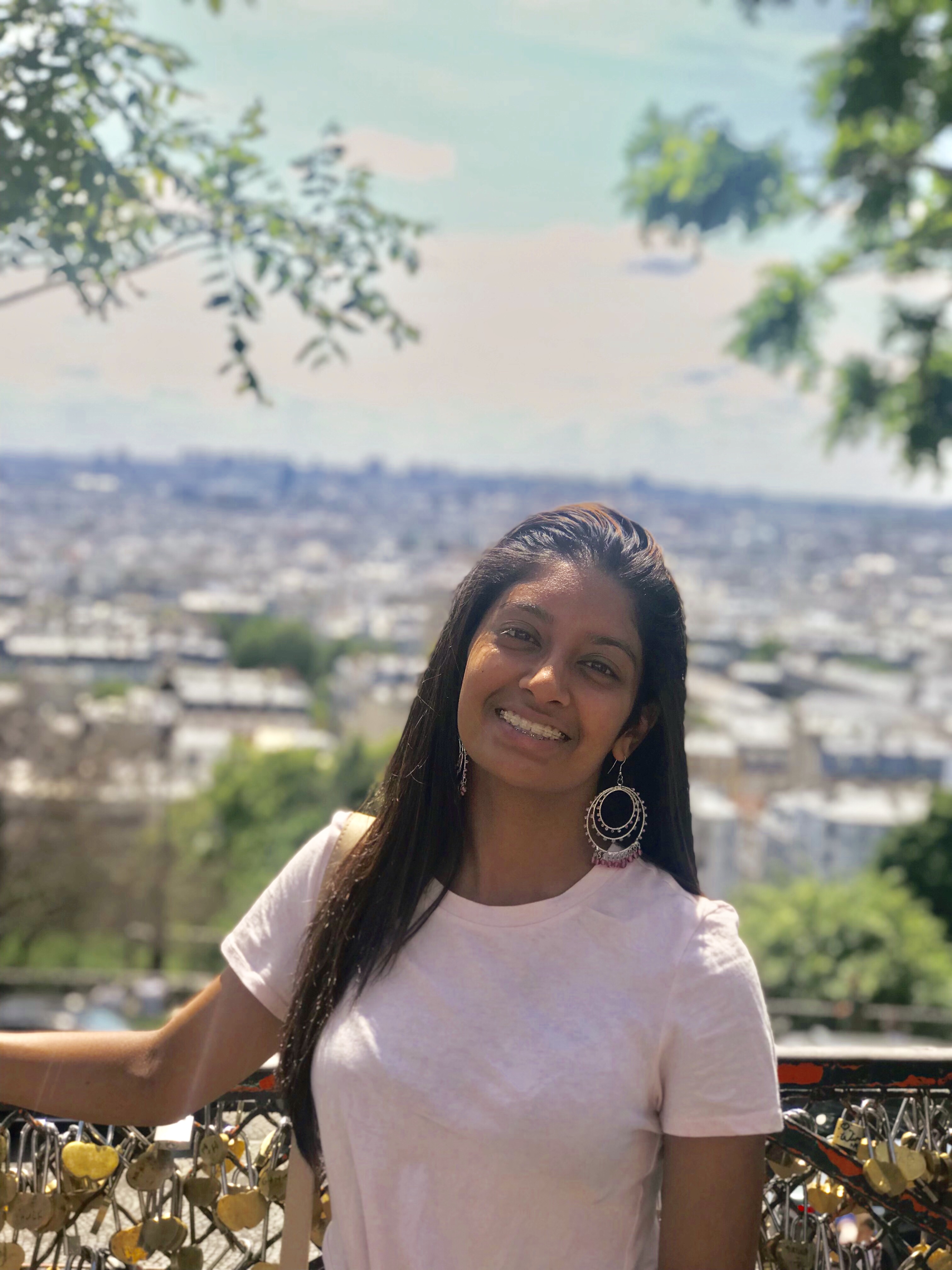 Day 1
After a long flight from America, I finally made it to Barcelona! However, my flight was horrific along the way. On the flight, I was sitting next to a student who was also studying abroad (what a coincidence), and it happened to be his first time flying internationally. A few hours later, he developed so much anxiety that he vomited on the plane during turbulence. Before I could muster the urge to faint in my seat, I tried to help him get back on his feet and calm down. When the plane landed, all was well…until the airline lost my luggage. I couldn't believe it! I just landed in Barcelona with my "someone-threw-up-next-to-me" clothes and had nothing on me for the rest of the trip! Even though I was in panic for the past 24 hours, nothing made me happier when I left the airport and saw Barcelona for the first time. Normally, most of the students would meet their host families at the university, and then they would proceed to get settled in their home. Due to my delayed flight and the luggage fiasco, I took a cab to my host family. My host mom took me around the neighborhood and took me to the dog park and her favorite gelato store. What started out as a hectic day, ended as a relaxing night. And then at midnight, I received a call from the airline that they found my luggage. ¡Qué guay tío!
Day 2
Today, we had Orientation with our program coordinators at Academic Solutions in Avinguda Diagonal. After the Orientation, we met Professor Ivan Erill, and enjoyed lunch at a restaurant. After, our group decided to head out together and go to the beach at Barceloneta. Along the way, we went to the Arc de Triomf and Citadel Park. We all started to bond with each other and became great friends! We ended the night by going to a restaurant and having various tapas and pastas.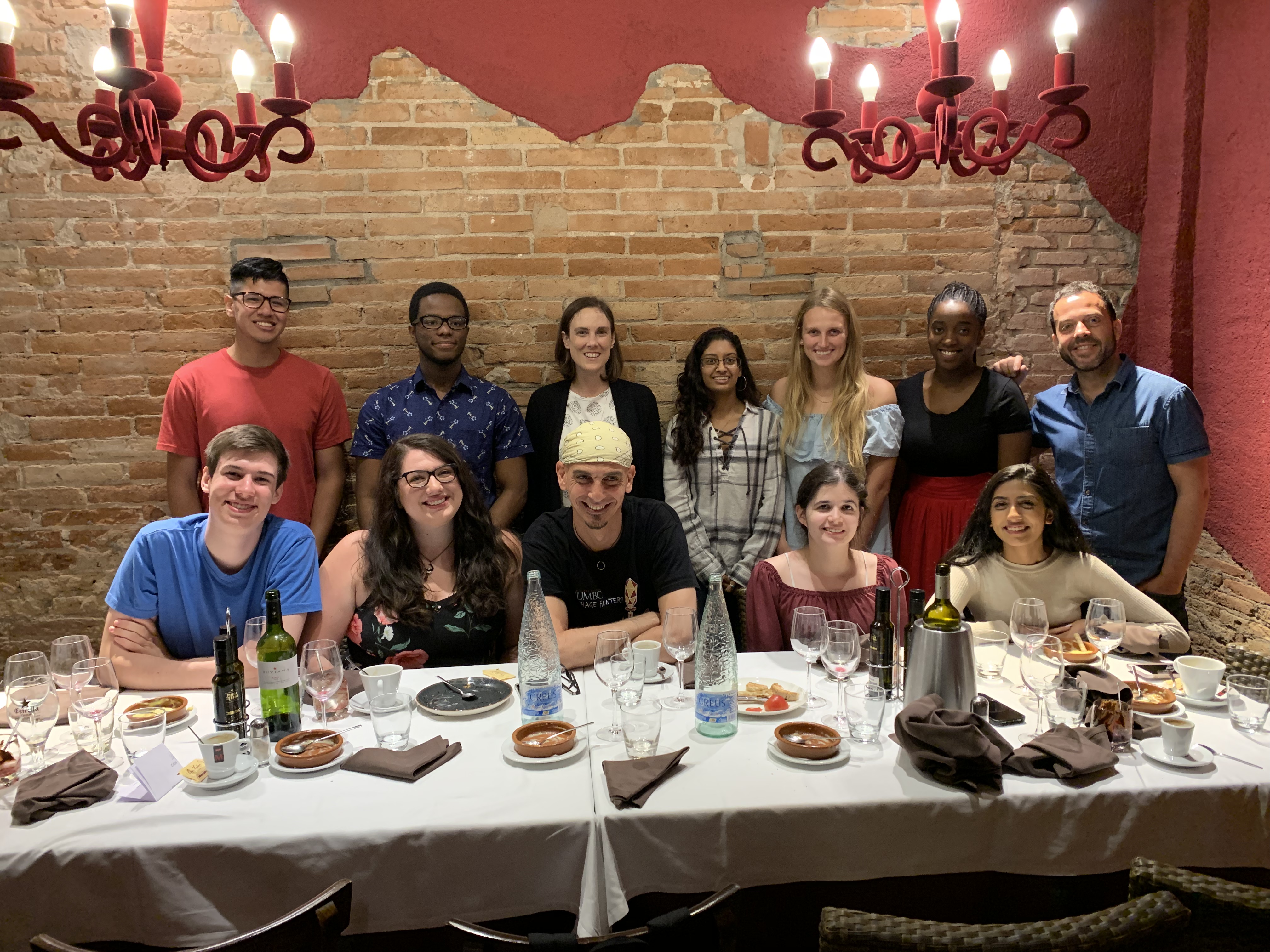 Day 3
On Sunday, my friends and I decided to go to the Barcelona Aquarium to see all the cool marine life. We saw various species of fishes, eels, rays, turtles, sharks, and even penguins! After our Aquarium excursion, we walked through the neighborhood of Las Ramblas to get to the Jardí Botànic de Barcelona (The Botanic Garden of Barcelona). Since the botanic garden was on the Montjuïc hill, the garden was incredibly steep with multiple levels! At the bottom of the garden, there was a structure that was made for the Garden's 20th year anniversary, and it had many writings on it. We decided to write our names and rep UMBC! After walking nearly 5 kilometers, we decided to munch on some McDonald's, and try new things that we wouldn't find in the USA! Ever heard of McWings, Mango McMacarons, or a cup of water that you had to pay for?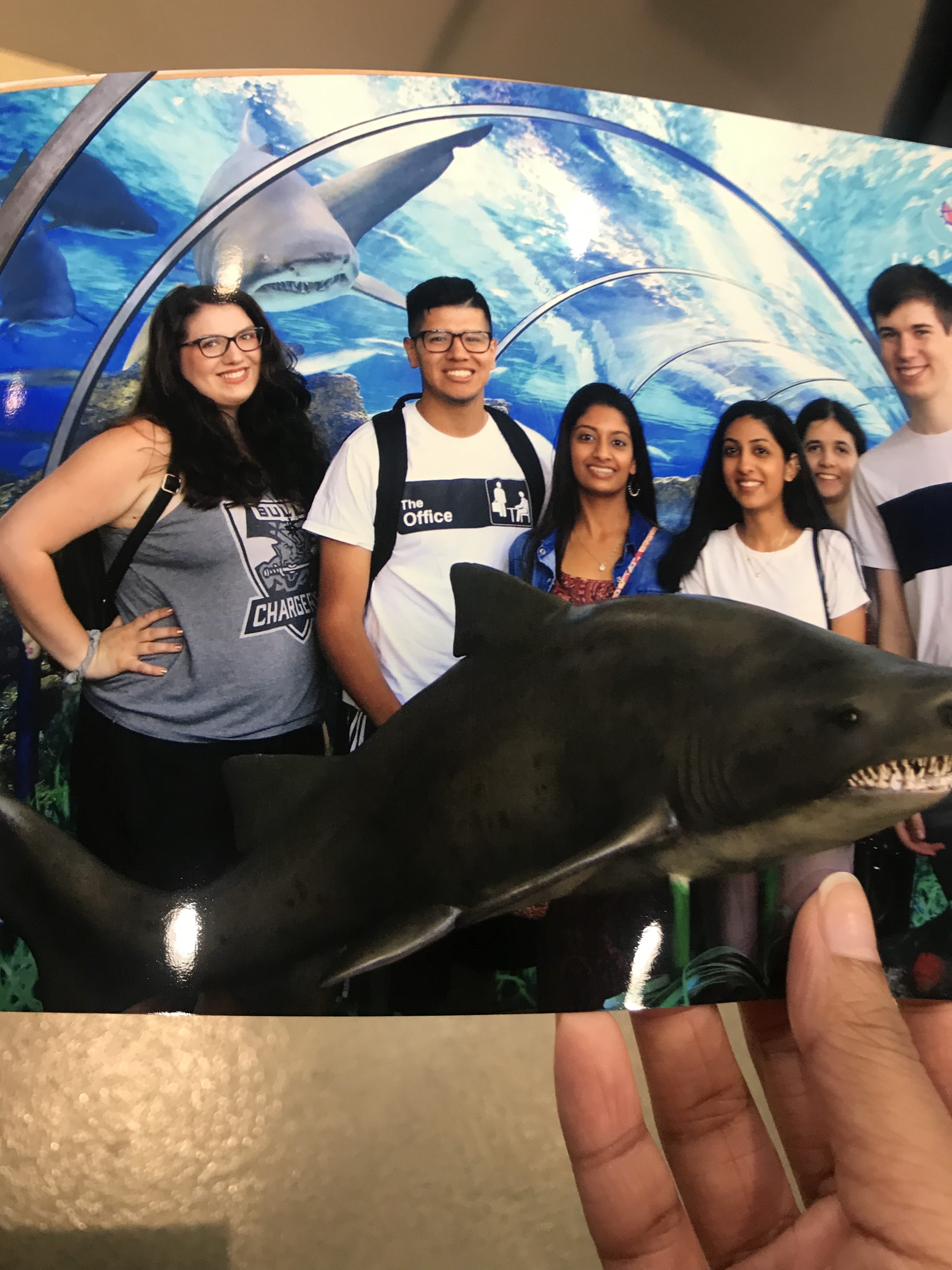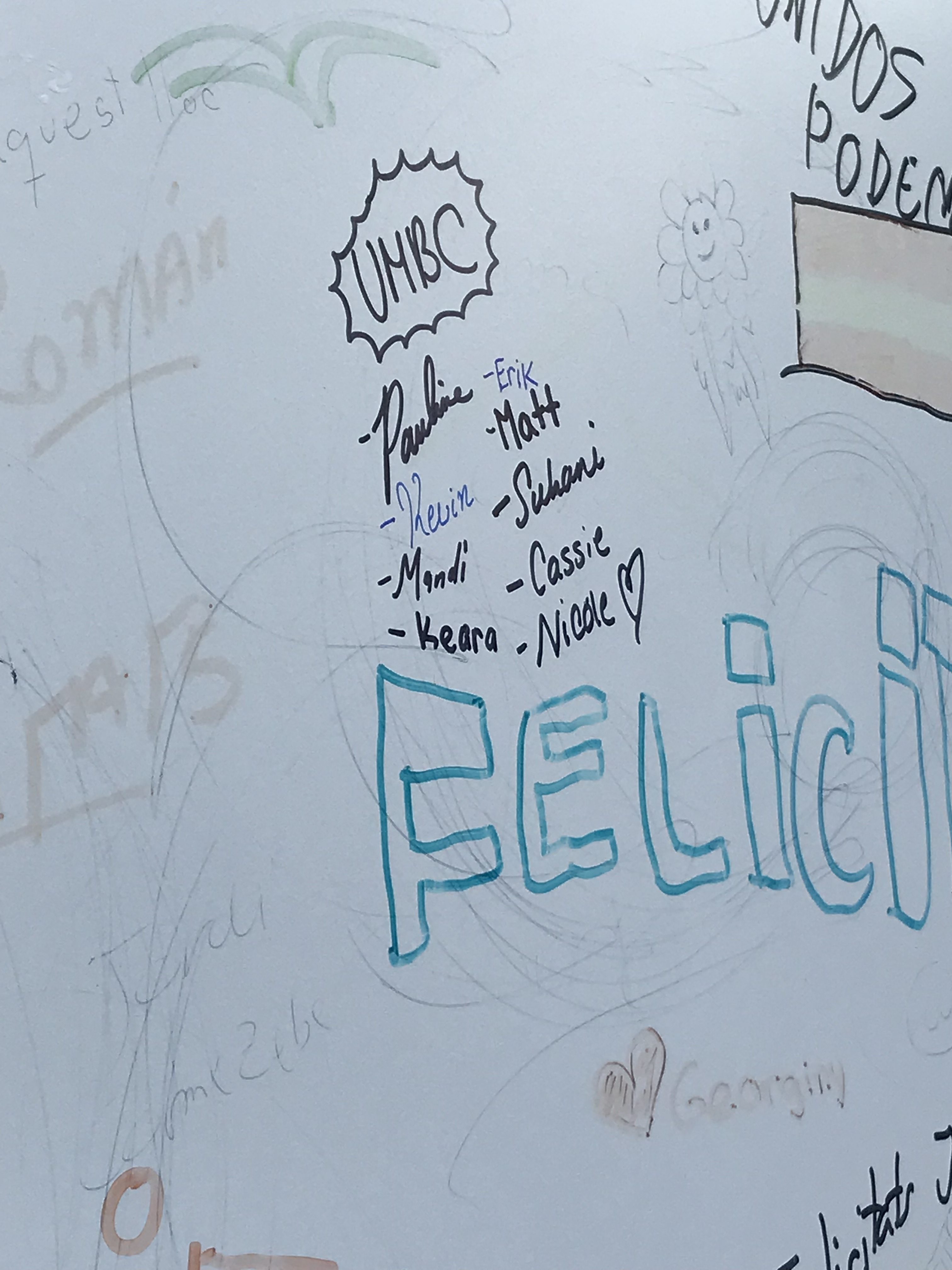 Day 4
Jaime, one of the program coordinators, led a bus tour around the city. He taught us about what places to visit and the rich history of the buildings and artists. We ended our bus tour at La Sagrada Familia, a minor basilica designed by famous Spanish architect, Antoni Gaudí. Even though the basilica started construction in 1882, it is still incomplete to this day! In Gaudí's will, he wished for the La Sagrada Familia to earn its own income, not gather any income from the Spanish country, Catalan government, the City of Barcelona, any Catholic church or any company. When completed, the Basilica will have 18 pillars; 12 of the towers will represent the apostles, 4 of the towers will represent the evangelists, 1 tower dedicated to the Virgin Mary, and the last highest one will be dedicated to Jesus Christ. However, there are only 8 towers, and there is a long way to go! Definitely on my bucket list to go inside the La Sagrada Familia!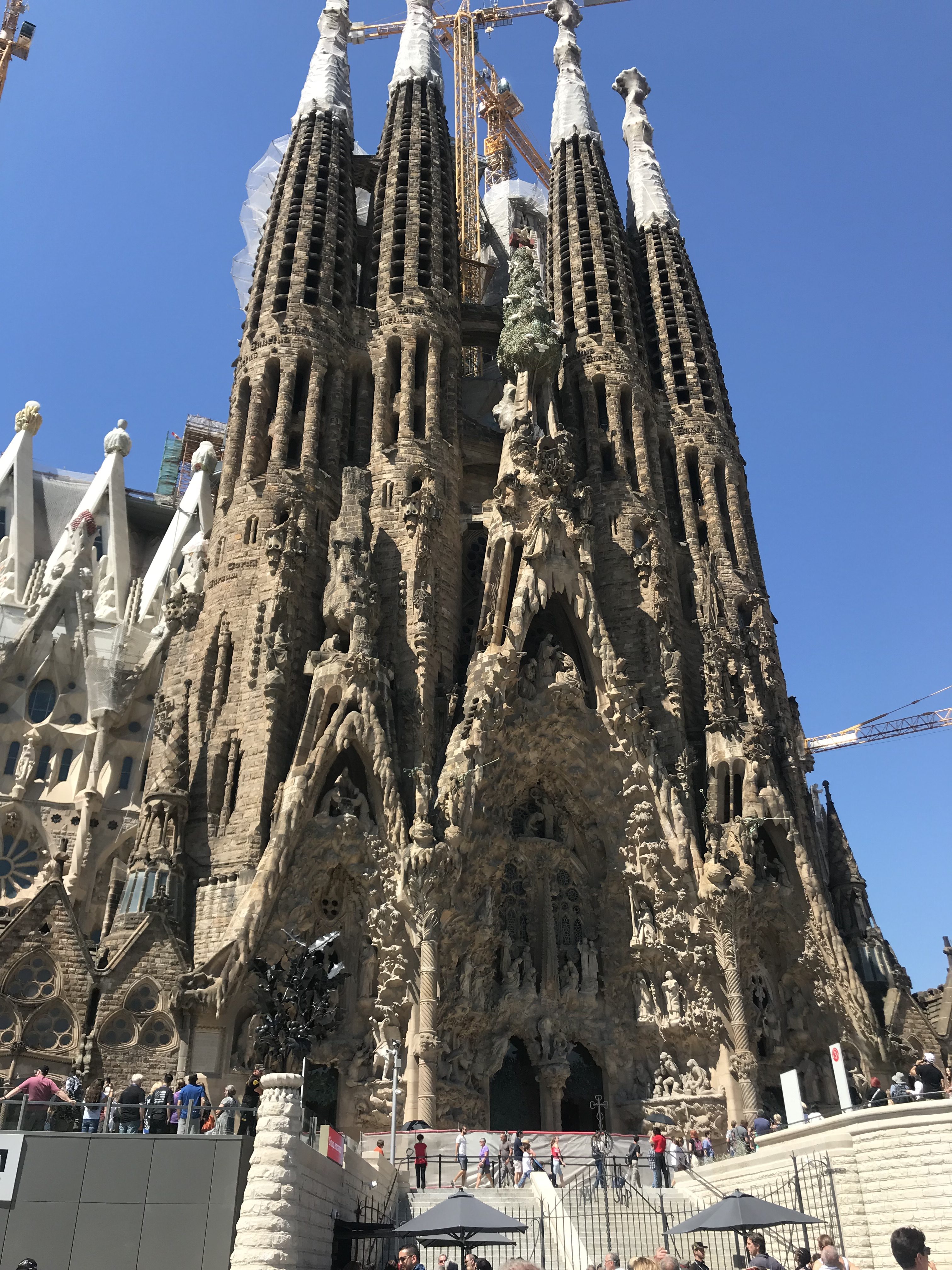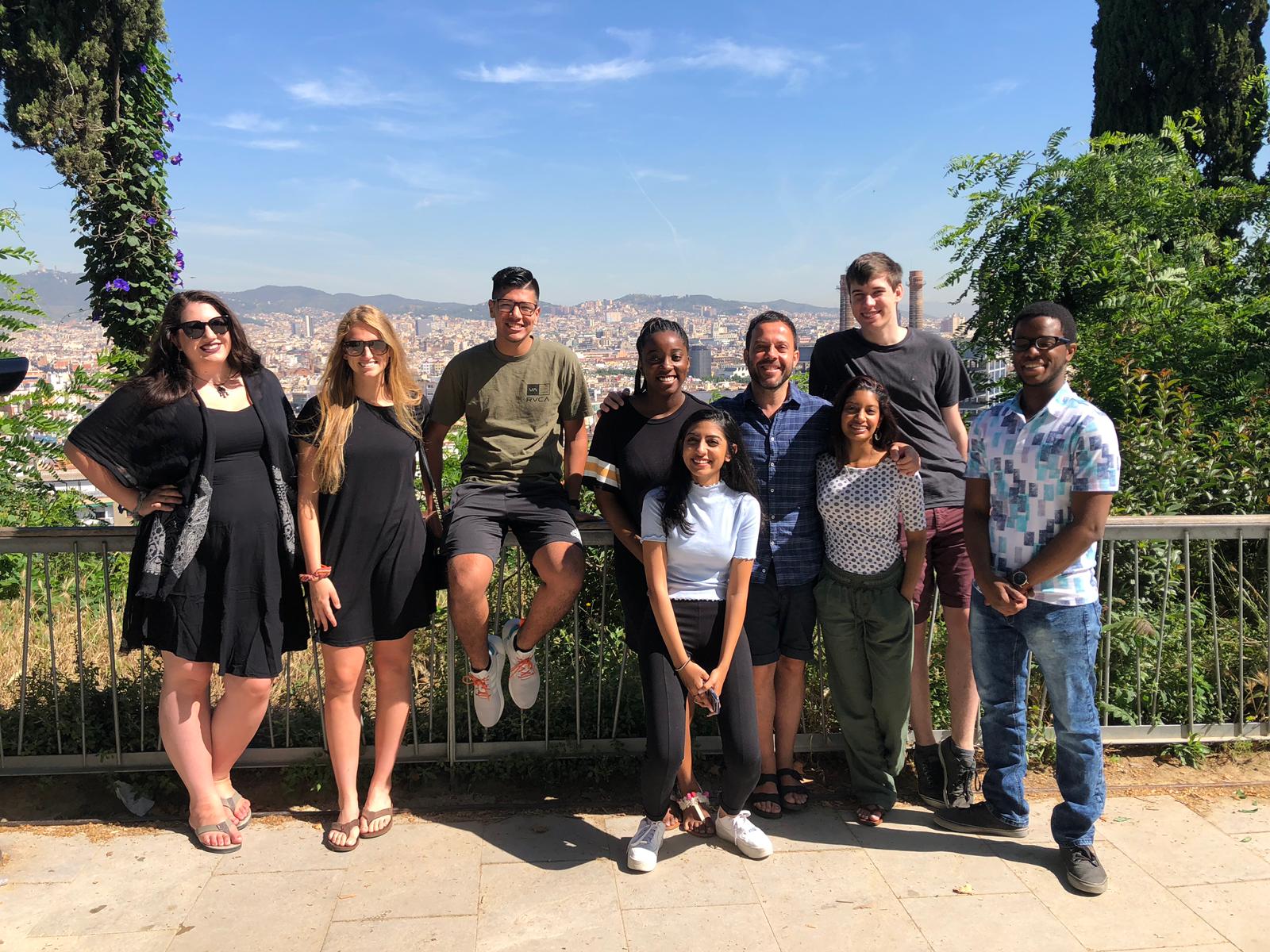 But the adventure doesn't end there…
We took a gondola lift called The Montjuïc Cable Car to the Castell de Montjuïc. The gondola lift took us from the lowest terminal to one of the highest peaks of Barcelona; and the view was just as spectacular! The Castell de Montjuïc was an old military fortress built in 1640, during the Reapers' War. After taking hundreds of pictures and making friends with seagulls at the castle, we decided to go to the neighboring stadium where Spain held the Olympics in 1992. We ended the day by going to the Gothic Quarters of Barcelona to have varieties of delicious and colorful paella.
Day 5
With our Orientation coordinators, we headed to Tarragona, a coastal city 110 km south of Barcelona. Tarragona reminded me of a Little Italy with their historic Roman monuments, amphitheater, and clear-like beaches. After a two-hour bus ride, our first stop was at the Amphitheater, which was partially in ruins but mostly intact. In the Amphitheater, which was my favorite site, was the site where gladiators fought infamous battles with animals and other gladiators. With the lower and upper classes of society being present, the King would give the declaration if the loser lives or not. (ouch) Then, we proceeded to the Roman Praetorium, the Circus area, and the Torre del Pretorio Romana. By that time, it was obvious that I no longer needed my gym membership due to the steep (and many) stairs. However, the view of the city on top of the building was magnificent as we can see the city's landmarks across the horizon. After passing through the streets, we proceeded to visit the Tarragona Cathedral, where King Augustus was buried.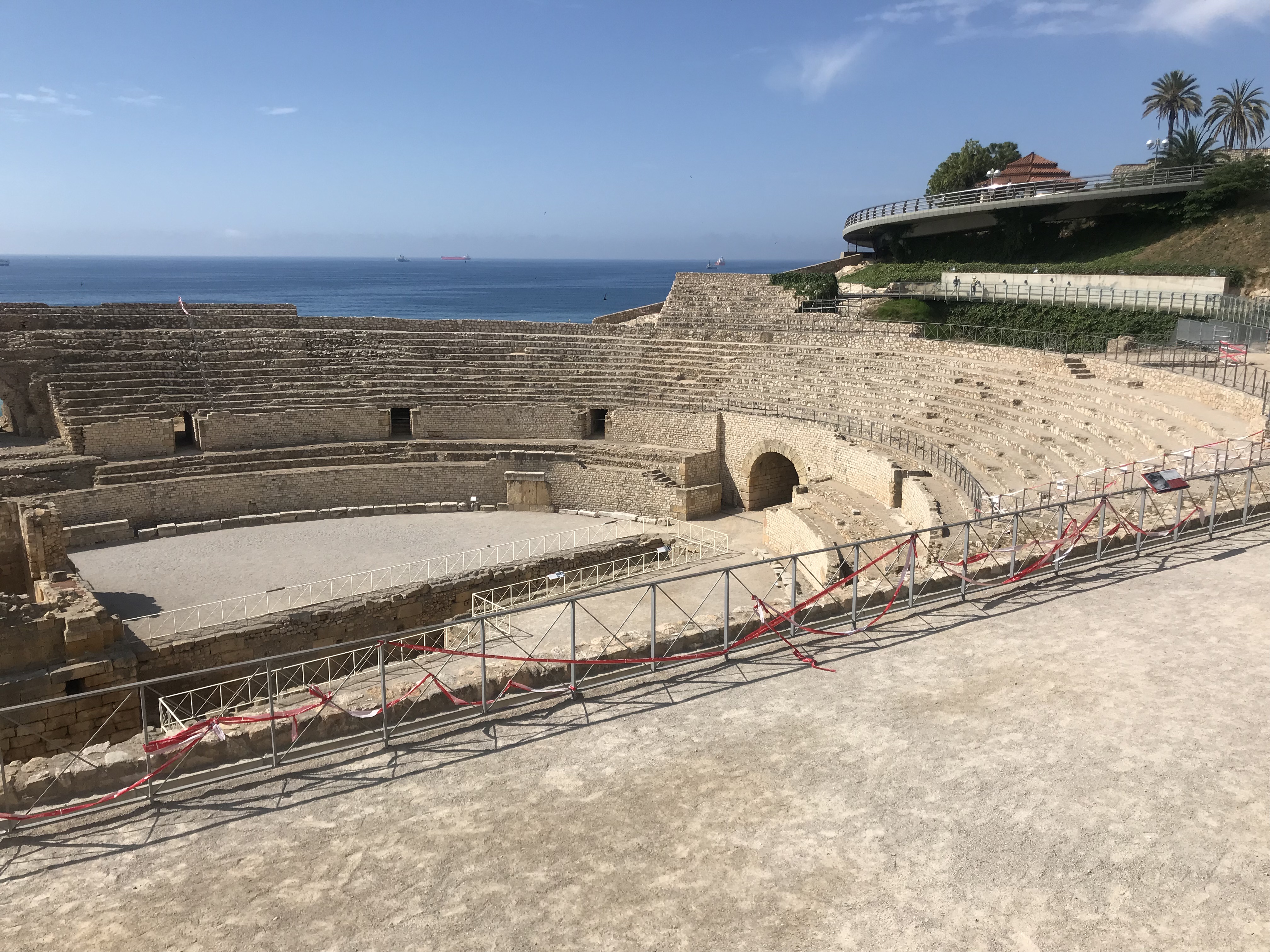 After our tour, we had lunch at El Tibeti, a small Catalonian restaurant, where they had a delicious buffet of salads, sorts of meats, cheese, and desserts. At the restaurant, I had my first café cortado, a small but strong coffee. Starbucks would be shook. After having two rounds of lunch and desserts, my group and I went to the beach to soak in some sun and enjoy the cool water. The beach looked beautiful with its clear-blue water and its "never littered" sand. My friends and I took off to the water and we had a blast. Until most of us got sun burned.
Day 6
Today was the first day of our BIOL 316L class with Dr. Ivan Erill. I will be honest; I was almost late because the Tarragona adventure tired me out. (Sorry Dr. Ivan!) The first class was mostly consisted of reviewing the syllabus, a brief introduction to the course and what is expected from us, and some basic review that we might have forgotten from Genetics. I was familiar with the concept since I took Genetics a year ago, and it was one of my favorite biology classes. However, some students did not take the course and we all became more willing to help each other in unfamiliar assignments and projects. After school, we went to a sandwich shop right off the beach in La Barceloneta. Around this time, my homesickness was going away and I was getting used to Barcelona being my home for the next 6 weeks. Since the weekend is approaching soon, I am wondering what my plan is and if I want to explore the city more or venture out of the city.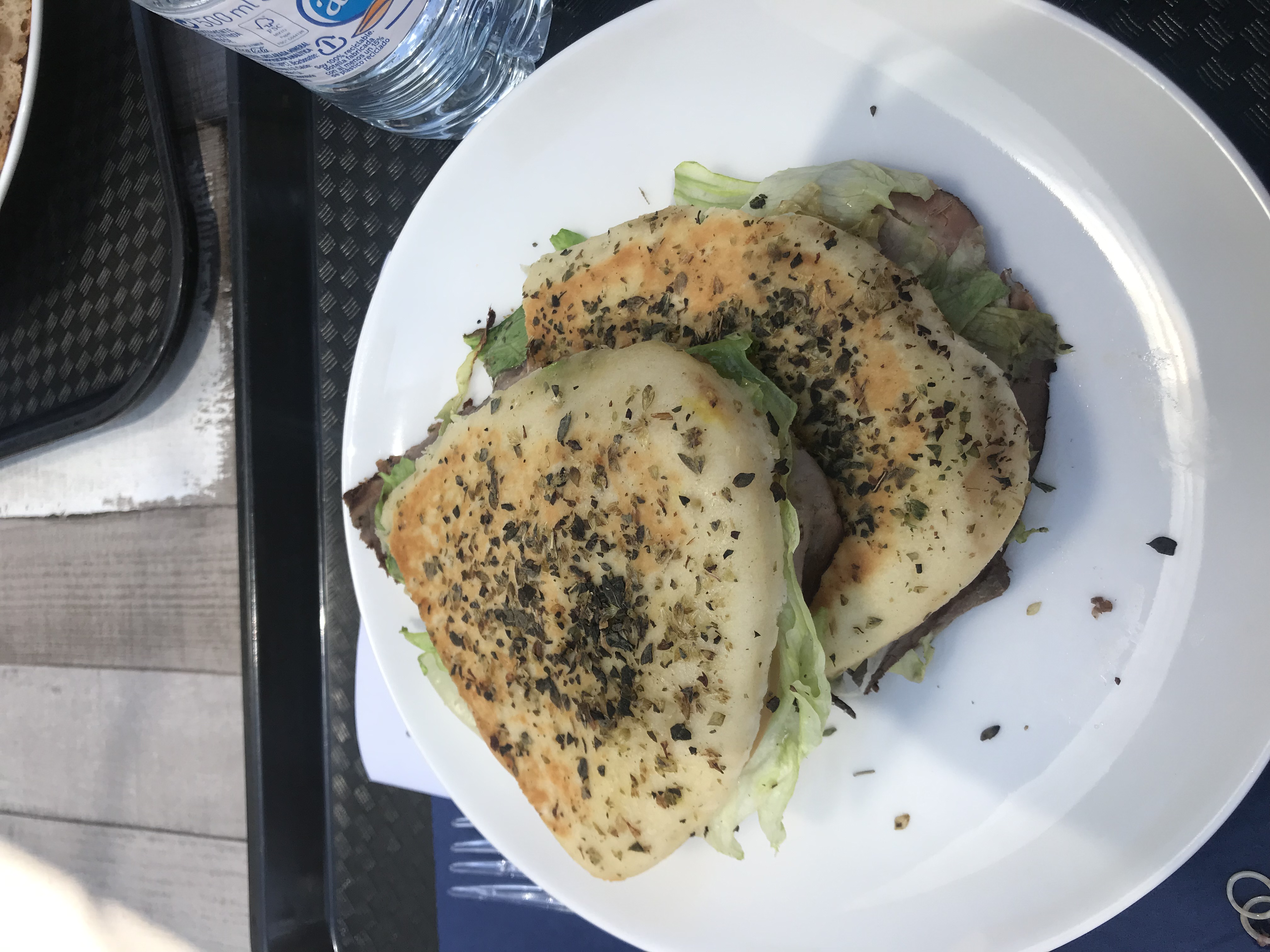 Day 7
Today was the first Friday of our class schedule, which means NO CLASS! During the afternoon, I took some time to walk around the neighborhood and pick up some groceries. Since this was my first time going into a grocery store in Spain, I did not know what to expect. I was surprised that they had Mini Oreos that I deeply love, not the knock-off ones. (super happy) For dinner, we went to a restaurant near the Magic Fountain of Monjuic. and I finished an entire pizza by myself. Enjoy as I put down below the before and after pictures!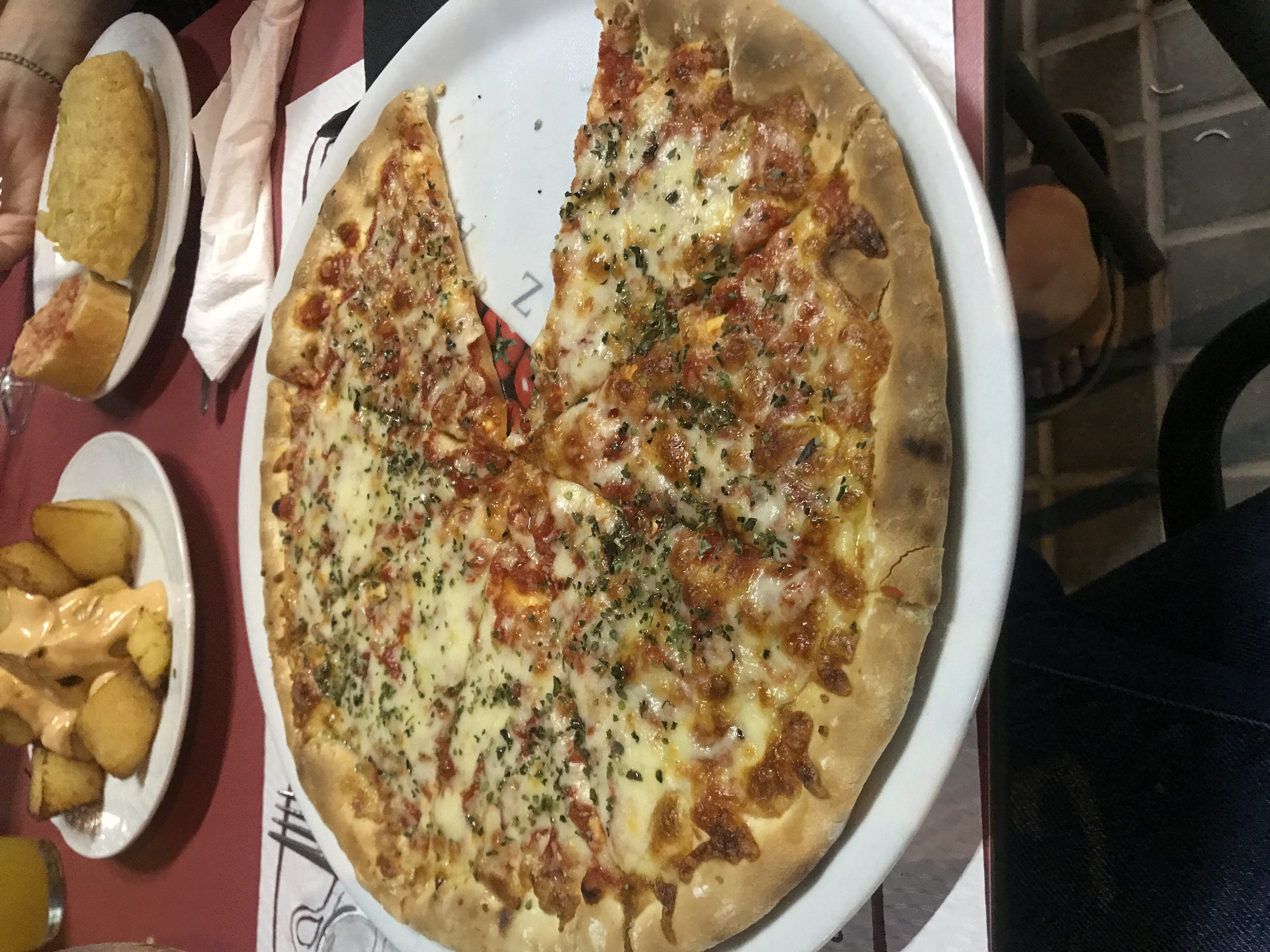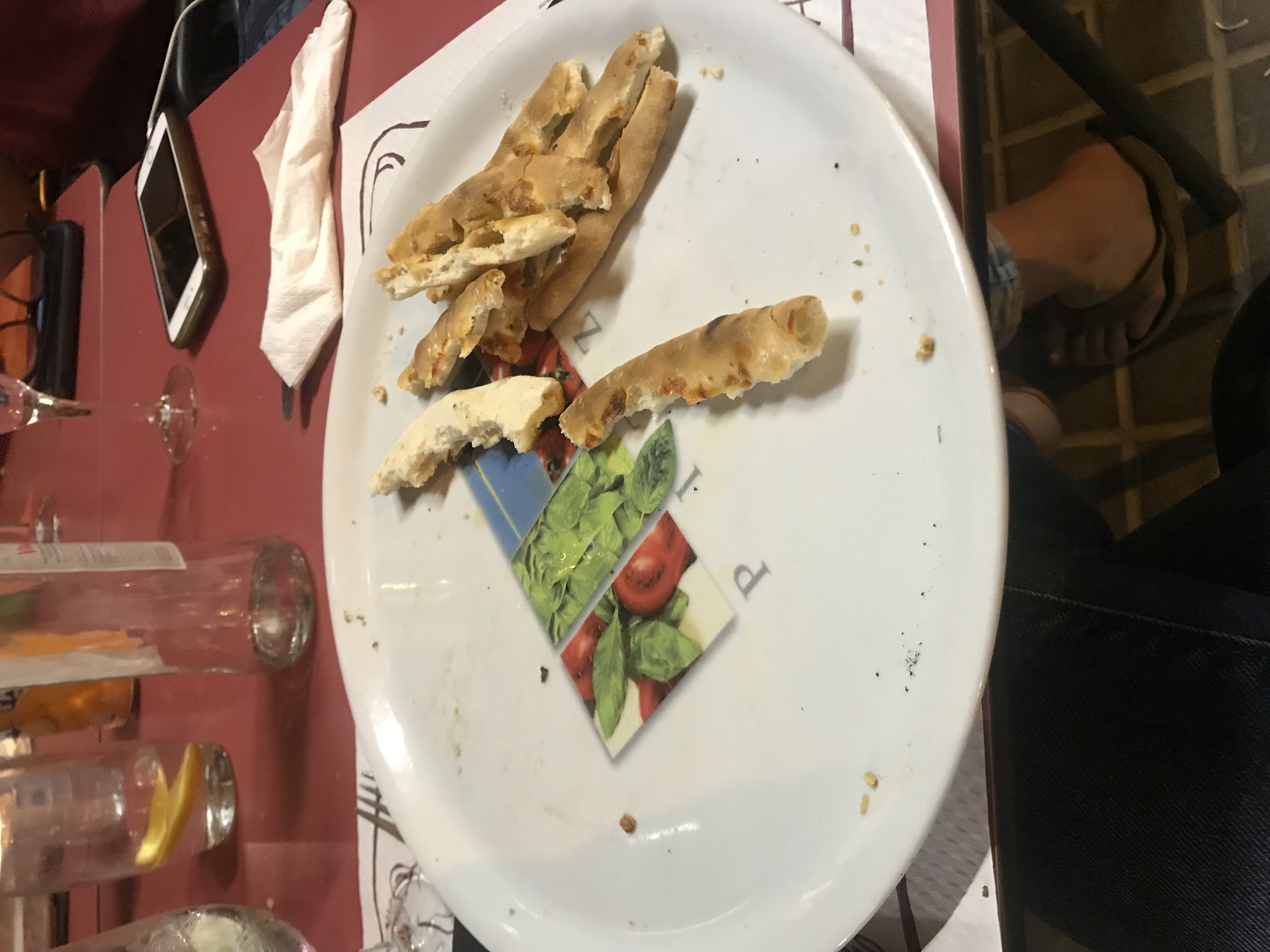 Day 8
You thought we were done with beaches, weren't you? Wrong! Today, we headed off to Stiges, a coastal city 50 km south of Barcelona. Stiges is the midpoint between Barcelona and Tarragona. We were trying to find the beach, but we got super hungry and headed over to a colorful cute restaurant. Our meals varied from breakfast salads, fruits, Nutella crepes, and ice cream in a cup of coffee. We also made friends with the owner's dog, who seemed to not like us since we stole it's spot in the shade. After breakfast, we headed over to the beach to enjoy the water and soak in some sun. The beach started to get crowded, but we enjoyed getting into the cool water. At some point, we all took a small nap, and we woke up to nude people on the beach. It was a huge culture shock for me because I was not used to this behavior, especially on a hot afternoon in public, but I learned that it is very common practice in European beaches. After we came back home, we all had dinner together and had a fun night with some of the locals. However, there were fireworks going off outside of my building and I did not get to sleep until 5am, because it is going to be Sant Joan tomorrow. You will figure out what Sant Joan is in tomorrow's post!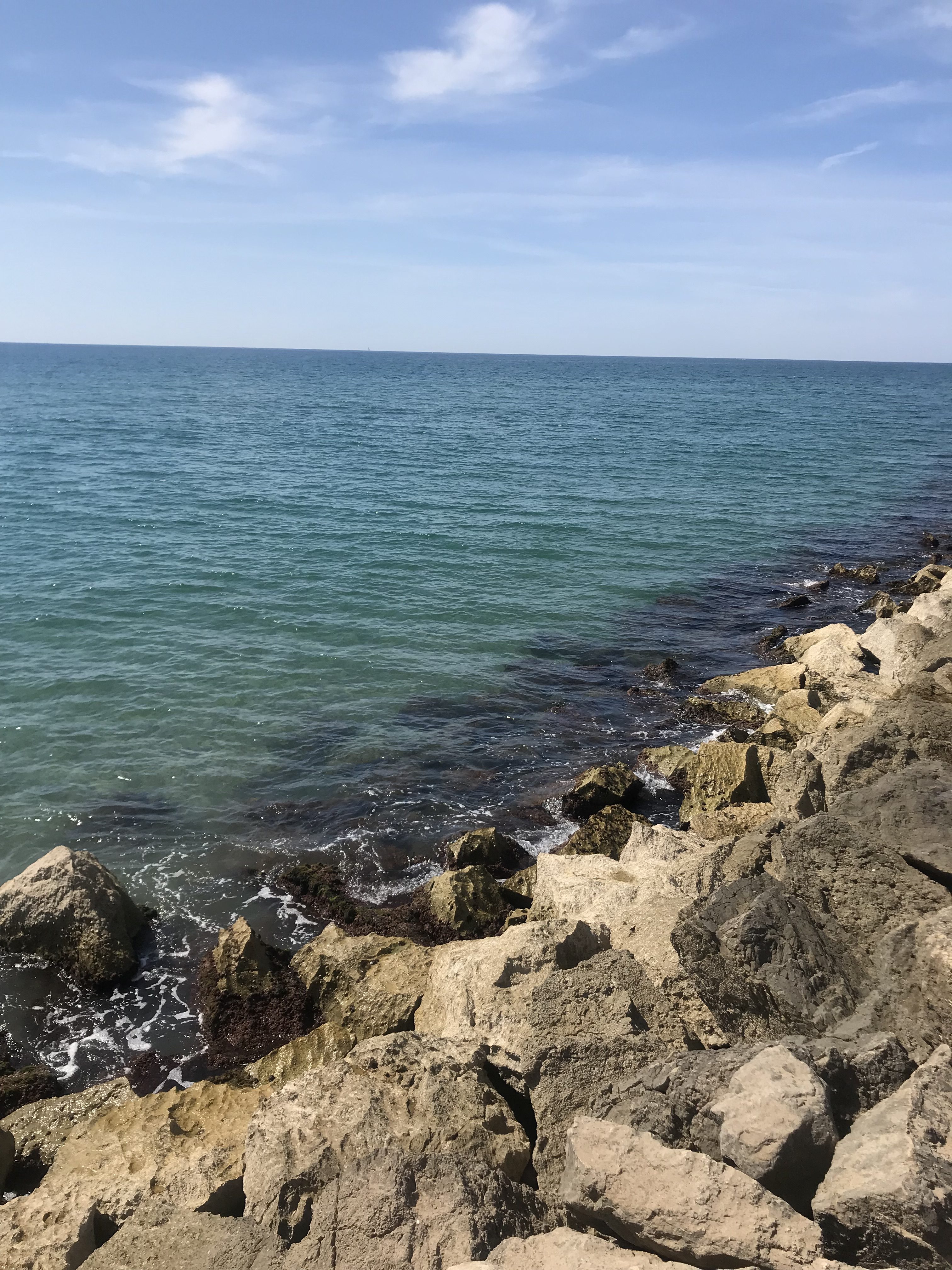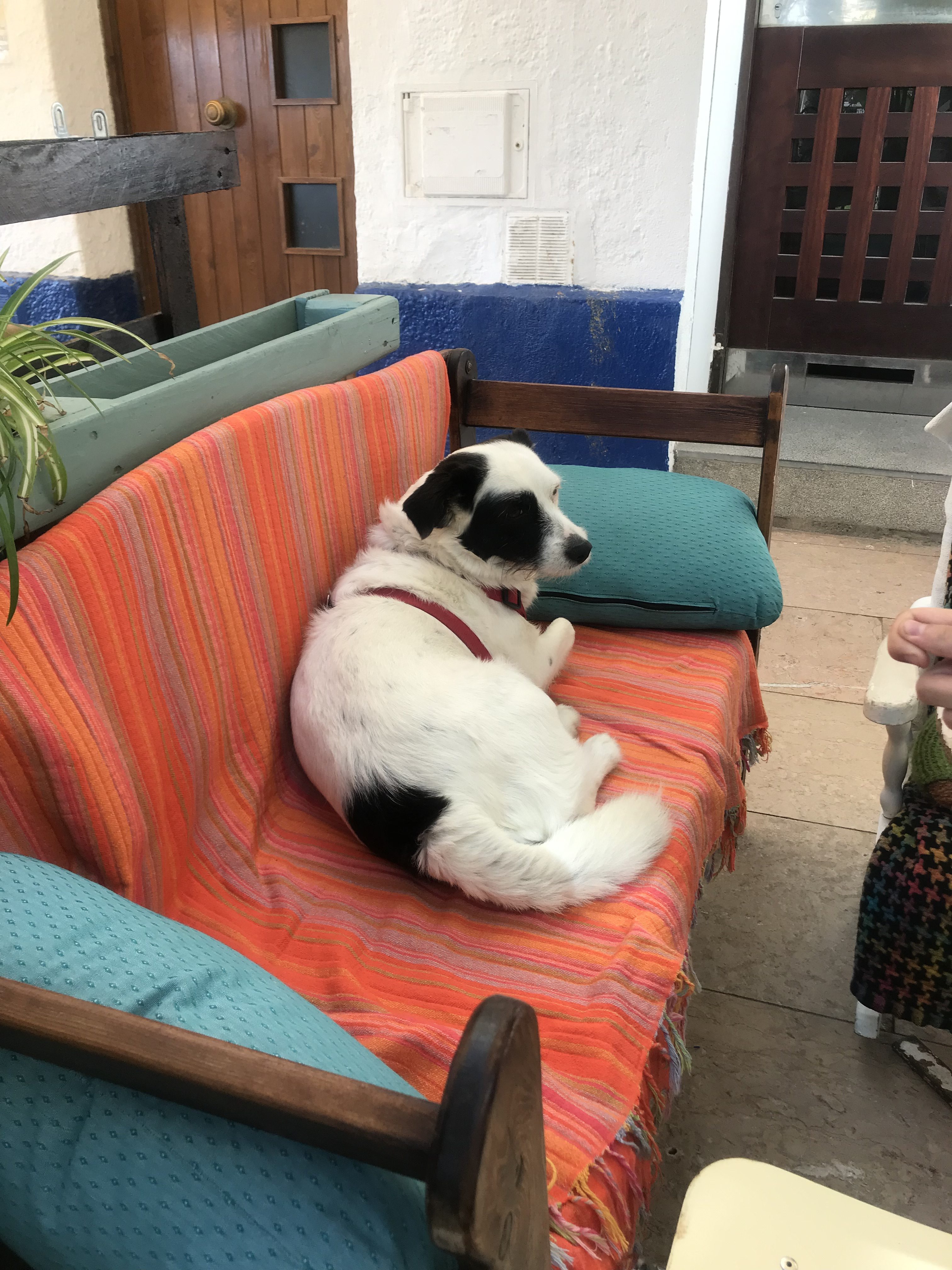 Day 9
Today was Sant Joan, which translates to Saint John. It is the day that marks the summer solstice in Spain. This holiday reminds me of 4th of July because there are fireworks everywhere and everyone is having fun on the beach. We got to see the colorful fireworks and have McDonald's on the beach. By midnight, we all got tired and went home. However, the locals stayed up until the sun rose up the next day…you can imagine how I slept that night. 
Day 10
After coming back from Terragona and going to class at UPF, it is time to study for our Spanish placement exam tomorrow! Even though we are taking a UMBC Biology course abroad with Dr. Ivan, our Spanish course is led by the university's professors. Along with the Spanish placement exam, we must go to Orientation for the UPF International School Summer Program, where we would also get our School ID's and receive basic information about where our classes, libraries, and nearby cafes are. Personally, I have not taken a Spanish class since my freshmen year of college, which was nearly 3 years ago, so you can imagine how UNPREPARED I was for this exam. I graduated high school as a Level 5 student in Spanish, but there was no way I could retain that past information again! There are four levels of Spanish classes we could be placed in: Beginner, Pre-Intermediate, Intermediate, and Advanced. Since my Spanish is super rusty, I am hoping to at least place in Intermediate Spanish. Wish us luck!
Day 11
Today was probably the earliest I have woken up since I came to Barcelona. I woke up today at 7am for Orientation at 8am. (ugh) I was studying and practicing my Spanish last night up until 3am, so I am practically running on E with the 2am coffee running through my veins. Please do not follow my method of studying by saving it all for the night before, plan ahead! With Orientation, we focused more on Universitat Pompeu Fabra itself and the basic information you need to get around campus. We received our School ID's (not showing mine haha) and a bunch of UPF brochures and magazines. The study abroad staff prepared presentations on their International Summer School, campus events, computer and library access, and how to navigate through "AulaGlobal", which is their version of BlackBoard. Immediately after, we had our Spanish placement exam. The exam has two parts: written and oral. The written part of the exam covered grammar, tenses, and a written essay. The test was overwhelming, but the staff stated that there was no pressure to completing the entire exam, as they want to know how much you know. I pushed through and did the whole thing! After the written exam, we were supposed to have an oral exam in the next room, but there was no one in sight! So long story short, we only took the written part of the exam and we will be graded on that part only. WOOT WOOT!
Day 12
After taking our placement exam, we went to our first scientific visit, The Barcelona Supercomputing Center (BSC)- Centro Nacional de Supercomputación. This research center in Barcelona holds the MareNostrum, the main supercomputer of the center. It is the most powerful supercomputer out of thirteen in Spain, and it was ranked #13 most powerful in the world! Afterwards, we took a tour of Barceloneta, a neighborhood near the beach, and hung out with the other students who were part of the International Summer School! We met students from all over the United States, Canada, India, and even Brazil! We ended the night by going to a Mexican restaurant to have nachos and chili.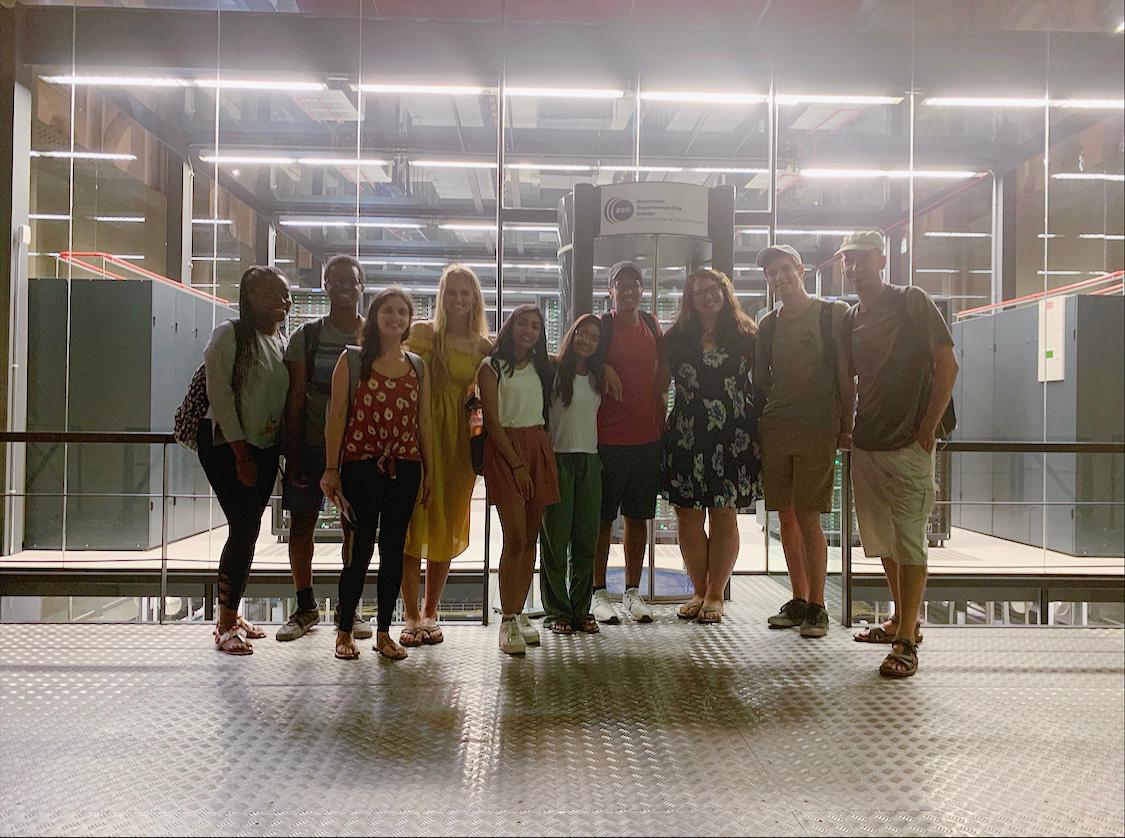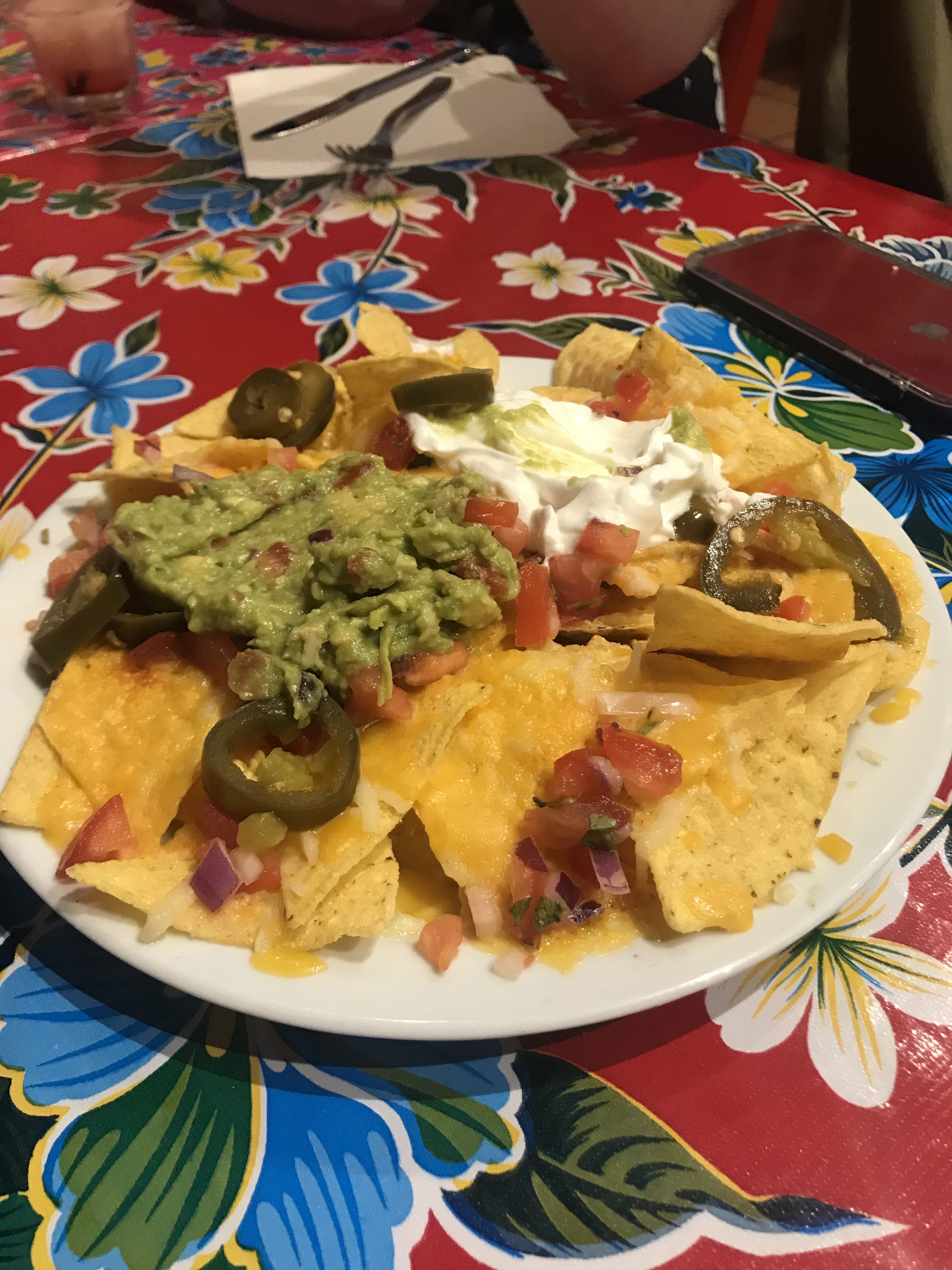 Day 13
Today is Friday, which means no class! Just kidding, I still had homework. In BIOL316L, we are getting acclimated with our genome annotations. We utilize several programs such as DNAMaster, BLAST from the NCBI website, Phamerator, and few other web-based programs and databases to perform genome analysis and annotations on phage genes. Almost every week, we hold group presentations on each program we would be using in this course, which makes sure that you know your stuff! We also complete in-class and online lectures and utilize lab assignments and presentations to improve our understanding and skills. Personally, this isn't an easy class to master and there were a lot of challenges we all faced. However, the assignments encouraged us to collaboratively work together, and we all try to help each other and triumph! (unless you're the guinea pig…) We ended the night by going out to dinner at a rooftop bar that had the most beautiful horizon of Barcelona! We all shared a great meal together and watched the sunset going down on Tibitabo Mountain. Along the way to the metro, we passed through the Barcelona Pride Parade, it was so colorful and fun!
Day 14
Today was my dad's birthday! I missed my parents a little extra today since we spent all our birthdays together as a family, and this was the first birthday I missed. However, I did do something to cheer me up! Due to the heat wave going through Europe, I did not have the proper summer clothes with me on this trip! My sandals were also falling apart due to all the walking, so nice sandals are a must! I decided to head over to Glòries Mall not too far away from my house.  I was surprised that I saw my favorite stores such as H&M, NYX, Natura, and Sephora. The mall was interesting because the bottom floor looked like any ordinary mall with air conditioning on full blast, but the top floor was completely outside like an outlet mall!
Day 15
It is the first Monday of July, and our Spanish classes start today. Remember when I took that exhausting exam? Thankfully, I got placed in the class that I wanted! Our Spanish class was from 9am to 12pm, four days a week and it was right before our BIOL 316L class. Normally, I avoid 9am classes because any lecture before 10am is just a hassle for me. In my Spanish class, I recognized most of them from Orientation last week. My classmates came from different states in the United States and even Canada! We were an interesting bunch since we hit a lot of places in the spectrum. With my friends and I representing Maryland, we had classmates from California, Texas, Chicago, New York, and Montreal. Our initial class started with a brief overview of the syllabus and what to expect from the course such as grammar and tenses. It felt great taking a Spanish class after so long! I felt that my speaking skills will improve with time, as we only could speak in Spanish in class.
Day 16
I started my day going to both of my classes and studying afterwards to work on homework and other assignments that were due later in the week. After studying, I headed over a nearby grocery store to pick up a few items, and the store clerk and I conversed in only Spanish! Guys, I am practically a local now.
Day 17
Immediately after classes, we had our second scientific visit, the Sala Gimbernat, the Royal Academy of Medicine of Barcelona. Inside the museum held an 18th century anatomical amphitheater of the Royal College of Surgery of Barcelona, where many anatomical dissections were held. There were various smaller rooms which were held as offices of the infamous surgeons. In one of the offices held a chapel inside, which was to minimize the unholy idea of observing in and out of the corpses by washing the tools with holy water. The amphitheater was my favorite part of the tour because in the middle of this big room, was a surgical bed made of marble and above was one of the most beautiful chandeliers I have seen. Since Lysol wipes was not in the market yet, everything was made of stone to maintain sanitation. Just thinking about how many dissections were made on this surgical bed overwhelmed me. As a biology student who aspires to go into the medical field, I could see how Catalan medical students and doctors developed their interest and knowledge of the human body.
Day 18
Weren't we supposed to get the day off since it's 4th of July? CLEARLY NOT. We still had classes, and our Spanish professor learned that the 4th of July is America's Independence Day. Even though we were on the other side of the world, we still had to have a 4th of July celebration! (without using fireworks) The staff reserved a table at CNC Restaurant, a restaurant in Passieg Martim de la Barceloneta, right off the beach! Dinner involved a multi-dish meal where we had great cava sangria, appetizers, entrees and desserts. My favorite dish was dessert, which was flan with whipped cream on the side. Throughout the night, a musical band was playing as we were all eating. Since we had a great view of the beach, we also saw the sunset go down beautifully on the horizon.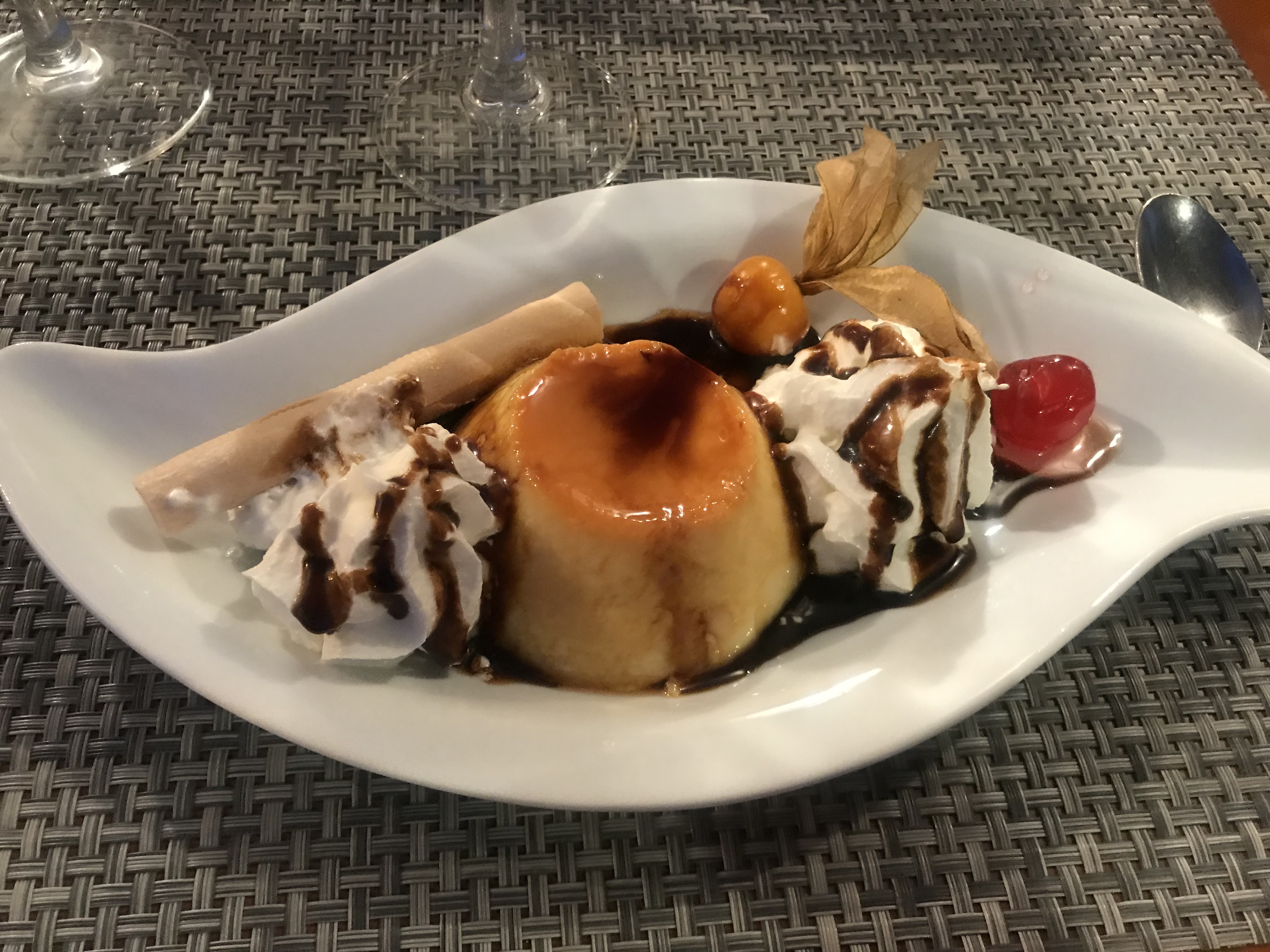 Day 19
Well…this post is going to be quite a treat. After our 4th of July celebration last night (no worries, we didn't blow up any fireworks) a few of my friends and I went up Tibidabo Mountain. Remember when I took that picture at the rooftop restaurant with the mountain in the horizon at sunset a few posts back? Well, that's where we're headed! Tibidabo Mountain is the tallest mountain in Barcelona at 1,680 ft! So you can imagine the steep incline we went through. After hiking nearly an hour, we finally made it to the top! At the top of the mountain, you will find the Sagrat Cor church and the adjacent Tibidabo amusement park. We went inside the church and went up the elevators and stairs to reach the top of the church, where the sculpture of the Sacred Heart of Jesus was topped on. We got to see a beautiful view of the city of Barcelona on the East and the deep green mountains of Montserrat on the West. Our only advice was to not look down when you were at the top!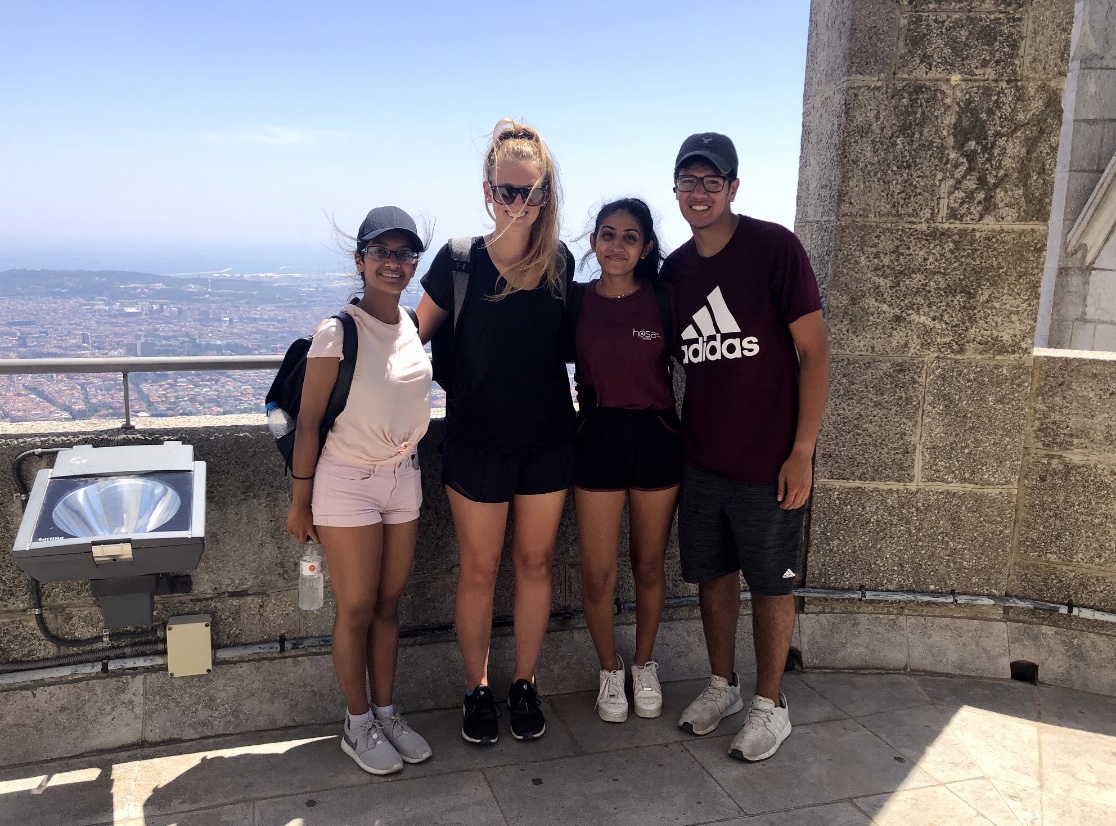 Day 20
Today, I woke up to sore legs since we went up Tibidabo Mountain yesterday. Since my legs were in pain, I decided to stay home for most of the day and tidy up my room. For dinner, my friends and I decided to go out and eat. Since we had a couple of friends who could not eat meat, why not try a black bean burger? We went to a restaurant that had a theme of cats and their menu only consisted of vegetables. The burgers were delicious, and I could not taste the difference from a real meat burger to a black bean burger!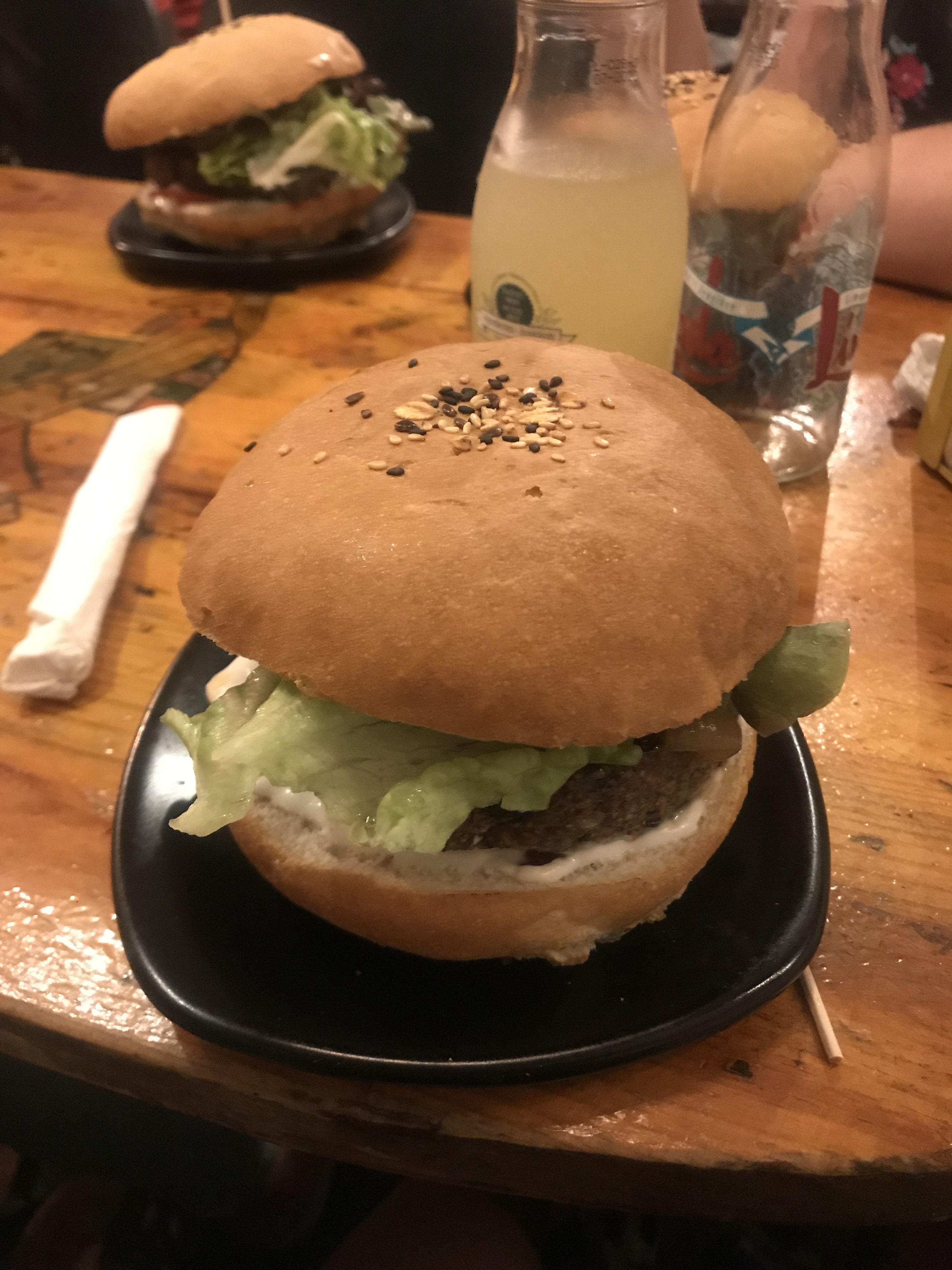 Day 21
Today marks the halfway point of our six-week journey! I was feeling bittersweet that we were already halfway through the program, that I experienced so much already, and that I have another three more weeks to experience more. As it was our second week in our Spanish class, we are already learning past tenses, vocabulary, and writing essays or "escritos". For Biology, we had a researcher from University of Barcelona, Marc Valls, come by our class and give us a lecture on his work and research. Mr. Valls has done research with plane genomes and pathogens, which seemed pretty cool! He tried to break down his process and he has shown the importance of his work in agriculture. Personally, I appreciated his lecture because I haven't had a proper through lecture about someone's scientific research. If I have, it would be a lecture relating to the medical field, but for the first time I was hearing about a lecture that is beneficial toward agriculture.
Day 22
Today, my morning was chill as we only went through classes. In Spanish, we are currently learning about "viajes" or "travel", whereas in Biology, we are currently in the middle of our functional annotations. After classes, my friends and I decided to head to a nearby café to eat lunch. After lunch, we head back to campus to complete our functional annotations and our lab assignment. Immediately after we completed our homework, the BISS (Barcelona International Summer School) took us to an event to see Human Towers! We went to a recreational building where many locals (and maybe non-locals) would rehearse the art of the human towers. We learned that it is a long-lived Catalonian tradition and it can consist of many people in one tower. We saw many structures of the human towers and it was always surprising how everyone could hold each other up! Personally, I felt inspired because I saw children and girls my age holding each other together and be strong as the weight of the human tower increased. But if I tried right, there, I would probably be the first person to fall off!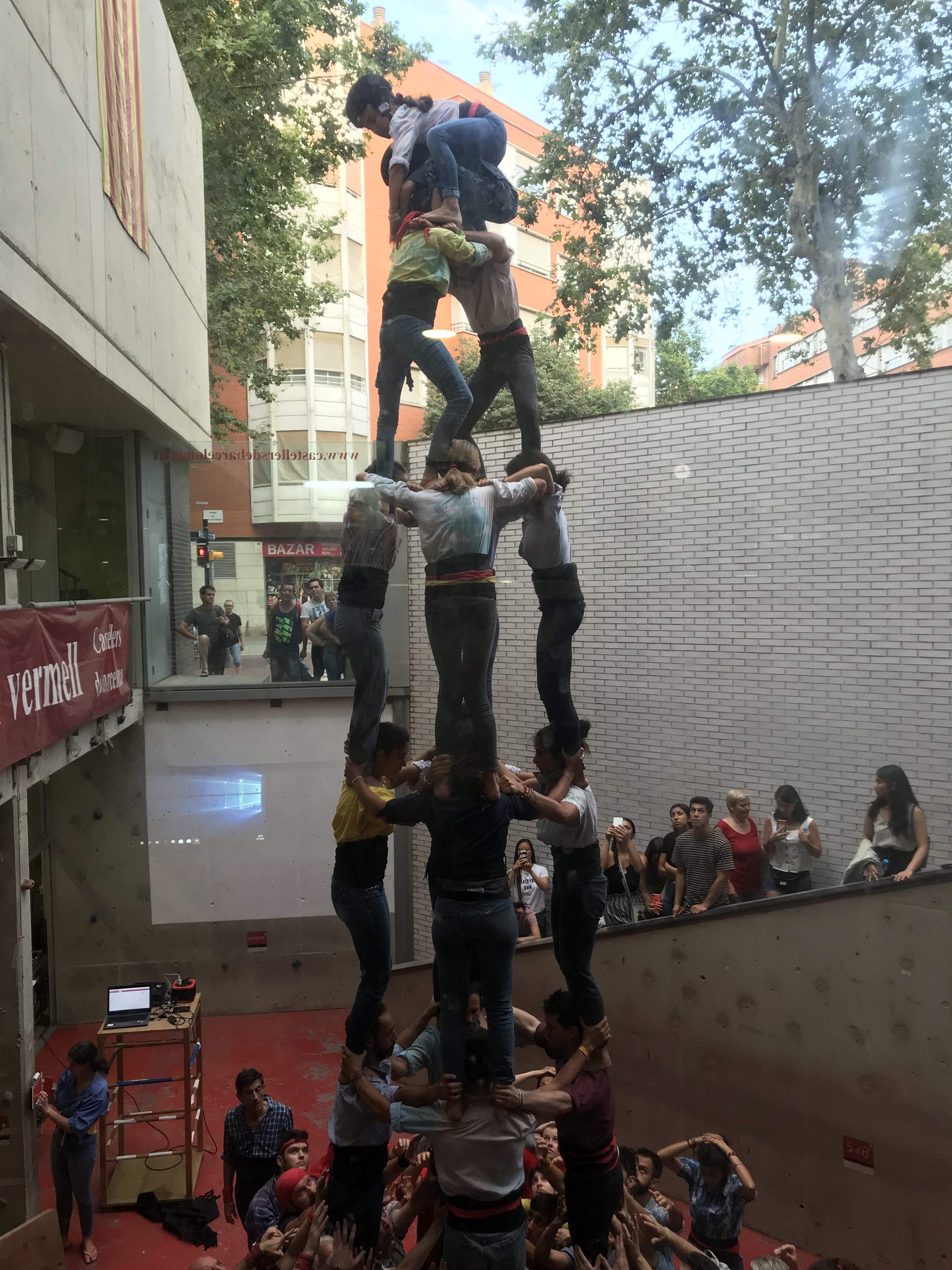 Day 23
After a long day of classes today, I decided to head home and have lunch. As I was riding on the metro back home, as I am 8 stops away, a girl was trying to pickpocket me! She tried opening my backpack, but I was quick for her to do anything, which resulted in her ripping off part of my backpack and fleeing off the metro train. As I was screaming "¡Déjame en paz!", which translates to "Leave me alone!", I was just happy that she was not able to steal anything. After that incident, I became more careful of my belongings, especially my injured backpack. Does anyone know where I can find a Theft-proof backpack in Spain?
Day 24
Today, we ended class early for another field trip. Our coordinators at Academic Solutions took us to a guided visit to the Modernist music palace known as "Palau de la Música Catalana". Along with our class, there were many other people who came along the tour with us. In this theatre, many concerts and dance recitals by legendary celebrities have been performed here. As a Classical Indian dancer for over ten years, I was used to dancing on stage rather than sitting in the audience. However, I saw what an audience's point of view was after a long time. The theatre was not huge, but it was uniquely beautiful. When the musical palace was being made, the architects wanted natural elements in the theatre such as natural light, glass mosaics, and instead of a full-blown sound system, they incorporated a natural amplifier in each seat in the theater! Personally, I am not sure if I would see a concert or a dance performance here because I would be too distracted of the beautiful architecture!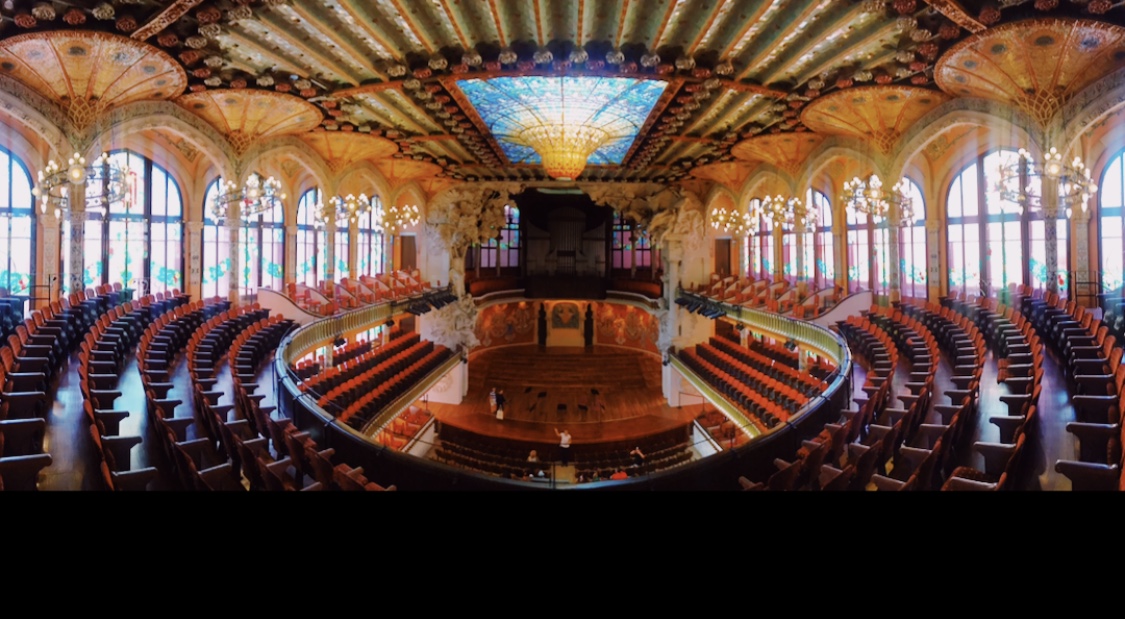 Day 25
In the middle of our biology class today, we all (mostly…ugh) wore our new Barcelona Phage Hunters T-shirts! We loved the design as a bacteriophage was going through Barcelona like a monster would terrorize The City of Townsville in the Powerpuff Girls series. (hands up if you watched Powerpuff Girls on Saturday mornings as a kid!) Don't we look like a delight to be with? Squad goals!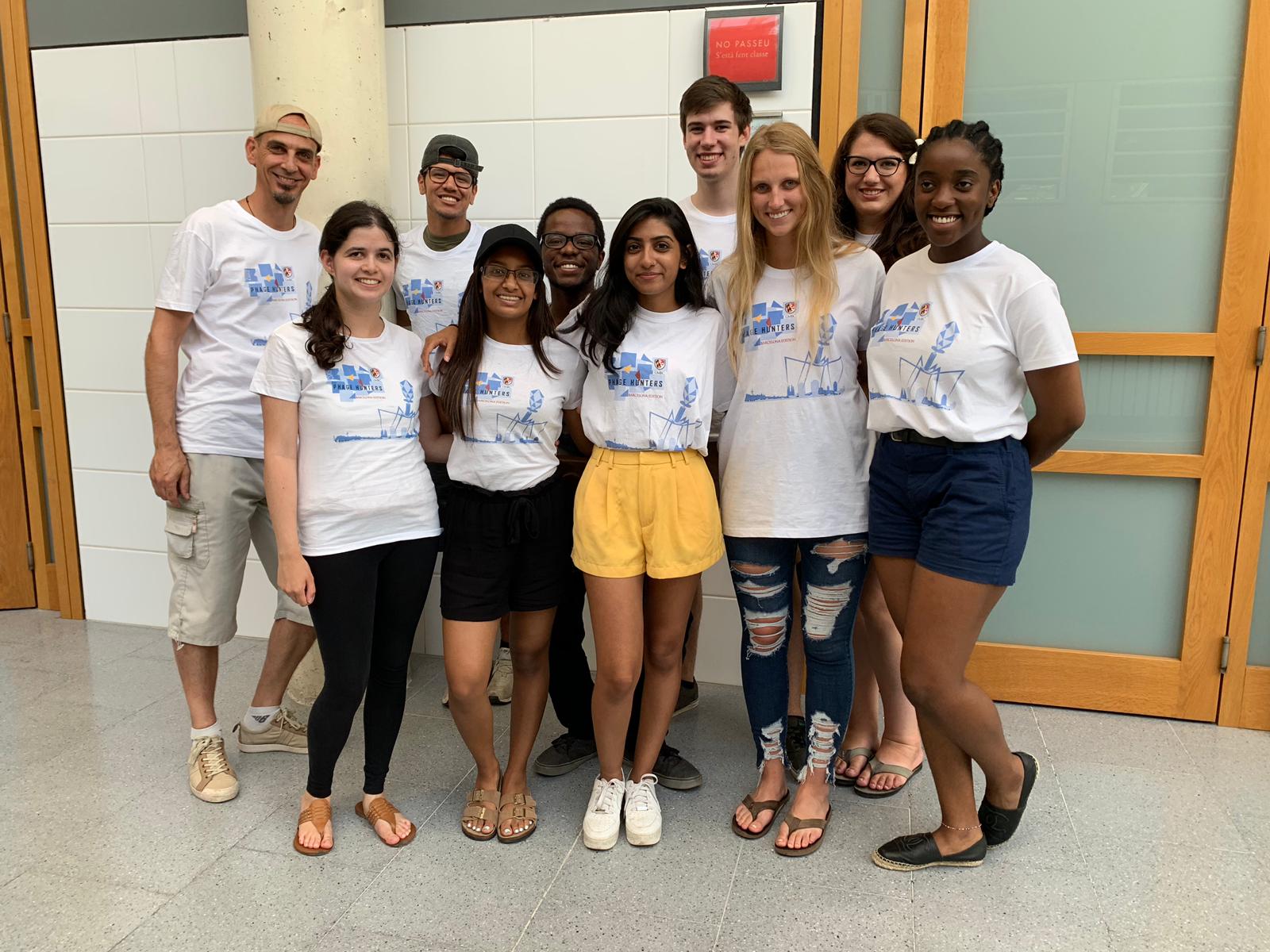 Day 26
Since we did not have classes today, my friends and I headed over to the Picasso Museum, a small restaurant nearby, and a gelato shop. One of our friends did her research and found out that tickets for the Museu Picasso were free on Thursday evenings. We had to book several days in advance since free tickets do sell out quickly, but we knew it would be worthwhile. We weren't sure if some of the parts of the museum were closed off since it was free at that time or if it was closed off for a while. I have never seen so many works of Picasso in one setting in my life! I tried to live within the moment, but it was difficult since everyone was trying to pass through. After going through the museum, I realize how versatile of an artist and sculptor he was. However, I was slightly bummed out that some of his greatest work was not in the museum, such as Guernica, a large oil painting dedicated to the Bombings of Guernica during the Spanish Civil War in 1937. One day when I am in Madrid, Spain, I will head over to El Museo Nacional Centro de Arte Reina Sofía!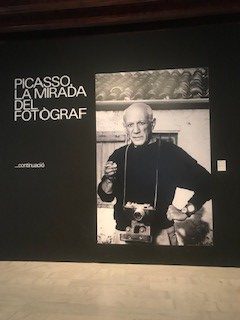 Day 27
Part of being a Study Abroad Ambassador of your program, you are required to blog about your experiences in your country! Along with that note, you are also responsible for organizing a 24-hour Instagram takeover through the @umbclife Instagram account (be sure to follow!!). Before I left for Barcelona, I selected a day in the middle of my journey in Barcelona that I best believed would be perfect to document what a typical day would be like. This included the academic aspect (what I do in school) and the beyond aspect (what I do outside of school). I also had the great opportunity to hold a Q/A session with students and faculty about my time in Barcelona. Some people asked me great questions about the application process and what the Spain experience was like, and some asked what Barcelona metro line is better…L4 is better than L3! I documented a typical day by going to classes, walk home from school and see the Sagrada Familia on the way, stop by some touristy places such as the Arc de Trimorf, Barceloneta beach, and the Citadel Park.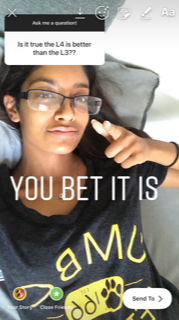 Day 28
In the morning today, my aunt and my two younger cousins came to Barcelona to surprise me! Rewind to two weeks before, my cousin asked me where I was staying in Barcelona and what my plans were, and I did not catch his drift! It was a great feeling to see my family from the US in an international country, since I was getting homesick as I started counting down the days until I come back home. We met in Sagrada Familia, as it was walking distance from both of us, and we went inside the beautiful church. Unfortunately, I did not stay long. After we headed to Chocolatería Valor, a chocolate shop where they serve hot chocolate and churros. Since my aunt and cousins did not know much Spanish, they depended on me for translation between them and our server, who happened to not know a word of English. I was awe because I felt like a local, as the server and I understood what we were saying to each other and we maintained a conversation! After a long walk, I bid farewell to my aunt and cousins as they were still fighting jetlag.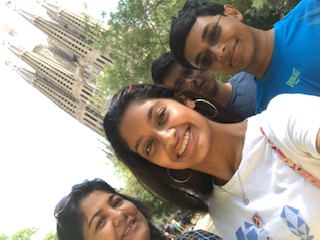 Day 29
Today, we received another guest lecture by Dr. Susana Campoy, who researches at the Universitat Autònoma de Barcelona. Ironically, the Universitat Autònoma de Barcelona is Dr. Ivan's alma-mater for his bachelor's and Ph.D.! I enjoyed her lecture because she was very engaging with the class, and she asked us questions and wanted feedback from us. Before she began her presentation, she went over some basic information and the significance of studying phages. With her introduction, I got hooked immediately. By the way, did I mention that tomorrow is our Exam Day for BIOL 316L? *internally screams*
Day 30
Today is Exam Day! I studied a lot the day before, but I knew that this exam held some tricky questions. (and it did) Immediately after our exams, we were completing our annotations for the final draft. After classes, Dr. Ivan took us to IRB Barcelona, the Institute for Research in Biomedicine, next to the University of Barcelona campus. I loved that we did this excursion after an exam because this scientific visit did calm my nerves! The IRB Barcelona is a world-class research center devoted to understanding fundamental questions about human health and disease. It was founded in October 2005 by the Government of Catalonia and the University of Barcelona and is located at the Barcelona Science Park. We got to have a tour of the facility and check out the lab rooms.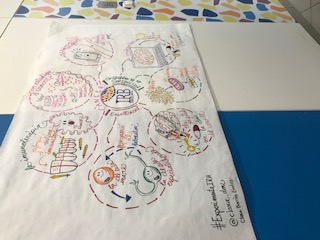 Day 31
I didn't do anything particularly blog-worthy today, as I was completing homework assignments and preparing for my last presentation next week. Look forward to my next post as I will be heading to Paris, France! Time to change my "hola!" to "bonjour!"
Day 32
Today is the 18th of July, which is the day that I am flying to Paris! Initially when I came to Barcelona, I did not plan to travel anywhere else in Europe, and I should have! I did not realize that a roundtrip plane ticket to Paris and a weekend hotel fee was so affordable! Honestly, I planned last week to go to Paris this weekend, but it worked out great! My flight was at 7pm, and I would reach Paris by 9pm. When I left Barcelona, I saw the beautiful sunset as we were heading northwest to Paris. However, when I arrived in Paris, I got drenched by the rain! I was just happy that I could use the Uber app in Paris. But you would not believe what taxi I had to ride in. I got to ride in a 2019 Mercedes S550 sedan, with state-of-the-art electronics and Wi-Fi. You would think that I spent a fortune on just a taxi, but surprisingly it did not bend my wallet! For the rest of the night, I waited for my friends at the hotel and got accumulated in my hotel room. We have a lot planned for this weekend, so stay tuned for our Paris adventures!
Day 33
Well today is going to be a looooong day! My friends and I woke up early in the morning to walk around the city and see some of Paris' great attractions! Thankfully, our hotel was just across the river to the Eiffel Tower, so we got to see the Eiffel Tower first! Afterwards, we had brunch at a small café and walked to the Louvre museum. When I first came to The Louvre, I was overwhelmed as there was so much art and history. Fun fact: If you wanted to see every piece of art in The Louvre in one visit, and spend just 30 seconds looking at each one, it would take you over a month to see them all, assuming you were there 24/7, and took no breaks and never slept! We also got to see the Mona Lisa painting! (which we had to wait in line for more than an hour) Afterwards, we headed over to the Notre Dame cathedral. We could not enter as it was under construction from the fire that happened earlier this year. We then headed to Luxembourg Garden, where we took an insane number of pictures for social media. After, we headed to the Eiffel Tower again to have a picnic. We gathered a couple bottles of wine, some cheese called brie, chocolate, bread, and some pastries. We ended the night by seeing the Light Show that the Eiffel Tower does every night during sunset. I also ended the night by having sore legs after we walked more than 10 kilometers.
Day 34
We woke up early again to head over to Versailles, a palace about 20 kilometers away from the city center of Paris. The Versailles Palace was the principal royal residence of France from 1682 to the start of the French Revolution in 1789. In books, I knew the palace was huge, but I did not know that it was HUGE. We went through all the floors and looked at the big attractions of the palace such as the Hall of Mirrors, the Royal Opera, and the royal apartments. We then headed to the gardens and fountains, which were incredibly beautiful. The garden had sections where it would be the King's Garden, the Queen's Garden, canals and lakes, and sections of geometric flower beds and groves. Shortly after the fountain show, we left as it started to rain.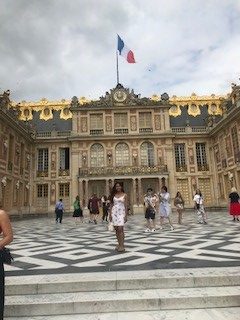 Day 35
Today marks the last day of my Paris adventure and the last Sunday that I will be in Europe. We headed to a flea market via the train, and then headed to the infamous burlesque Moulin Rouge. Onwards, we headed over to the Sacré-Cœur, a roman catholic basilica dedicated to the Sacred Heart of Jesus. It is one of the most iconic monuments in Paris, and it has one of the most beautiful panoramic views of the city! Around the church's square, we saw love locks locked on the fence symbolizing the love of two people in the city of Paris. As it pains me to leave this beautiful city, I have to go back to Barcelona and complete my last week of classes! Wish me a safe flight!
Day 36
Even though, I had an overnight flight back home to Barcelona and only had four hours of sleep, I managed to squeamishly go to classes today. I wanted to have a record of showing up every day for classes. After our biology class, we went to the Universitat Autònoma de Barcelona for our last scientific visit. We learned that the university is very liberal and loves to speak its mind. We also got to learn about Dr. Ivan's experiences when he went to college here! We went to the Centre de Recerca en Agigenomica (CRAG), a beautiful facility on campus tat devotes its research to agriculture. We listened to guest lectures by Ph.D. students as they discussed their research on phages and plants, and we continued by doing some experimentations of our own. We injected a "phage" (not really) into a plant and observe how the plants react to the injected phage. After, we toured the facility, including its greenhouses and labs, and talked with the staff and students. Overall, it was my favorite scientific visit because I got to explore the little environmentalist in me.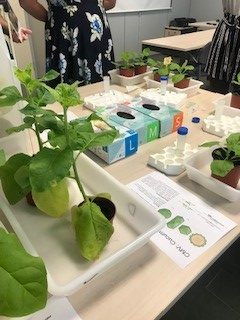 Day 37
Tomorrow is the last day of classes! Tomorrow is a big day, as we have our Spanish Final Exam and our phage presentations. Today, I got to study with friends at one of our friend's house. However, I spent more time with the house cat, Gustavo, than studying for my Spanish final and finalizing my presentations. Whoops.
Day 38
It was quite a hectic day. In the morning, we started our Spanish final with an oral exam and then a written exam. Overall, I hope I did well! For our last biology class today, can you imagine 9 students giving a 10-15-minute presentation about a gene in one class period? Well it happened. Overall, each of our presentations were well-rounded, and packed enough information on our chosen topic of phages. We are finally done with classes! My friends and I decided to have a celebratory lunch at our favorite nearby café, and then head to the beach. After soaking in the hot sun for a while, it was time to go back home and get ready for our last event with Academic Solutions. As our last visit, we visited an Air-Raid Shelter in the Garcia neighborhood, which was heavily used during the Spanish Civil War. At the end of the night, we had dinner at Pepa Tomate Restaurant near the shelter. As previous dinners we had together, dinner was a multi-dish course. We bid farewell to our wonderful coordinators, Jaime and Kristin, and our awesome professor, Dr. Ivan.
Day 39
Since I am done with classes, I can finally catch up on my sleep. I woke up at noon, as opposed to 7:30am, and I couldn't be more alive! Since my last day in Barcelona is tomorrow, I started packing all my things and deciding what gifts should go to who in my family. I realized that I need more gifts, so I need to shop sometime within the next 24 hours. I packed mostly everything except for my pajamas and a couple of outfits for tomorrow. The BISS held a farewell party on the campus lawn, and I saw a few of my friends there! However, I did not stay too long, as I wanted to have dinner soon. Afterwards, we went back to the Mexican restaurants for drinks and nachos. Could never bet that!
Day 40
Oh, my goodness! Today is my last day in Barcelona! I felt so bittersweet because I am ready to go back home in Maryland, but I called Barcelona home for the past six weeks. However, I came to Barcelona with a blast, and I wanted to end it with a blast! Remember how I always walked outside of La Sagrada Familia, and only went for a small amount of time? Well, today is my last chance to finally see it all! Literally. (I have to be at the airport in a few hours.) Today, my friend, Mandi, and I went to La Sagrada Familia, and I was infatuated and overwhelmed by the splendid beauty of this basilica. The basilica is one of Gaudi's greatest and infamous works, and it is one of the most popular tourist attractions in Barcelona. I loved the stained-glass work, as it showed all the colors of the rainbow with the natural light coming in. The architecture of the church was breathtaking, yet it is not complete, but it will continue to be incredibly spectacular. After our tour, we went to a few shops outside to find gifts for our family and friends. As I walked back home, I looked back toward the Sagrada Familia, capturing in its beauty one last time before I head back home. As I am getting ready to pack, I can't help but feel sad that I am leaving this home once and for all. After having my last dinner with my host parents, I bid farewell and headed to the airport. Bye Barcelona! Hello Maryland!
August 3, 2019
Missed me yet?
Hey everyone! Wow, you made it this far on my blogs! ¡Qué guay tío! It has been one week since I left Barcelona and landed in IAD. It has only been a week, but I miss Europe so much already! The past six weeks included some of the most spectacular memories that I have ever had in my life! From our Orientation lunch in the beginning of the program to suddenly visiting Paris for the weekend to visiting the Sagrada Familia at the end, every memory was truly magical. I have experienced many things over the past few weeks, some good and some bad, but I enjoyed every single day to the fullest. Looking back, I would do it all over again. (without classes, sorry again Dr. Ivan!)
After studying abroad, I do plan on studying abroad again in my further studies or traveling internationally for work. However, there would be two things that I would have done differently, or I would do differently the next time I am abroad. Number one: I wish I knew that there was an incoming heat wave in Europe before I packed for Barcelona. I was under the impression that it is not very hot in Barcelona, but how wrong I was. Since I packed many long sleeve shirts and pants, I had to carry ten pounds of dead weight for nothing and buy 150 euros worth of clothes. Number two: Keep your expectations low when travelling abroad. I was under the impression that I would be going to every attraction in Barcelona, but there were still many places that I was not able to go due to time constricts.
For any student who plans on studying abroad in Barcelona, or in general, please do your research on your chosen country prior to arrival! If there was any additional advice that I would share with future study abroad students, it would be the slang phrase from my first blog post "¡Qué guay tío!". The phrase translates to "That's cool dude!", which is weird because tío/ tía means uncle/aunt. However, when it is used in slang form, it simply means dude. That phrase was most likely used every day for the coolest things to the silliest things, but we never had a dull day. When I landed back home, I immediately went to Chipotle. (there were no Chipotles in Spain, let me breathe!) When I had to pay for my burrito bowl, I said to the cashier "¡Qué guay tío!". Barcelona had such an impact on my daily life that I already started saying my favorite catchphrase in America! For those students who are already thinking about studying abroad…
"¡Qué guay tío!"
-Pauline Rozario, Barcelona Phage Hunters Summer 2019