Noah Wolcott
ISA Barranquilla, Colombia: Latin American Studies, International Business, Engineering & Courses with Locals-Semester
Major: Modern Language & Linguistics, Spanish Track
17 July 2019
The First Blog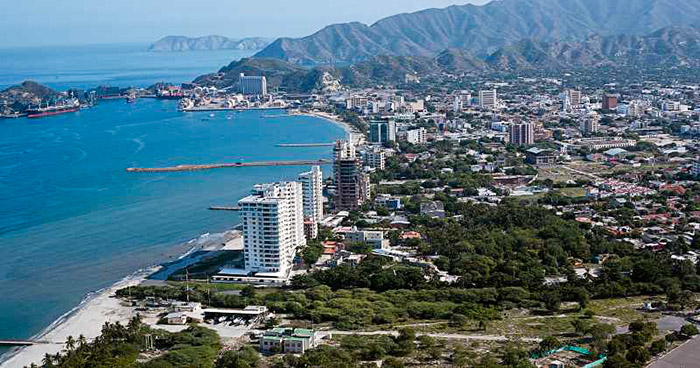 So, it's official! In six days I'm flying south to Barranquilla, Colombia for a four-month semester abroad at Universidad del Norte! It's always been a dream of mine to be a student in another country. I'll a third-year Spanish major studying in Spanish with local Colombian students. It's a little intimidating but I'm excited to challenge my foreign-language skills!
I'm going all in to immerse myself this semester. I'm bringing no more than two carry-ons of the essentials: three interchangeable outfits, a few souvenirs from home, and my school/ work supplies. In preparing for my trip I figured that instead of buying clothes and supplies in my home country, why not do it upon arrival where the Colombians do it? Some friends and family found it to be a weird idea, but you know what? I think it'll be a fun challenge in getting used to my Colombian lifestyle!
My semester starts Mid-July and ends Late-November in accordance with the Colombian academic year. I'll be taking courses in Spanish with local students in areas like Latin American history and contemporary politics. I'm very excited to challenge my Spanish through taking courses with locals! In addition to studying for my Spanish major, I'm also registered for Volunteering and Social Transformation through Universidad del Norte (Uninorte). I have no idea what sort of volunteer work I'll be doing. It could be environmental cleanup, educational assistance, interpretation services, anything! Regardless, it'll be nice to give back to my Barranquillan host community. On the side of my coursework, I'll be taking salsa classes over the semester with other students at Uninorte. It's never been a forte of mine, dancing, so hopefully I'll manage to learn in one of the countries that does it best!
One of the most difficult parts of my time abroad, however, will be balancing my coursework, extracurriculars, and exploration of South America with working online as an English teacher. I give lessons in the mornings and evenings through an online English teaching company. I was stressed while preparing to go abroad that my savings wouldn't last me all four months. I began applying to online English teaching positions. It's my ultimate goal to teach English abroad, so it was perfect for developing my career while supporting myself in Colombia. Thankfully I teach through a very flexible online platform, so I can easily plan lessons around my schoolwork and social life.
This isn't my first time leaving the country. I've been well-prepared to live in Latin America from living in Honduras for a year as a volunteer English teacher. I used to go to Salisbury University, but I decided to take a gap year and go abroad to see if teaching was truly something I wanted to pursue. Upon returning I went to community college before transferring to UMBC where I now find myself studying abroad. Ever since living in Honduras as a teacher, I've dreamed of living in Latin America again, but this time as a student. To now be realizing that dream is surreal! While I lived in Honduras I took showers with a bucket, slept next to a fan in lieu of air conditioning, and sat on dusty asphalt chairs with my students every day for lunch. I've seen what it's like to live in third-world conditions, but Barranquilla is far more developed than San Pedro Sula, where I lived two years ago. It's a city of 1.1 Million and a Human Developmental Index (HDI) on par with the United Kingdom! I can't wait to use my previous experience abroad to better experience my semester at Uninorte and in Barranquilla!
Overall, what I'm most excited for are the opportunities to grow as a person coming my way. I have a lot to be excited for, but also a lot of responsibility. I'll be working online while talking a full course load in a foreign language. It's also important to me that I have a social life and have authentic experiences across the country, so there's a bit on my to-do this for the next four months. Culture shock is to be expected, and I'm not excited for the homesick night. There are plenty of stressful days ahead I'm sure. Regardless, I know it's all going to make me a better student, teacher, and global citizen.
I leave this Sunday, July 21st for Barranquilla. This is actually one day too early for my program, so I'm not provided a home-stay or airport pickup when I arrive. This is exciting because it gives me a whole day to explore the city and stay in a hostel before I go into classes and coursework. I hope to find a good local restaurant with my favorite dish: tajadas con carne molida. It's the greatest Latin American dish ever invented, and I haven't had it since I lived in Honduras three years ago! Hopefully when I arrive in Barranquilla I'll be able to ask around for someone to prepare this dish and let me experience the pinnacle of authentic Latin American food again. I can't wait to stay in a hostel, again. They're like hotels, but the only rooms available are shared among 5-10 bunk beds full of other travelers. They're amazing places to meet new people and hear great stories. It'll be a great way to start my time abroad and immersing myself in a new culture and lifestyle.
I hope you'll follow me as I blog my time abroad!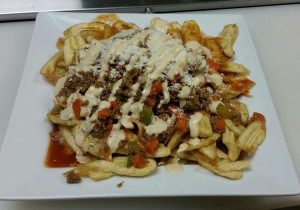 12 August 2019
Hace dos semanas…
It's been an amazing two weeks since I landed in Barranquilla! Upon the first day of meeting the other students in my program, we clicked like a Gucci fanny pack and have been exploring the city of Barranquilla and the many cool things around it. The past two weeks have been full of firsts experiences, milestones of growth, and valuable relationships that have set an amazing tone for the next four months ahead.
Upon arrival I was so excited (and nervous) to meet my host family. I had watched a lot of Youtube videos on great and nightmarish experiences with host families abroad, so I hadn't any idea what to expect. I'm so lucky to say my host family consists of some of the most friendly and hospitable people I've ever met. I have two adorable host sisters ages 6 and 10. I thought they spoke surprisingly good English, then I realized they must have years of practice speaking with past host-siblings. My host brother, who's about my age, showed me around the area and helped me buy some essentials I'd forgotten in the U.S. As we drove around northern Barranquilla I was impressed by the polish of some parts of the city. Some areas looked like they could pass as a block in Miami.  I knew immediately I was going to fall in love with Colombia.
I visited beaches, national parks, a Colombian coffee plant, my first club(s), and so much more! One ISA excursion took us to Santa Marta, the first colony of Colombia, where we ran into the Festival del Mar. Our tour guide didn't expect the parade so to get to the hotel he had us cut in front of a big band in neon green uniforms. We saw that same band playing on television in the hotel that night. Even cooler was our cultural excursion to the Escuela Cocina in Barranquilla. We learned how to make three types of arepas and eat them afterwards! Cooking is a skill I've always wanted to improve, so I was ecstatic dipping doughy balls of rice into oil despite the unbearable heat.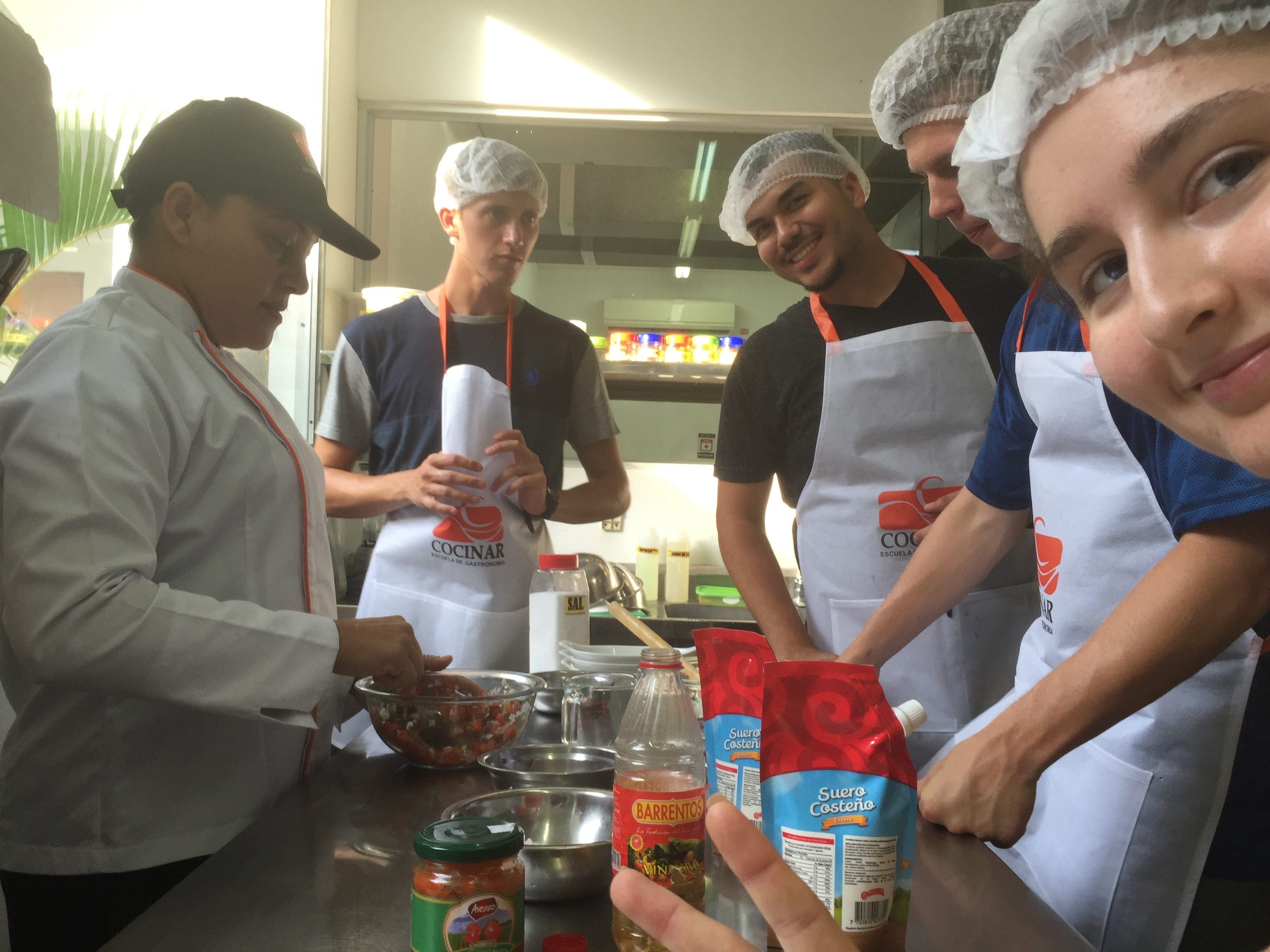 Some of the best times since being here have been outside of program-sponsored events. My favorite being the beach, Kilymandiario. The other Americans and had a beach day not even a day after meeting each other. We enjoyed the national tequila as we swam in the Atlantic Ocean on a different hemisphere. One week later I would get surf coaching and catch my first wave at that same beach. We also got to meet the Colombian students. After completing orientation alongside our Colombian peers, they organized three "Chivas" (Party Buses) to tour three popular clubs around Barranquilla. This wasn't just between the Colombians and Americans, though. There were over 100 international students at Universidad del Norte, only 10 of which were American. It was an amazing time going to my first club with surrounded by people from every continent.
The whole thing has been surreal. I've always wanted to see what it's like to live like a student in a different country, and it's surprising how not-different we all are to each other. I've felt completely welcome in Colombia and I'm so excited to give back through my volunteering course as I continue to perfect my Spanish. I can't wait to see what these next four months hold as I know I'll come out a much better person.
Click here to watch a extra video I made about my first two weeks!
7 October 2019
Just a Wannabe Barranquillero Checking-In
Now that I've settled into my life in Barranquilla I can more fully take in the city around me. Not only is Barranquilla gorgeous (I have too many pictures of landscapes and scenery) and full of amazing people, it's also totally distinct from what I know in the U.S. That's what I'm gonna write about today! The differences between ways of life in Colombia and in the U.S. are numerous, but the biggest areas in which I notice differences are school, social-life, and conceptions/ ideas of social progress.
School is different in that It's very lecture-oriented with often little-to-no importance on slides or visual complements to the lesson. It's the worst in my History of Contemporary Latin America and Problems of Contemporary Society classes. The professors will usually show a title slide, but that's pretty much it! The rest of class is listening and raising your hand if you have questions. It can be really rough when you're an international student who only understands about 50% of what's said. However, all professors are very receptive to questions and aren't opposed to letting answers to student questions taking up the majority of class time. Students are way more active in classrooms, too. Discussion is highly valued here, and people are not afraid to express opinions confidently. I kinda like it because in America it's almost always the case that getting kids to participate in classrooms is difficult and forced whereas here it seems to come naturally. I've certainly developed my argumentative and speaking skills since being here. Dealing with that culture shock made me a much more confident person, and I don't have nearly as much difficulty making friends here as I do in the U.S.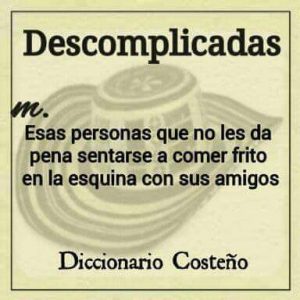 That brings me to the differences in social-life between the U.S. and Colombia. Compared to the people of the northeast coast of America, Colombians are much more socially active and open to strangers. As a matter of fact, being withdrawn and antisocial seems to be looked down upon here. There's a costeño word, descomplicada, for a person "que no le da pena sentarse a comer frito en la esquina con amigos" <<who never feels like sitting down to eat with friends on the corner>> Which I find funny because that's exactly the kind of person I am! It's not that I don't wanna talk, it's just that I had this poorly-organized plan in my head today of how I'm going to barely complete all my homework (because I'm a horrible student), and I didn't plan to run into friends! It's been good, though, because I've been pushed to get out of my social comfort zone since being here, and I've earned to be much more comfortable with myself around others because of it.The most interesting part of it all is how the more I socialized and got close to my colombian friends, I realized they're not all that different from whomever I'd meet in the states. My friends on the rugby team and I make fun of each other and go out to eat just like a team would in the U.S. The classmates I volunteer with share the same passion and love of people as the volunteers I know at UMBC and that I knew in Honduras when I was a teacher. It's really beautiful to see how similar people are at their core when you travel. It motivates me to continue exploring the world and contributing to the communities I pass. I was reluctant to sign up for a volunteering class because I would've been committing every Saturday morning to teaching in a city an hour away. Nevertheless, I don't regret it one bit. I love leading English lessons alongside my classmates. I really feel like I'm contributing to the progress of Colombia and the children I teach.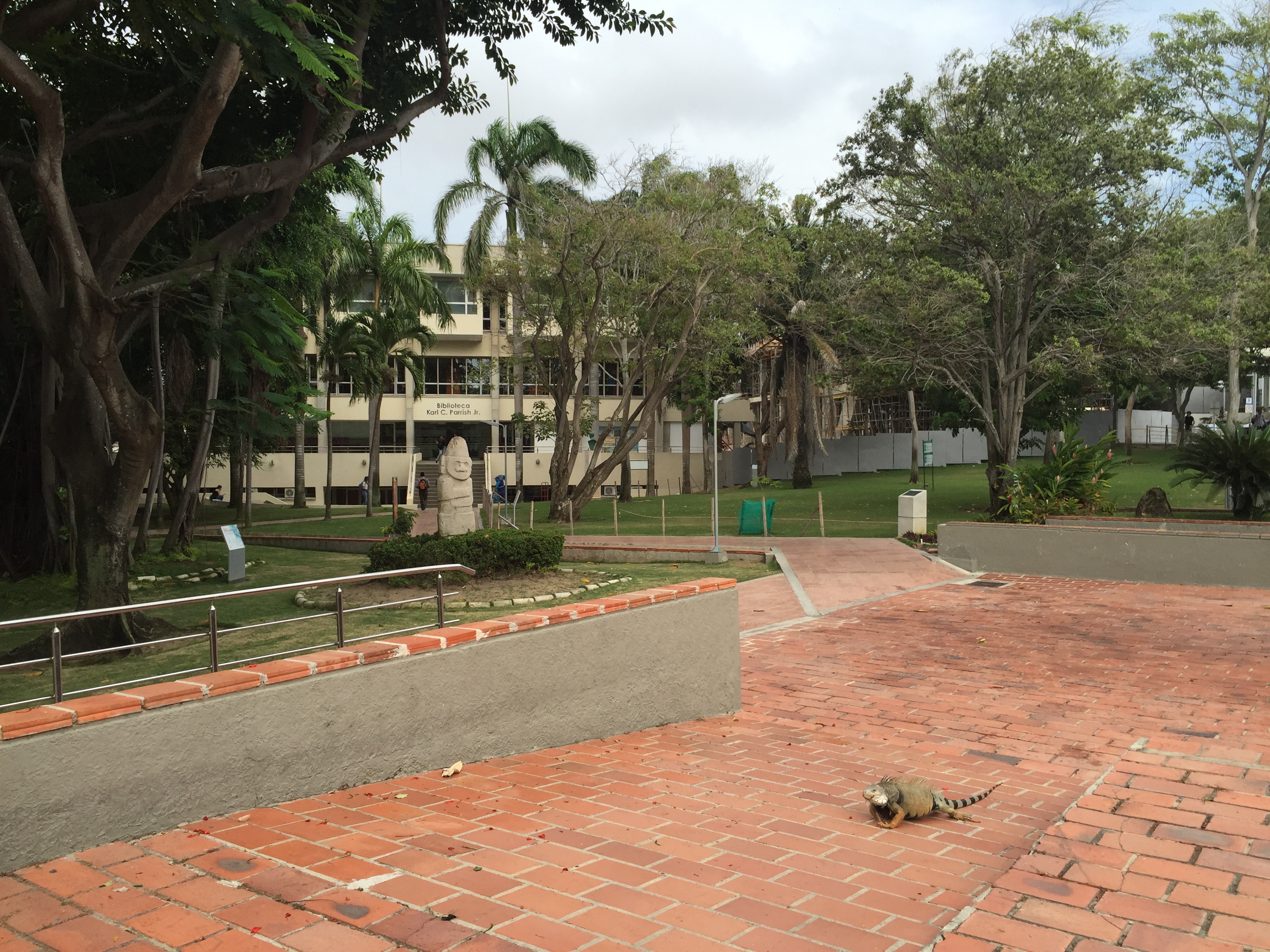 Progress is another interestingly-different thing in Colombia. While Colombia is a country moving forward every day, the Colombian version of progress has different priorities than those of America. At least from my perspective, the current idea of American progress tends to be politically/ ideologically based. There are countless movements for equality between sexes, races, social classes, etc.. whereas in Colombia these may be overshadowed by movements for sustainability, anti-corruption, or the eradication of poverty. There's nothing at all wrong with having a different focus when talking about "progress." To me it's a reminder that different countries and peoples have different problems, and I can't wait until Colombia can feel safe putting more abstract issues like equality above poverty and corruption.
I was afraid of Colombia being too westernized when I got here, but I'm happy to say there's culture in abundance within this country. From visiting Santa Marta (the first Colombian colony) to Cartagena (Colombia's major port with castles from the colonial era) there are millions of Colombians with unique stories and cultures that you wouldn't find anywhere else. I'm so happy to be here expanding my understanding of myself and the world around me.
24 October 2019
Crossing the Half-Way Mark and (not) Wasting Time
As of writing this, I've lived in Barranquilla for exactly three months (¡WAUW!) and only one-and- a-half remain before I return to the states (¡NOOO!). While it's unfortunate I can't stay and enjoy this beautiful city for longer, this feeling of not wanting to leave means a lot to me for a very special reason.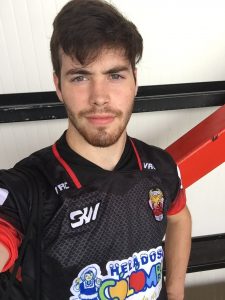 Three years ago I lived in Honduras for a year as a volunteer teacher. While that experience was absolutely life-changing, I was a 19-year-old kid that was pretty overwhelmed with the responsibility of being a full-time teacher and the culture shock of being in a deeply impoverished country, the language of which I barely spoke at the time. For those reasons I was actually quite excited to return to my life in the U.S. and escape those responsibilities. I felt guilty for feeling this way, and like I had — to some degree — wasted mine and everyone else's time.
I was scared coming into Barranquilla that I would be overwhelmed by the culture shock again, or not be able to handle my responsibilities while taking advantage of this precious time I have immersed in another culture and language. My time in Barranquilla has certainly had its
challenges, but this time I've seen through those obstacles and learned to deeply value my ability to do so, and subsequently myself as a whole. For this blog I want to remind myself of the biggest things that, no matter what, have made this experience completely unforgettable and worth every cent and tear.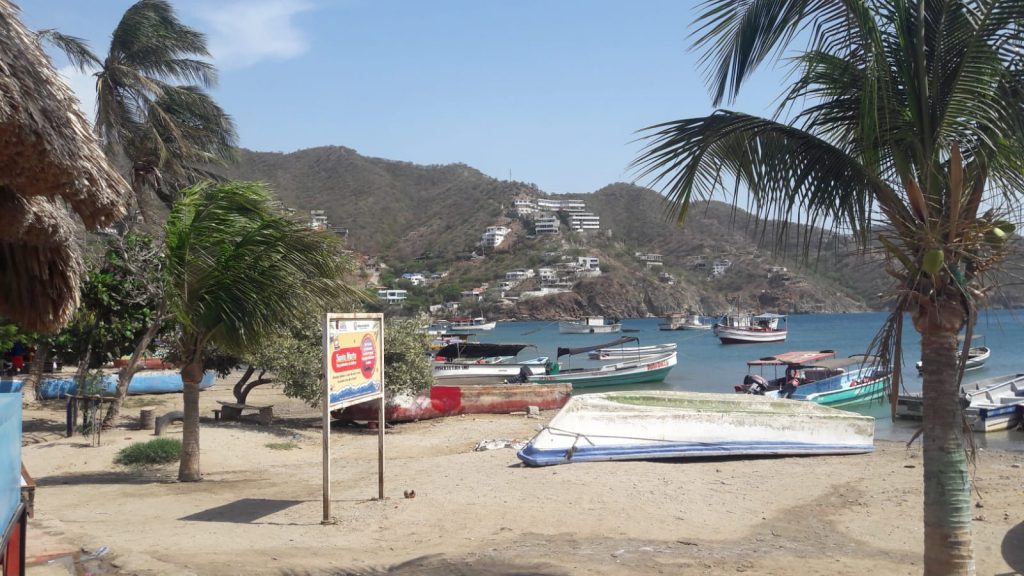 Overcoming the fear of having picked the "wrong" major:
Around the half-way mark of my time here, I was struck with the fear that my Spanish wasn't nearly as progressed as I'd have hoped I understand that studying abroad doesn't automatically equal fluency, but I'll take the risk of sounding arrogant when I say I know I can do it! That said, it worries me to be a Spanish major approaching the end of the most valuable time of their college career and not feeling confident that they could hold a job in their field. This bled into my ambitions to be an educator. If I couldn't achieve Spanish fluency, would I be capable to put in the work to be a professional educator? Had I pigeon-holed myself into an unemployable future? ¡NO! I reached out to my parents about it and they reminded me of how hard it is to even get to this point. I used to be a college dropout, and now I'm two semesters away from a Bachelor's in
something I never would've expected to master! I need to trust that I'll continue doing what needs to be done for myself and those for whom I want to provide. My parents understood the mental rut I had fallen into, and that they're supporting me even thousands of miles away. The fear will remain, but now I can drown it out with trust in myself and my support system that I can do what it takes to make this work, and continue pursuing that which I love.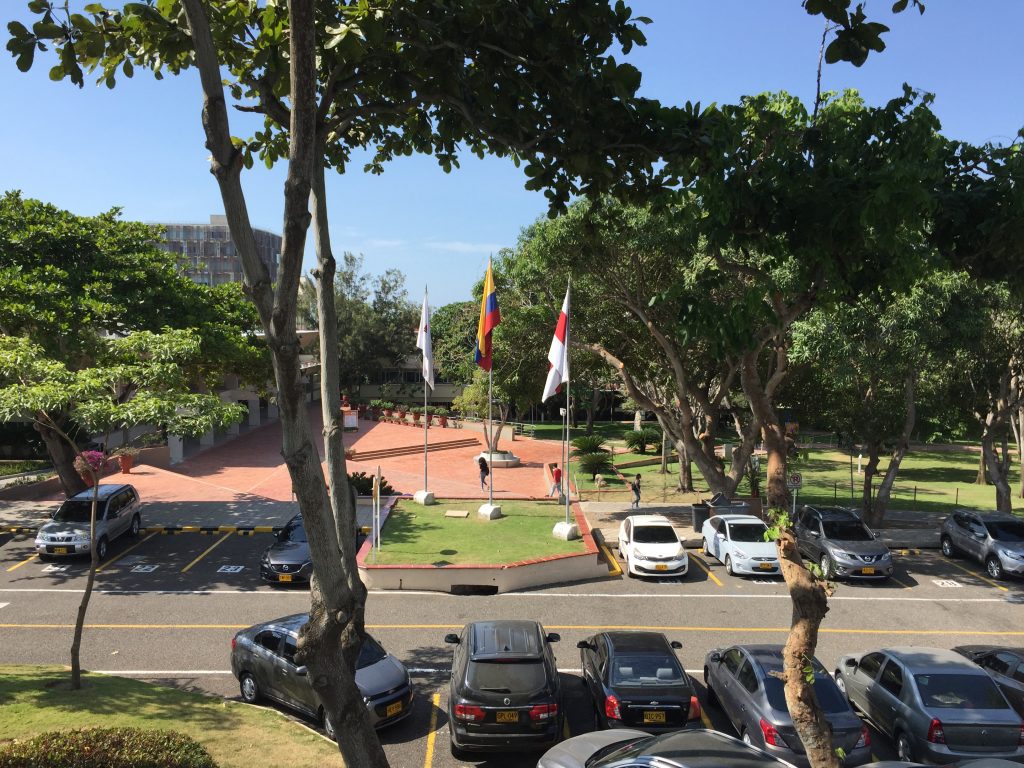 Respecting my mental health and going to therapy:
This is the biggest one, the one which I'm most proud of, and honestly most uncomfortable because I'm not sure if it's appropriate to write about. I've struggled with social anxiety for as long as I can remember. After a while living here, I began to feel lonely despite having a large network of friends because I was scared to open up on a deeper level. I told a friend, and he recommended I talk about it with a professional. I went to one single counseling session and since then things have changed completely. To spare you the super intimate details, I left the session with the resolution that I would strive to be as honest and genuine around my friends as possible. Something about the costeño manner in which my therapist phrased it made me trust everything she said, and I've been willing to bet my comfortability on it. She likened my anxious thoughts to 'Rocks placed in my head by a flawed mentality.' If I could understand the fault in my social mentality, I could remove the rocks weighing me down. Since then my conversations have been more engaging, I'm not exhausted after being with friends, I'm actively seeking out activities to do with other students, and I'm even organizing a karaoke night for this Thursday! This is something I'd never have done just a week ago! They say it takes two weeks to establish a new habit, so I'm doing all I can to stay as socially active as possible to affirm that I'm never going back to that burning house of anxiety I've escaped. You don't need to have 'problems' to benefit from counseling/ therapy. We all have room for improvement as people and I encourage everyone reading this to at least sit down and talk to a professional about whatever may be weighing you down that you may not even realize! You are worth it.
Discovering the beauty of our differences:
In my previous blog I mentioned my realization of how "not-different" we Americans really are from Barranquillans, Hondurans, and even the wide variety of European exchange students with whom I study. Our cultures and attitudes are uniquely developed and distinct, but our feelings, vulnerabilities, desires and dreams all come from the same internal place. I've had the opportunity to make deep connections and engage in profound conversations with those all over the world. Through this I've discovered even some of my deepest insecurities and greatest passions are shared by people from Colombia, France, Germany, and even Minnesota! Once you make a deep connection with someone of another culture, the entire culture they carry has a new, much more real meaning. Though it can still be scary, I'm way more excited to jump into Colombian culture when I have my Barranquillan friends by my side.
In these past three months I've gone through a lot of personal challenges and changes, so the person experiencing Barranquilla now is completely different from the one who arrived. For that reason, I'm really excited to appreciate every moment I have left in this amazing country. I don't want to leave, but when I do I know I'll be exceptionally prepared to tackle everything between me and my ambitions in the United States.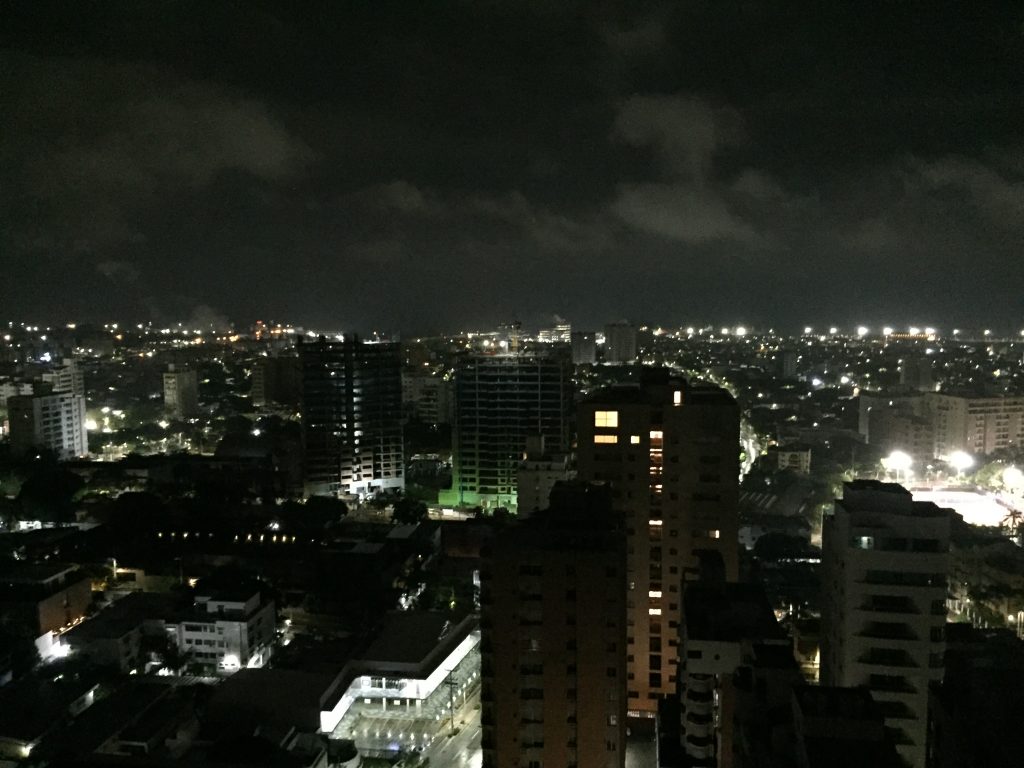 23 November 2019
"And don't forget we're going to the Totumo Mud Volcano this Friday!" Our program director reminded us in an ISA meeting late-October.
I'm not sure what I expected when I heard the words "Mud Volcano." Actually, a more appropriate word would be clay. The Totumo Mud Volcano … is an ACTIVE mud volcano just south of Barranquilla, Colombia. I visited the volcano with a bunch of other Americans in my ISA program, and wow was it interesting. We scaled the 7-8 meter volcano to be gently lowered feet-first into a bottomless pit of mud/ clay. This clay was so viscous you couldn't sink if you tried (and we did!). There were workers in the mud helping us down, and once we were floating on the surface of a mud volcano we received full-body massages. It was a little out of my comfort zone but it was absolutely worth it.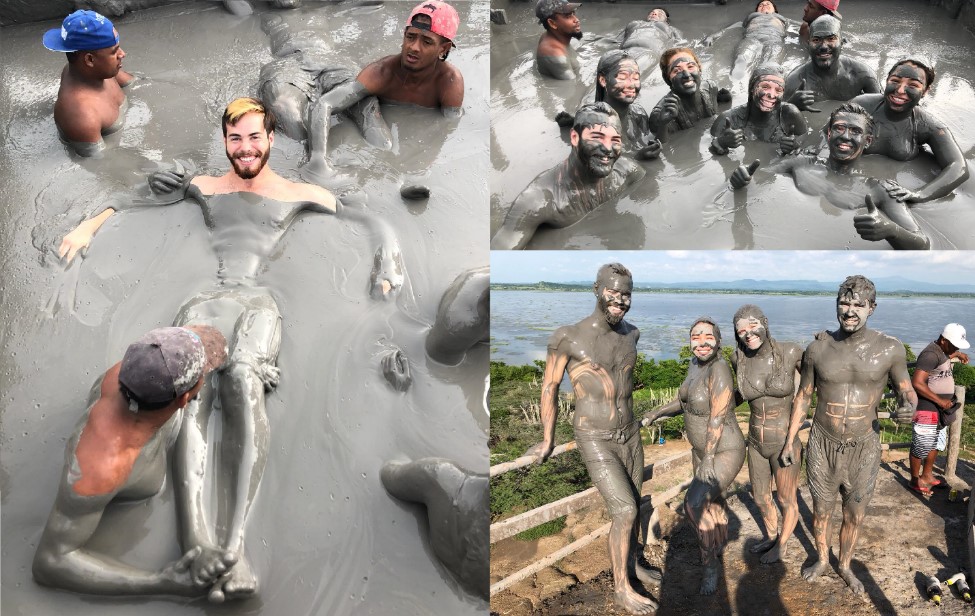 "Oye todos, ¡el sábado vamos con todo!" – Eduardo Osman, 2019
I can't even count how many times I heard that line from my rugby team captain, Eduardo (Edu). I practiced Wednesdays and Fridays with y rugby team, and on Saturdays we went to a decently-sized stadium to participate in a yearly rugby tournament for the Barranquilla Metropolitan Area which included the smaller beach towns up north and rural communities down south. Playing rugby and integrating with my Colombian teammates was undoubtedly my favorite part of living here in Barranquilla. I've fallen in love with getting dirty on the practice field and reveling in the soreness of my muscles the next day. I had a huge fear of tackling people and getting tackled when I began, but I learned to get over it and I feel like developing courage on the rugby pitch has made me more risk-taking and ambitious outside of practice, too. I'll never forget the Colombians with whom I struggled and got injured.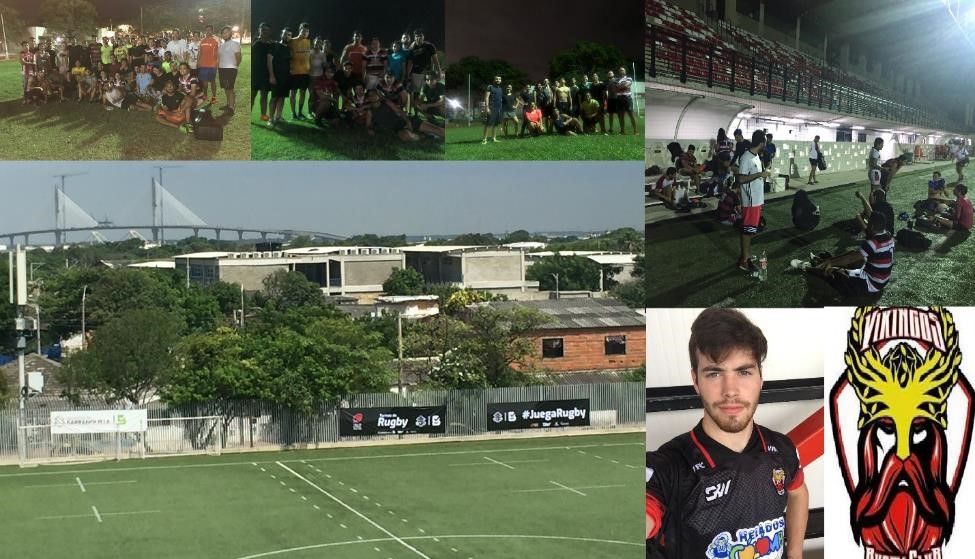 I cannot wait to get back to UMBC and join the Retrievers rugby team. I want to continue developing myself as an athlete and teammate.
"Guys what are we doing today?"
I'm going to miss being asked that question daily. The friends I've met abroad are all among the best I've ever made. There's so much I'm going to miss about Barranquilla and I'm not ready to say goodbye.
I'm going to miss the concrete buildings that line the horizon, the palm trees, the constant sound of salsa or merengue music in the distance, and most of all the strangers that say hi on the street (weird detail but it's those which really matter). If I ever found myself with absolutely nothing to do, the perfect idea was to call up a friend to go exploring through the city. No matter where you go, there's life. Geckos, iguanas, and blue-tailed lizards reside in every abandoned building or vacant lot, any taxi you pass will give two quick honks asking if you need a ride, around every corner is a callejero [street vendor] selling something delicious or pirated online…  I'm just a gringo that can barely speak Spanish enjoying these things like a native. I feel so welcome, here! I don't get that same open feeling in Baltimore or D.C. in the United States.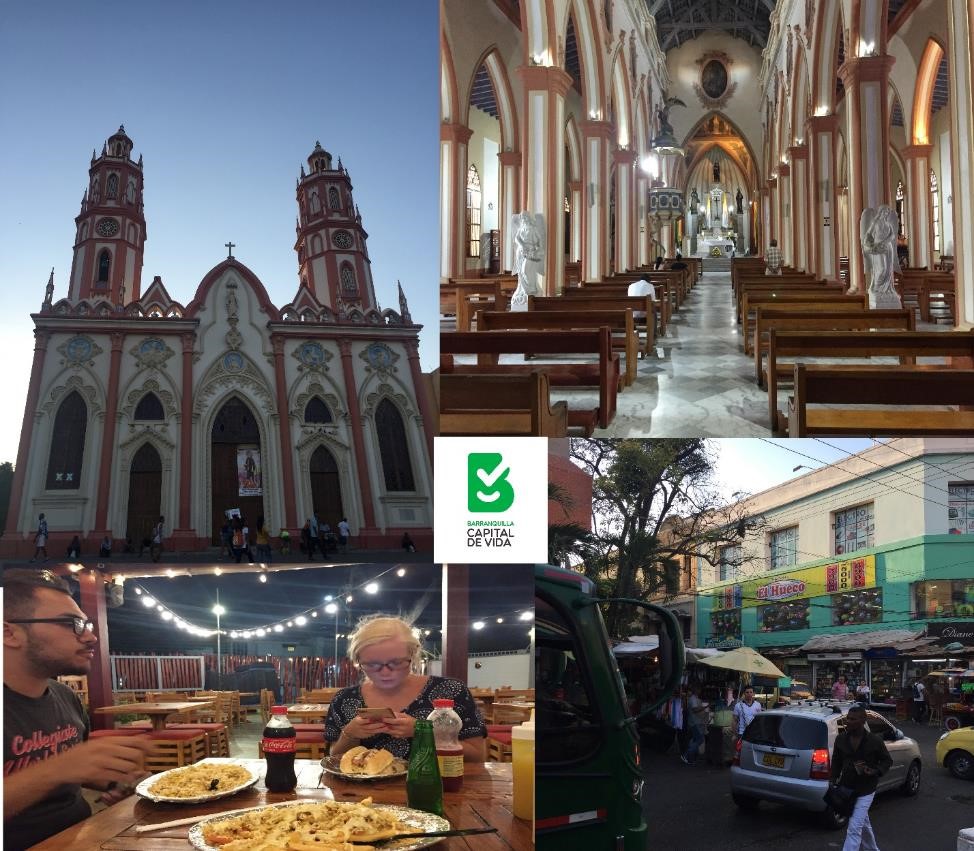 I think it comes from the general struggle of Colombians. Unemployment is up, the government is shady, college graduates have a 20% employment rate… In situations of communal stress it makes sense that people will be more out-and-about, making and trading their goods as they keep their community close. It's inspired me to become more active in my own communities back home.
I won't be ready to leave when I do, but I can write these blogs knowing I at least had something close to my heart to write about.
I'll never forget the lessons I've learned here.
13 December 2019
In my first blog I mentioned, "It's always been a dream of mine to be a student in another country." Now that I've made that dream come true, I'm a little lost!
To be completely honest, my decision to be a Spanish major at all was heavily influenced by my dream of studying abroad. For an entire year-and-a-half before Colombia, studying abroad was my biggest source of motivation, and the most prominent thing on my mind amidst all the classes and projects. Every chapter in my Spanish textbooks, every composition, and every flashcard was preparing me to kick butt when I finally landed abroad, ready to conquer it all and achieve Spanish fluency. I was SO ready!
Sadly, despite one-hundred and thirty-three days of going out with friends and classes in Spanish, my Spanish is still far from fluent. But hey, I've still got a few semesters before I graduate to get there! I have definitely made huge strides in my receptive and productive language abilities, so I cannot complain. I can read academic texts and enjoy almost any novel I wanted, it would just take me five times longer to absorb the information compared to if it were in English. There's a sense of pride that comes with knowing my Spanish can reach this level at all, but there's also a sense of anxiety from knowing I'll never be in a better place to learn than where I was in Barranquilla.
Now that I can put studying abroad firmly under my belt, it's time to aim my sights towards the next objective. What do I want to do with my Spanish skills/ degree? Maybe I'll teach ESL, maybe I'll go into social work or translation, who knows? One thing's for sure is that I'm ready to put in the work. I'm ready to take all the lessons I've learned personally and academically in Barranquilla and apply them towards my life in the states. I'm less anxious, I'm more competent, and I'm far more comfortable asserting myself as a passionate member in the field of education. When I get back to UMBC I will absolutely be getting more involved
One thing for which I'm incredibly grateful throughout all this is my experience living in Honduras for a year. The shock of adapting to a new normal, the struggle of finding purpose in a temporary home, and the discombobulation of returning to the U.S. are all things I knew to expect and were ready to handle thanks to my previous time abroad. Above all, I remembered how important it is to stay busy upon returning home, otherwise you'll start having what I call "Life Withdrawal." It's like you're addicted to all the new experiences and life you lived while abroad, and now that you're back to what you're used to, there's a huge deficit of lively things to do! I avoided this by making as many plans with friends as I could, getting a job as soon as possible, and teaching more online classes. I'm making money, improving as a teacher, keeping close to my friends, and that's really all I needed to smoothly transition back to the U.S. I'm really happy to say my re-entry shock was as minimal as possible.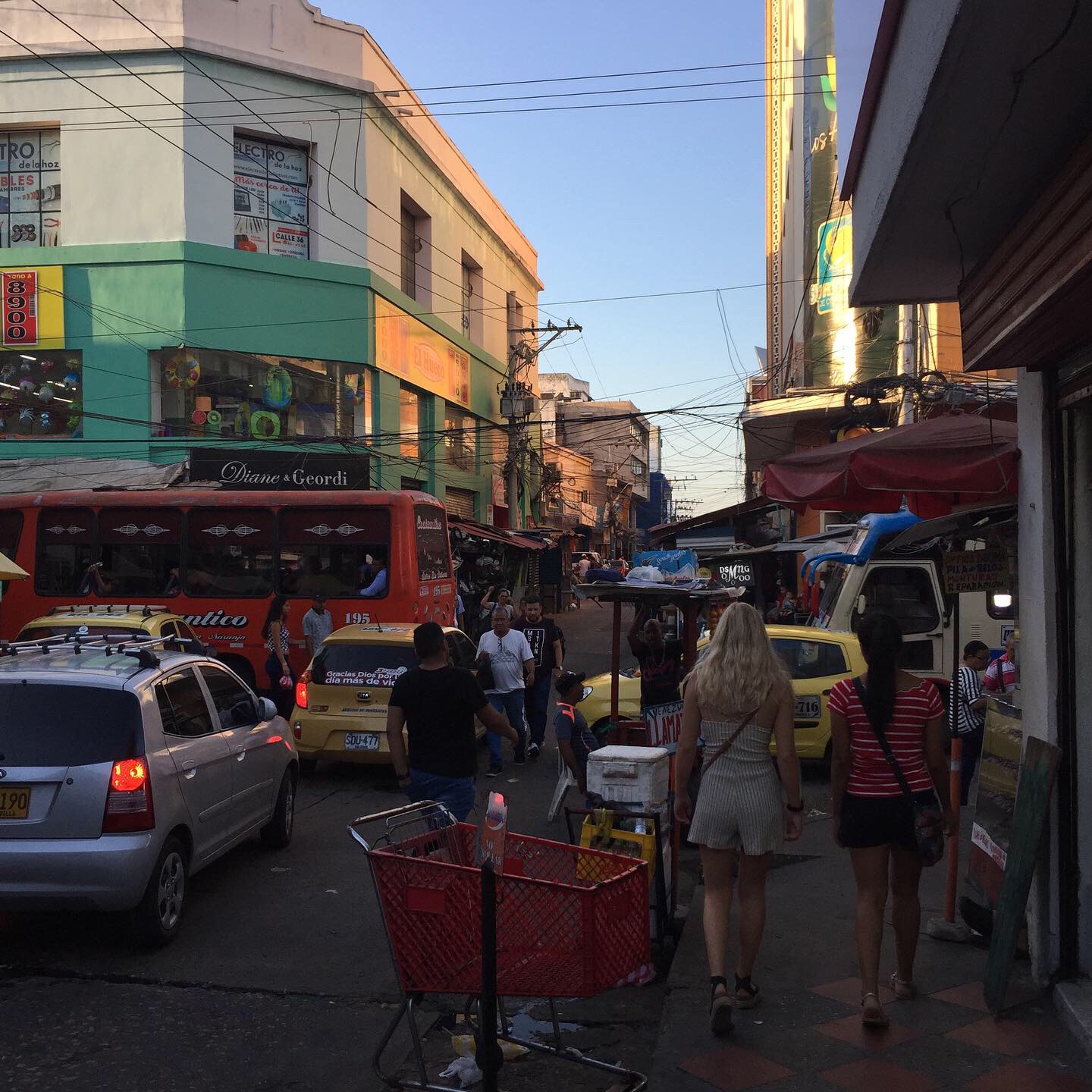 On one hand, I hate that I can't continue living the process of pursuing and fulfilling one of my biggest life goals. On the other, it's an amazing feeling to know I can accomplish that which I put my mind to, and I'm ready to find out what's ahead of me so I can tackle it with everything I've got.
If you've ever been interested in studying abroad, or seeing anything outside the United States for that matter, I highly encourage you to do anything you can to make that happen. The perspective and lessons you can learn are more than worth it.