Lexi Smith
Dawg Days Abroad: Bristol and London
Jump to: July 29, July 31, Aug. 3, Aug. 5, Aug. 9, Aug. 11, Aug. 12
Hello! My name is Lexi and I can't wait to begin my time as a Study Abroad Ambassador in the UK! I am an 18-year-old incoming freshman at UMBC who has been dreaming of a life full of travel since middle school. Though I've left the U.S. once before, this will be my first time visiting Europe. I'm excited to learn more about the world around me while on this trip, as well as political science, as I will be taking POLI260 at the University of Bristol over the course of these next few weeks.
At UMBC, I am planning on double-majoring in history and economics. History has been an interest of mine since I was in elementary school (I'll probably cry when I see the Magna Carta, if we're keeping it real). Economic systems and markets are newer fascinations of mine, but I am excited to learn about both! When I'm not reading dusty primary sources or scrolling through CNN, you can typically find me dancing at my studio, performing onstage, pulling lines with a calligraphy pen, taking photos, or goofing off with my friends at youth group.
British history was one of the first subjects I fell in love with, so I feel as though I'm coming into this program with a decent amount of knowledge about my host country, but I know that my knowledge base is a drop in the ocean compared to all that Bristol and London have to offer. I am eager to learn more, especially as the UK enters into a period of change due to Brexit and the recent election of a new Prime Minister. During this trip, I hope to gain more experience with international travel, a new perspective through meeting those who are different from me, and more knowledge about the world around me. I am most excited to visit the historical sites on our itinerary, especially Caerphilly Castle. As silly as it sounds, I'm most nervous about forgetting something important on the trip! Despite my love for planners and lists, I am naturally quite absent-minded and awful at remembering to bring everything I need when I travel. Fortunately, I just returned from a mission trip to Rhode Island, so the majority of my suitcase is still packed.
I can't wait to learn, grow, and experience a new place for the next two weeks! The next time I reach out, it will be from the wonderful city of Bristol. Until then, I must extend my farewell. Check back in again soon for a new update or two!
Greetings from jolly old England! Err…not quite yet. Today I had my first day of orientation for the Dawg Days Abroad program. I walked through the doors of Chesapeake Hall with my mind buzzing, desperately trying to create a mental checklist of last-minute preparations I had yet to make before departure (the pivotally important task of finding a friend to keep my Snapchat streaks while I was away was not yet completed). Despite feeling like an absolute mess when I arrived, the program coordinators and OPAs were calm, cheerful, and kind enough to relax my nerves. The rest of the day was jam-packed with activities, from get-to-know-you games to discussions on how to stay safe while studying abroad to introductory sessions for our courses.
The first day of class was fascinating! I was impressed by the amount of content Dr. Forestiere was able to fit into a single lecture while also delivering the lesson in a way that was easy to understand. After the session came a short break before the Y-section of the course began, which was enough time to grab Starbucks from the shop on campus. Between the much-needed hydration and the cute little reusable cup I was able to buy from Starbs, I was feeling refreshed by the time I had to return to the commons for my next lesson. The Y-section of the course, also known as IHU, seems as though it will teach useful skills for college success and provide an opportunity for self-reflection in terms of which study habits will make or break me during the next few years. I can't wait to learn more about research methods in both of my classes throughout the next two weeks!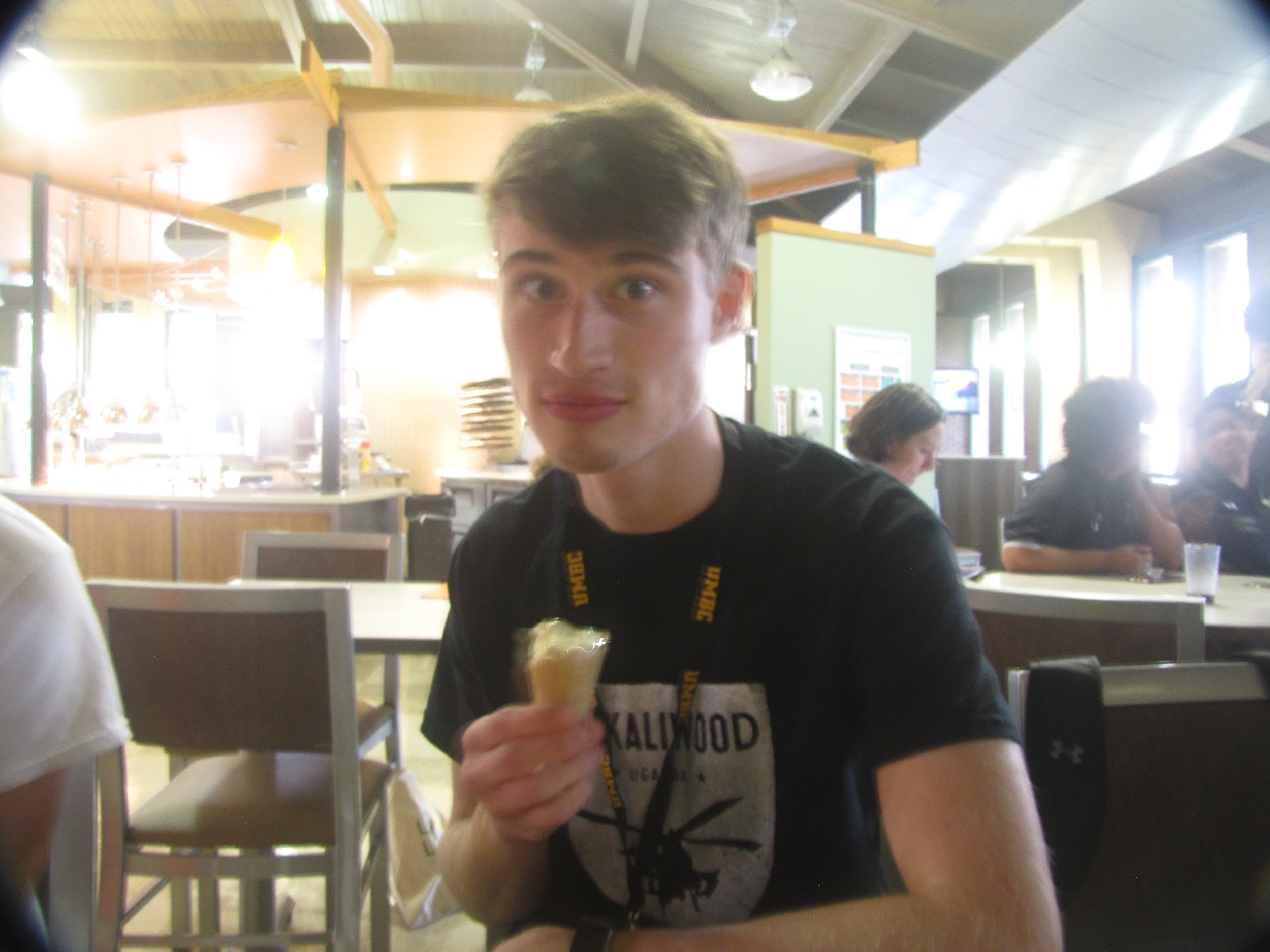 At dinner, I had the opportunity to play with my camera settings! Much thanks to Max for his help (I promise I never take serious photos with the background this blown out). The evening finished out with a fun scavenger hunt and a discussion of everyone's hopes and fears for our time abroad. As awkward as it seemed in the beginning to have such a personal conversation with near-strangers, it wound up being quite nice and helpful to see that most of the people going on the trip with me feel the same way I do. After our group activities, we had free time, which my roommate and I used to do our reading for the next day's class. Though the day seemed like an impossible mountain to climb in the beginning, the people I met along the way were kind, welcoming, and supportive. I look forward to seeing what the great land across the pond has to offer us.
Greetings from jolly old England, for real this time! My study abroad group landed at London Heathrow Airport at around 6:00 AM BST (around 1:00 am EST) on Wednesday. We were all slightly cranky and jet-lagged, but our day was just beginning. Laura, our student leader from the University of Bristol, met us at the airport and led us to the bus which took us from London to the college. We parked at a rest stop halfway through the trip and bought some candy. I was absolutely taken with the fruit pastilles (which reminded me of Harry Potter, of course), and I think True Grit liked them too!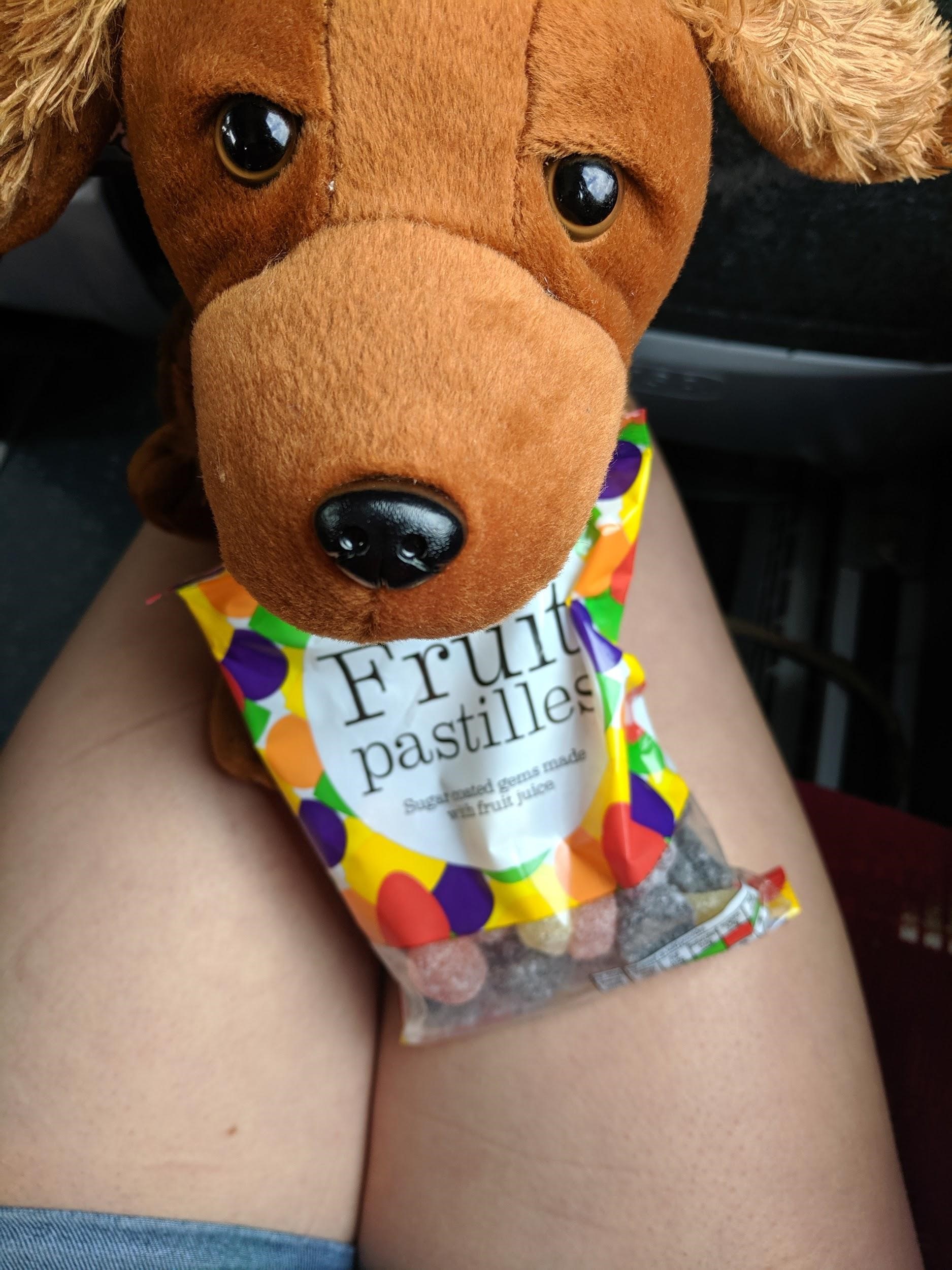 After we arrived at the University of Bristol, we were provided with our room keys and given the opportunity to unload before returning to the dining hall for lunch. The food was absolutely delicious (chickpeas and roasted vegetables were among some of the options) and provided us with some much-needed refreshment after our long plane ride. When I walked into my flat, I felt as though I was part of a fancy European movie. The space was so cute! The bed was low to the ground and covered in fluffy white sheets and the room even had a small balcony. I couldn't wait to live there for the next ten days.
After Laura gave us a tour of the campus, we returned to our rooms for free time. I was definitely excited to return to my room, set up my things, and get some downtime. Unfortunately, that was not what fate had in store for me. I plugged my power strip into my UK outlet adaptor and plugged it into the wall socket. Thankfully, I'd stepped away from the operation before my power strip let out a loud "bang!", sparked, smoked, and died. I rushed to Laura for help. She told me that I ought to find the local hardware or tech store and purchase a new adaptor and phone charger. Afraid to plug anything else in, I went with a few other girls to the hardware store in search of an adaptor. There was a very kind man at the front desk, and he informed me that my previous adapter had fried because the current in the UK is different than the one in the US and I'd attempted to plug in my power strip without a transformer. Fortunately, laptops and phones have built-in devices to adjust the current, and I would thus be safe charging both devices. With a new adaptor and some additional electricity knowledge, I returned to my flat.
After dinner, several of us went on a walk through the town, where I snagged some photos. Bristol is absolutely gorgeous at sunset, and you can see for miles from the bridge. The best part was that the bridge is free to cross on foot, so I'll be able to return to take pictures all week. Though ascending and descending the hills is quite a workout, there is a charm to Bristol that I've never found anywhere else. The drivers may be aggressive, but the residents of the city are kind, and I don't feel as though anyone is looking down on me for being a tourist.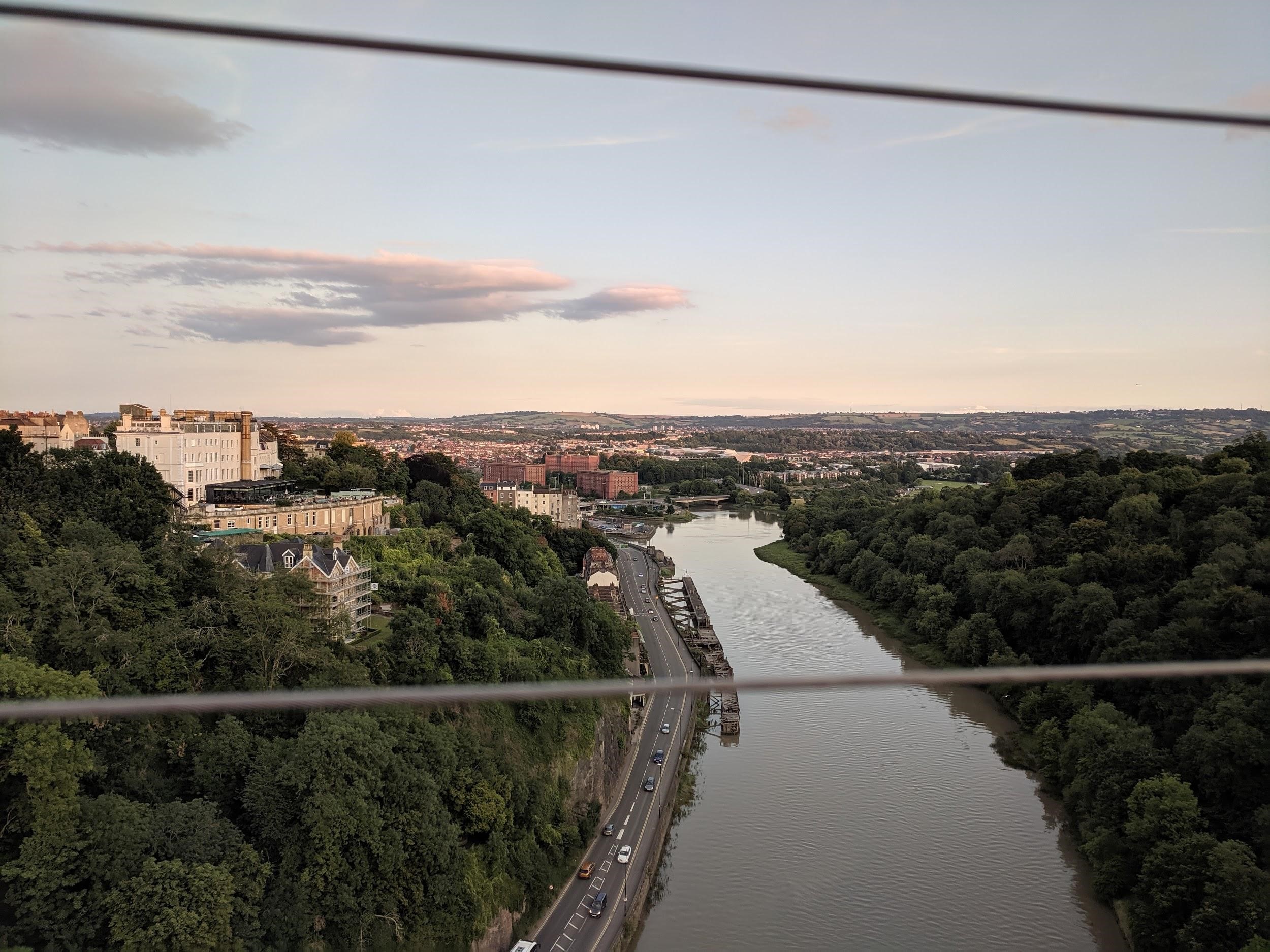 Thursday was a toughie, but a goodie. We had two sessions of both our main class and our IHU class, as well as a campus tour and a graffiti walking tour of the city. Street art is an integral part of Bristol's culture (the famed Banksy was born here!) and it was fascinating to be able to pause and take a second look at some of the pieces of art on each building that most of us would've otherwise ignored in our rush to get from point A to point B. The image above is a painting by Banksy, mostly. Some of the erratic splotches are a result of defacing from the Dirty Bristol Kids, a local tagging gang. Though I find myself absolutely exhausted while writing this, I know I learned so much today and am thankful to be able to fall asleep in this beautiful flat in this beautiful city.
Greetings from rainy old England! It just started pouring outside (again). Our series of major field trips began on Friday with an excursion to the Roman baths in Bath, England. The city of Bath was absolutely charming, with quaint buildings and floral displays at every turn. Entering the Roman baths themselves made me nervous at first, the entrance was crowded and I wasn't sure if I would be able to see everything well due to the amount of people who were trying to view the baths at the same time. However, once I walked upstairs to the balcony above the main bath, I was in awe. The balcony was adorned with eight beautiful statues built in the nineteenth century. Though a few looked decrepit, most of them sat in incredible condition and were a wonderful sight to behold. Walking around the baths was so much fun as well! A man and a woman sat next to the baths on the lower floor, both dressed in full Roman garb. They informed me that their outfits were not togas, but tunics, and I was even able to write some Latin on the tablet of the male reenactor. I took a single semester of Latin during my sophomore year of high school so I don't remember much, but I was able to eek out a few words. After the tour of the baths came free time in the city, where I enjoyed some lovely food in a quaint little restaurant by the water before we left for Bristol.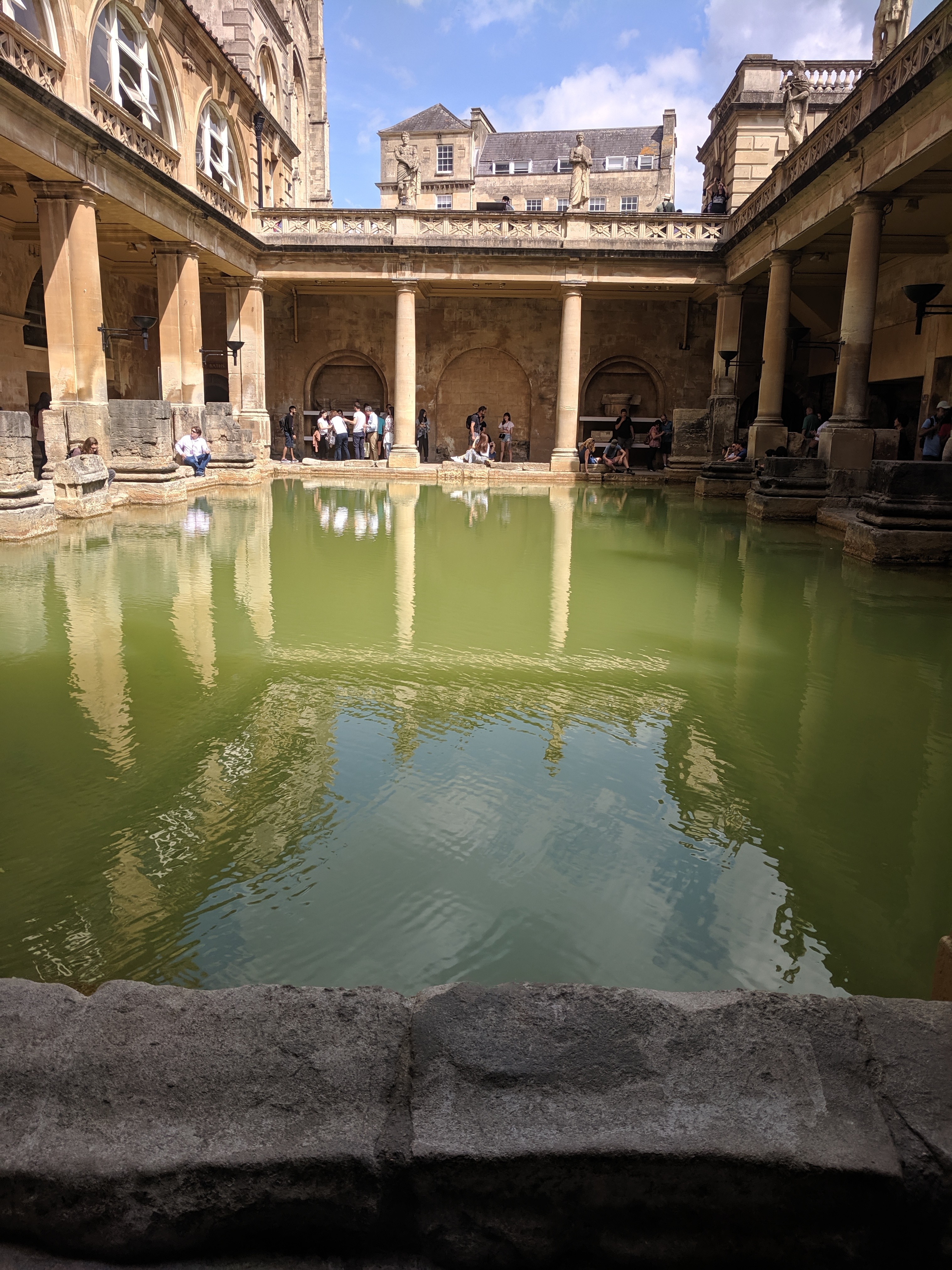 Saturday consisted of my Instagram takeover and adventures to Big Pit National Coal Mine and Caerphilly Castle! I woke up bright and early to start my introductory post on @umbclife's Instagram and get ready for the day. The coal mine wound up being one of the group's favorite destinations; the miners who took us on the tour were friendly and joked around with us as they brought us down the mine shaft and into the tunnels. I somewhat regretted wearing a sundress once we climbed into the caves, as most of the passages were low-ceilinged and muddy. Despite my impractical choice of clothing, I greatly enjoyed the mine tour. It provided insight into the conditions endured by coal miners, who could begin working in the mines at the age of seven during the Industrial Revolution, for centuries. It offered a perspective that no art museum or expensive work of architecture can – the perspective of an ordinary person from an era past who toiled daily to keep the world going.
After the coal mine came Caerphilly Castle, which was an indescribable sight. Complete with ivy-covered walls, a moat, and a stone pit filled with life-sized dragon statues, it was an idyllic, fairy-tale-esque sight. As I am eighteen going on eight, I couldn't help but twirl around the towers in my sundress and gasp at every tapestry and stained-glass window adorning the walls. I do wish we'd learned more about the history of the castle before we'd left since we didn't get a guided tour, but it was nice to be able to wander around the grounds and make discoveries by ourselves. The town across the way was also a great place to explore and make a few last-minute purchases.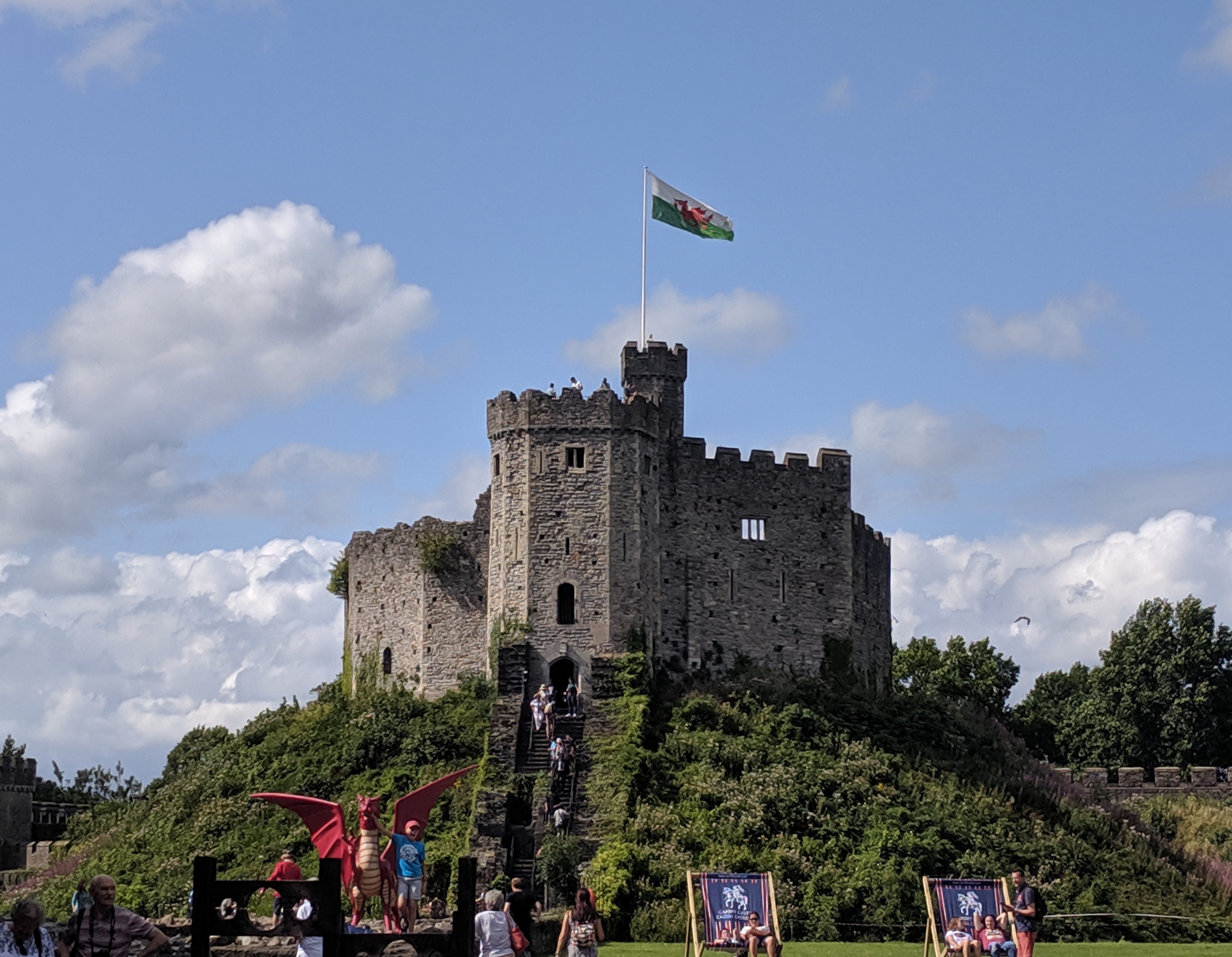 On Sunday, we returned to Wales to tour the Welsh Parliament building and see Cardiff Castle. The Parliament building itself was incredibly well-constructed, with each feature designed to maximize energy efficiency. The ceiling was constructed from a flexible wood molded into a wavy shape which resembled the top of a tree. A huge "trunk" made out of wood extended from the ceiling to the center of the room where the Parliament meets. Our guide told us that the parliamentarians represented the roots of the tree. The guide was friendly and asked a number of questions on the tour, which we were able to answer thanks to the teachings of Dr. Forestier and Dr. Reed. After the tour, we were able to take a few minutes to look around the beautiful building and discovered a gift shop and a place to design your own post cards.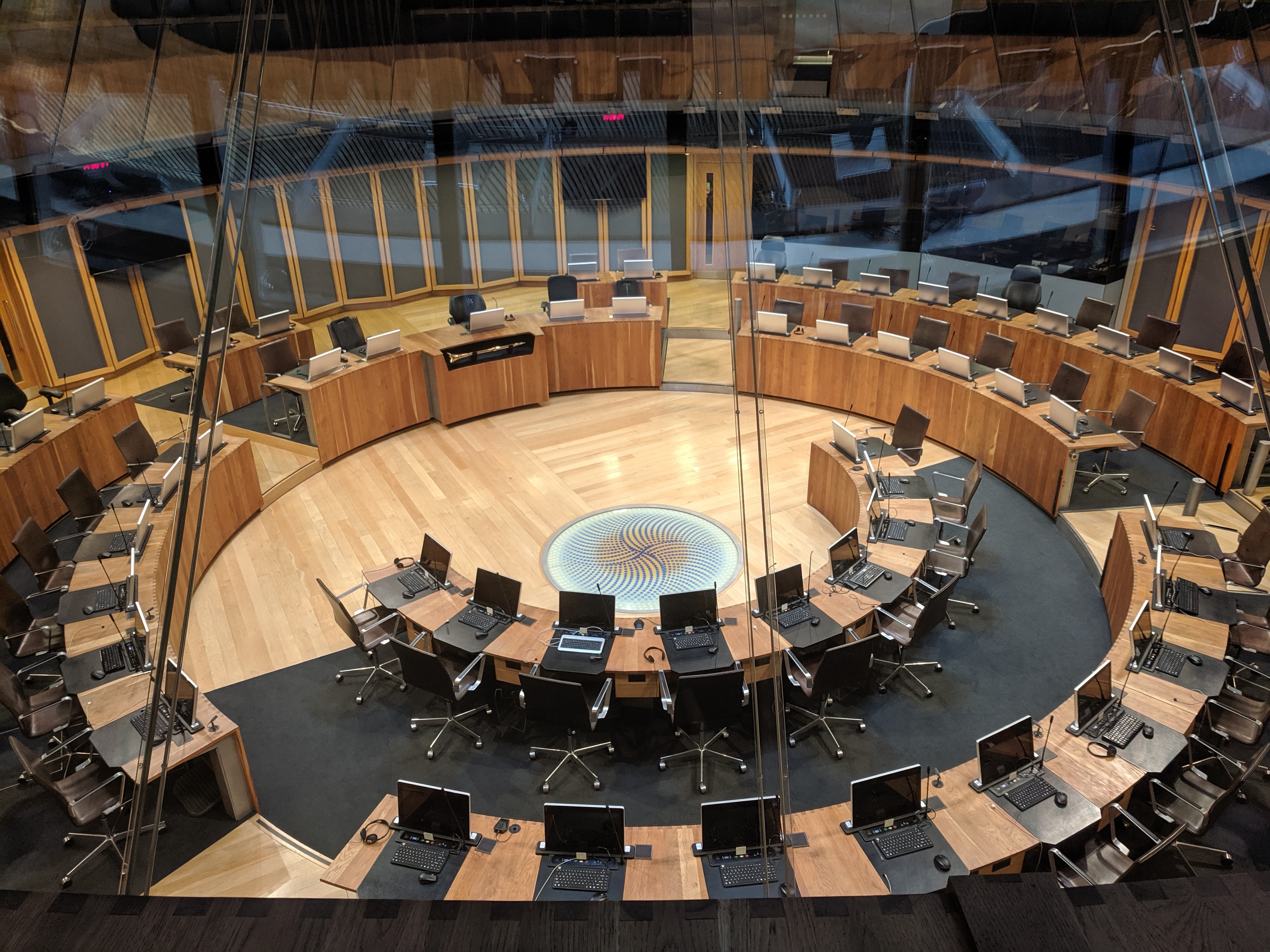 Cardiff Castle was also wonderful. While Caerphilly had minimalistic decorations and was mostly full of vast stone rooms, Cardiff Castle was full of elaborate decor. Several of the rooms had different themes, and though a number of the halls were roped off, it was still fun to explore. Though we didn't receive a guided tour of this castle either, there was still a great deal of history to be seen, such as the portraits of Henry VIII and Jane Seymour in the stained glass windows of the entrance hall. Overall, each excursion provided a new lesson to be learned and many beautiful places to be explored.
Hello from sunny old England! The rain has been vanquished for now and we've gotten to enjoy a few warm days. Unfortunately, the sun didn't come out until after Tuesday, when we visited the Bristol museum. We got absolutely poured on during the walk into town and I dripped all over the floor when I walked through the entryway. Fortunately, the trip was worth it, as the museum was full of all kinds of fascinating exhibits. Seeing the gorgeous rocks and minerals in the geology section was a favorite of mine, but the Japanese prints were lovely as well. Though Caylie made the trip optional in order to give us some rest, a fair number of us still went, and I certainly didn't regret it. I was even able to buy a cute little coffee from the museum's cafe! It had latte art and everything. The rest of the day was fairly low-key, giving me a chance to get some work done before going to dinner. Overall, it was one of the more relaxing days of the trip.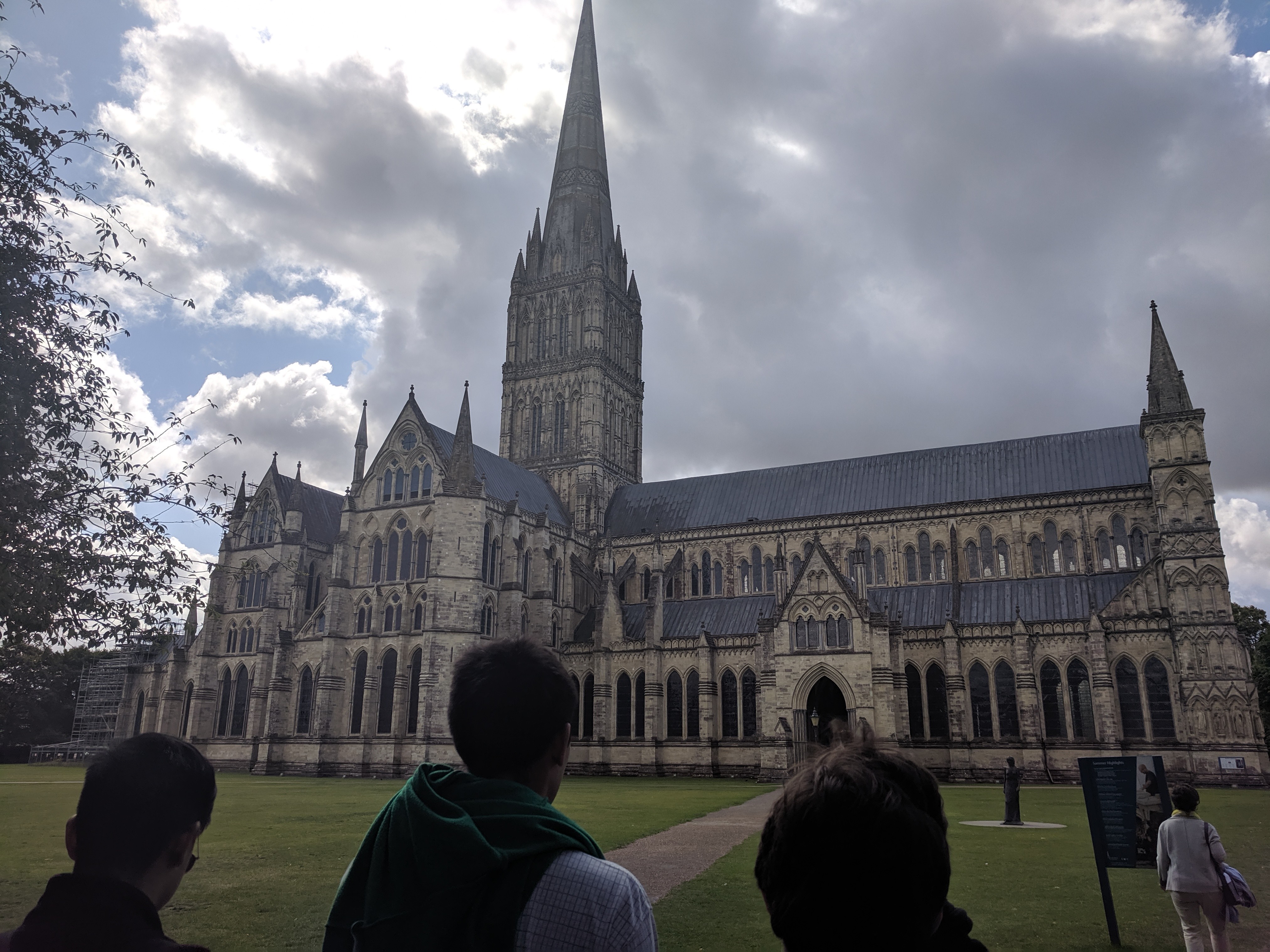 On Wednesday, we visited the Salisbury cathedral. We ate breakfast early, as the location was quite a way away. Despite the long bus ride, the trip was still enjoyable, as we drove past the famous Stonehenge! The bus driver was kind enough to go out of his way so that we could see the landmark and take pictures. Once we arrived at the cathedral, we were split into groups so the tour guides didn't have to take all thirty of us around at once. It was absolutely breathtaking! We were able to see the world's oldest working clock in person and got to hear tales of how some of the building's most beautiful features survived the Protestant reformation and the reign of Henry VIII. After the tour was finished, our guide brought us to see the Magna Carta, which was under a great deal of protection, as a vandal attempted to destroy it last summer. We were only allowed inside the display area in groups of four and no pictures were permitted, but seeing it in person was still an incredible moment. Once we'd finished looking at the Magna Carta, a few of us split off from the group so we could pray in the cathedral. Combining my faith and my passion for history through prayer in such a historical spot was a unique experience, and I am determined to return to Salisbury one day during the holidays so I can partake in a Christmas service at the cathedral.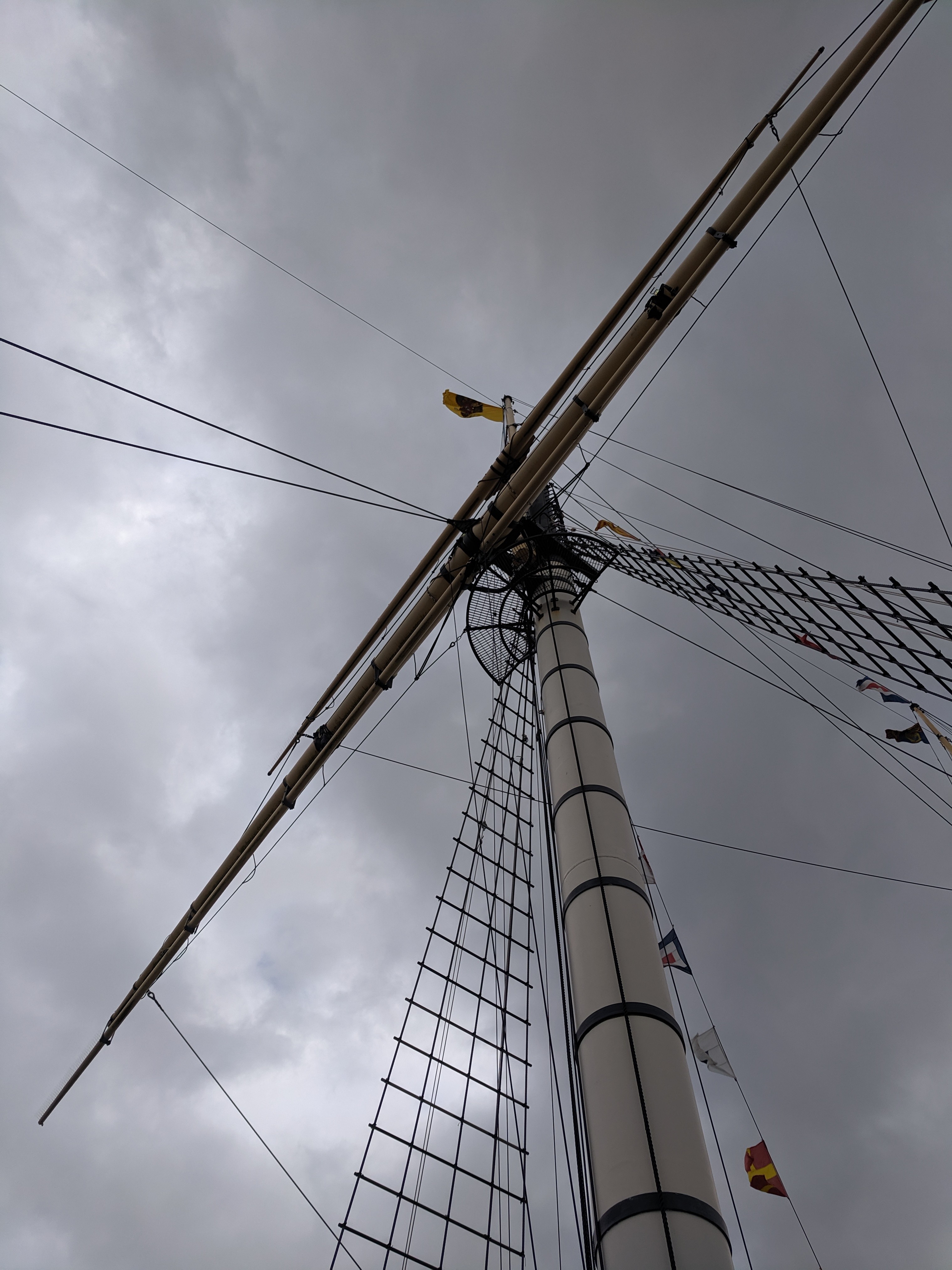 The next day, we began our group research projects in class. After spending periods of time throughout the course gathering statistics on the political and economic conditions of twenty EU countries, we decided upon five different topics that we wanted to cover by means of research posters, then split into groups to create them. Post-class, we toured the SS Great Britain, a ship which had at one time been a passenger steamship before being used to store coal. Each aspect of the interior and exterior had been meticulously recreated to look as it did when the ship held passengers, from life-size models of the animals which lived above deck to bunks covered in personal belongings and photographs. Even the kitchen featured artificial recreations of the dishes which would've been made at the time. The ship was definitely cramped and hot enough to make me cranky, but the tour was fascinating and the guide remained cheerful and kind despite the toasty conditions. I don't know how anyone who was a passenger on the ship could have withstood the tight quarters and heat for weeks at a time. After the tour, we were supposed to travel to the Bristol International Balloon Fiesta to see the ascension of the city's celebrated hot air balloons. Unfortunately, it began to rain again, so we returned to the dining hall in taxis. Despite the disappointing weather conditions, we made the most of the day and had fun chatting on the ride back home and playing cards indoors.
Friday was our last day in Bristol and the day of our oral exams. While we each took turns meeting with Dr. Forestiere for our test, the rest of us spent time working on our research posters. The data-collection process was quite complicated for my group, but our results turned out quite well. Exams were also a success, as the majority of my class seemed to feel optimistic about their performance. All of us were disappointed that we had to leave Bristol, but we were excited for the adventures yet to come in London.
Greetings from busy old London! We left Bristol early Saturday morning and took a bus to England's capital, where we hit the ground running. The hostel where we were set to spend the next two nights was our first destination. As we were not able to access our rooms until the evening, we put our luggage in the hostel's storage before taking the underground to Borough Market to grab lunch. The market was bustling with activity, as every place in London tends to on the weekends. I had to grab hold of my friends' backpacks in order to avoid getting lost in the crowd, but we managed to stick together while buying food. Most of the stands were busy and a bit pricy, but I stumbled upon a gem of a bakery stand which sold round, pizza-esque loaves of bread covered in tomatoes, basil, and olive oil for a few pounds.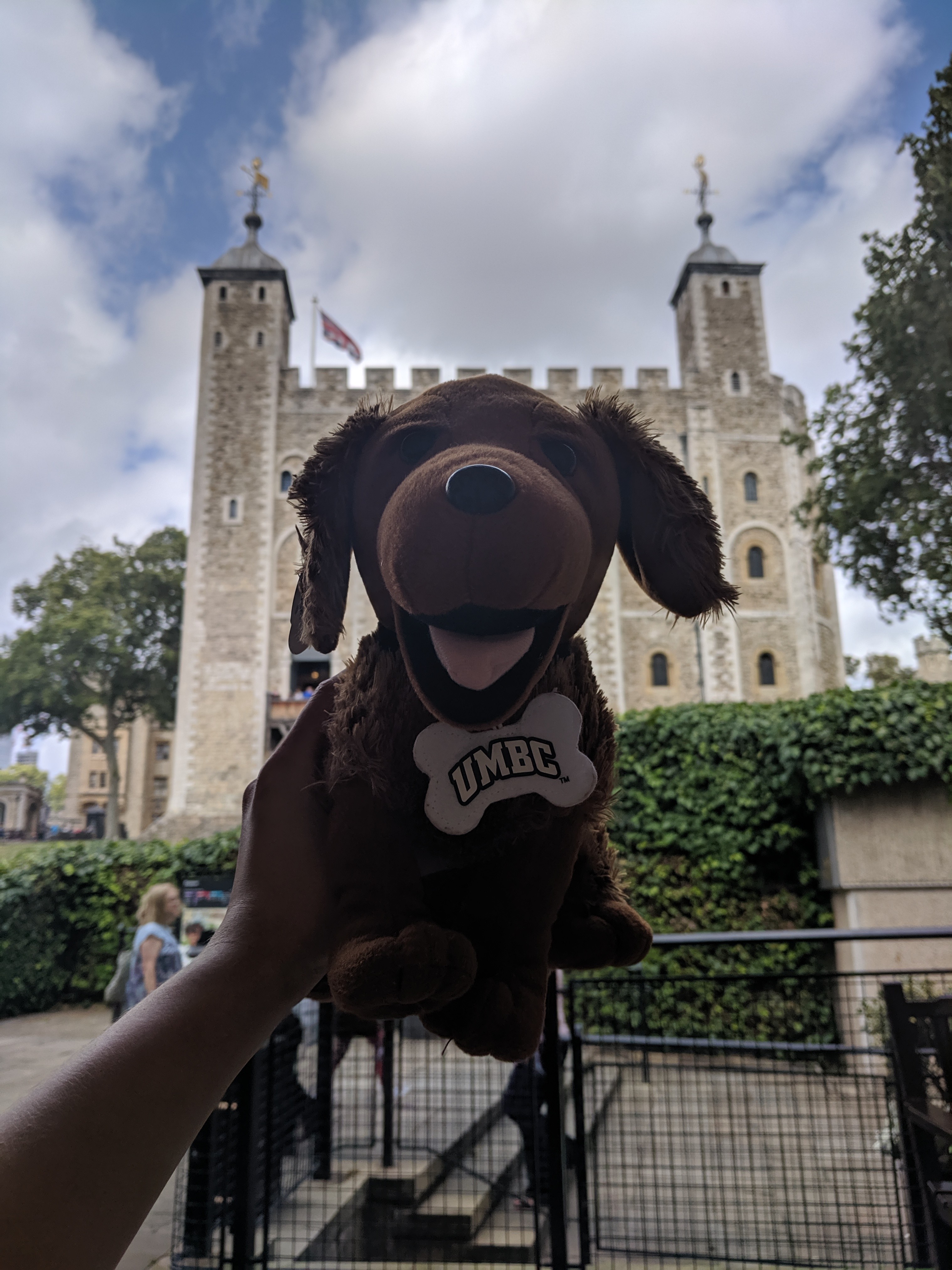 After filling up at the market, we walked to the Tower of London. As a Tudor history nerd, I'd been waiting to see the Tower in person for upwards of five years, and it certainly delivered. The walls were filled with etchings and carvings made by prisoners centuries ago, the Bloody Tower contained a simultaneously gut-wrenching and fascinating exhibit on the history of torture in England, and the White Tower held a museum filled with armor and artefacts belonging to British royalty. The Crown Jewels were also on display at the Tower. I chose to dedicate my time elsewhere as the queue for the attraction was so long, but a number of students did choose to see them, and I heard they were beautiful.
By the time we finished up at the Tower of London, we were all pretty exhausted. After grabbing a quick dinner at another market, we headed to the London Eye. Though it had been a long day, we were all looking forward to the prospect of riding the famous ferris wheel. The queue was long, but we killed time by laughing and joking in line, and the wait was made worth it when we found out that the whole group would be able to ride to the top in the same car. We had an amazing time, got beautiful pictures of the city, and waved excitedly to those in the cars next to us. Sam was even able to make a time-lapse video of the ride! Once we finished our adventure, we returned to the hostel for an early night in. The rooms were a bit of a tight squeeze given that we were all carrying two weeks' worth of luggage, but with patience, we were able to make it work.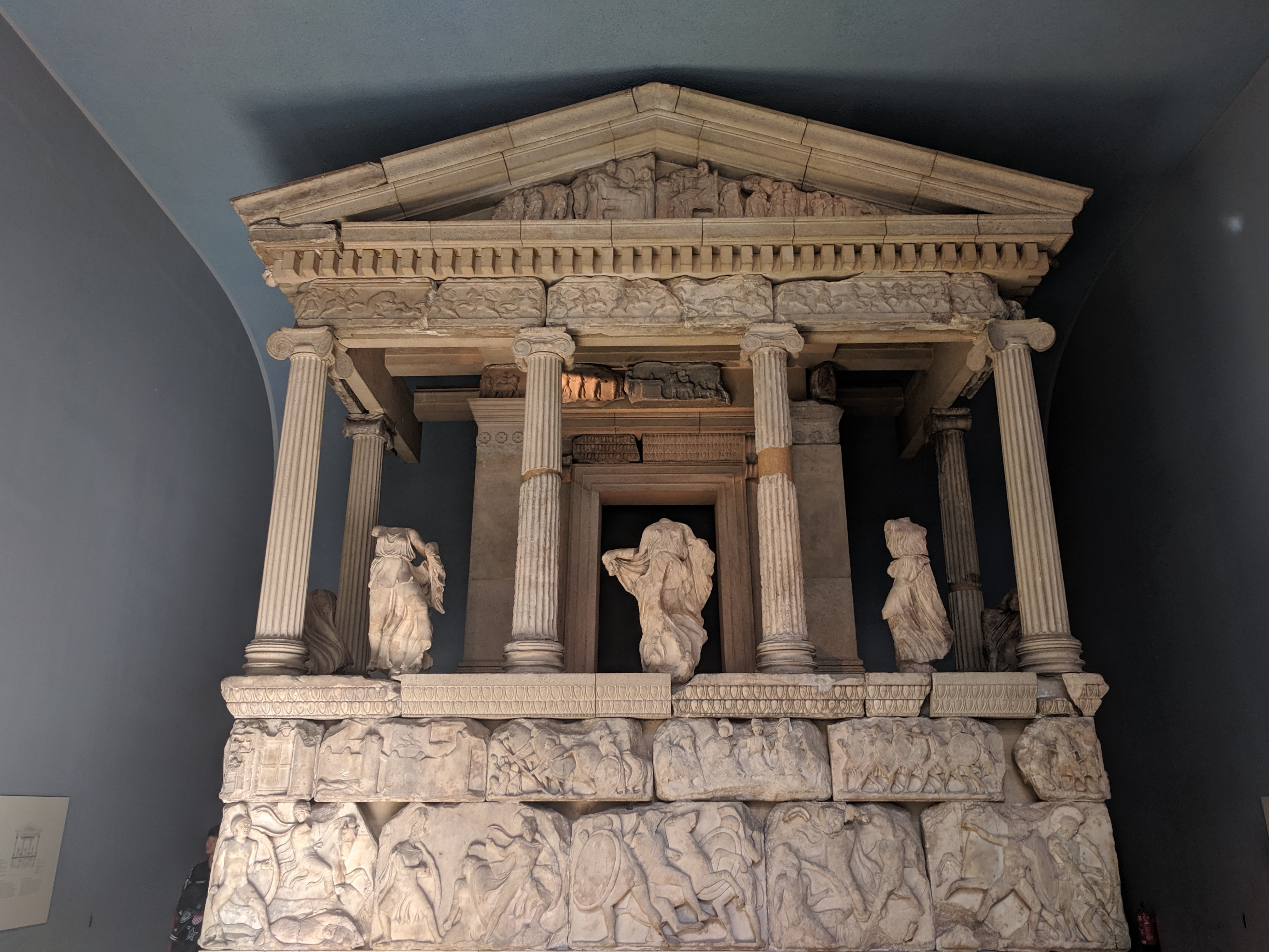 Sunday started off with breakfast at the hostel before we traveled to the British museum. The museum was incredible, and the only thing I wish was that we'd had more time there. I must've spent an hour just in the Greco-Roman section gazing at sculptures and red-figure and black-figure pottery. It was a challenge to navigate the exhibits, but each room was filled with such wonderful displays that it really didn't matter (a big thanks to Fouad, who stuck with me as I ran through the museum on a desperate hunt to find a specific bust of Shakespeare and listened to my history-related ramblings for a solid two hours). One of my favorite parts of the museum was seeing the Rosetta Stone, a legendary archeological find which greatly deepened our modern understanding of Ancient Egyptian history.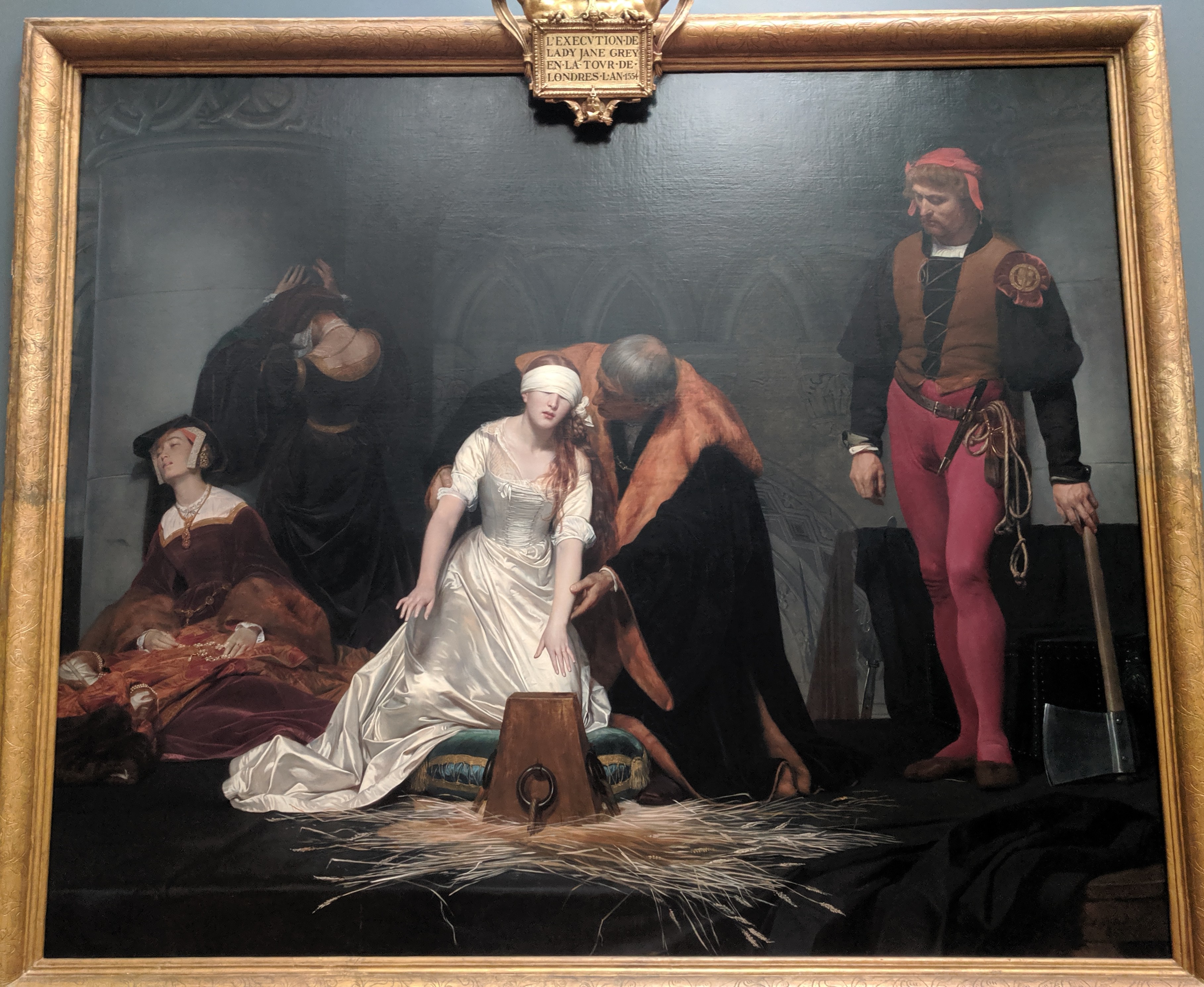 After the British museum, we grabbed a quick lunch and made our way to the National Gallery, the home of some of the most famous paintings in the world. The museum was so vast that I quite nearly got lost in the bathroom. Each room was filled with so many beautiful works of art that it was easy to lose myself wandering around and suddenly look up to realize I was facing a Van Gough or a Seurat. I'd intended to go searching for the Holbein room at some point during the excursion, but before I could get around to it, I wound up there completely by accident while searching for something else. The only paintings I truly had to seek out were The Execution of Lady Jane Grey, which was far more vast and more striking than I'd expected, and a number of Van Gough's most famous paintings, such as Van Gough's Chair and Sunflowers. Disappointingly, Sunflowers had been temporarily moved to a different museum for an exhibit, but we were able to see Van Gough's Chair.
Our final activity before dinner was a tour of Buckingham Palace. Excitedly, we took pictures near the gates and peered through the bars in hopes of seeing the palace guards before waiting in line for our tour. We were able to sit in a waiting room and get some rest while the tour group assembled, then we made our way through security and into the palace. No photos were permitted inside, but it was absolutely beautiful. Portraits of monarchs past hung from the walls and crystal chandeliers trickled down from the ceilings. Each room was more wonderfully decorated than the next, many of them initially conceptualized by Queen Victoria, who had a great influence over the palace. As we entered the ballroom, Victorian waltz music played and a life-size hologram of dancing courtiers floated over a stage in the middle of the room. Eventually, the tour finished and we were instructed to make our way out to the gardens. We ate a snack at the cafe before leaving the gardens and heading towards the restaurant where we were scheduled to have dinner. I think we were all disappointed that we weren't able to see more rooms in Buckingham Palace, but we were all hungry and ready to eat. After enjoying our last full meal in the UK, we made our way back to the hostel. Turning in for an early rest, we ensured that we were prepared for our long flight back to the United States.
Hello from the jolly old United States! As a final post, I'd like to reflect on my Dawg Days Abroad experience and my hopes for the program as it continues to grow. First of all, I'd like to extend an enormous thank-you to everyone involved in making this experience a reality, including but not limited to Caylie Middleton, Dr. Forestiere, Dr. Reed, Pat Michael, Kathryn and Laura at the University of Bristol, Pablo at ISEP, the Orientation Peer Advisors who guided us through our orientation, and the entire Study Abroad office at UMBC. I know this program was years in the making and I can hardly believe the amount of work that went into creating such a memorable experience for UMBC's freshmen and new transfer students. I'd also like to extend a thank-you to my fellow photographers and videographers who were asked to document this trip: Max, Hannah, and Ellie. It's much easier to be motivated to take beautiful photos when you have others by your side who share your passion. Each of you have such a special art style and I'm grateful that I was able to witness each of you in action. Last but not least, I'd like to thank everyone who attended Dawg Days Abroad. Every single one of you brought a wonderful quality to the table and this trip would not have been the same without you. I'm so thankful for each amazing person I was able to meet while in the UK.
When I was young, England seemed like a country out of a storybook, filled with castles and pretty accents. I used to sit around wondering what it would be like to attend Oxford or Cambridge in a country that seemed a world away. Though this program didn't exactly transport me into a mystical land, my experience in the UK was magical in a different way. Going abroad with a group of people who I had known for a single day taught me so much about myself, about others, and about growing up.
The first few days were absolutely terrifying. I lived in fear of forgetting something or accidentally doing anything irresponsible that might make me a nuisance to the group or to Caylie or Dr. Forestiere. Through this fear, though, I learned how to double- and triple-check my suitcase before leaving for the airport and my backpack before leaving the flat each morning to ensure I hadn't forgotten anything. I used the Lanes browser extension on my laptop to meticulously keep track of every assignment I had to complete so I was prepared for class each day. In short, I learned how to be an adult. I've had to be somewhat responsible for the past few years, but the true meaning and importance of responsibility was revealed to me on this trip.
In addition to developing my character, this trip also helped to rekindle my love of learning. After my senior year of high school, I felt truly burnt out, and I wondered if I would be able to get back on the wagon and have a successful start to college or if the feeling of exhaustion would persist. Dr. Forestiere's class was an excellent antidote to my discontent with education. I took plenty of notes, but there were also moments where I was able to put my pen down and just take in the lecture. Her passion shone through every class and was infectious to the rest of us, and pretty soon we were enjoying discussions about parliamentary systems and proportional representation as much as she was. I can't speak to the experience of those who chose to take the U.S. Orientalism class instead of Comparative Politics, but they seemed to enjoy their class a great deal as well. The excursions and tours we attended as a group helped reinforce the lessons we were taught in the classroom and enhanced the experience further.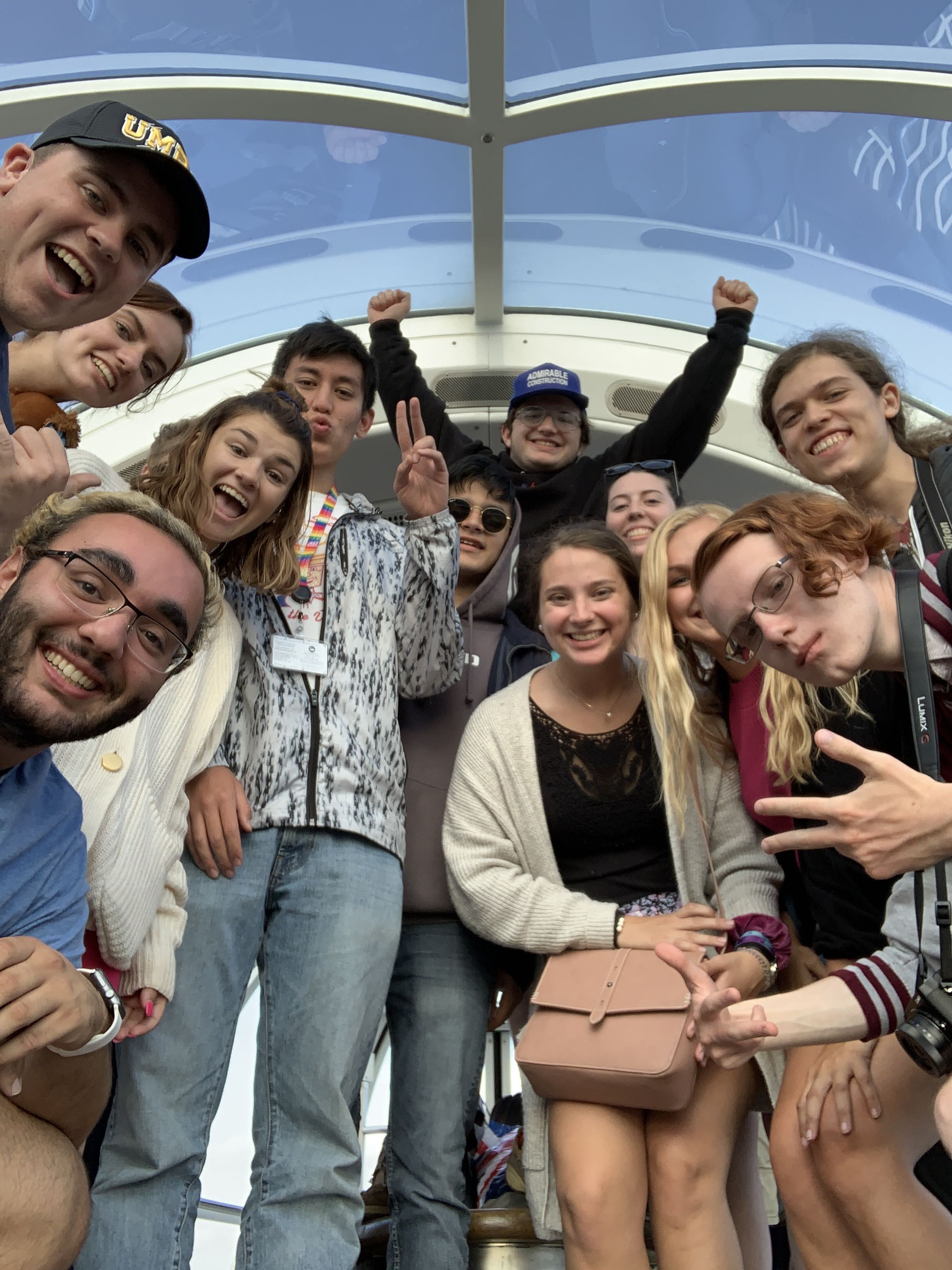 Of course, the trip wasn't all schoolwork. I also met some incredible friends during the course of this program. The first few days of the trip were difficult, as I'd been travelling the week before as well and felt too exhausted to do much talking. However, once I was able to get some rest, establish a routine, and get back on my feet, I had time to meet some absolutely wonderful people. Everyone on the trip was so kind. I was awed by how much love everyone had for each other, especially at the end of the two weeks when we were saying our goodbyes and preparing to return home. Even though the trip is over, we still talk in the group chat each day and are making plans to meet up once we all move in at UMBC. When I set out for orientation on the first day of the trip, I thought maybe I would make one or two good friends amongst the thirty of us who had signed up. Never had I dreamed that I would return to the United States able to call every member of the group a friend, and a good many of them close friends.
Not every moment during the program was idyllic. We spent most of our first day in the UK jet-lagged and exhausted. British cuisine is, well… not-world-famous for a reason. Between classes and excursions, it could be difficult to get my schoolwork and blog posts finished in time. The hostel rooms were small and hot. During every one of those moments, though, there was a silver lining. Even though everyone was exhausted on the first day, everyone was still willing to lend a helping hand and assist others in setting up. There were vegetarian and allergen-free options available and accessible for everyone who needed them at the dining hall. Others on the trip were interested in reading my blog and inspired me to write new posts, even when I felt worn out. The size of the hostel rooms encouraged us to spend more time with each other in communal spaces instead of holed up in our rooms. Studying abroad can be challenging, but the positives of accepting such a challenge far outweigh the negatives. I'm so grateful to have been able to start my journey at UMBC off with Dawg Days Abroad. I hope this program continues to flourish for years to come and that each group who embarks on this journey maintains the kindness and positive attitude I saw this year's group establish. Until next year, your Dawg Days Study Abroad ambassador must bid you adieu.
Much love,
Lexi