Bianca Da Silva
AIFS Study Abroad in Cannes: Semester or Academic Year
Major: Modern Languages, Linguistics & Intercultural Communication (MLLI) & Global Studies
Jump to: Feb. 3, Mar. 4, Apr. 11, May 15, June 26
Hi everyone!
My name is Bianca Da Silva and I am a senior Modern Languages, Linguistics & Intercultural Communication (MLLI) & Global Studies double major with a minor in Spanish. In a few days, I will begin my journey by making a pit stop in London and then going to France where I will be studying at the Campus International de Cannes through the American Institute for Foreign Study (AIFS) this semester.
I chose to study abroad in France because my focus language for my MLLI major is French. I  have been learning it for about 9 years now but, I have not had the opportunity to speak it often so I thought France would be the perfect place for me! Once I had decided on the country, I had to choose the city. I began looking into programs from in Paris, Grenoble, Nice, and the list goes on and on but I landed on Cannes, a beautiful city, home of the Cannes Film Festival and an incredible international campus with a focus on learning French. I am extremely excited but also nervous for this once-in-a-lifetime opportunity. Some of the courses I'll be taking are centered around French art and their social & political life.
The application process for my program was fairly simple. First, I submit all of my application materials for UMBC through the study abroad portal. Next, I began my AIFS application on their website. It was very much an independent process (for my program, at least) and you have to stay on top of things. The application materials included things such as a recommendation, discipline record, transcript and other forms such as course selection and medical records. Once I submit all my paperwork and the application fee, they reviewed it and I received the email that I was accepted on my birthday two weeks later! The application process can be a lot to handle during the semester though, so I would recommend getting an early start on it.
Some goals I have for this semester are to step out of my comfort zone, really immerse myself in French culture and to travel, of course. I am really nervous about living abroad for 4 months but most of these worries are things that I can't control so I am going into this experience with a "live in the present" mindset. I will also try to speak French as much as possible! The jet lag will also be difficult to adjust to but it's not impossible J
See you guys next week for my first update while abroad!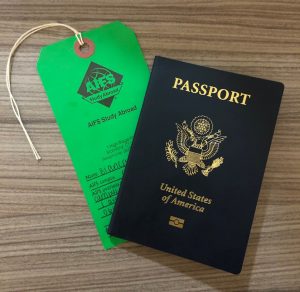 Bonjour à tous!
As of today, I have officially been in Cannes for one month! It has been a very busy first month with moving onto campus, taking a language placement test, going away for a couple of weekends, and just getting used to my new home so, I apologize for the delay but, from now on, my blog posts should be more consistent!
Landing in Nice was a very emotional and bittersweet experience because it was the first time it truly hit me that I was not going home for 4 months but I was also very much looking forward to meeting everyone and living in Cannes. Once we got to campus, we were given our room keys and I just unpacked and relaxed for the rest of the day. The next morning, I took my placement test for class and was pleasantly surprised with my placement! My daily schedule here consists of an intensive French course from 9am until noon, lunch, and then seminar from 1 until 4:30 on Monday thru Wednesdays. The learning environment is a lot different than what we are accustomed to at home, but it is refreshing and I am loving it. I will make a more detailed daily life post in the near future.
I've also gone on many excursions that are part of my program with AIFS! Our group has visited Pisa and Florence in Italy, Grasse & Éze in France and Monaco! I also went to watch a soccer game in Nice this past weekend with a friend. The excursions were great and extremely well planned by our Resident Director. Our Resident Director, Sandrine (or as some of us like to call her, French mom), is the sweetest woman and she always goes out of her way to make sure we are comfortable and enjoying everything.
Below are some photos from my excursions!
À bientôt! (See you soon!)
P.S. If you have any questions about applying, my program or anything else, please don't hesitate to reach out to me at bianca12@umbc.edu.
P.P.S Shameless plug: I created a study abroad Instagram account so if you want to follow my travels and see more photos, follow me @biancannes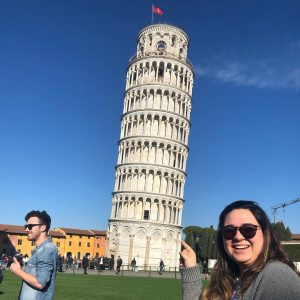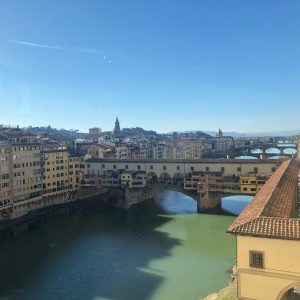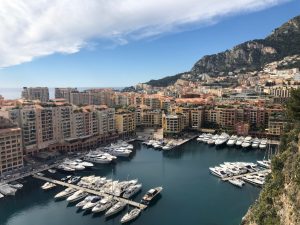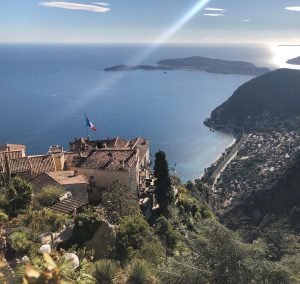 Rebonjour everyone! This blog post will be dedicated to telling you about my everyday life here in Cannes. I live about a 5 minute bus ride or 20 minutes walking from downtown Cannes, which is really convenient! My college campus, Campus International de Cannes, is also situated right across from the beach as well so it takes us 2 minutes to walk there. My favorite place to go is the beach and I also have loved going shopping at Pull & Bear (they should sponsor me by now). A lot of the AIFS group also really enjoy Café Pico, a café that is right across the school. They have great paninis!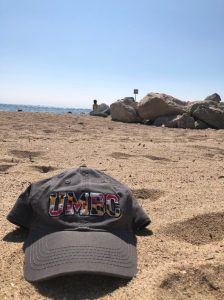 Un jour dans ma vie en Cannes / A day in my life in Cannes:
8:00 – I usually wake up around this time to get ready for class and grab breakfast. Our campus is really small so it's nice because it takes literally a minute to walk to breakfast and classes.
9 – 12:00 – Every morning, Monday through Friday, I have an intensive French language course where we focus specifically on French grammar, vocab, etc. It took a little while to get used to since I was so used to speaking only English at home but it has made my French improve significantly! We also have a 15-minute break to grab a coffee or a "pain au chocolat" from the café.
12 – 1:00 – Lunch time! Right after class, everyone rushes to the cafeteria for lunch. Something I love is that there are always fresh baguettes. The food is mostly French and we eat a lot of fish since we are on the coast!
1 – 4:30 – Seminars! On Monday, Tuesday and Wednesday, I have seminars, which are like regular college courses. I am currently taking French Society, French Art History and Organizational Business!
On Thursdays and Fridays, I have the whole afternoon free so I usually go downtown or take some time to plan trips, do some laundry or just relax! At night, my roommate and I usually order dinner through UberEats since dinner is not included on campus. My favorite place to order from is McDonald's, of course (it is so much better here)!!
Life in France is definitely a lot slower paced than it is at home. The one thing that has surprised me the most is that most places are closed or only open for 3 hours on Sundays. It is nearly impossible to find somewhere to eat or to buy groceries (unless it is a big chain) on Sundays but we make do! In the past 2 months and a half, I have also become a lot more independent. I never thought it would be possible for me to live in a different country alone. The other day, I had to go to the pharmacy alone and explain how I was feeling, in French of course, and the pharmacist and I understood each other perfectly and it was so rewarding and made me feel a lot better about my speaking abilities.
There are only a few more days until I have to leave what has become my second home and it's a very bittersweet feeling. Over the past 4 months there have been lots of laughs, some cries and a lot of learning, about myself and the French language and culture.
These past 2 weeks, I have been volunteering for the Cannes Film Festival at La Semaine de la Critique (Critic's Week). We are in charge of scanning tickets, seating people in the auditorium and catering to VIP guests in the green room. It has been a great experience working for the festival and I have been able to practice my French a lot! The city overall is extremely crowded because of the festival and many roads are closed down so transportation has been a little difficult but I am lucky to not be too far away from everything. I also had the opportunity to help set up and greet guests at the amfAR gala. This is a night where they raise funds for AIDS research and some people on the guest list were Kendall & Kris Jenner, Rebel Wilson, Eva Longoria, etc. We got to see and greet these celebrities as they walked in and it is something I will never forget.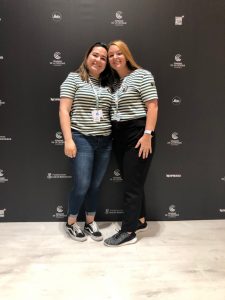 For our AIFS group, these have our final weeks of "lasts", our last group dinner, our last Karaoke night, our last classes, our last "megabeds" (my roommate and I put our beds together and invite friends over to watch movies) and our last times being with each other in France. I think it will definitely be a strange feeling not seeing them every day and I am dreading the thought of saying goodbye at the airport.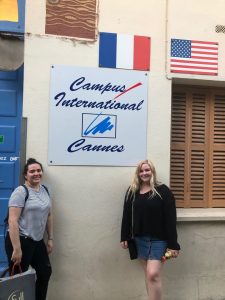 See you soon MD!
Hello from Maryland!
I am home after an incredible four months. This experience is really difficult to put into words but it has been surreal. If you are thinking of going abroad, do it. There is so much out there to see, even by simply walking down the street. I have become so much more independent and confident in my abilities and I am grateful to be able to bring that back with me for my final semester at UMBC. I didn't believe people when they said study abroad changes you, but it really does. The whole process from applications to leaving home and then coming back are a rollercoaster ride but in the end, you realize you've enjoyed the ride.
Being home feels very weird and sometimes I wish I were back in France, I miss it so much (especially the beach and the sunsets). Before we left Cannes, our amazing resident director told us we'd experience reverse culture shock and she was right. I have a different perspective of things and I feel like my lifestyle has changed, but for the better. The first few days back were rough, mostly because of the jet lag and missing my friends but now I'm back in a regular routine and began a summer internship so that is keeping me very busy.
If I could study abroad again, I would in a heartbeat. À bientôt Cannes, tu me manques.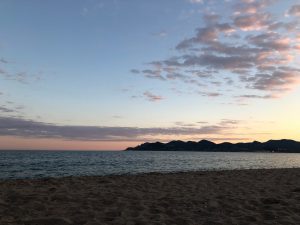 If you have any questions about studying abroad or my experiences please don't hesitate to email me bianca12@umbc.edu.