Olubusola Opesanmi
UMBC Faculty-Led: American Literary Perspective in Paris, France
Major/ Minor: English, Creative Writing
Jump to: June 17, July 15, July 24, July 31
Bonjour!
My name is Olubusola Opesanmi and I am a senior English Major with a Creative Writing
Minor. I will be attending the Summer 2019 American Literary Perspective Course in Paris,
France!
As a student of language I am looking forward to the opportunity to engage with a non-English
speaking culture, especially in terms of its effects on English literature.
While in Paris I hope to explore and experience the fullness of a city that has inspired many of
the artists and writers that have come before me. I am also looking forward to experiencing the
beauty of Normandy on our weekend excursion.
However before the exploring can begin I have to get to Paris. Luckily, the application process
for studying abroad is fairly straightforward. After attending a Study Abroad 101 session and
deciding on this program, the next step was to fill out quite a few forms. The application must be
filled before a certain date and as such it's usually best to get a head start as there's often a lot of
information to absorb. After fulfilling the requirements of the application and being accepted the
next thing to consider is your flight. Some programs may suggest different methods or websites
for purchasing your flight but regardless of suggestions it's usually best to get your flight as early
as possible. In addition to the flight, tuition can be steep depending on program choice, but
usually Summer programs are cheaper and there are many forms of financial support. There are
scholarships available that often go unused simply because people are unaware of them so
always take the time to see what's available and apply.
So after securing my flight and paying my tuition you'd think all that was left was to pack, right?
Nope.
There's still so much to consider. It's incredibly important to stay on top of news regarding your
host city/country as well as learn about the little differences in accommodations. For example,
it's common for apartments only to have washers but no dryers and as such I have to be a bit
more conscientious of the clothes I will be bringing. Knowing little things like this can help
avoid an overwhelming amount of culture shock. As such, I'm trying my best to prepare myself
for this new experience. Despite the stress of preparations for this trip I often find myself filled
with that rush of excitement often associated with traveling to a new place.
Arriving in Paris
The journey to Paris started for me at 4:30 AM on the 7th of July and ended the next day at 10 AM. While connecting flights can be exciting if you're connecting in a place you've never visited before I don't recommend a nine hour layover if you can avoid it.
After long hours of sitting and sleeping in uncomfortable positions, my flight landed at Charles De Gaulle. Before landing I was able to snag some pictures of France from above, which appears like a patchwork of luscious green. However, once you are over Paris specifically, you can see the distinct difference due to the high concentration of buildings.
Upon landing, customs and baggage claim were swift and straightforward and after finding the CEA driver I was on my way to check in. Check in at CEA was incredibly direct and informative and I was quickly on my way to the shared apartment in the 13th Arrondissement.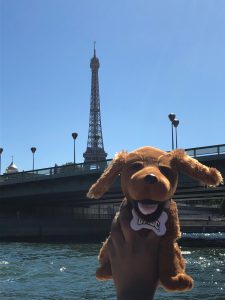 Day 1: Orientation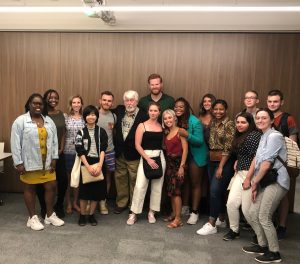 After navigating the Metro, a system that is quite simple to follow if you have directions to where you're going, we arrived at CEA headquarters. Orientation consisted of an introduction to our housing accommodations, health and safety as well as a general session regarding French culture and transportation. We were educated about the importance of Bonjour as a conversation opener. Whether you are fluent in French or can only string a few words together like me, a polite Bonjour shows that you are, at the very least, respecting the fact that French is the first language here rather than assuming everyone speaks English. We were also informed of the differences in social gestures. Where a smile to a shopkeeper or passing pedestrian seems totally normal or accepted in the U.S., a smile in France is reserved for special individuals and situations.
With these lessons, we were released onto the streets of Paris for lunch at Au Pere Fouettard where we had our first group lunch. Seated outside of the restaurant we were able to take in the sights of the city while dining on a delectable menu and getting to know our group mates. After lunch we returned to the CEA office to follow one of the coordinators down to the beautiful Seine where we boarded a boat tour. As we floated along the river the boat guide educated us about the history of the many bridges that cross the Seine such as the New Bridge which is the oldest bridge that crosses the Seine. From the river we could see the Louvre, Eiffel, and The Académie francaise which governs all issues pertaining to the French Language.
Day 2: First Day of Class
Finally, our first actual day of Class! After reading the required materials, we had a discussion about the history of Americans in Paris and the varying reasons that Americans travelled to Paris.
The discussion was incredibly enlightening and engaging while laying the foundation for understanding everyone's individual motivations for coming to Paris within our own group.
After a break we travelled to the Bourse train station to meet up with Bernard Zinheld who educated us on the history of how Paris was built and rebuilt from the time of the Romans to the rise of Napoleon III who had the city essential overhauled by Haussmann, the Prefect of the Seine. Mr. Zinheld showed us pre-Haussmann construction which tended to be haphazard and contained a hodgepodge of styles due to their being built slowly over time. As a result, the streets curved endlessly and were hard to navigate. Haussmann crafted a plan to create better transportation for Paris, and as such decided to create roads that cross sectioned the city, allowing for ease of travel.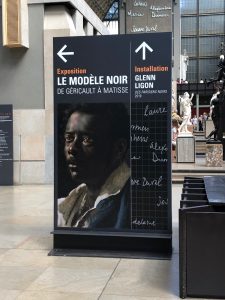 After stopping at La Duree to experience some of France's finest macaroons, our architectural history tour ended at the Musée D'Orsay. This art museum houses artworks from Cézanne, Gaugin and many more. Currently, the museum is running an exhibition entitled Le Modèle noir, an exhibition that seeks to identify and give respect to noir models in varying works of art that have gone unnamed and unidentified for years. The collection boasts an impressive and vibrant selection that boasts artists such as Henri Rousseau and Aimé Mpane.
Day 3: The American Library in Paris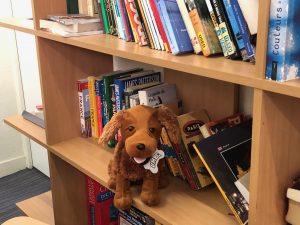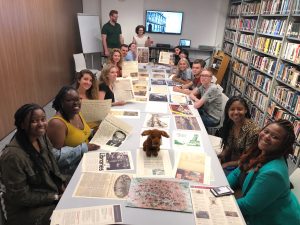 On Thursday morning we left our apartments to meet up at the American Library in Paris. An independent institution from the U.S., it is a collection of English language literature and periodicals. Frequented by authors such as Ernest Hemingway and boasting books donated by the likes of Gertrude Stein, the American Library in Paris is a monument of American literary history in Paris. The assistant director Abigail Altman lead us through a detailed history of the library which originated as a war service effort to provide English books to troops in World War I. Now it functions as any local American library does, by providing books of all kinds to those interested in reading in English.
After a break in the day we returned to the library at 7:00 PM for a Workshop with Mr. David Benjamin, a self published Expat writer who currently resides in Paris. He shared tips with us for writing such as cataloguing your thoughts, using your experiences to create new ones and ensuring the utmost accuracy in research regarding details about the places you're placing into a work. He then read an excerpt from his book, "Almost Killed By a Train a Thought," and we wrapped up with a Q and A.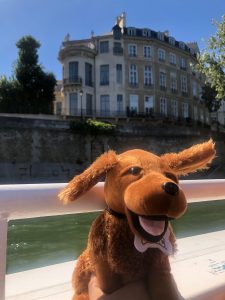 We started off the week with a walking tour on the Left Bank which is known for many literary personalities. Led by our guide, we started off by a restaurant frequented by Ernest Hemingway, La Closerie des Lilas. Formerly a cheap, less known place for a starving author the restaurant now caters to a higher clientele. We then went on to learn about and see the regular haunts of popular American authors such as Gertrude Stein, Richard Wright, James Baldwin, Faulkner and Ezra Pound. We encountered the benches where they sat and started their greatest works, where they lived and played with their children and had their greatest arguments. We travelled from Port Royal to Cafe de Flore, along the way seeing how history and our present have intertwined to create a new Paris.
After our walking tour, we made our way to the L'Orangerie Museum which houses Monet's Water Lilies, a large installation that was created specifically for the museum. In addition to Monet, the museum also houses works by Cézanne, Matisse, Picasso, and many others. After the museum, I visited the Jardin des Tulieres which dates back to 1564 and was originally the garden for the Tulieres Palace. Incredibly lush and vast, it is flanked by the Louvre and the Place de la Concorde. It's a lovely place to find an ice cream, or Glacé, and escape the heat of the sun beneath the canopy of the trees.
On Tuesday night, we visited Sunset, an intimate hole in the wall jazz club. Located in the basement of a restaurant, the Sunset Jazz Club sported a small stage in the very back of the room. Seated on red faux leather seats we were serenaded by the fantastic Marianne Solivan and her band. A self proclaimed Newyorican, Solivan performed numbers such as "Tomorrow Is Another Day," "Would You Believe?" as well as some personal selections. Within such a small space her voice was able to echo off the walls and envelope us in the story of the lyrics she sang while her band synchronized with her seamlessly. Around since 1983, the Sunset Jazz Club is definitely the place to visit for a truly immersive jazz experience in Paris.
On Wednesday we were visited in the classroom by Author and Expat Jake Lamar. Originally from New York, Lamar has lived in Paris for the last 25 years. He spoke with us about his decision to live in Paris and the resulting experience of living in Paris as an African-American man. He explained the differences between the United States and France in terms of their colonial histories and how that subsequently affects immigration, racial issues as well as the question of who is French? He also provided tips about writing such as the need to find time to get down the thoughts and ideas in your head and the suggestion to write for a year just to see what you can produce. As a writer I found his suggestions and discussion of various topics incredibly helpful and insightful.
On Friday morning, we visited the Immigration Museum. Dedicated to immigrant experiences in France, the museum contains information detailing the passage of various families and groups to France. There is an exhibit titled "Pour une Vie Meilleure" which translates to "For a Better Life." It contains many of the items carried by people travelling to France from their home countries, or items they built on arrival or made use of to make a living once they arrived. The collection contained everything from sewing machines to coffee grinders and details the stories of millions of people and their struggles.
We were also educated on the history of the building which has a controversial history due to the art on the exterior of the building. Across the very front of the building is a large art installment representing various colonies offering gifts to France and along the side is a collection of names of France's most popular colonizers, explorers and military personnel.   Our guide explained the history of the building and how the collection was housed in what was essentially a monument to colonial power by a former prime minister who opposed the creation of the collection. The history of the building paired with what it houses creates a stark juxtaposition and conversation about the current state of French immigration and colonial presence.
In addition to the many activities we've been taking part in, I've been noticing a few differences between American and French culture. Last week we learned about the importance of Bonjour and how the smile works in French culture; this week I noticed a few things about public infrastructure and eating out. As an American, I am accustomed to bathrooms being available to the general public, but in Paris you may have to pay to be able to use the restroom. I encountered this first at the Les Halles mall where it costs about 50 cents to use the mall restroom. A few days later, a similar occurrence happened at a cafe where the bathroom code could only be received after purchasing a meal to eat specifically within the cafe. I found this intriguing and wondered why it was that public restrooms aren't always readily available to the public. However, I soon learned that there was an alternative depending on your location as there are free public toilets referred to as Sanisettes or self cleaning toilets. Fully automated, these toilets are free, self cleaning, and located all around the city, especially around tourist hotspots. In addition to having to pay to use the toilet in a cafe or restaurant, I also learned it's often more expensive to sit and eat than to take away your food. At this point, I'm not quite sure why this is, but I imagine it cuts down on business costs or staffing costs of some type.  These are just a few of the cultural differences I've encountered which I'll keep looking into and hopefully will have an answer for you next week.
Till next time, Au revoir et à bientôt.
In the early hours of Saturday morning we met at the Arc de Triomphe in Paris. Under still clouded skies we met our guide Veronique who would lead us through the weekend while highlighting the history of Normandy, Caen and Monet.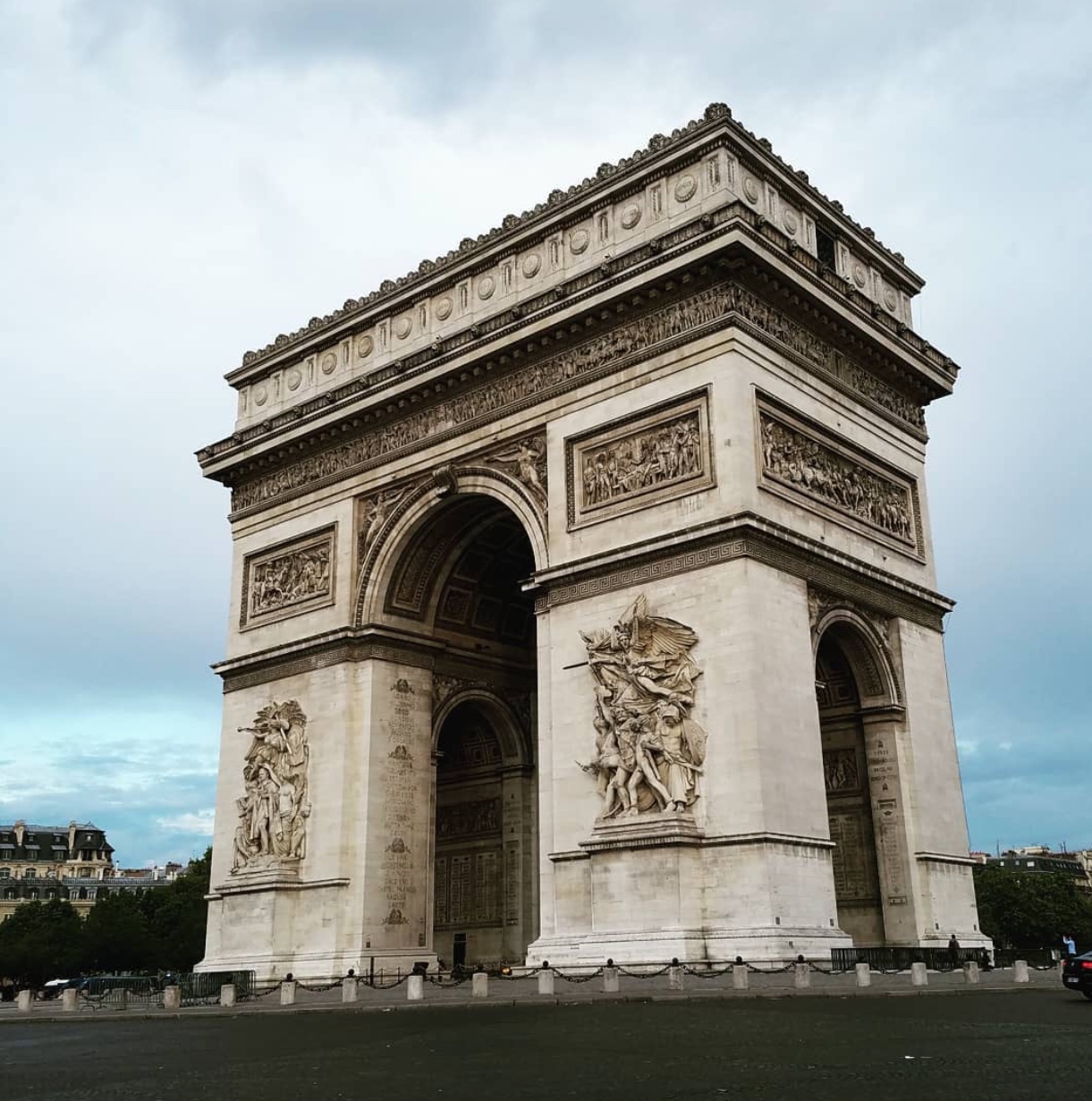 Arriving first in Caen, we visited the Caen Memorial Museum which details the history of how WWII began and ended. It also houses an exhibit that focuses exclusively on Normandy and the events of D-Day as well as one of the few remaining bunkers which has been maintained and is used to show the war experience of living underground. The museum also houses beautiful garden memorials to the various countries that participated in the war such as Canada and the United States. We then explored the museum individually before meeting back up as a group to watch a film discussing the events leading up to and after D-Day. Containing original footage from the war, the film explained how parts of France were retaken from Nazi Germany and the eventual final victory over Germany.
After a brief lunch at the museum cafe we headed to the coastline to get a look at the various beaches where combat took place. Even now large craters remain all along Utah Beach where bombs were dropped. These vast holes remain as a reminder of the violence that once reigned over these beaches. However, despite the history of the coastline, such a different spirit is felt as children have their pictures taken in these very same holes that are now overgrown with lush flowers. Like most things left to nature, the earth is slowly but surely reclaiming these spaces.
Leaving Utah Beach behind we made our way to Omaha beach which has almost returned to its initial function as a beach. However, you are reminded of its history by the way the beach is sectioned off and the large memorials that reach into the sky to remind beachgoers, tourists and locals alike that this wasn't always a place for rest, joy and cool water.
After the beaches we visited the Normandy American Cemetery where thousands of American soldiers are buried, some known and some still unidentified. Perfectly manicured and maintained, the Cemetery could easily pass for a lush garden on the edge of the sea if not for the rows of crosses and stars of David that spread across the land beyond the Spirit of American Youth Statue.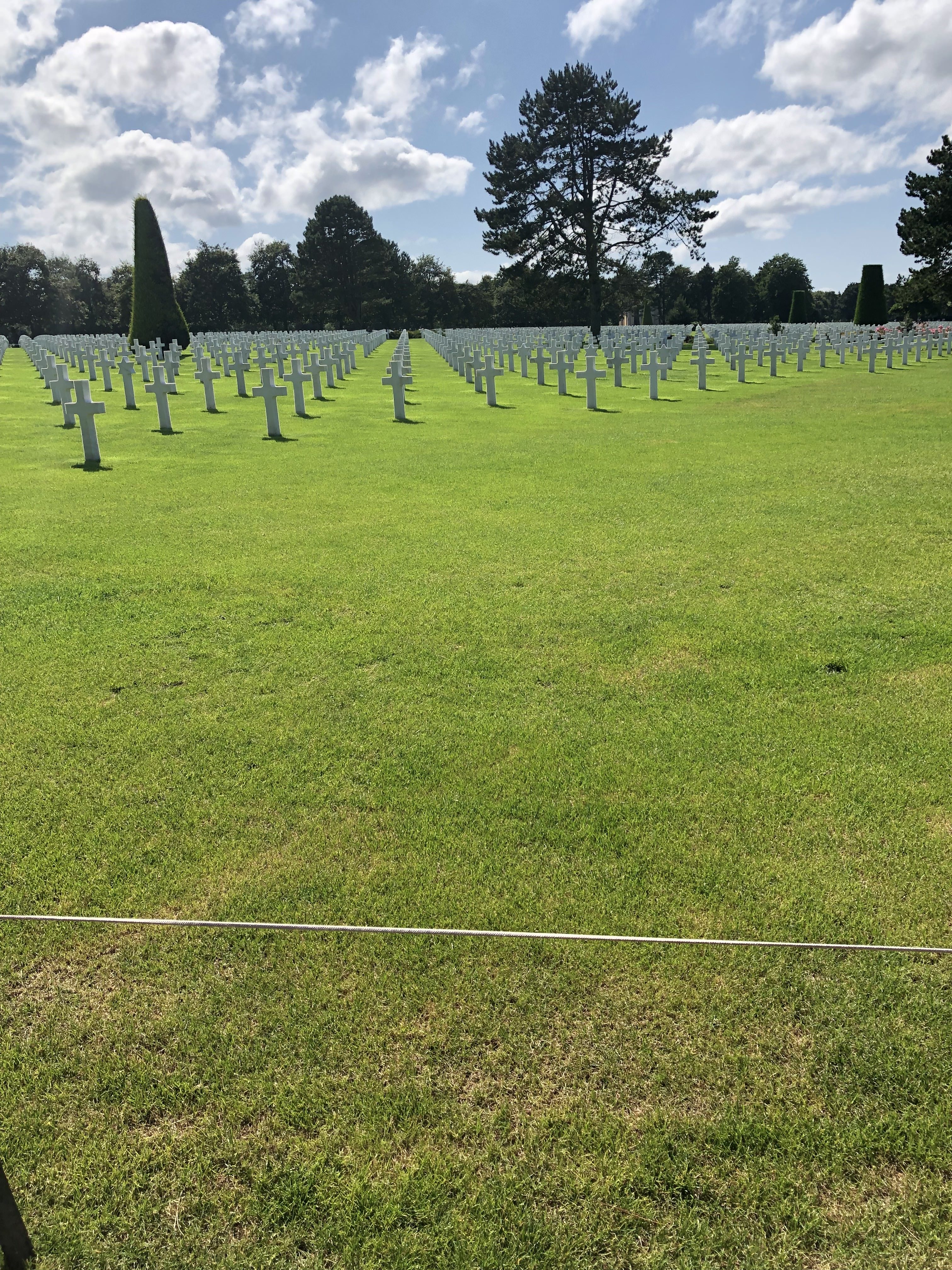 Finally, after a day filled with the history of WWII we leave the American Cemetery and are on our way to our hotel for the night. The Hotel, Le Clos Deauville Saint-Gatien is a gorgeously quaint chateau filled with flowers. It is exactly what one would picture as a French countryside hotel.
On Sunday morning we leave our hotel for Honfleur, one of the oldest towns in France. Dating back to the 12th Century, it was founded by Vikings and named for "the flow of water." Presently, it has become a common tourist destination that boasts various museums, shopping options and previous homes of several painters. Honfleur is a hilly little town and from the very top of it's bluff, Plateau de Grâce, you can see the entire town and Normandy bridge. The breathtaking view is accompanied by an equally breathtaking walk through the village that boasts old churches and homes.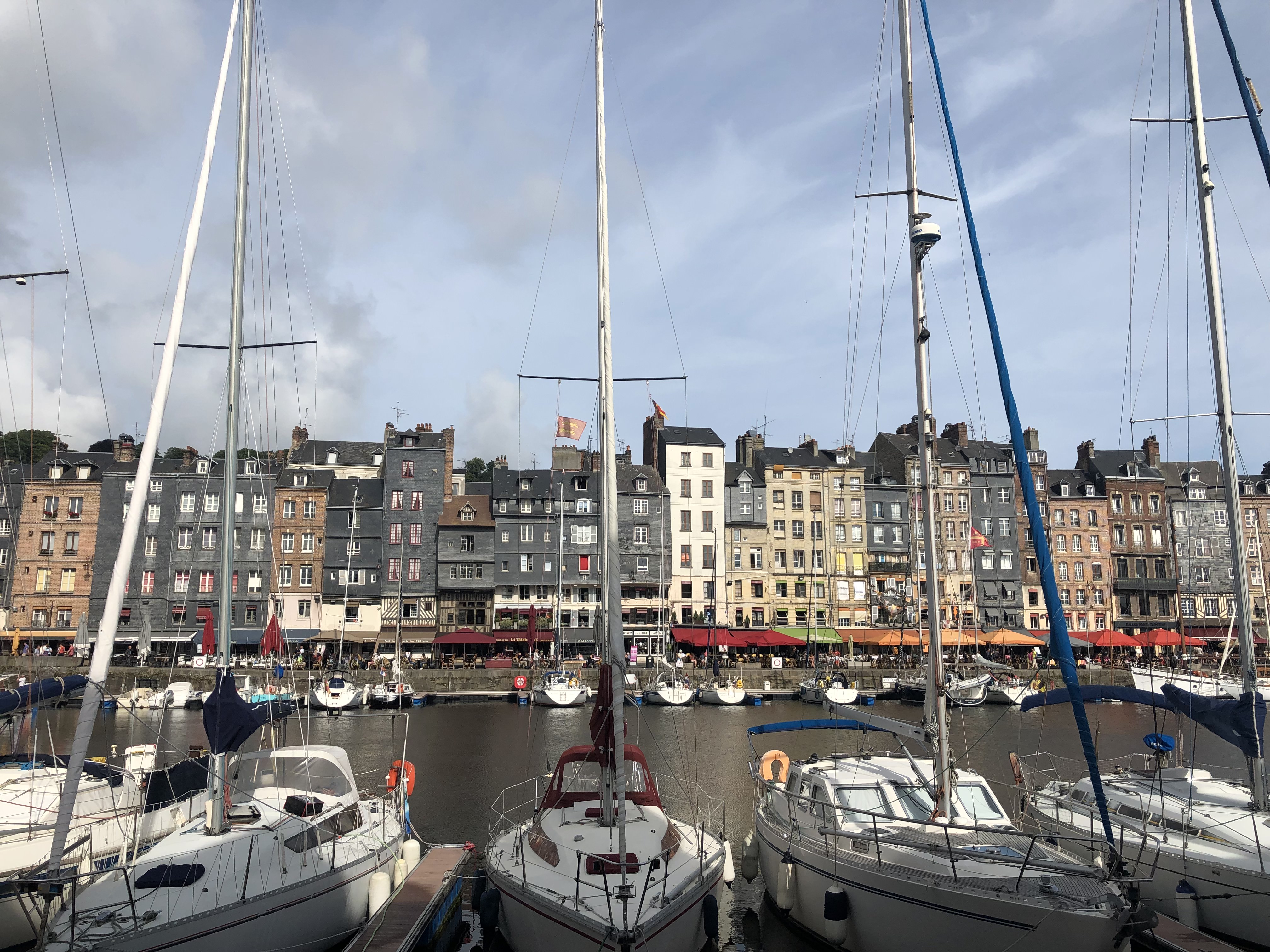 Leaving Honfleur in the afternoon, we proceeded to Monet's house in Giverny. Surrounded by lush gardens and a Japanese style water lily pond, the house has now become a place for tourists and appreciators of Monet's works to visit and experience a place he inhabited for many years of his life. You may even walk through the house itself which still holds many artworks, though none of them original. Each room is a different color but the one room I found incredibly stunning was the Dining room. Entirely yellow from the walls to the table and chairs, the room exudes a chaotically pleasing energy reminiscent of Alice in Wonderland.
After visiting Monet's house and gardens as well as the surrounding village of Giverny we started our journey back to Paris and our original point of contact, the Arc de Triomphe.
Our last week in Paris was filled with classes where we studied the works of African-American Authors who had lived in Paris such as James Baldwin and Richard Wright. We had discussions surrounding their differences in experience and the nuances of the Black experience in France which is heavily influenced by the history of the black body in France.
On Tuesday we were treated to CEA's version of the Tour de France. Led by the fantastic Jim Benn, we were taken on a gourmet food tour of France. He gave us an in to Parisian food culture by highlighting the correct ways to cut cheese in order for all to get a piece of the center which is considered the very best part. He also introduced to the courses of a French meal which is often started off with something salty. For this category were given pretzels, parsley ham, a taste of Dijon Mustard and Gougeres, a cheesy puff pastry.
Following the salty introduction was the cheese which hailed from different parts of the country. We were treated to a Roquefort, a sheep milk cheese from the south of France, a Tomme mainly produced in the French Alps, a Bleu cheese and a Brie cheese, named for the French region it originates from. After the cheese we skipped the main course and headed straight for the sweet desserts. We were treated to Canelé, which look like little mini Bundt cakes but taste much sweeter and have an almost gummy like consistency. We also encountered a Pain d'épices which is essentially a spice bread as well as various cookies and cakes. It was a lovely way to eat our way through France while learning about the details and importance of the French Gastronomic meal.
On Thursday we had our last class meeting where the lovely Jasmine Kweon brought in cake for the class to share. Later that evening we attended our final group dinner at Le Vaudeville, an old Parisian restaurant that's been around since 1918. The interior was lovely and the food was unapologetically French as we were treated to several courses before ending on a sweet note as is characteristic of French dining. The sweetness of the Crème Brulee matched with the bitter sweetness of our parting dinner produced an evening both joyous and sentimental. As a last dinner it was one for the books.