Sarah Ebrahimi
USAC Spain: San Sebastián – Spanish Language, Basque, Psychology, and European Studies
Major/Minor: Global Studies / Social Dimensions of Health Certificate
May 17, 2022
Hi everyone!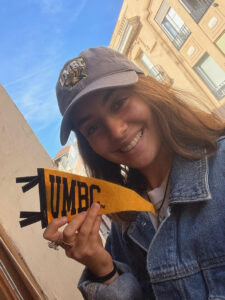 I'm Sarah, I'm a Global Studies major and am currently pursuing the Social Dimensions of Health Certificate. I am a rising senior here at UMBC. This summer I will be studying abroad in San Sebastián, Spain and I am so excited! San Sebastián is in the Basque Country in Northern Spain, right below France. They are known for their world-class beaches, delicious food, and rich cultural history (all of my favorite things). I love to travel and have been SO eager to explore the Basque Country.
Like many of my fellow classmates, I have not had the opportunity to study abroad during my time at UMBC because of COVID-19. But my time has finally come! I decided to fly into Madrid, Spain one week early so that I could explore the capital before heading up north for my program. During this time I am preparing for my classes, café hopping, site-seeing, and doing plenty of thrift shopping.
At the Universidad del País Vasco I will be taking the following classes: Spanish Conversation and Oral Skills, Basque Language and Culture, and even a surfing class! I chose these classes because I thought they would give me a nice balance and keep things interesting. I am a bit nervous for my Spanish class and Basque language class (Basque is notoriously difficult), but I am ready for the challenge. Surfing is a huge part of the culture in San Sebastián. Thousands of surfers come every summer to enjoy the waves and laid-back lifestyle.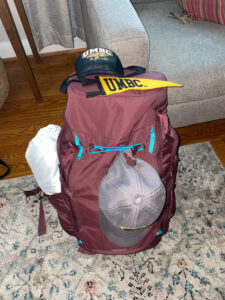 I brought one backpack stuffed with my clothes and school supplies. I prefer to travel light – this way I won't miss out on any exciting weekend trips. I am eager to meet my fellow classmates and learn about what drew them to San Sebastián. It is also so important to me that I go out of my way to befriend locals. Not only will this help my Spanish, but it will give me a whole new perspective on the Basque way of life.
I hope you'll stick with me through my journey!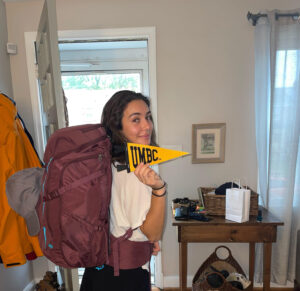 May 31, 2022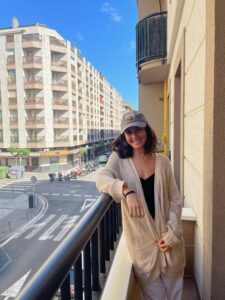 Week one in Spain – It has been crazy! I was in Madrid for a few days before making my way to San Sebastián and I sadly caught COVID. I knew this was a risk, especially with the mask mandate in Europe loosening up. I was very sick but am thankfully now feeling better. This meant I missed orientation and the first day of classes. I was so nervous that I would be extremely behind in my classes. I was also worried because this meant everyone in my program would already know each other. I went to class on day two and my professors were super accommodating and understanding. And all of the students in my program are so nice – I had nothing to worry about!
There are only five of us in my Spanish conversation class. The professor is Basque and has a lot of useful tips. He has a great sense of humor which was a relief to me because I was very nervous for this class. My second class is Basque Language and Culture, which so far is only language. The Basque language is a puzzle to linguists everywhere, it is not similar to any other language and no one knows where it actually came from. So, this class is an obstacle but my classmates and I are all in it together.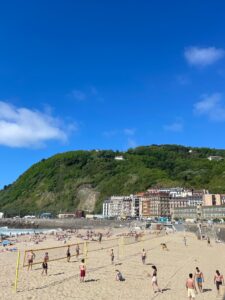 Both of my classes and the USAC office are in the same building which simplifies life a lot for me. My Spanish Conversation class is one hour Monday through Friday and my Basque Language class is two hours Monday through Friday. My surfing class starts this week, which will be three times a week. I am very excited for this! On Wednesday there is a field trip to the Pyrenees planned, which will break up the week nicely.
San Sebastián itself is SO beautiful. There is so much to see and so much to do. There are beautiful hikes to be done and plenty of beach days to be had. Every week, a USAC coordinator sends us a list of activities and festivals taking place. This is so helpful in such a new place.
I'm looking forward to my first full week, POST-COVID!
Thanks for reading, time to go study on the beach.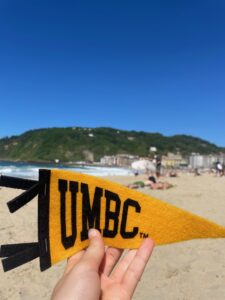 June 3rd, 2022
6/3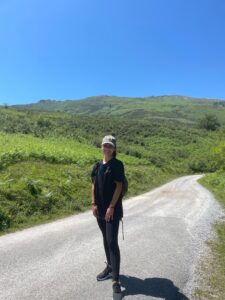 Week 2! This was my first full week of classes, and oh was I busy. On a typical day I am out of my apartment by 10 am, I head to the bus stop for my 20-minute commute and start class by 11 am. I have a two-hour break in between my two classes. During this time I usually study, get some homework done, and visit the espresso vending machine (thank goodness for that). After my classes end at 3:30 pm, I take the bus home if it's raining or walk if the sun is out. The walk home is BEAUTIFUL with views of the ocean and the city line the entire time.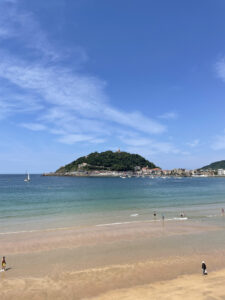 At 5:30 I have surfing class. There is never a dull moment. Yesterday the waves were flat, so our instructors had us all paddle out to the rocks in the distance and we went cliff jumping! It was so much fun. There were views of the whole city and the lush greenery. Having local surf instructors is a major perk; they know all of the best (and safest) spots.
On Wednesday, everyone in the program went on a field trip to the Pyrenees mountains. We took a bus from campus and went just over the border to Saint-Jean-de-Luz, France. We walked around the quaint little town, exploring the markets and cafes. Shortly after we started a hike. During the hike we crossed the Spanish French border. This was such a unique, amazing experience to have one foot in France and one in Spain!
We ate lunch at a beautiful, traditional Basque restaurant in the Pyrenees. After lunch, we visited a town called Zugarramurdi in the Basque province of Nafarroa. This town is referred to as "Pueblo de las Brujas" (Witch Town) because of the witch trials that took place here in the 17th century. We even got to visit a museum where we learned all about this. Part of the museum tour was visiting the caves where the alleged occult activity took place. This was a once in a lifetime experience and a must-see if you are visiting the Basque Country.
My days here are busy but I'm starting to get in the groove of things. Part of me still can't believe I'm lucky enough to be here!
June 10, 2022
Blog Post #4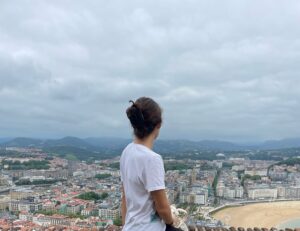 I can't believe it; I am almost halfway done with my program! Time is flying by here in San Sebastián. My appreciation for the Basque culture and their people only continues to grow. Ten hours a week of a Basque language and culture class certainly keeps me busy, but I find that I'm noticing all the small details of the city because of it. I am even understanding some signs in Euskara (the Basque language)! Here, Euskara is the common language, more so than Spanish.
Part of studying abroad means immersing yourself in the local culture. So, when I walk into a supermarket or one of my classrooms, I say "kaixo!" which means hello in Euskara. Basque people have so much appreciation for students and tourists alike who use small phrases in Euskara. To ask for two coffees in Euskara is "bi kafe mesedez." To ask how much something costs is "Zenbat da?" Learning even just a little bit of this language has been such an amazing experience. It brings such a smile to my face when I see how happy the locals are when I use Euskara.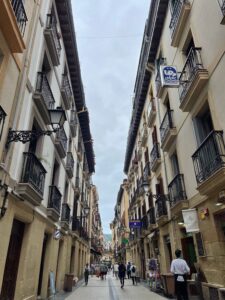 San Sebastián, or in Euskara "Donostia," has more Michelin Stars per square meter than any other city in the world! There are endless foods to try. The Basque Country is known for "pintxos" which are small plates, almost like appetizers. They are cheap (anywhere from 1 to 4 Euro) and so, so delicious. Meat, cheese, tomatoes, peppers, and potatoes are all common ingredients.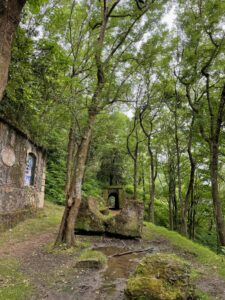 This week midterms started. So I have been studying a lot which is why I'm so happy I have my surfing class. This breaks the day up perfectly and it is so much fun. It is also a great way to get to know the people in my program better. Study abroad has brought me so much joy and a great group of friends. This weekend I am going to Barcelona to do some site-seeing. It is only a one-hour plane ride or a six-hour drive! I am so excited to explore more of this beautiful country. See you next week!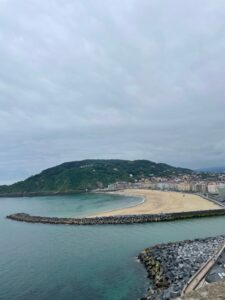 Sarah
Blog Post #5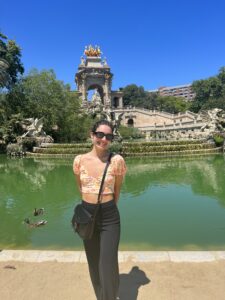 I officially only have a week and a half left of my program in Spain! Midterms are done and now it's time to enjoy my weekend here in San Sebastián. I plan on going on hikes, relaxing at the beach, trying out some new restaurants, and of course getting some studying done. My classes are very intense, but I am learning a lot. In my Spanish class I have one presentation per week. We do various different exercises in class; my professor certainly keeps it interesting. It has been so fun learning words that are specific to Spain, although no slang in class of course 😉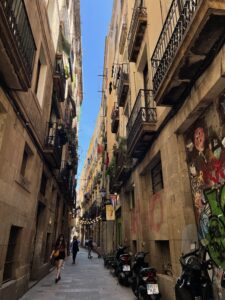 This past weekend I did a quick trip to Barcelona. I usually do not love big cities, but Barcelona pleasantly surprised me! I absolutely loved it. There was so much to do and so much to see. The tapas culture was amazing, I successfully ate my way through the city. My favorite neighborhood was El Born. It was lined with narrow alleyways decorated with string lights, beautiful churches, boutique shops, live music, and street art. I explored these streets for hours it was like being in a maze that I didn't want to find my way out of.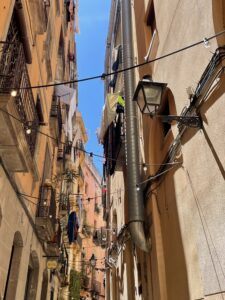 On my way to Barcelona I took a plane directly from San Sebastián. On my way back, the flights were a bit expensive. So, I decided to take a BlaBla car which I had never done before. BlaBla car is very similar to Uber, but it is much more affordable. The drive from Barcelona to San Sebastián is about six hours and it only cost me forty US dollars! Not to mention the views were absolutely stunning. We drove through the Spanish countryside, passing quaint villages, and lush green terrain. Locals use BlaBla car all the time and rely on it heavily for affordable travel. So here I am, trying to live like a local.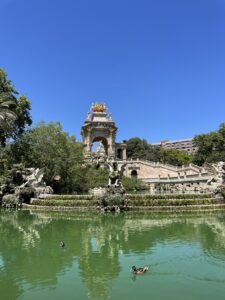 See you next week 🙂
Sarah
Blog Post #6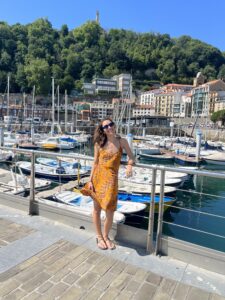 Wow, I only have three more days left of classes. My time in San Sebastián has been so amazing and I will be sad to leave. I had my last day of surfing class was on Thursday and since then time has been flying. I am doing lots of studying, preparing for final exams and presentations. I fly out of San Sebastián Thursday evening and head to Portugal for one week before returning to the U.S. I am so excited to continue exploring!
This past Thursday night was one of the biggest nights of the year here in the Basque Country; it was San Juan. This holiday celebrates the Summer Solstice, the first night of summer. All over the Basque Country you will find huge bonfires because San Juan is associated with fire and light. It was originally a Pagan holiday, but somewhere along the line it was "Christianized."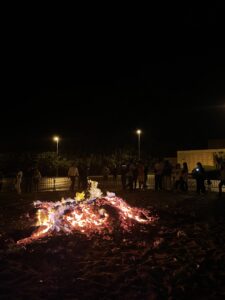 Children and teenagers throw their textbooks and schoolwork into the fires to mark the beginning of summer. It is also tradition for people to write down three things that they hope for in their year and three things that they don't hope for on a piece of paper and throw it into the fire. You will also find people of all ages, including very elderly people, jumping over the fire three times. In the Basque Country, three is a magic number because it represents the sky, earth, and the humans in between.
A Basque band performed, everyone was gathered around the huge fire, and there were rides for the little kids; it was so much fun! And the best part was it was my birthday! I got to spend it celebrating with all of the great people I've met. It was so special.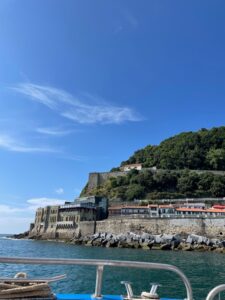 On Saturday, I took a small ferry boat to a little island called Santa Clara right in San Sebastián. This place really has it all! There were the most beautiful views of the city from here and it only took about ten minutes and four euros to get there. It was the perfect place to decompress from my busy week.
Okay, back to studying I go. Hopefully there's time for a beach break later today. See you next week!
Sarah
Blog Post #7
I left San Sebastián almost one week ago. I miss it so much and know I will be back. On the last
night, everyone in my program went out to dinner. We were so sad to say goodbye to each
other. I made such amazing friends who inspired me and kept me going during the course of
the program. And now I have friends to visit all over the U.S.

The last week of classes was stressful, but I finished out strong. We didn't have surfing during
finals week so that we had more time to study, which was both happy and sad. Five weeks
doesn't sound like a long time, but it sure felt like a long time. I got into a routine there so
quickly and became so used to it. Little things like taking the same bus every day and going to
the same coffee shop on my way home from school made me feel like a local. I will never forget
my study abroad experience! I improved my Spanish conversation skills, learned how to have a
conversation in Euskara (which not many people can say), and learned so much about Basque
culture.

I left San Sebastián on a rainy morning and flew to Lisbon, Portugal. My flight back to the U.S. is
leaving from Lisbon so I thought I would explore here for six days before I head home. And oh
my goodness, I LOVE Lisbon. Portuguese food, culture, and sunny weather are exactly what I
needed after finishing my final exams. Studying abroad has made me realize how much I love
traveling and exploring new places. You never know who you'll meet, what foods you'll try, or
what new hobbies you'll discover, and that's the beauty of traveling. I was nervous to do a solo
trip, but it has been such a great experience. Thanks for following along on this crazy journey! I
hope it inspires you to study abroad!
Time to go explore Lisbon some more.
Sarah