Ebonie Pierce
Education Abroad Network: Korea University
Major: Music Performance and Music Education
August 15th, 2019
Two Weeks Until Korea!
Come with me on my journey as a student at Korea University.
It's finally happening! There are just ten days remaining until the start of the best days of my college experience. I've been checking off steps leading up to departure for months and I am almost ready to go. The final tasks are class registration and, of course, packing! 
I've just completed a group video chat with my study abroad coordination team and asked all of my burning questions. The team is extremely helpful and did a fantastic job setting us up for success. I will most likely utilize all of their advice upon arrival and during my time in Korea. 
I'm very much looking forward to our orientation! It will include beautiful tours, amazing food, and a cool taekwondo class. I will be sure to tell you guys all about it when I participate. Be on the look out for the video blogs to go with the next posts for a visual component as well!
As you can probably imagine, packing for an entire semester can be daunting. But, with the help of my program check list, reading blogs, and watching videos, I think I came up with a plan. Now, it's time to carry it out full steam ahead! 
I'll catch you in the next post detailing my arrival and first impressions. See ya!
다음에 봐요! 
에보니 ~ Ebonie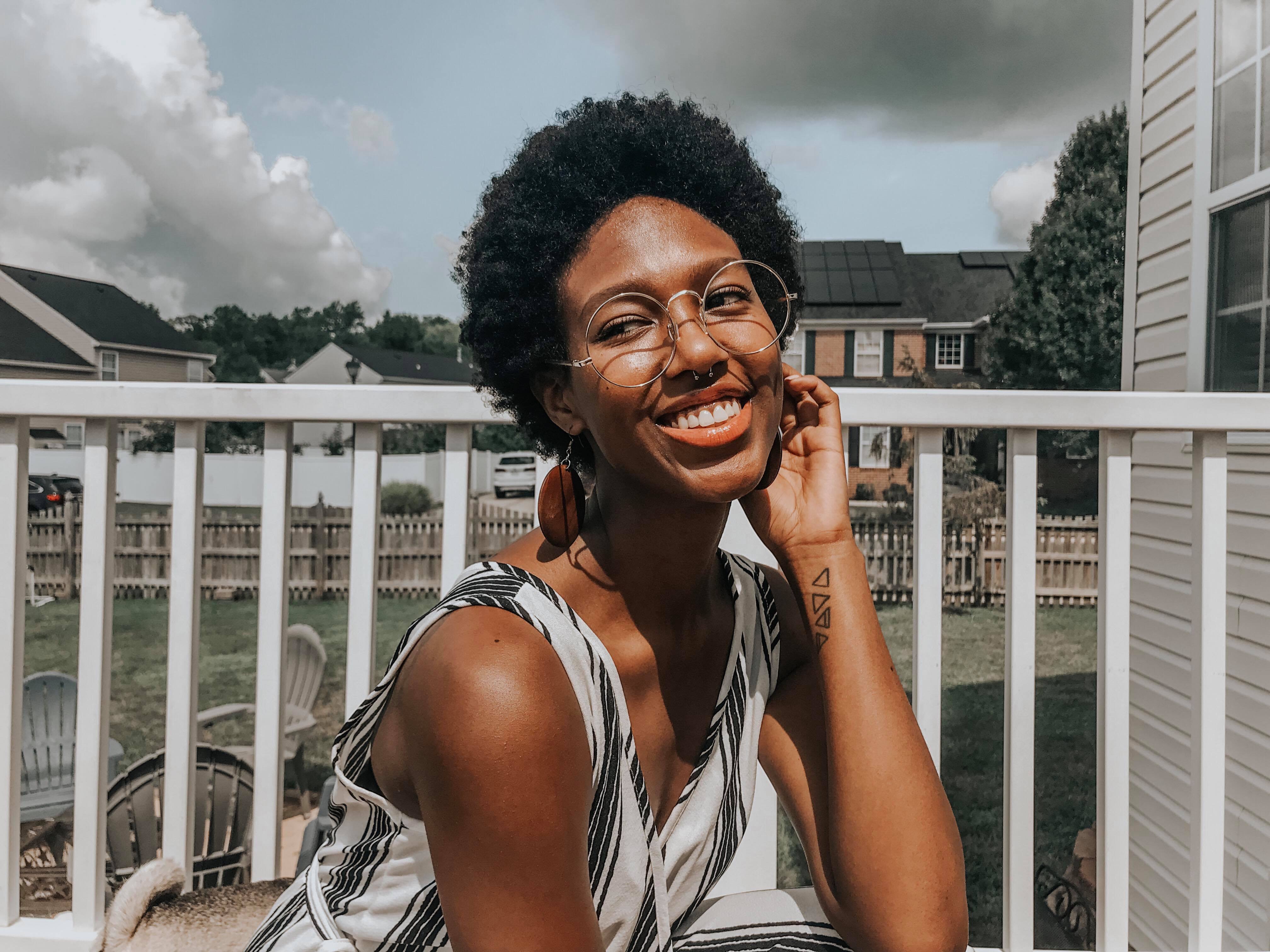 September 5th, 2019
My First Week in Korea!
Cultural Orientation and University Orientation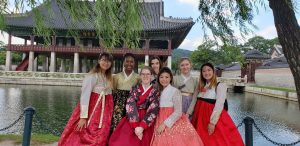 Hey guys!
I'm back to tell you everything that's happened so far. I'm sure, after this read, you'll want to come to South Korea too. It's been an action packed two weeks of experiences and that's just the beginning! From jet lag to sports cheering, I will fill you in on the fun.
My group gathered at our hotel for our Korean culture orientation. We had all come from different time zones so we were very tired. However, we were super excited to embark on this journey together!
First, we traversed the neighborhood of Insadong. Insadong is the go-to spot for your first time in Korea. It's a fantastic place to experience traditional culture and great food. We dressed in hanbok, which is Korean traditional attire, and visited Gyeongbokgung Palace. This experience was one of the best. The palace was so beautiful and the patterns of the dresses and suits were so lovely.  If it weren't so hot outside, I would have worn it all day! I'll try it again in the fall when it's nice and cool.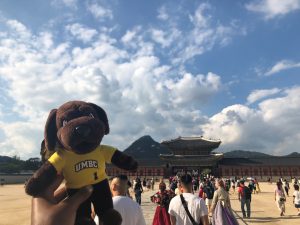 Second, we visited the demilitarization zone (DMZ) and had the opportunity to learn more about North and South Korean history. We visited the major places involved in the Korean War and received information on each area from our tour guide. I even wrote a note of peace on a ribbon and hung it amongst the hundreds of others. After the field trip, we were met by a North Korean defector who shared his personal story of his life in North Korea and how he escaped. This experience was truly a memorable one and I encourage future Korea study abroad students to participate in this opportunity.
Third, we took a taekwondo class! Remember I told you I would let you know how it went? Well, after getting dressed, we stretched and learned some basic commands. We also learned that taekwondo has a balance between fluidity and tenseness. After some punching and kicking practice in the air and with partners, we were ready for the final test: breaking a wooden board. We were separated into two groups and the wood breaking began.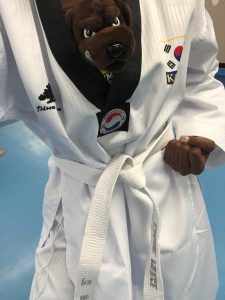 I was in the punching group and I was so nervous for my turn. I assumed position and thought of all that we had been taught minutes prior. With a mighty thrust, I surprisingly snapped my board in half with one punch! Afterward, we went back to the hotel to prepare for Korea University Orientation.
Korea University is such a majestic campus! The buildings are castle-esque and surrounded by greenery. Our incoming exchange student class was accompanied by KU's buddy system! We were all assigned buddies to help us acclimate to campus life better. The first day of KU orientation included speeches from the faculty as well as lots of group photos. I was in group number two.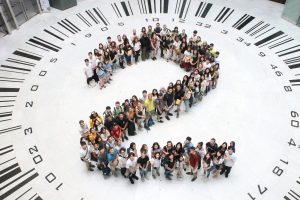 Next, we were introduced the KU's cheering lifestyle. Their cheering songs are the most intense and plentiful cheers I've ever experienced. I stopped counting after 22. This was the biggest culture shock for me because I've never attended sports games where there are designated school cheers to sing (and dance to I might add!). I felt like a true KU student after that kind of initiation. I can't wait to show school pride at one of the games!
Now that school has officially begun, it is more difficult than I had imagined to find my classes. I didn't take into consideration the distance between classes, what campus they would be on, or whether the building name would correspond with the course title. My first class is a Korean language course and it took me aback to find it in the science building on the opposite campus! So my tip is to have the KU map open during the course selection period to save you the hassle. Another difficulty is course registration in general, but everyone's experience is different. Please follow the directions of the program advisor and hope for the best.
Despite the first week's learning curve, I'm thrilled to be here and gain a lifetime of stories and connections. Once I've developed a routine, I'll let you come along for a day in the life of a KU student!
~ Ebonie
October 10th, 2019
A day in the life!
Hey guys! Its officially been 6 weeks since arrival and I've more or less developed a steady routine. Come with me on a typical day at Korea University!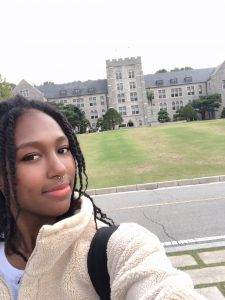 I live in the dormitories at top of a very steep and woodsy hill. I am wakened by chipper birdsong and natural sunlight through my window. I start my day at 8:30am by descending the big hill and meeting the plentiful coffee shops, restaurants, convenience stores and bustling vehicular traffic on my route to my first class. I usually grab an iced coffee on the way and try to beat foot traffic. There are so many students en route that there are actual jams at subway stations and other narrow passages!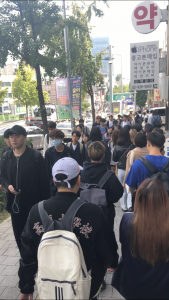 My busiest day is Monday with 3 classes. I grab lunch between my first and second class at the cafeteria. The coolest things about our cafeteria is that they have an instagram where they post the meal of the day and that the meals are self serve. We can eat as much or as little as we want for just 5,000 Korean won or roughly $4 USD!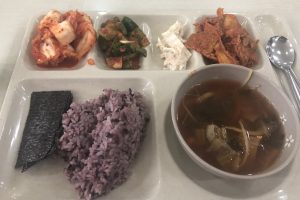 My third class begins 15 minutes after my second class so I have to quickly dart across campus to make it in time. But there's a popular cafe just before my designated building that I must stop and buy a macaron or two…or three! It's so worth it. This cafe has the best macarons on campus!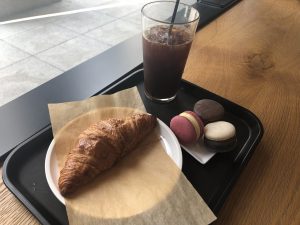 After classes, my biggest decision to make is what to eat for dinner. This is best problem to have, in my opinion. Food is so plentiful here and I an so grateful to be in this position. I have a chat that I can message asking who's available for dinner and we meet at a train station exit and walk down the avenue seeing what piques our interest. My favorite restaurant is a place tucked in an alley off the main street that serves a dish called Jjajang Bap which is black bean sauce with veggies, egg, and a generous serving of rice. The dishes are almost always large enough to share and that is one of the most impactful parts of Korean culture. I can hardly eat alone without either feeling lonely or having to narrow my choices to convenience store food or home-cooked meal. This predicament does invite me to make new friends everyday though.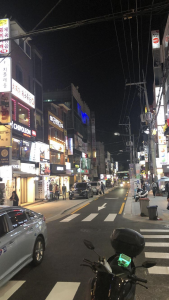 What surprised me the most was how enticing nightlife participation is. I started my semester thinking I would not be drawn to it and that school work would occupy my time more often than not. Boy was I wrong. After seeing everyone grouping up to go do various activities every night, I began to long for the same activity.
What makes this feasible is that my classes don't have homework the way I'm used to at my home university. My classes are almost purely self study and memorize with my only graded assignments being the mid term and the final. That idea seems relaxed and simple to do but, actually, it's one of the most difficult methods of learning I've experienced. Our midterms are coming very soon and I hear that midterm grading is often a rude wakeup call to exchange students. I advise that incoming students not mistake lack of physical assignments for decreased need to study. I recommend completing small assignments from your textbooks on your own and utilizing teaching assistants and the professor's office hours.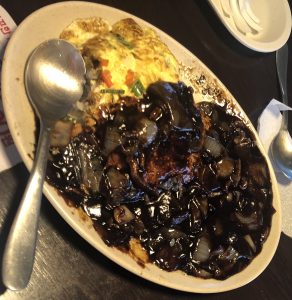 During dinner with another exchange student, I asked her a few questions :
1. What surprised you the most about the school system?
2. What was the most interesting thing that's happened so far?
3. Did Korea meet, exceed, or fall short of your expectations?
To which she responded:
1. "How unorganized registration was, it was really frustrating because I'm a senior so I need specific courses in order to graduate on time so when it was the registration process happening I was really afraid I wasn't going to get the courses that I needed and that I would have to take an extra semester which I couldn't afford so it was definitely stressful. "
2. "[Nothing] I've seen here has come to me as a surprise just because I knew [Korea] was gonna be like really cool and everything. I think the most surprising thing I've realized was how much I actually miss home because of how different it actually is here. I thought I would adjust a lot quicker because I was just going to be excited about everything, but, it's surprising to me how much I actually appreciate home while being here. At home I was always like, 'omigosh, I can't wait to leave. This place is so boring'. But, now I realize that home is actually really nice and I actually miss it."
3. "It definitely did meet my expectations but where I'm falling short is on myself. I am not as adventurous as I thought I would be just because I feel the language barrier is an important thing. It's definitely limiting me and I shouldn't let it but I think as time goes on I will be more comfortable with it."
November 15th, 2019
November was jam packed full of cool things!
This blog will talk about just a few of those things. I participated in the annual kimchi festival, spent time at a Buddhist temple, participated in Korea University's International Student Festival and traveled to Tokyo, Japan.
Seoul Kimchi Festival
We were given aprons, gloves and, bandannas and there was a sea of red after everyone got dressed I their kimchi attire. Hundreds of people and organizations came together to make kimchi! All of our supplies were prepared for us and all we had to do was rub the cabbage down with the spicy sauce. We all started off with one box of cabbages and one bag of sauce and after we were done, we quickly progressed to more and more boxes. I had so much fun making the kimchi with my friends! I got into a groove while making the kimchi and it inspired me to make kimchi while I'm home because of how easy it was. The kimchi was going to be donated to charities so it felt really rewarding to be apart of that. I was also interviewed as a foreigner and asked about my experience making kimchi and my time in Korea so far and that was also really exciting.
There were stages for performances and lots of great energy.
At the end we got to eat our kimchi and they provided kimpab, pork belly, and makolli ( rice wine) as lunch after all the hard work.
I've got to add that it was a lot of work and a bit of a strain on the back. It was maybe four hours of activity and a bit of a commitment. I will also remind you that it was so much fun and it felt great to have been a member of such a large organization.
Temple Stay
The Buddhist Temple Stay was one of the best experiences I've had in Korea this far. We only spent 2 days there, but it felt like time had stood still.
We began the trip with a hike up a tall hill on a dirt and rock path. When we finally made it to the temple grounds we were met with beautiful scenery and mesmerizing architecture. Our temple guides showed us our rooms, which were traditional rooms with floor pad mattresses, and handed out our temple attire consisting of a pink vest and blue bottoms. These are very loose fitting and needed under clothes such as t-shirts and leggings or shorts.
We had a strict schedule to follow as soon as we got situated. We went on a tour of the temple grounds, learned about the Buddhist practices and learned how to do the bows. There are 108 bows to do per devotion and we were invited to participate but it was alright if you declined. I decided to participate for the full experience. I had never bowed 108 times before and by the time the devotion was complete I was definitely tired and a bit sore. The monks, who have been doing this for quite some time, were understandably unfazed. We were also invited to meditate and I found the meditation to be the most relaxing and invigorating.
That night we had the chance to watch a ceremony which strikes drums and wooden fish. At the end we were able to strike the bell in the middle of the grounds and hear it resonate through the mountain. This was also a moment where I felt in-tune to the world. We felt the vibration of the sound from the bell after the strike and it vibrated through our chests. It was amazing.
After the ceremony, we went back to our rooms in the pitch darkness. The lack of light enhanced the nature sounds and also reminded me how much light pollution there was in Seoul. It felt good to be covered in night. I stopped for a drink of water from the well and settled in for the night.
The next day had a very early start at 4am. A monk roamed the grounds hitting a gourd and then hit the bell a number of times signaling the time until we had to gather at the mediation room.
We began with meditation and bowing and then we went over to another room to eat breakfast.
We had a traditional breakfast of vegetables, tofu, rice, and soup. The monk lead us through the eating tradition and we followed the best that we could and ate very well.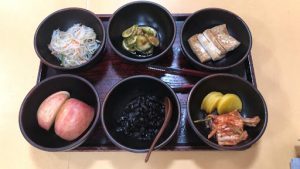 We had finished breakfast and cleaned up all before sunrise. We all rushed out to the edge of a small cliff to witness the beautiful magenta sunrise on that cool morning. We were all in silence and awe seeing the sun peer over the mountains and fill the atmosphere with light. The best part of this was the fact that we weren't tired and we were well prepared for the rest of the day. Having the entire day ahead of me at 7:30 am felt so much better to me than sleeping in.
After the sun had fully greeted us, we prepared for our next task of sweeping the grounds clear of stray rocks and leaves. At first, it seemed kind of pointless to sweep outside but we did our best and after we were done, it felt so good to see how neat and tidy we could make everything look. Tidy dirt! Go figure!
The brooms we used were made of flexible sticks and they were excellent at whisking away the leaves and whisking me into the air!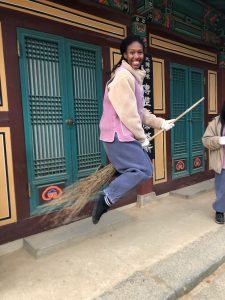 Korea University International Student Festival
This festival was so much fun!
Korea University holds the International Student Festival for the international students to showcase where they come from and to share food, dances and other major aspects of their culture! There's also a fashion show and talent show for each booth to participate in!
I helped represent the Caribbean Islands!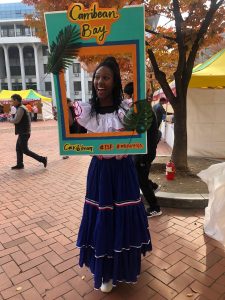 In this picture, I am wearing a traditional dress from the Dominican Republic and holding the selfie board we made to promote our booth.
Lots of students came to visit us! We served jerk chicken and a dish called rice and peas. It was so delicious. We were also allowed to serve alcoholic drinks and we had mojitos and piña coladas available when a student took a photo with our board and posted it.
Did you know that there are 7,000 Caribbean islands! That was one of our trick questions on the quiz we had to win an inflatable island!
That day was so busy and so worth it! I can't wait to participate again!
Tokyo, Japan
Tokyo has always been on my bucket list and I can't wait to visit again!
I visited Akihabara, Shibuya and Harajuku on a four day weekend and that was definitely not enough time! There was so much to see and do and I wish I could have fit it all in those four days. The first thing I noticed was how different the train systems were. It took me a lot longer to understand than the Korean trains and that's what used most of my time in a day. I also realized how much Japanese I didn't know. However, that didn't stop me from having a great time!
After getting used to the new environment, I went to a Pokemon center and had a blast! I wish I could have taken every plushy home with me. I also got to hold a hedgehog at a hedgehog and owl cafe. There were tons of maid theme cafes and gaming shops along the sidewalks too!
The nightlife in Japan was also a lot of fun. I could see the Tokyo Tower from an art museum I visited and realized that I could walk to it! I walked and walked until I was right under it and it was so beautiful! Definitely a photo spot if you ask me!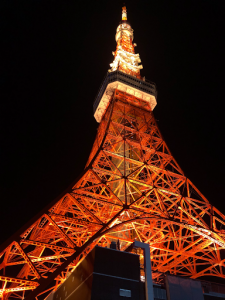 The next time I go to Japan, I hope to visit shrines and more museums because my east asian history class at KU really piqued my interest in how connected Korea was to Japan. My next stop is China!
December 16th, 2019
Christmas in South Korea & End of Program
As we are nearing the end of the semester, I am feeling a little bittersweet. Although I love South Korea, I miss my family and friends and I wish I could have them here with me. When I think of home though, daily life is not as exciting as daily life here in Korea. I think I'll miss the ease of transportation, endless cafes and carefree nightlife when I come back to the states. A reverse culture shock I think I'll have is the sudden feeling of unsafeness. I feel so secure and safe here in Korea that I can't say I've experienced that in the USA. I also think the food I used to eat won't be so appealing to me anymore. I'm glad I'm coming back to Korea soon so it shouldn't be too much of a readjustment.
This time of year is the most stressful due to final exams, final projects, packing to go home, and holidays. Preparing for finals was surprisingly less nerve-wracking than preparing for midterms because I knew what to expect. But, during this time, it becomes a little harder to prioritize your time because of the desire to hit up your favorite spots one last time and buy all the souvenirs you can fit in your luggage! So make sure to be an early riser to make the most of your day and commit to your study schedule as to not trip yourself up for the exams ( if your classes administer exams at all).
I decided to stay in Korea over Christmas to see how Korea celebrates and I found it to be a lot of fun! I had dinner with friends and then I went to Cheonggyecheon to see the light display at the stream and it was magnificent! There were displays all along the stream and I could easily spent a few hours there. There were food stands lining the streets and so many families gathered to have a good time.
They also had a super tall tree of lights that you couldn't miss!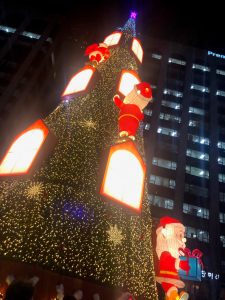 The Christmas spirit was in the air! One of the coolest activities they had was lighting a lantern and sending it down the stream. If you come to Korea during winter, I highly recommend coming to Cheongyecheon to light a lantern of your own. I wrote a message of good cheers and happiness and watched as my latter met the others. It was a very sweet moment and I hope to do it again!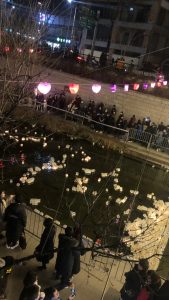 I also visited a lovey cafe called Seoulism. It had a perfect view of the Lotte World tower and a huge tree inside! I recommend visiting there as well! It's so cozy and perfect for a picturesque night out. I suggest going on a clear afternoon nearing sunset for the best pictures! Now that I know what to expect here, I think I'm well prepared for the balance of work and adventure!
January 8, 2020
Program Reflection and Take-Aways
Since I've been home, I'm reminded that Korea has taught be so much about independence, interdependence, creativity and spontaneity. My biggest takeaway from this study abroad experience is that life is ready for you to take full advantage! Nothing will happen unless you make it happen! So take that step and fulfill your goals. I did a project for a class that required the we step away from internet and electronic devices for just 24 hours. It should have been easy enough but I found myself sulking in my dorm all day rather than spending the beautiful day exploring Seoul. I could have visited a new cafe or tried a new dish or even taken a nice stroll down a different neighborhood. But from then on, I realized how important it is to disconnect even for just a day. I challenge you do disconnect and really plan a day where you are so involved with what you are doing that you don't even take a picture! Let me know how it goes!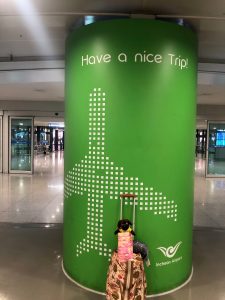 My experience applying and participating in TEAN was so easy and straight forward! I couldn't have asked for a better program! The first week of orientation to Korea was so much fun and it basically hit every major aspect of life here and introduced the ones you'd miss if you planned it alone.
My advice to you guys is to participate in all of the preplanned excursions and to make friends who don't speak english. My goal was to learn Korean while in Korea but I made many English speaking friends and got too comfortable. Its alright if you think that your level of Korean isn't high enough, the natives will definitely make you feel fluent! Take trips outside of Seoul on long weekends and school holidays to really experience all that Korea has to offer. I also suggest taking trips to the nearby countries! I didn't travel very much besides Japan this semester and I wish I had visited the other nearby asian countries.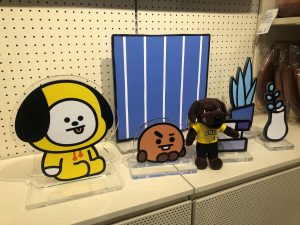 I also want to let you know about what to do when preparing to move out ( in KU's case). If you decide to come to Korea University and live in the dorms, there are donation bins at the end of the semester that you can get rid of all of your unneeded items and pick up the things you may need for the next semester! Since I'm staying for Spring 2020, I picked up a good bit of useful items. This way you don't have to worry about throwing away or figuring out what to do with extra stuff! Also, if you decide to come to KU and live in the dorms, ask about donated items when you move in. You may be able to get most of your supplies before spending a bunch of money settling in!
One negative thing I experienced moving out was the taxi service. Taxis are very very selective and will refuse you if you have too many bags, are going "too short" of a distance, or in some cases, if you don't speak enough Korean. If you are going straight to the airport with an expensive jumbo taxi then you will have more luck. I needed a taxi to take me and my heavy luggage down to my new apartment close by and I was turned down every time. So be aware that this is a possibility when you come to Korea.
I am happy to say that I'll be spending another semester here in Korea.  I think
one semester is rewarding but I think the opportunity to study two semesters will really stretch you. I hope to pay it forward by encouraging my peers to take the opportunity to study abroad for any length of time! I hope to participate in the study abroad fairs at UMBC in the future because that's how I learned so much about the abroad opportunity for me!
This experience is so much of what I hoped and much more. Not everyday was spectacular but even those cloudy days taught me how to be a more rounded individual. I learned how to function in everyday society in a foreign country where I know only the basics of the language and I thrived! This is only a touch of what individuals go through making a life here in the United States and I think this perspective is very valuable.
I'm very thankful for this opportunity and I can't wait so see what the future has in store!
Thanks for coming on this journey with me and True Grit!
다시보자!
Ebonie