Camille Blackford
API Business, Environmental Studies, and Sciences in The Himalayas (Bhutan)
Major / Minor: Cultural Anthropology / Korean
January 25, 2020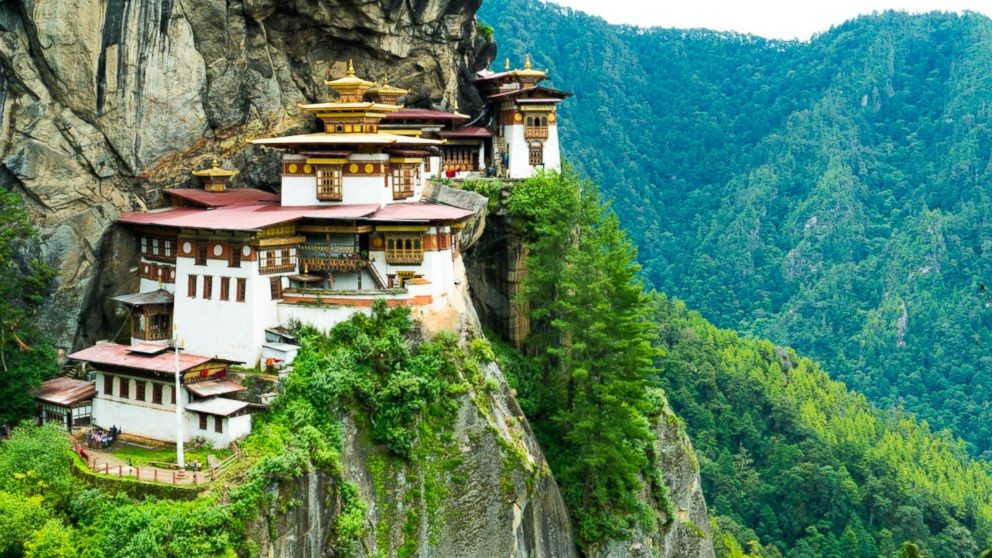 Bhutan, Land of the Thunder Dragon, home of the Thunder King, Queen and Prince (soon to be princes). A small Buddhist country situated in the Himalayan mountains between two of the largest countries in the world: India and China. A country that most people do not even know about. This is where I will be studying abroad for the Spring 2020 semester. My name is Camille Blackford and I am a junior here at UMBC. I am a Humanities Scholar and am majoring in cultural anthropology and minoring in Korean. While most people might not even know that Bhutan is a country, it is a place I have dreamed of going for years. In recent years Bhutan has become famous for two things: their gross national happiness measure and the fact that they are a carbon negative country. The idea of gross national happiness as a replacement of gross domestic product is precisely what drew me into learning more about Bhutan. My mom likes to watch CBS Sunday Morning News every Sunday and one day while I was watching it with her, they did a segment on Bhutan focusing on their gross national happiness measure. Ever since then I became fascinated with the country and wanted to learn everything I could about the country and the culture. It has been my dream to travel to Bhutan and I am so excited to be studying abroad there! While I am there, I hope to be taking anthropology courses and a Dzongkha (the language of Bhutan) course at a college in the capital of Bhutan: Thimphu. I will also be doing an internship teaching elementary grade students at a local school as well! My program also offers various excursions around the country and I can't wait to see all the beautiful forests and Buddhist temples! I am really looking forward to becoming totally immersed in the culture and learning everything I can about the country and its people. While I have traveled abroad in the past to Canada, England, Ireland and Wales, I have never been to a country like Bhutan before. I am looking forward to being in a place I am totally unfamiliar with and learning about a culture that may not seem anything like my own. I am also looking forward to becoming more in touch with my religion while I am there. Despite the fact that I grew up Catholic, I have recently converted to Buddhism and I can't wait to learn more about the history of Buddhism in Bhutan while I am there! To finish off, here are some of my goals for my semester abroad:
To become fully immersed in the culture and to learn as much as possible about what life is like in the country
To be able to live on my own in a place I am totally unfamiliar with
To prove to myself that I can be independent and to learn more about myself
To become more in touch with my religion and to learn the history and practice of Buddhism in Bhutan
I am so thankful to be able to have this opportunity and I'll see you guys in Bhutan!!
February 22, 2020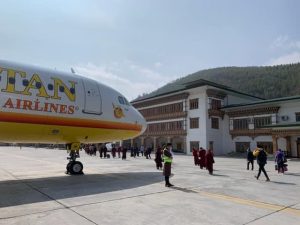 Hello from Bhutan!! I have only been here for a few days but I am loving it here! Even the flight in was beautiful! On the flight into Bhutan you pass the Himalayas (including Mt. Everest) and Gangkhar Puensum, a mountain in Bhutan with the highest unclimbed peak in the world! It was certainly breathtaking!
After an hour ride from the small airport in Paro the other people in the API Program and I arrived at our school: The Royal Thimphu College! The view from the school is absolutely breathtaking! And when it's not foggy out you can even see the famous Buddha Dordenma statue from the school!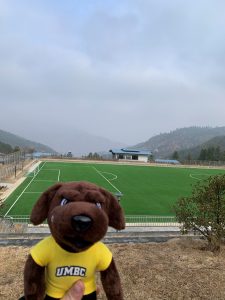 Another cool thing about the campus besides the view is the dogs!! There is a group of super friendly stray dogs that live on campus here! I'm sure True Grit will love having so many buddies!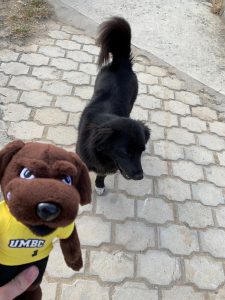 While the school does not encourage feeding the dogs, the staff take care of them and make sure they get fed! Although I have been really enjoying my time here there have certainly been a few bumps already. I will admit I did get a bit of culture shock when I got onto campus and realized the dorms here aren't anything like what I'm used to at UMBC. Because of this I was getting a little homesick for a day or two. However, one day when the other international students and I were in Thimphu (the capital of Bhutan) we met the group of foreign faculty who are new to the campus this semester. After meeting them something switched in me. For some reason I found comfort in the fact that here was a group of professional adults who were also putting themselves in an unfamiliar environment like I was. I think one thing I have learned over these past few days is to not get hung up on the things that are different about where you are and to look for the commonalities. For example a lot of the local students here really like Kpop, Kdramas, learning Korean, anime, etc. and through this I've already been able to open up and to start making some friends! I think another important thing I have learned is mindfulness. During our orientation the president of the college gave a presentation on mindfulness and living in the moment. I think this is something very important to keep in mind during study abroad. If you spend too much time thinking about all the people you miss and all the things you'll miss while you are gone, you won't fully enjoy and appreciate your study abroad experience. So far, I would say that studying abroad can be hard and there will be ups and down, but it will leave you with an experience you will never forget.
April 7, 2020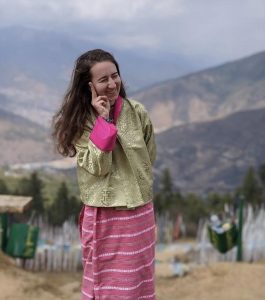 Kuzu Zangpo (Hello) from Bhutan everyone!! This blog post is about my last couple of weeks in Bhutan! This picture here was from a hike to a monastery some of the Bhutanese students took the international students on! In this picture I am wearing the traditional dress of Bhutan for women, called "Kira". What I am wearing is technically called a "half Kira" and is made up of two jackets (the pink and white jackets), and a long skirt. I hiked all the way to the monastery in this! Despite the fact that the hike was super hard, the Kira was very comfortable to hike in and the view from the monastery made it worth it!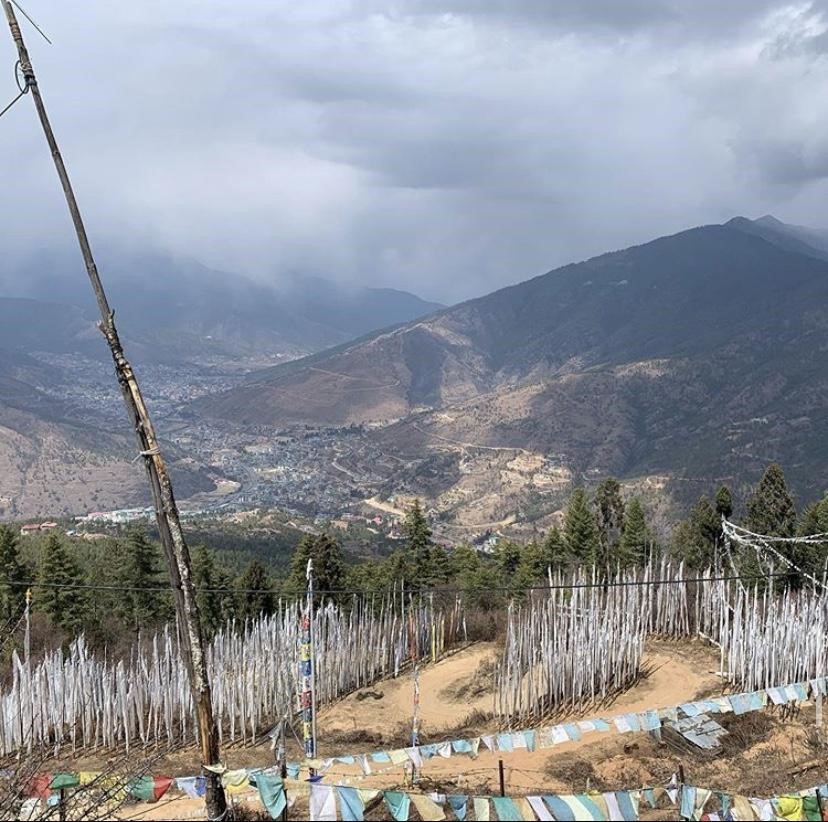 Some of the students also took us to the celebration of the King's birthday in town! We got to see a lot of cool cultural performances from elementary-high school students and we also got to hear a speech from the Prime Minister!
During my last few weeks in Bhutan I also got to try some amazing restaurants in the capital city, Thimphu! My favorite places to eat were a pizza place called "Project ZZA" and a Korean barbeque restaurant called "San Maru"! I loved these restaurants because the food reminded me of home.
I also got to try a lot of amazing Bhutanese food!! My study abroad program took us to a traditional Bhutanese restaurant in town and the food was amazing!! I really liked the famous drink "suja," or butter tea with rice puffs and I also really liked momos! Momos are basically dumplings with either veggies and cheese or beef and veggies! Although I didn't get a picture of it, I also really loved Bhutanese red rice!
Exploring Thimphu with my friends was one of my favorite things to do while I was in Bhutan. I loved getting to explore all the shops and cafes with my friends. I especially loved the cafes and stores that had cats in them! This is a picture of one of my favorite cats that I saw in town! They were so cute!!! They were also apparently a vegetarian!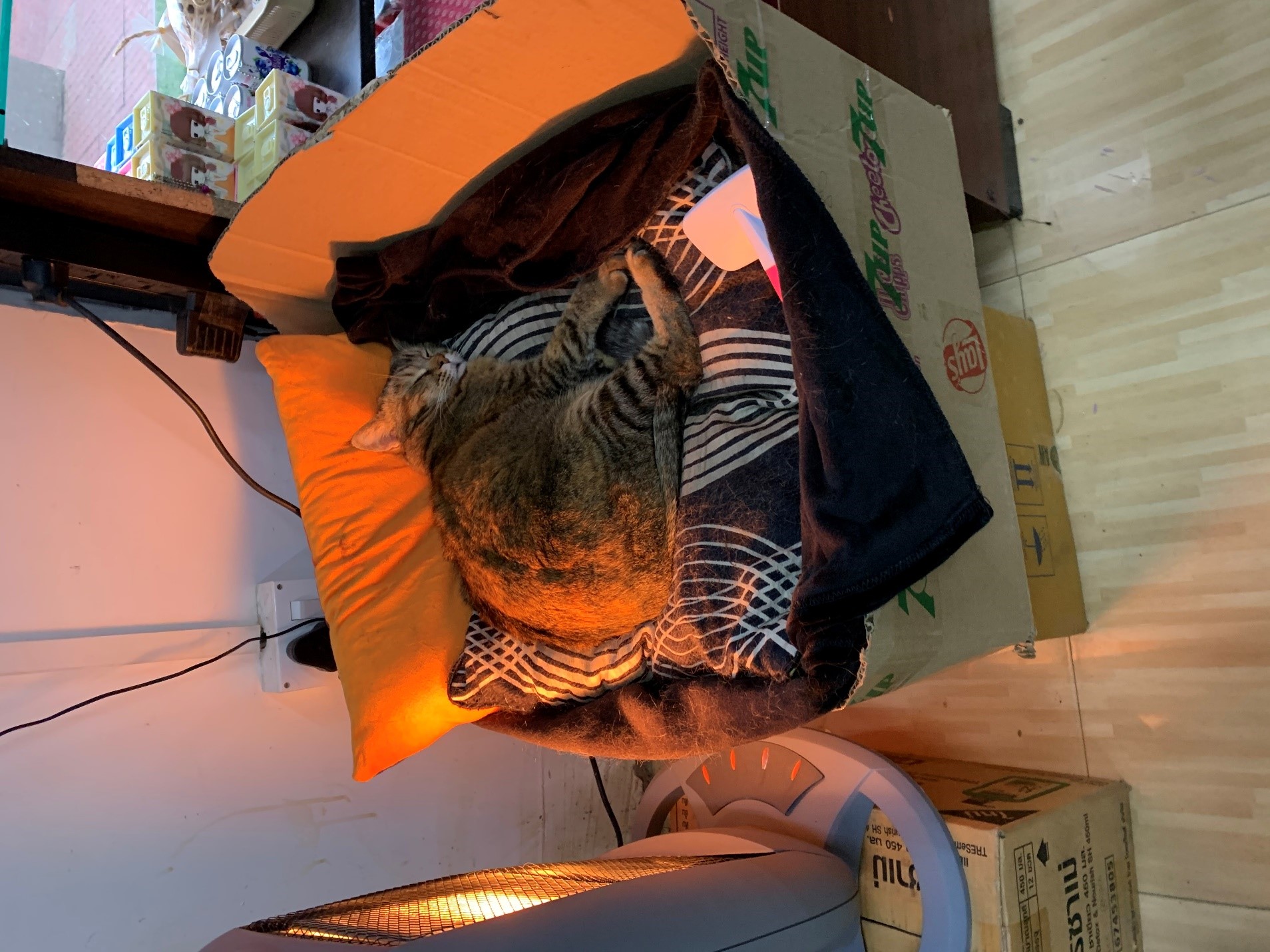 I was really sad that I had to leave Bhutan, because it had been my dream since high school to visit Bhutan and learn about its history and the different cultures in the country. I was especially upset because I felt like I was finally settling into my life in Bhutan. While I was sad at first by the news, I ultimately decided that I should spend my last few days in Bhutan making as many happy memories with my friends as I could! I figured that since this is a situation that I cannot control in any way, that there is no use in being sad and that I should just focus on spending the last few days happily with my friends.
April 9, 2020
It's been a few weeks since I have returned home from Bhutan. It took a while to get back into my routine at home. It took me a week to get used to the time zone here and it took my stomach a while to re-adjust to my usual diet here. I had self-quarantined for two weeks but unfortunately, the end of my self-quarantine coincided with the start of quarantine for everyone here. During my last day in Bhutan I tried to take in as much as I could before I left. My study abroad program took us on a tour of Thimphu on our last day and they took us to see some of the places we were supposed to go see but didn't get to because of the quarantine in Bhutan. One place we stopped at was the Takin zoo! The takin is the national animal of Bhutan and it also has an interesting story about its creation!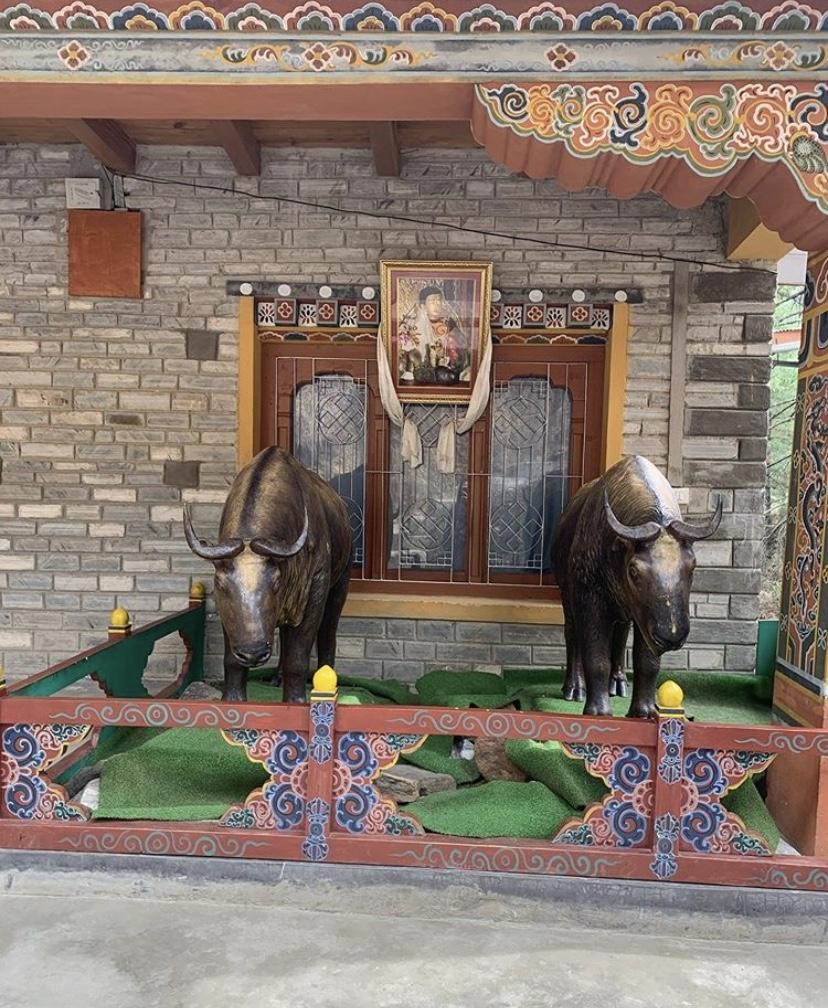 According to the legend, the famous "Divine Madman" created the takin. The story goes that he went to a village in search of food and told the villagers that he was a powerful being, but they didn't believe him. So, they asked him to perform a miracle to prove that he was powerful. The Divine Madman then asked for them to bring him lunch and that if they did that he would perform a miracle. They brought him cow and goat to eat and so he combined the head of a goat with the body of a cow to create the takin!
We also went to a spot in town that has one of the best views of the city!
One of the last places we went to see was the Buddha Dordenma statue! It's one of the biggest Buddha statues in the world!!
During this trip around town I tried not to think about how this would be the last time I got to see Bhutan and just focused on taking everything in and enjoying the moment. My friends and I also wore our fancier Kira's (ones that are intended for festivals or big celebrations) together and did a little photo shoot together so we would all have pictures to remember each other.
One of the hardest parts of leaving was leaving all of my friends behind. Just before I left was when I really started to get close to my friends there. We would explore the city together, go eat out together, play badminton or basketball together, etc. Just when we created this sort of routine was when I had to leave. What made it even harder was that it was just me who was leaving. My two international friends got to stay. But I was the one that had to leave. We've been trying to keep in touch a little bit but keeping in touch electronically has been something that's always been hard for me.
The one thing that's been the hardest about coming back home is that I find it hard to do any of my schoolwork. Bhutan has switched to online classes and while I have taken an online class before at UMBC, I am struggling with my two online Bhutanese classes. This is because I only had two days of actual class before one person tested positive for the corona virus in Bhutan and the country was put on quarantine. I am slowly acclimating and starting a routine with classwork.
This has been a challenging experience, but I feel like I have learned a lot from it. I've learned that when life throws you challenges like this it's best to just keep your head up, go with the flow and keep moving. It's very easy to get upset and to get stuck in that mindset, and it's ok to be upset. But what's important is that you realize there is nothing you can do in this situation, so there is no point in being upset for too long. All you can do is try and keep a positive mindset and keep moving. I'm the kind of person who likes to feel like they have everything under control, so it's hard when something like this happens. But I've realized that you can't control life and you just have to roll with what is thrown at you.